We went minute-by-minute for this evening's second Carling Cup semi-final as Liverpool and Manchester City did battle for the right to play Cardiff City in Wembley.
As always, we'd love to hear your thoughts on this evening's game. E-mail niall@thescore.ie, tweet @thescore_ie, post a message to our Facebook wall, or leave a comment below.
You may need to refresh the page for YouTube videos and other elements to display correctly.
FT: Liverpool 2-2 Manchester City (agg. 3-2)
Welcome to TheScore.ie's minute-by-minute coverage of tonight's Carling Cup semi-final second leg between Liverpool and Manchester City.
It's a game which has been described by some as one of two "cup finals" which Kenny Dalglish and the Reds face this week. Manchester United will be in town for the FA Cup on Saturday, but for tonight, it's the turn of the "noisy neighbours".
Premier League table-toppers Manchester City trail 1-0 from the first leg, but Anfield is no longer the impenetrable fortress it once was. Can City pull off a comeback win tonight? Will Liverpool hang on? Or, whisper it, will this one be settled on penalties?
Kick-off is in 10 minutes, so let's have the team news.
The big news from Liverpool's perspective unsurprisingly concerns Andy Carroll. The £35m man has been left on the bench again with Dirk Kuyt and Craig Bellamy named up front in what looks to be a 4-4-2.
Roberto Mancini has gone for Edin Dzeko as his lone striker, with David Silva and Samir Nasri operating in behind. Everybody's favourite Argentinian Carlos Tevez Sergio Aguero starts on the bench.
Liverpool: Reina, Johnson, Skrtel, Agger, Jose Enrique, Henderson, Adam, Downing, Gerrard, Bellamy, Kuyt.
Man City: Hart, Richards, Savic, Lescott, Kolarov, De Jong, Barry, Zabaleta, Silva, Nasri, Dzeko.
While we're waiting, let's cast our mind back to the last time Liverpool were in a Wembley cup final. That was back in 1996 when this happened…
That's one wrong they'll be hoping to right, I'm sure.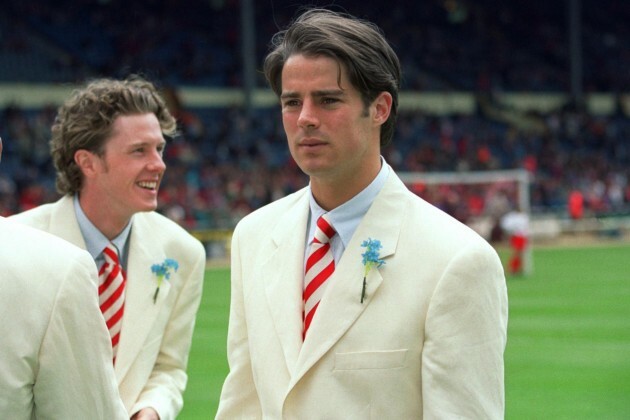 (EMPICS Sport)
We're off and running in Anfield. City are playing into the Kop end in this first half.
Over on Facebook, you've been giving us your predictions for tonight. Here's a selection of the printable ones: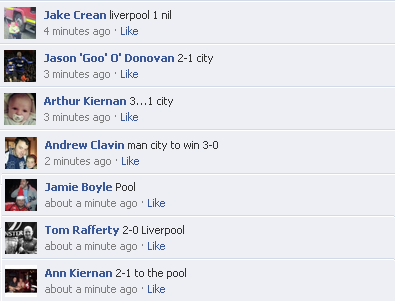 As Shirley Bassey once sang, "It's all just a little bit of history repeating". As is becoming the norm in these games, Joe Hart has made a brilliant stop to deny Liverpool in the opening minutes. Kolarov made a hames of his clearance which skewed to Jose Enrique on the edge of the six-yard box, but his shot is knocked away by the tip of Hart's outstretched toe. That really should be 1-0.
A lot has been made of Liverpool's patchy form, but it is worth noting that they haven't lost at home this season. They've drawn more than their fair share of course, but with a 1-0 lead from their win in the Etihad a fortnight ago, tonight is the one night when that will be acceptable.
It's Liverpool who are creating the better chances in these opening 10 minutes. Joe Hart gets down to stop Charlie Adam's shot from the edge of the box. It's a fairly routine stop for the City keeper, but there has been a bit of rain on Merseyside today, so he did well to get his body behind the ball and hold it.
Did City have a sniff of a penalty claim there? The replays show that Charlie Adam clipped Edin Dzeko's right leg as the two competed for a cross in the box. There were no real claims from either Dzeko or the City players, but as they say, you've seen them given before.
Craig Bellamy will fancy himself against Stefan Savic tonight. The Montenegrin defender, who has looked slightly uneasy deputising for the suspended Vincent Kompany in recent weeks, dives in at Bellamy's feet which allows the Welshman to turn a get a shot off. It's straight at Hart though, and the keeper parries to safety without too much difficulty.
Bellamy has the ball in the net, but the celebrations are short-lived as he's a yard offside and the linesman's flag goes up.
While Liverpool are creating all the chances so far, it's City who have had the lion's share of possession. Liverpool's back four and midfield seem happy to drop off and let City have plenty of the ball, daring David Silva or Samir Nasri to conjure up the piece of magic needed to unlock the defence.
Another iffy moment for Savic, who falters under pressure from Bellamy. Thankfully, Micah Richards is back quickly to give him a hand.
GOAL! Liverpool 0-1 Manchester City (de Jong, 31′) City are back in the tie. Their first clear-cut chance of the night leads to a goal, and it's come from the unlikely source of midfielder Nigel de Jong. David Silva plays the ball square to the Dutchman 25 yards out and, though he's slipping as he hits it, his shot flies past Reina into the top corner. Anfield is silent, and we have a game on our hands.
"We're Manchester City, we'll score when we want" is the refrain from the travelling support. Funny thing is, it's not that much of an exaggeration.
Penalty to Liverpool. Daniel Agger's shot comes off Micah Richards' arm, and Phil Down doesn't blink before pointing to the spot. It'll be Steven Gerrard v Joe Hart…
GOAL! Liverpool 1-1 Manchester City (Gerrard pen, 40′) Gerrard steps up confidently and buries the penalty low to Hart's right. Liverpool are level on the night, back in front on aggregate, and one thing's for sure — we won't have penalties tonight.
The City players are still protesting Phil Dowd's decision to award that penalty, but the man in the middle is insisting that Richards' arms were outstretched when the ball hit him. Dowd is right on that point, but what he may not have noticed is that Agger's shot clipped Richards' knee on the way in, giving the defender little time to react and get his arm out of the way. Hmmm…
We're into two minutes of stoppage time at the end of the first half here. Surely nothing else will happen before the break? *tempts fate*
HALF TIME: Liverpool 1-1 Manchester City (agg. 2-1)
Nope, nothing else to report as Phil Dowd whistles for the break. Plenty to mull over though. Go and stick the kettle on, I'll do likewise, and we'll get this party started again in a couple of minutes.
Aaaaand we're back. Just the one change to report. Stefan Savic's unpleasant evening has come to an end as he's replaced by Sergio Aguero, with Micah Richards shifting into the middle of what is now a flat back four.
Here's Michael Owen with the definitive word on Liverpool's penalty. Thanks for clearing it all up there, Mike.
Again, Joe Hart is the first of the two keepers to be called into action in this second half as Kuyt fires an awkward shot at him from the edge of the box. Hart fumbles it a bit but, fortunately for him, Joleon Lescott reacts quickest to mop up.
"Craig Bellamy runs like a hamster," according to Clare. Emmmm… you tell him that. Probably best that you don't disrupt him while he's playing golf though.
What a save by Joe Hart. He's just kept City in this game with a magnificent, instinctive stop from Martin Skrtel. His initial attempt to punch a corner clear causes all sorts of problems when it comes back off Edin Dzeko and falls to Skrtel. The defender gets a toe on the ball and it's heading for the top corner before Hart flies across the face of his goal to tip it behind. Brilliant.
And there's another fine stop from Hart. This time he gets to the back post to deny Stewart Downing, just as the winger was pulling the trigger on what looked certain to be Liverpool's third of the night. If City score again and go through, it'll be all thanks to Hart. And whoever scores, obviously.
City are spending far more time in their own half than they'd like to at the moment, and when Liverpool come forward, the visitors have looked a little bit exposed at times. Still, one goal is all they need. With Silva and Nasri pulling the strings, they're bound to carve out a couple of decent chances.
There's no time like the present to remind you of the Carling Cup's unique away goals rule. If the sides are level on aggregate at the end of 90 minutes, we will have extra-time. In the Carling Cup, away goals only count at the end of the extra half-hour. So there.
GOAL! Liverpool 1-2 Manchester City (Dzeko, 67′) Ooooh, that changes things. Edin Dzeko has drawn City level on the night with just over 20 minutes of normal time remaining. Kolarov skates past Gerrard down the left wing and fires the ball over to the back post where Dzeko is waiting to turn it home.
That's the first time that Liverpool have conceded two at home this season, and it changes everything. It's advantage City and unless Liverpool can score, they're going out. Of course, they'll have an extra 30 minutes to get that goal if it stays like this, but they'll need to throw caution to the wind. Andy Carroll time?
GOAL! Liverpool 2-2 Manchester City (Bellamy, 74′) Although why bring on a £35m striker to do a job when that guy you signed on a freebie is more than capable of doing it himself? Liverpool go back in front with a beautifully-worked move, and Craig Bellamy is the scorer. The Welshman exchanges some neat passes with Kuyt and Johnson in close quarters before he finally manages to beat Joe Hart.
Now then, it's City who need to score or they're going out. Try to keep up, please.
Adam Johnson is on in place of Nigel de Jong to add yet another attacking option for City. His first real contribution is to test Reina with a angled shot from the edge of the box, but the Liverpool keeper gets down to save without too much difficulty.
Five minutes left at Anfield. Can City find a way through, or will Liverpool be heading to Wembley for the first time in 15 years?
Dzeko tries to turn and get his shot off in the box but Daniel Agger manages to get enough of his body between the Bosnian and the goal to block the shot.
Craig Bellamy exits to a standing ovation from the Anfield crowd. He's been brilliant again tonight and the fans know it. Martin Kelly comes on to bolster the defence for the final few minutes.
We'll have four minutes of injury time, the first bit of which is eaten up as Dirk Kuyt trots off to be replaced by Andy Carroll.
Hart pumps the ball into the box where Aguero latches onto it with a rather ambitious bicycle kick, but it's straight at Reina.
"You'll Never Walk Alone" rings out around Anfield. Seconds left…
FULL TIME: Liverpool 2-2 Manchester City (agg. 3-2)
That's it, and you can see how much it means to Liverpool — players, fans and, most of all, manager Kenny Dalglish. The Scot punches the air in the delight as Phil Dowd blows his final whistle. It might be dismissed as a mickey mouse competition, but for tonight, it's their mickey mouse competition.
Craig Bellamy's reaction to Liverpool's win:

So that's it for tonight. At the end of a ding-dong battle which could've really gone either way, the line-up for the Carling Cup final is complete — it's Liverpool who will meet Cardiff City at Wembley on 26 February.
We'll be back bright and early in the morning. See you then.