There's plenty of action for day ten including the small matter of two potential medals for Ireland this afternoon.
As always, we'd love to hear from you, so send us your thoughts and comments on all the action.
E-mail us at sport@thescore.ie, tweet us @thescore_ie, post to our Facebook wall or leave a comment below.
Welcome to Day 10 of London 2012. I'm Steven O'Rourke and I'll be watching all of the sport today so you don't have to.
It's a tough job, etc…
We've already had one success on the track this morning as Derval O'Rourke successfully negotiated her way though the heats of the women's 100m hurdles in a time of 12.91 making her the fastest of the non-automatic qualifiers. It was impressive stuff from O'Rourke in what was a stacked heat.
There are a few Irish in action today so here's a handy list
09.00 – Derek Burnett's day is already under way in the Trap Men's Qualification
12.00 – In sailing, Ireland's 470 Men Ger Owens and Scott Flanigan will look to try and improve on their 25th place overall in race seven and eight
13.00 – MEDAL ALERT Annalise Murphy knows that a win will guarantee gold while a top tree placing will secure her a medal in the Laser Radial medal race
14.00- Cian O'Connor goes in the semi-finals of the Individual Equestrian
14.30 – MEDAL ALERT It's Katie Taylor time as the world's greatest women's boxer takes to the ring in the 60kg quarter-final.
15.00 – Ryan Seaton and Matt McGovern have three races left in the 49er class and are just 27 points off a podium place heading into race 13 of 15
There were some fast times in the heats of the 800m this morning with seven athletes going under one minute, 46 seconds proving once again how fast this London track is.
Derek Burnett has finished his fourth round of the Men's Trap with a score of 23 giving him a total of 93 out of 100 and leaving him 27th overall.
Just under an hour to go until Annalise Murphy goes for gold in the Laser Radial. If I'd more hair (or, indeed, any) I might join her with the ribbons.

Some difference in times between the first two heats in the Women's 1500m. No fewer than 13 of the athletes in heat one finished in a quicker time than GB's Lisa Dobriskey who won heat two.
The track action is over for the morning and Irish eyes turn towards Weymouth and Annalise Murphy.
Murphy is joint third on 34 points with Belgium's Evi Van Acker, just one point off China's Lijia Xu and Dutch sailor Marit Bouwmeester.
If Murphy finishes ahead of any of the other three she wins a medal, if she places ahead of all of them, it's gold.
Sad news from the track as Ethiopia's Genezebe Dibaba had to be helped from the track in a wheelchair after limping home in 10th place in the final heat of the 1500m. Dibaba is the world indoor champion and has one of the fastest times in the event this year.
Can you have a bandwagon at sea? I'm not sure it would float.

That said, the Olympics are all about cheering on sports and athletes who don't get the attention they deserve.
China's Xu is the most aggressive sailor in the early stages of the Laser Radial medal race so far, splitting from the fleet and tacking to port.
Annalise Murphy well placed in the middle of the pack.
It's all very close as we come towards the first mark. Annalise is in a medal position but the Chinese boat holds the lead.
FIRST PLACE for Annalise after the first mark! It's all very close though as she has a slight lead from China but the other two medal contenders are a back in the field.
China rounds the second mark first, with the Dutch boat holding silver as we speak and Annalise in the bronze medal position. Still all to sail for.
I does look as if it's China's gold medal but Annalise could still get a silver as we approach the third mark.
Annalise Murphy rounds the third mark in second place. Can she chase down the Chinese boat?
Annalise Murphy is out of the medals as we come into the fourth mark. She'll have her work cut out to get a medal now.
It's neck and neck for the bronze medal now as just a couple of metres separate Ireland and Belgium
Annalise Murphy rounds the fifth mark in the bronze medal position, just behind Bouwmeester of the Netherlands. She needs a good leg here to secure a medal.
Disaster for Murphy on the downwind leg again as she drops out of the medals. She's taken the shore side again when the sea side has more wind.
Unfortunately for Annalise Murphy she has to settle for fourth place after finishing fifth in the medal race of the Laser Radial.
She was fantastic on the upwind legs but lost significant time downwind.
However, it's Ireland's best sailing result since 1980 and Murphy should hold her head high.
Away from sailing, history was made in the ExCel this morning when Japan guaranteed their first ever table tennis medal after qualifying for the Women's Team final with a 3-0 win over Singapore.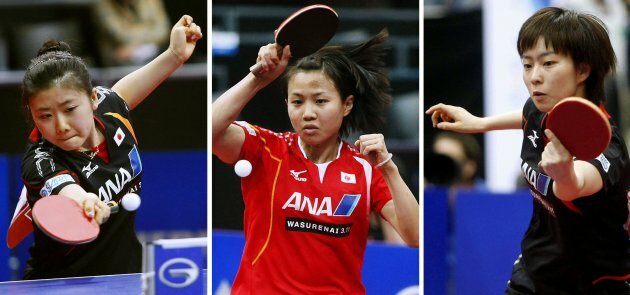 (c) AP/Press Association Images
Annalise Murphy's brother Finn tweets what we're all thinking:

Ireland's Cian O'Connor and Blue Loyd 12 will be next out in the Individual jumping. He's currently tied 31st with the top 35 going through to Wednesday's final rounds.
12 faults for Cian O'Connor but there's still a small chance he could make it through to the Individual Jumping final.
Heart-breaking interview with Annalise Murphy on RTE just there. Nothing for her to be ashamed of though, Ireland's best sailing performance in over two decades and she was the youngest competitor in the field.
Roll on Rio 2016
Ahead of #TaylorTime (I'm copyrighting that), here's a picture of the world's fastest man in a Kerry jersey.
Such a pity only one of them knew how to win yesterday.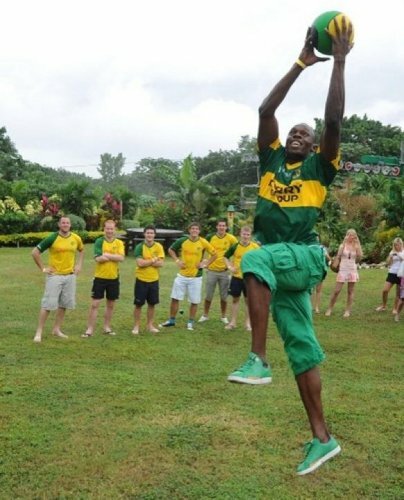 Sent in by Eddie Barrett
The nerves are palpable in TheScore newsroom. Everyone reckons Katie Taylor should have four or five points on Jonas but with a home crowd, you just don't know.
The anticipation is rising in Bray and on Twitter ahead of Katie Taylor's fight:
The moment has arrived for Katie Taylor. The Bray woman will be in red while Jonas wears blue.
Katie Taylor has a 5-2 lead after the first round. It looks like Taylor is in the mood to make this a convincing victory.
Katie was on the canvas in round two but it was just a slip. The Oles are reverberating around the arena as Taylor still holds a three point lead.
It's 10-7
Wow. A massive round for Taylor, nine points to four meaning an eight point lead going into the last.
19-11 overall score.
And that's it, we've at least another bronze as Katie Taylor beats her GB opponent Jonas by a whopping 26 points to 15
Her semi-final will be on Wednesday afternoon.
Can Katie be stopped, it doesn't look like it from that display.
The atmosphere in the Excel was amazing, almost like a home fight for Katie Taylor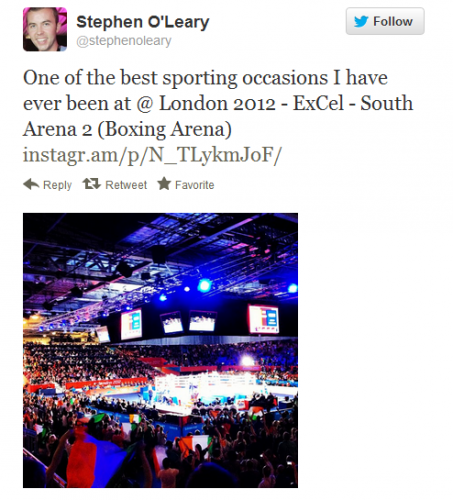 I'm afraid the news from the Men's 470 sailing isn't great as Ger Owens and Scott Flanigan could only finish 25th and 27th in races seven and eight today.
The results keep the pair in 25th place.
Just in case you think it's just us that rates Katie Taylor so highly, check out this tweet from Ryan Maquinana of NBC: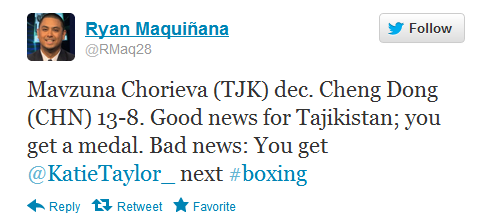 Away from the boxing, GB's Beth Tweddle had to settle for bronze in the Women's Uneven Bars after a poor dismount saw Russia's Aliya Mustafina take the gold while Kexin He of China edged the silver by 0.017 points.
We caught up with Katie Taylor after her bout. A story, with Taylor's reactions, will be up on the site shortly. Adriana Araujo of Brazil is the third Women's Lightweight to make it to the last four. Will second seeded Sofya Ochigava follow her? We will soon find out.
Patrick McCarry keeping you company for the next while. Cian O'Connor, with his 20 penalty points, is in joint 24th at Greenwich Park. 18 competitors to go and O'Connor, IF he gets into the final, would have the penalty points wiped out.
South Africa have on gone and pummelled the United States in the Men's Hockey. 7-0 and the US were lucky to get zero.
The Men's Vault Final is going on at the moment – GB hopes come in the form of Kristian Thomas but he takes a seat after vault number two and will lose points for that.
We have just got our first pictures through from Weymouth following the fifth place (fourth overall) finish of Annalise Murphy earlier. You have to feel for her but she will hopefully go on to greater things in world championships and Olympics in Rio and beyond.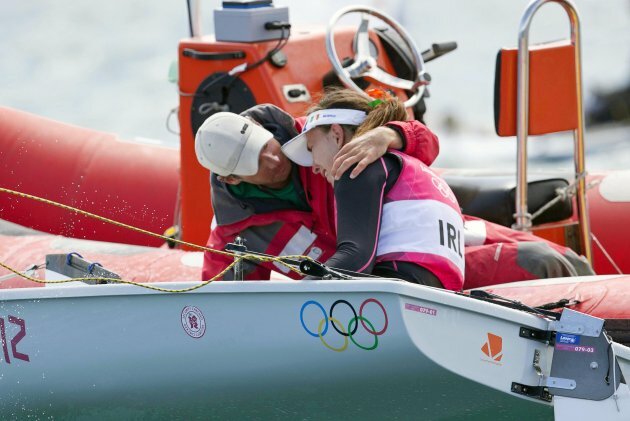 Murphy is consoled by her coach, Rory Fitzpatrick. (©INPHO/Morgan Treacy)
Women's Lightweight Boxing second seed won her quarter-final bout by a comprehensive scoreline of 22-4. Big threat.
Our plucky 49er crew are in 14th after Mark 1 of their first race of the day. The outing was delayed earlier due to squalling conditions.
Nick Skelton leads the show jumping semis and Peter Charles of GB gets only five penalty points. Looks like bye-bye for Cian O'Connor. Denis Lynch will be watching events today with interest.
Yep, that is that. Cian O'Connor's London 2012 is over. The ride of Rolf-Goran Bengtsson (remember that name!) eliminates the Irishman and his equine pal, Blue Loyd 12. Messy round from Cian today.
Kind world from Taylor's vanquished foe: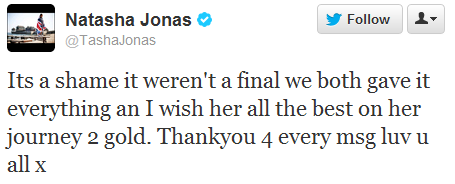 Here is what Katie Taylor had to tell us earlier on:
I just tried to stay calm and collected. I knew the support would be great but I didn't realise how great it would be. It was hard not to get excited with that crowd. I definitely had more support than the girl from GB. It was incredible really.
They were celebrating the result of that fight out in Bray earlier.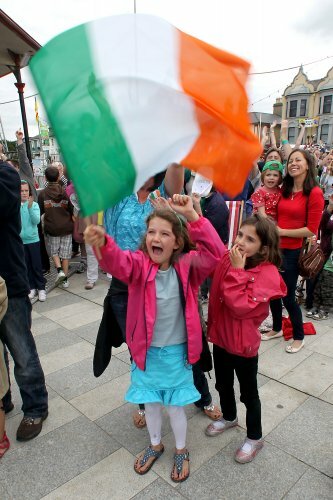 Roisín Heywood, aged 10, flies the flag. (Liam McBurney/PA Wire)
Jason Kenny, the track cyclist that replaced SIR Chris Hoy in the Men's Sprint event, has reached the final and will take on Gregory Bauge of France. Lot of pressure on the homespun hero. That race will be in an hour's time.
Here is a snippet of what a tearful Annalise Murphy had to say to RTÉ at the conclusion of her race today:
I lost out on the first downwind. I went left and got no wind; all the girls got by me. The three girls that beat me were all so good.

It came down to everyone battling on the last (race) and it didn't work out my way. It's hard. I kept going left and got no wind. (Different tactics) seem so simple now, looking back.
Tom Slinsby of Australia wins the Men's Laser Gold while another Gold goes to Hak Seon Yang of South Korea in the Men's Vault (gymnastics).
Seaton/McGovern are in 11th place now in the 49er standings. They have one more race to get into the 'top ten only' medal race. All or nothing sail coming up now for the duo.

Giovanni Cernogoraz of Croatia win the Men's Trap Gold with the best score in a four-man shoot-off. Take that silver medallist Massimo Fabbrizi! Peter Charles jumps a clear round in the sudden death jump-off against The Netherlands to win Gold No. 17 for Great Britain.
Peter Charles was born in Enfield and competed for Ireland up until 2009, I've been reliably ensured by Steven O'Rourke, who will now take up the running on the liveblog for the next hour, maybe even two.
Hello again, it's good to be back.
If shooting's your thing, you'll be glad to hear Giovanni Cernogoraz of Croatia has just won the gold in the Men's Trap after a dramatic shoot-off victory over Italy's Massimo Fabbrizi.
Australia's Michael Diamond finished outside the medals despite setting a new Olympic record by hitting a perfect 125/125 traps in qualifying.
China's terrible run in the basketball continues. They are currently 32-17 down to Team GB in the second quarter of their bottom of the table Group B clash.
In the Velodrome, the second part of the Women's Omnium is taking place.
It's the points race, a 20km race which points awarded for sprints every 10 laps (2.5km) and for lapping the field.
GB's Laura Trott is currently joint top with Australia's Annette Edmondson after two sprints.
Just an update on that earlier Peter Charles post.
The Team GB gold medallist originally jumped for Great Britain before joining the Irish squad in 1992.
He changed back to GB in 2007 but not before winning gold medals for Ireland at the European Championships in both 1995 (individual) and 2003 (team).
In the pool, USA's gold medal hopes took another blow after a second consecutive 11-6 loss in the Men's Water Polo today.
The result means the US will probably finish fourth in Group B and should face the undefeated Croatia in the quarter-finals.
GOAL – We're 30 minutes in to the Women's Football semi-final and Japan have just taken a 1-0 lead
France were on top in this one but Japan score with their first shot on goal.
Yuki Ogimi is the Japanese goalscorer.
Malgorzata Wojtyra of Poland wins the Points Race of the Women's Omnium.
If my math is correct, USA's Sarah Hammer is tied with Canada's Tara Whitten in the gold medal position on ten points with GB's Laura Trott just a point behind in third.
The elimination race, the final event of today in the Omnium, will take place at 18.18 this evening.
Back down in Weymouth, Australia's 49er pair have secured the gold with a race to spare.
The Irish pair of Ryan Seaton and Matt McGovern finished 14th overall after starting the day in 13th.
Despite two guaranteed medals in two days, all is not well in Team Ireland if Barry Murphy is to be believed: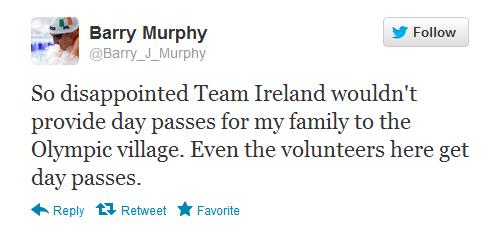 It's coming through the wires that the defending Men's 50km walk champion Alex Schwazer of Italy, has been withdrawn from this year's event over a doping case.
More on this as we get it.
The 'oh no they didn't' moment of the day comes from Fox Sports.
It appears as if they think Iranian wrestler Hamid Soryan is from Baghdad which is, of course, in Iraq.
Easy mistake to make if you've never heard of maps.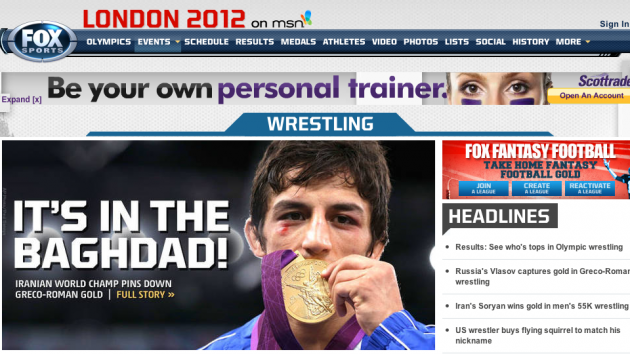 Fox Sports struggle with geography
Gold for Team GB's Jason Kenny in the Men's Sprint after winning two from two in the final against France's Gergory Bauge.
That's 18 gold medals for the hosts and Kenny justifies his team's decision to select him over Chris Hoy in this event.
Back to the football and it looks like Japan have guaranteed themselves a place in the women's final.
Mizuho Sakaguchi got their second just after half-time and, with 25 minutes left, it looks a long way back for France.
The 'Royal Rumble' of cycling has just finished as Laura Trott of GB wins the Elimination race in the Women's Omnium.
The result means that Trott shares the overnight lead with Sarah Hammer of the US on 12 points.
The competitors will be back on the track at 10.20 am Tuesday morning.
As we approach seven bells, the focus will soon be returning to the Olympic stadium for track and field action.
Here's what you can look forward to tonight:
19.00 – Women's Pole Vault final – World record holder and the only woman to clear 5 metres this year, Elena Isinbaeva will face tough competition from Jennifer Suhr of the US and local favourite Holly Bleasdale
19.15 – Women's Shot Put final – This looks like it will be a head-to-head between Valerie Adams of New Zealand and Nadzeya Ostapchuk of Belarus, the only two women to ever go over 21 metres
19.20 – Women's 200m heats – There are six heats taking place this evening. As the only athlete to run under 22 seconds this year, Allyson Felix of the US looks like the woman to beat
20.15 – Women's 400m Hurdles semi-finals – Perri Shakes-Drayton will look to add to Team GB's gold medal total tomorrow but first she has to negotiate her way out of what looks a tough semi-final on paper
20.45 – Men's 400m Hurdles final – Felix Sanchez, Javier Coulson and Angelo Taylor look the class acts in this final but you can't rule out GB's Dai Greene
21.05 – Women's 3000m Steeple Chase final – You would expect a Kenyan or Ethiopian to come out on top here but Russia's Yuliya Zaripova could challenge the east Africans if she runs close to her season's best
21.30 – Men's 400 final – Michael Johnson's world record looks safe enough, despite the fast London track as no man in this field has ever run under 44 seconds. Instead it'll be a battle of the teens as 19-year-old Kirani James of Grenada dukes it out with 19-year-old Luguelin Santos of the Dominican Republic. The field is bookended by the Borlee brothers from Belgium
Promise this is our last Katie Taylor update of the day, but here's what ESPN/ABC presenter Mike Wilbon though of the Bray native:
Japan are into the final of the Women's Football after a 2-1 win over France.
They will play either Canada or the US who meet at 19.45 tonight.
So that's Steven O'Rourke handing over to Ben Blake for the final leg of Day Ten.
How is everyone? Ben here to take you through the last few hours of Olympic action on this Bank Holiday Monday and there's still plenty of it to keep an eye on.
Over at Wembley, the Japanese women's football side have just booked their place in the final of the tournament with a 2-1 win over France. They will face one of Canada or the US, who kick-off in around five minutes.
Weather update: Sporadic spells of light rain in East London…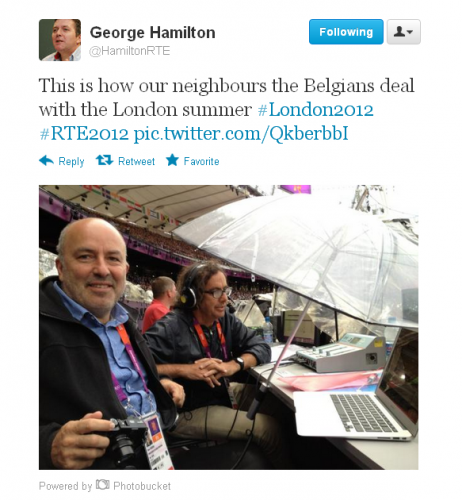 We're discussing the numerous ways you could possibly injure yourself by messing up at the pole vault here in the office. Wouldn't fancy trying it ourselves.
As we do, Team GB's Holly Bleasdale clears 4.45m with her first attempt.
GOLD – Ukraine's Oleksiy Torokhtiy earns top spot in the men's -105kg weightlifting event.
Have you seen who Usain Bolt celebrated his 100m win with? The Swedish women's handball team. He's being presented his gold medal as I type.
In the women's 400m hurdles semi-finals, Team GB's Perri Shakes-Drayton finishes third.
The men's 400m hurdles final is up now.
Felix Sanchez wins men's 400m hurdles final Eight years after winning gold, 34-year-old Felix Sanchez of the Dominican Republic does it again with a time of 47.63. He's still got it.
No medal for Team GB's Dai Greene though, as he can only make fourth.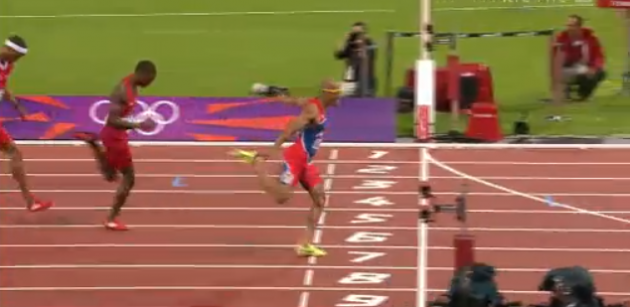 Russia's Yuliya Zaripova wins the women's 3000m steeplechase final after leading from early on. Her time, 9:06.73, is the third fastest in history.
In women's football, Canada lead neighbours the US 3-2 thanks to a hat-trick from Christine Sinclair. About 15 minutes to play in Old Trafford.
It's now Canada 3 Team USA 3 after the Americans score a penalty. Crazy game of football.
Emotional moment as Sanchez receives his gold medal while in a flood of tears. Michael Tinsley of the US and Puerto Ricon Javier Culson were second and third respectively in that one by the way.
Kirani James wins men's 400m final It's a first ever medal for Grenada as 19-year-old James comes home in a time of 43.94.
GOLD – US athlete Jennifer Suhr, with a 4.74m clearance, has won gold in the women's pole vault.
Elsewhere, Britain's Anthony Ogogo (that guy from the Subway ads) will definitely be winning a medal of some colour after a 15-10 victory over Germany's Stefan Hartel – the man who knocked Darren O'Neill out of the Olympics.
Incredible scenes in Old Trafford as the US nick a 4-3 win over Canada with the last kick of the ball at the end of extra-time. Cruel for the Canadians and American will now go on to face Japan in the final.
That's my lot, but we'll do it all again tomorrow so don't miss out!