WE WERE ALL set for go for day six in London and it was a particularly exciting one for Irish fans.
Send us your thoughts and comments on all the action.
E-mail us at sport@thescore.ie, tweet us @thescore_ie, post to our Facebook wall or leave a comment below.
Rower Sanita Puspure won her C/D single sculls semi-final this morning and will contest the C final on Saturday.
Michael Phelps wins 200m Individual M<edley Gold for his 20th Olympics medal.
Chris Hoy and his two cycling teammates win sprint gold at the Velodrome. The gold is Hoy's fifth in the Olympics.
Swimmers Barry Murphy and Melanie Nocher are out of the Olympics after disappointing performances in their respective heats.
Murphy was second in the 50m freestyle with a time of 22.76, while Nocher finished sixth in 2.16.29 during the 200m backstroke.
Good morning, sports fans! If you've been saving up that sick day for awhile, it might just be worth using. It's day six of London 2012 (where has the time gone?) and there's non-sport Olympic goodness right through until late tonight.
We won't be missing a thing and are only delighted to have your company.
First thing's first. Here's which members of Team Ireland are in action today…
Rowing: Sanita Puspure is in the first of the C/D single sculls semi-finals around now.
Swimming: Barry Murphy is in heat two of 50m freestyle from 10am. Melanie Nocher takes part in the 200m backstroke at around 11.30am.
Equestrian: Anna Merveldt gets her dressage underway with the Grand Prix in Greenwich Park. Merveldt and Coryolano are first up in the third section today at 1.25pm.
Sailing: Scott Flanigan and Ger Owens begin the men's 470 with their first two races at 12pm and 1.30pm. Ryan Seaton and Matt McGovern race in the 49er class at 12pm and 12.45pm, while Peter O'Leary and David Burrows in the star class are up at 12.05pm and 1.20pm.
Canoeing: Hannah Craig is in the semi-finals of the women's K1 kayak from 2.12pm. If she makes the top 10, the final will be at 3.57pm.
Boxing: After John Joe Nevin secured a spot in the quarter-finals yesterday, Darren O'Neill can do likewise when he takes on Stefan Hartel of Germany in the last 16 of the men's middleweight division. O'Neill is in the ring at 2.45pm.
Sanita Puspure, who disappointingly didn't make the A/B semi-finals on Tuesday after a fourth place finish, has just won her C/D semi-final, leading from early on and finishing ten seconds ahead of the next rower.
That means she is into the C final, which is scheduled for Saturday.
Next up, we've got swimming with both Dubliner Barry Murphy and Down's Melanie Nocher in the pool.
Murphy tweeted this morning:

Competing in the 50m freestyle, Murphy qualified with a time of 22.71 and is in Heat 4. He will swim in lane 5.
Behind Roy Burch of Bermuda, Murphy finishes in second place with a time of 22.76. However, it's doubtful that is quick enough for him to qualify for the semi-finals.
Now Heats 7 & 8 have are over, it's clear that Murphy is outside the the top 16. The slowest time to qualify was 22.27 meaning he is half a second short.
Trinidad and Tobago's George Bovell, who Murphy trains with in the US, recorded the fastest time (21.77) with Brazilian pair Cesar Cielo (21.80) and Bruno Fratus (21.82) not far behind.
The women's 800m freestyle, which Ireland's Grainne Murphy was due to take part in, is currently being contested. On Tuesday, however, the Wexford native pulled out of the race due to illness.
Her coach Ronald Claes told Will Downing:
Obviously she was devastated with the whole thing. You come her to swim your lifetime best and obviously that didn't happen but it was worse than that, she had to pull out. It's not a nice experience but she'll get over it."
Read the latest development in the Olympic badminton match-fixing scandal:
ONE OF THE star Chinese badminton players disqualified from the Olympics for throwing a match has announced she is quitting the sport, saying her dreams had been "heartlessly shattered".
Yu, who won a gold medal in the 2008 Beijing Olympics, and her partner Wang Xiaoliwere disqualified by the Badminton World Federation on Wednesday for "not using one's best efforts to win a match".
The Team GB rowers won their men's four semi-final after coming from behind to overtake Australia in a time of 5:58.26 with the Netherlands and Italy taking third and fourth.
Check out how this medal table from an Australian newspaper distinguishes between North and South Korea…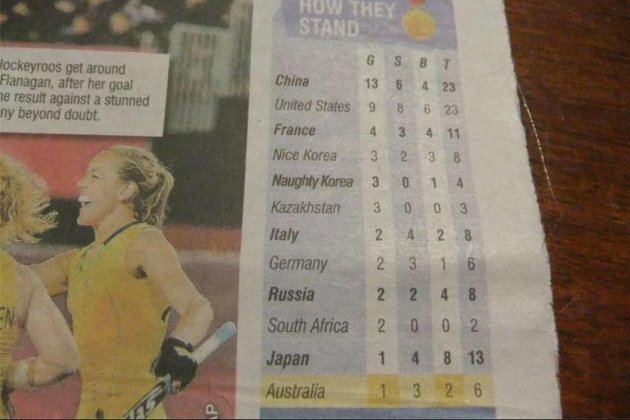 (h/t: 101greatgoals)
Defending champion and home favourite Rebecca Adlington has just won the final heat in the 800m freestyle with a time of 8:21.78.
Men's 100m butterfly heats are off and US Olympic legend Michael Phelps is the outright favourite. He's in Heat 6.
On the Latvian-born rower:
Puspure wins her semi-final this morning. Credit: Natacha Pisarenko/AP/Press Association Images
Eighth from eight on the turn, Phelps roars past everyone to take first in 51.72. Serbia's Milorad Cavic is in second (51.90). The semi-finals are tonight.
Melanie Nocher is coming up next in the women's 200m backstroke.
Nocher lines up in Heat 2. Her record is 2.10.75 but she will need around 2.09, a personal best, to make the semi-final.
It's a poor finish from Nocher. She held third for the first half of the race but comes home in sixth place with a time of 2.16.29 – nearly six seconds slower than her qualifying time.
She won't progress and looks distraught according to RTE commentators.
Australian rower Josh Booth was detained by London police for allegedly causing damage to a shop front last night. Read the story in full here.
In sailing, Peter O'Leary and David Burrows are heading out around now for Race 6 of the star class. The pair have 12 race point so far.
Meanwhile, in the 49er, Ryan Seaton and Matt McGovern begin Race 7, while Scott Flanigan and Ger Owens have their first race of the Games in the 470.
Melanie Nocher, who didn't speak to the media after her event, has just tweeted: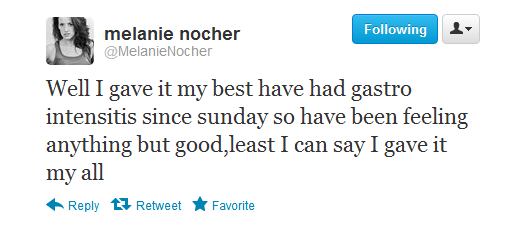 Read the story of diver Wu Minxia in full here:
THE FATHER OF a champion Chinese diver has reportedly admitted hiding news that her mother had cancer to keep her focused on the Olympics, triggering criticism of China's ruthless pursuit of victory.

Diver Wu Minxia, 26, scooped gold in the synchronised 3m springboard at the London Olympics, becoming the first diver in history to win golds at three consecutive Games.
The South African rowers have won gold in the men's four final with Team GB, who have two members from Coleraine, in second and Denmark taking bronze.
Andy Murray is in action on Court One at Wimbledon. The Scot is playing Nicolas Almagro of Spain for a place in the semi-finals. He is currently 4-2 ahead in the first set.
Messrs Seaton and McGovern have finished in 11th place in Race 7 of the 49er.
In Eton Dorney, the Team USA have won the women's eight final, ahead of second-placed Canada and the Netherlands in third.
Flanigan and Owens kick off their Olympic campaign with an 18th place finish in Race 1 of the 49er.
O'Leary and Burrows started well and are in fourth place after two marks with two more to go.
For all of you who have grown to love Timmy McCarthy's unique basketball commentating, France are playing Lithuania on RTE Two right now.
He's got more in the locker than just "Downtown", you know…

Anna Merveldt is about to begin her London Olympics in the dressage. Partnered by Coryolano, the Canada-born rider is due out on the Greenwich Park at 1.25pm.
I'm signing off for now, but will leave you in the more than capable hands of Patrick McCarry.
Ryan Seaton and Matt McGovern continue their reasonably paced medal assault with an eighth place finish in Race 8. They came in 1:33 behind the race winner.
This is what the opposition looks like for Ireland in today's dressage: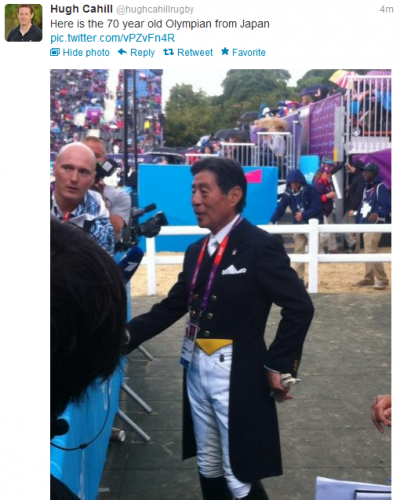 Anna Merveldt gets a dressage score of 69.742 after her round, enough to put the Team Ireland competitor seventh place, for now.
Peter O'Leary and David Burrows are placed ninth overall after seven of the 10 races. One storming run needed to put them in contention.
The Australian women's hockey team are led by a very good, and brave, player called Madonna Blyth. What a name – very Mills & Boon.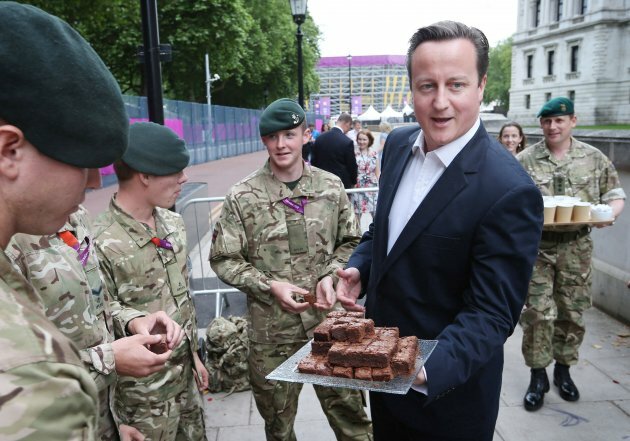 "The good news is, I've got brownies. The bad news… " (Peter Macdiarmid/PA Wire)
Carl Hester off Great Britain currently leads the dressage while our very own Anna Merveldt, who admirably trotted Coryolano about the arena, is now in ninth place.
The Netherland's ladies' hockey team – the ones that caused an internet spike when they played and beat Belgium – are leading China 1-0. Hannah Craig underway in the kayaking…
The Armoy native beats the time of New Zealand's Jones to go first, very early on. Just the two penalties but a great run in the middle stages.
Emily Fer is fastest in the slalom semi-final at the moment and Hannah Craig is in third place. Nine ladies to go so Craig is in with a good chance of qualifying for the final.
Andy Murray beat Almagro of Spain 6-4, 6-1 to reach the semi-finals – he will play Djokovic or Tsonga with a place in the gold medal final at stake.
This is getting perilous – Craig is down to fifth and seven women are still to go. Two of them need to go slower.
RTE are turning their attention towards Darren O'Neill – despite a quite bizarre taking a phone-call on live television moment as the station's kayaking expert gets a shout from the Irish kayaking manager to learn that Craig's two-point penalty is being appealed.
We will keep you up to date on both events. Crucial 15 minutes here for Team Ireland.
Not looking good for Hannah Craig – penalty or not. She is ninth in the standings with three women to go.
This is pure agony. Craig is ninth with two women to go – one of them is British, Lizzie Neave, and the other is Spanish, Maialen Chourraut, world number two.
Hannah Craig has qualified for the Women's K1 Slalom Final! Neave of Team GB gets six penalties on a ponderous run and finishes 11th.
Ding ding – Darren O'Neill is boxing (pic courtesy of RTE.ie):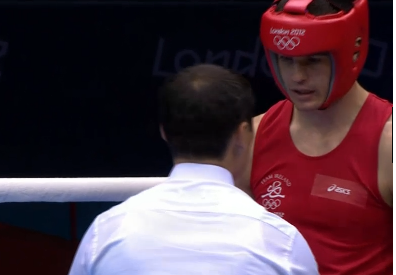 Hartel leads 6-4 after the first round. O'Neill got rocked with a heft blow to the head and just missed with a huge uppercut. Needs a big round here.
14-8 now to Hartel after two rounds. Yikes. O'Neill was lured into the corner by the German at one stage. He waited for O'Neill to blink then unloaded three scoring shots in quick succession.
Darren O'Neill is out of the Olympics. He went for it in the final round but it was too much of a mountain to climb. Hartel looks like a wily competitor – he will trouble Anthony Ogogo. Final score was 19-12. Hartel won the last round 5-4.
Here is that classic national broadcasting moment as Irish kayaking manager Frank Dunne calls the studio to get the inside story on Hannah Craig's run:
YouTube credit: podgemckenna
O'Neill met his match today but tried his heart out to the last. Bernard Dunne's ambitious six medals from six boxers claim, unfortunately, will not come true.
Victoria Azarenka of Belarus has defeated Angelique Kerber, conquerer of Venus Williams yesterday, in straight sets. Serena Williams has demolished Caroline Wozniacki 6-0, 6-3.
British cyclist Mark Cavendish has been speaking to Sky Sports News about the first day of track cycling that will feature Chris Hoy and Victoria Pendelton, among others.
It is a fast velodrome, it is incredibly designed. Great Britain, with it being a home Games, will step it up and every other country will see that and have to step it up too. We won't just see fast times, we will see some world records I am sure.

Chris Hoy can't get three golds unfortunately this time, he is not in the events that will allow him to do so, but we can smash it. We have already smashed it on the road. That didn't happen in Beijing and we can just add to that on track and mountain bikes and BMX. It is super exciting.
Just when he needs to, Novak Djokovic ups the intensity and breaks Jo-Wilfred Tsonga. He holds his serve to win the match. He will face Andy Murray in the last four. Anything else going on at Wimbledon? Juan Martin del Potro is playing Kei Nishikori in the Men's Singles – the match is currently tied at 3-3 in the first set.
Gold coming out of Team GB's ears now – in the past five minutes Great British competitors have won gold in the Men's Doubles Kayak Slalom event, Tim Baillee and Etienne Stott, while Peter Wilson has clinched top spot in the Shooting Double Trap event.
Here comes Hannah Craig – she is up first in the K1 Final.
Not a great run. She clocks in at 1:27.36 and is first but it will not be for long. Three penalties, meaning an extra six seconds, along the way.
The 29-year-old from Ballymoney (close to Armoy) looked like she knew the jig was up at the three-quarter stage. She now drops to second after Stepanka Hilgertova beats her posted time by 18 seconds and change.
Ki Bo Bae of South Korea wins the Gold for the Women's Archery competition. Some tears in her eyes as the national flag is raised above the stands at Lords Cricket Ground.
For someone who was 31st in the official kayak world rankings last season, Hannah Craig's qualification for the final was a huge achievement. That will be scant consolation for her as she never looked close to getting up into medal contention.
This woman loves handball. Olympic officials have clamped down very effectively on footage making it up the internet but let me assure you – Ann Grete Norgaard pulled off a great strop after missing a penalty in her handball match against Spain.
She still managed to score seven goals but Spain won 24-21. Handball is a great sport.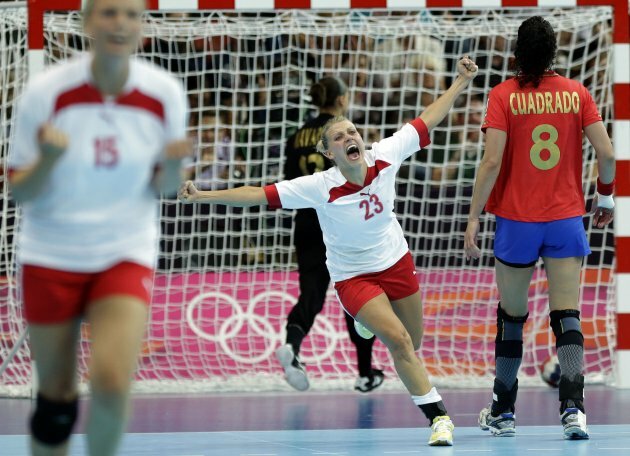 Ann Grete Norgaard of Denmark celebrates after scoring a goal. (AP Photo/Matthias Schrader)
Jessica Fox, who started near the back of the K1 field, put in a hugely impressive run to set a good time to beat. Emilie Fer of France went out and beat it by .61 seconds. Gold goes to France and the 29-year-old.
Hannah Craig finishes in ninth place.
Over in the track cycling, Team GB golden girl Victoria Pendelton has broken a world record in the qualifying heats. Mark Cavendish called it right. More to come I'd say.
Victoria Pendleton and Jess Varnish got the world record in the women's team sprint. It lasted about five minutes as the Chinese team whooshed in with a time of 32.447.
Tagir Khaibulaev of Russia beats Tuvshinbayar of Mongolia by Ippon to win gold in the men's -100kg judo Gold Medal. Vladimir Putin pegs it onto the canvas to help him celebrate. The Russian Premier fancies himself as a martial arts expert. On the hunt for a picture.
Some Aussie kudos for kayak silver medallist Jessica Fox from Wallabies' fly-half James O'Connor.

Gold and Silver for China in the Men's Table Tennis. World champion Zhang Jike is joy personified after his 4-1 victory over teammate Wang Hao. Giving out free kisses and sweaty hugs.
Former Irish Olympic swimmer Gary O'Toole was on RTÉ speaking about the efforts of Ireland's squad in the pool. Speaking about the illness that hindered Melanie Nocher, he said:
You can't control these things and if you are not right on the day, that's it, four years down the drain.
O'Toole added that he was bitterly disappointed by the performance of Barry Murphy, a swimmer that sets high standards for himself, and said Sycerika McMahon was the best performer. "She has emerged with a good degree of respect," added O'Toole. The two-time Olympian said:
Grainne (Murphy), of course, was ill and that was desperately disappointing … Whether she should have been here or not is another matter.
Reasons to be cheerful: Hannah Craig. (©INPHO/Dan Sheridan)
Pendellton and Varnish have been disqualified for an early changeover in the Women's Sprint at the Velodrome. That is a medal down the drain for Team GB and its supporting hordes.
Roger Federer is a set up on American John Isner and looking to close it out in the second set. It looks like a Federer v Del Potro semi-final at this stage.
Victoria Pendelton is looking to keep upbeat on BBC after her (and Jess Varnish's) disqualification.
The change-over was deemed illegal and Pendelton put it down to 'being a bit overwhelmed and excited' by the occasion.
We've never really had an illegal changeover before so it was not something we were overly concerned about."
"Now and then, rubbish things happen and it was just one of those days," she added.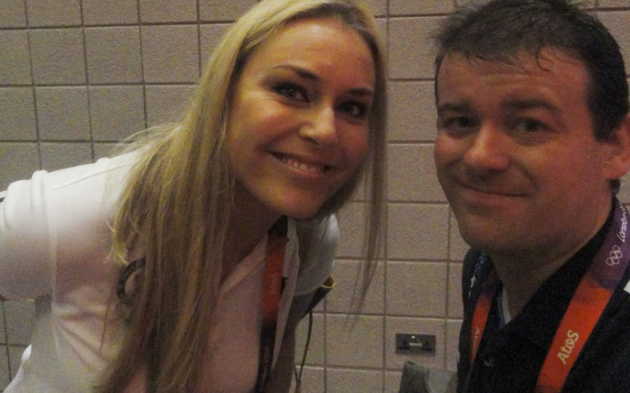 American skiier Lindsey Vonn is clearly starstruck after meeting TheScore.ie's Will Downing.
Roger Federer beats John Isner and will face Del Potro, who just won his semi-final.
In the Fencing, there will be a gold medal match in the Women's Team Foil this evening. Italy and Russia will fence it out for fencing glory.
Where would Serbia's waterpolo team be without Andrija Prlainovic? The 25-year-old from Dubrovnik chipped in with five goals in his team's 11-11 draw with Montenegro.
Information and comedy from the Irish Sun's reporter in London. He tweets that Anthony Ogogo may not be through to a bronze medal bout just yet.

For some nifty pictures of the judo and wrestling action during the games, check out @L2012MatCam
Vladimir Putin about to pull off a classic Ippon manoeuvre on judo gold medallist Tagir Khaibulaev. Either that or the Russian President is grasping his head and telling him 'well bloody done'.
Side note: What is the going rate for cosmetic surgery (your basic facial nip-tuck procedure) in Russia.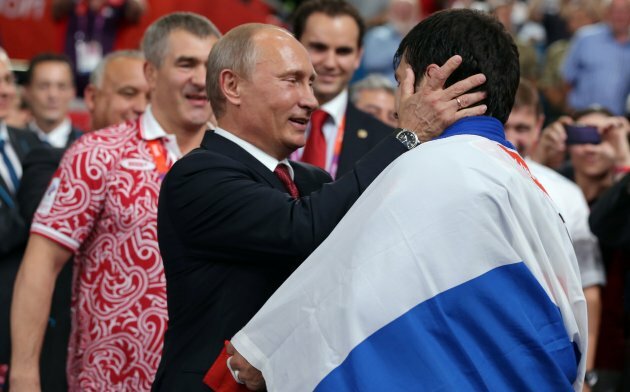 He just couldn't keep away. Vladimir Putin and Tagir Khaibulaev. (Nick Potts/PA Wire)
A new world record for Great Britain's Men's Track Sprint Team as the clock 3:52.499. Prince William and his affable wife, Kate, are in attendance.
Venezuelan fencer Ruben Limardo Gascon won his country's second-ever Olympic gold medal earlier today. He then hopped on the London Underground to listen to some quality busking and bask in the smell of 9-hour-work-day sweat.
The Olympics, eh.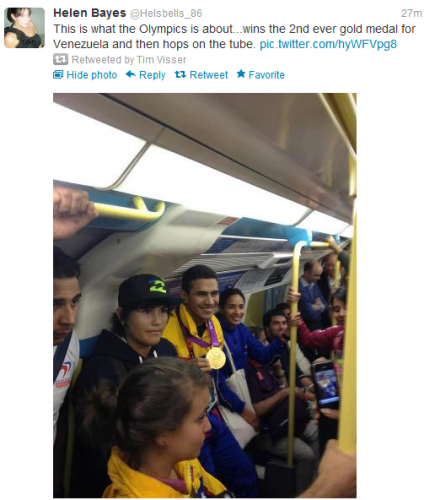 Good evening. Adrian here for the next 30 minutes or however long it takes Pat to have his tea (think it's a pasta-based dish but can't confirm), what's been your highlight today?
RTE are currently showing the women's gymnastics and Gabriella Douglas looks to have sealed a gold.
Boom: Douglas takes the gold as predicted by gymnastics experts at TheScore, Russian's Komova is in second and in tears.
Pat back on the scene and it was spaghetti bolognese. The track cycling continues apace and Maria Sharapova is a set and a break up on Kim Clijsters at Wimbledon.
The Men's Badminton Singles competition waves goodbye to its last European competitor as Peter Gade of Denmark is beaten in straight sets by Chen Long. As for the women's side of the draw - Saina Nehwal of India stands alone against a trio of Chinese competitors as we reach the semi-finals.
Yet another world record gets obliterated at the Velodrome. Chris Hoy, Philip Hindes, Jason Kenny cross the line in a smashing time of 42.747 to pump the home crowd up even more.
How does one to 'Sir' in Britain – Grand Commander Chris Hoy?
China, who would have pushed Pendelton and Varnish close in the final, beat Germany to win gold in the women's team sprint. The Aussies got bronze.
Change-up in the women's sprint final. China disqualified so Germany win gold.
Rachel Wyse from Sky Sports News, getting into the Bradley 'Wiggo' Wiggins spirit:
Gold medal for Chris Hoy – he loves a win. He was part of an exhilarating race as the Team GB trio blitzed a hard-riding French team. He wins gold alongside Philip Hindes and Jason Kenny. Business is picking up for Great Britain.
The Netherland's women's hockey team are on-course for the semi-finals after the secured a 1-0 win over China today. Maartje Goderie got the winning goal after she dribbled her way along the left byline and cut inside, firing across goalkeeper Zhang Yimen and in off the far post.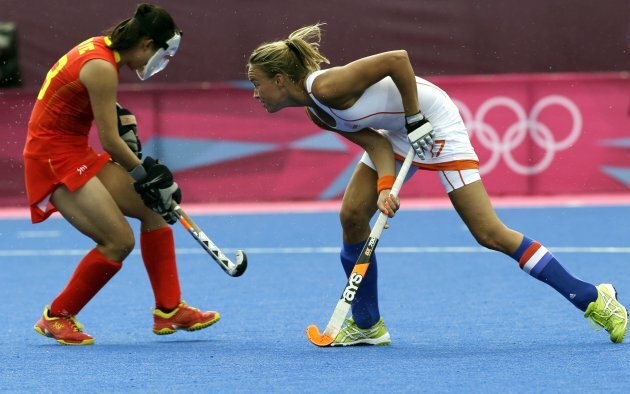 Dutch star Maartje Paumen takes on Ren Ye (wearing her 'Tribute to Halloween' mask). (AP Photo/Bullit Marquez)
* PS: Bullit Marquez – you have a fantastic name!
What else about that Chris Hoy win? It is his fifth gold medal. The trio of GB cyclists won in a world record time of 42.6 seconds. And Prince William was chuffed with it. Here is what former cycling gold medal winner Chris Boardman on BBC said:
What an exciting final and for me it was all about young Philip Hindes. He had to do the ride of his life there, and all three of them are on the form of their life. All the team can be rightly proud of themselves, a fantastic job all round.
The swimming looms large and American Rebecca Soni, who broke the world record in qualifying for the 200m Breaststroke Final, is a fairly decent bet for gold.
America's Cullen Jones and Caesar Celio of Brazil get times of 21.54 in the Men's 50m Freestyle semi-final to advance.
Women's 200m Breastroke Final coming up and Rebecca Soni will be looking for gold first, world record second. Bruno Fratus won his semi-final of the Men's 50m Freestyle – more good news for Brazil.
May not have mentioned this yet – Sharapova beat Kim Clijsters in two sets.
GOLD! Rebecca Soni wins and breaks the world record that she set last night by .41 of a second. She touched the wall in a time of 2:19.59 after really picking up the pace in the last 100m. He final turn was seamless and really gave her a chance of breaking the record.
BBC are saying that no swimmer has successfully defended their Olympic title. Ryan Lochte of the USA is looking to turn that around in the Men's 200m Backstroke Final.
The streak continues. Tyler Clary beats Ryan Lochte, who finishes third, to win 200m Backstroke gold.
Women's 200m Backstroke – they're in the water…
Elizabeth Beisel wins the first semi-final of the 200m Backstroke. I'll check in on some other events for you. First up, Men's Handball and Denmark and Serbia are tied at 10-10.
Just 33 more to go Mr. Tancock and it will be a successful games for Team GB – so says their blueprint.
In the other Women's 200m Backstroke semi-final Missy Franklin edges out Kirtsy Coventry but both will qualify for the final.
In the Dressage today Hiroshi Hoketsu, the 71-year-old Olympian from Japan, finished 17th (once again – synergy) with his horse, Whisper. His official London 2012 profile has his occupation listed as 'Athlete, Retired'. One of them is my dream occupation.
Ian Thorpe, the former Australian swimmer and gold medal factory, has been on Twitter for a day and is up to 38,476 followers already. There he is on BBC now, smug as you like.
Get the marker out and start circling August 3 on your ring-bound calendar because tomorrow afternoon is the day the Olympics really begin … for the Men's Trampoline contestants. Can Diogo Chanchinho of Portugal give it some bounce and style to defeat Dong Dong of China? Tune in tomorrow!
Phelps v Lochte in the Men's 200m Individual Medley. Go …
Michael Phelps wins Gold! He led after a stunning first 100m and he held on as Ryan Lochte pushed him hard in the final 25m. Olympic medal number 20 for the living legend.
His mother can really celebrate gold this time.
Lochte gets silver and Laszlo Cseh of Hungary gets bronze.
Rebecca Soni celebrates her gold. (Tony Marshall/PA Wire)
Missy Franklin next up and searching for more USA gold in the Women's 100m Freestyle Final.
Ranomi Kromowidjojo wins Gold in an extremely tight race. The Dutch swimmer won with half a stretched body to spare but it was a close-run thing for the other medals. Aliaksandra Herasimenia gets silver and China's Tang Yi is third. Fran Halsall of Great Britain was sixth but she honestly missed out on silver by .3 of a second.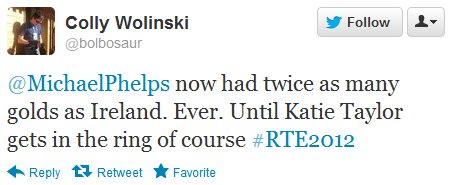 The Great British women's hockey team had another victory today and hope to welcome back captain Kate Walsh for their next game.
The Danes beat Serbia in the Men's Handball pool match.
Darren O'Neill bowed out of London 2012 earlier. Her is a snippet of what he told us:
(Stefan Hartel) holds a very high guard, he's very durable and he's got a lightning fast backhand. You just don't see it coming. He waits for you to finish your attack and just pops out that right hand, lightning fast. It's very hard to escape from.
Phelps wins his 100m semi-final of the 100m Butterfly, one of his 'strong' events. That completes a good day from him and a so-so day for Team Ireland. Our coverage is wrapping up now but not before I tell you about another Gold for Italy in the Women's Team Fencing. Valentina Vezzali, Elisa Di Francisca and Ilaria Salvatori the winners.
One final tidbit for you – President Obama rang Michael Phelps to congratulate him on his 20th Olympic medal but not before he was placed on hold for a couple of minutes. Stay with us for our Olympic Village wrap of Day Six and feel free to leave comments about the stories that caught your eye.