Send us your thoughts and comments on this afternoon's action. E-mail  paul@thescore.ie, tweet us @thescore_ie, find us on Facebook, or leave a comment below.
PAOK Salonika 2-1 Shamrock Rovers (ft)
Wisla Krakow 1-0 Fulham (ft)

Tottenham 1-0 Rubin Kazan (ft)

Rennes 1-1 Celtic (ft)

Club Brugge 1-2 Birmingham (ft)

Stoke 3-0 Maccabi Tel-Aviv (ft)

Hello, and welcome to our live coverage of Shamrock Rovers v PAOK Salonika.
Here are the teams:
PAOK Salonika: Chalkias, Etto, Cirillo, Malezas, Lino, Lazar,Arias, Ivic, Salpingidis, Athanasiadis, Vieirinha.
Shamrock Rovers: Thompson, Sullivan, Oman, Murray, Stevens, Rice, O'Donnell, Turner, Dennehy, Paterson, Sheppard.
As the team selection below indicates, Gary Twigg is a late withdrawal for Rovers. He has reportedly suffered a hamstring injury.
Elsewhere in Europe tonight, Birmingham have just got a last-minute goal against Club Brugges from Chris Wood. They've won by 2 goals to 1.
I'm reliably informed that PAOK are unbeaten in their last eight European games.
Enda Stevens is currently receiving treatment following a hefty challenge.
It's been a fairly low key start. Rovers not under too much pressure. But as I type this PAOK win their first corner.
The English commentators sound impressed, as apparently 'Shamrock' are doing well so far.
The Celtic game has just ended 1-1 for those who care.
The ball is only half-cleared by Murray and Lazar produces a screamer from at least 30 yards out. Not for the first time in this campaign, Rovers have a mountain to climb.

A wry nod to the rather familiar-looking PAOK jersey.
Nice shot from distance by Dennehy, which narrowly fails to find the target. Rovers are showing plenty of spirit in spite of the early setback.
Desperately cleared off the line from Murray after PAOK break at speed to catch Rovers out. Michael O'Neill's men really are living on the edge at the moment.
PAOK are looking dangerous every time they attack now. Rovers need to improve if they are to have any chance of even challenging their opponents.
Great play from Dennehy to beat his man and produce a dangerous cross, which is well cleared by the PAOK defence. Rovers are getting some joy down the right hand side of the pitch.
PAOK have made a switch due to injury. The left-back Lino is replaced by Sznaucner.
Lazar goes for another spectacular long-range strike, but it's way off target on this occasion.
In the other game in the group, Spurs have gone ahead thanks to a Roman Pavyluchenko goal.
Another last-ditch clearance from Murray, after Salpingidis shows some lovely skill to beat two Rovers players.
PAOK really have dominated possession so far. Rovers could do with the half-time whistle at this point.
Shouts for a PAOK penalty. It was outside the box for me, but the referee waves away calls and doesn't even give a free kick.
Stephen O'Donnell gets booked for a professional foul, as PAOK look to break. He can't really have too many complaints there.
Cameron Jerome has just been sent off for Stoke. Mind you, they're 3-0 up, so it'll hardly make a difference.
Vieirinha, who has looked impressive so far, takes a powerful free kick from the edge of the box, which Thompson struggles to hold on to.
HALF TIME: PAOK 1-0 SHAMROCK ROVERS
By no means a disastrous first-half from Rovers. As expected, the home side have dominated possession, but Michael O'Neill's men have worked hard and defended well for the majority of the half and only one moment of class from PAOK separates the two sides. The cliché-lover in me is tempted to point out that that's the difference at this level.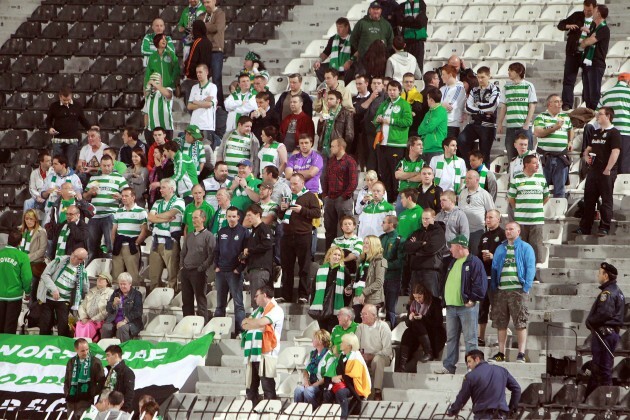 These Rovers fans haven't had much to cheer about so far in the game. But they can be proud of their team's first-half performance nonetheless.
Not too much optimism from Craig Burley and John Collins. They're predicting Rovers will tire in the second half, due to their part-time status.
The second half is now underway…
Vieirinha makes another dangerous run, but his shot is defelected into the hands of Thompson. The left-sided attacker has been causing Rovers problems all night.
GOAL FOR SHAMROCK ROVERS!!!!
Karl Sheppard, who probably wouldn't be playing were it not for Twigg's injury, scores a bullet header from a free kick crossed in from just outside the box. He was left completely unmarked.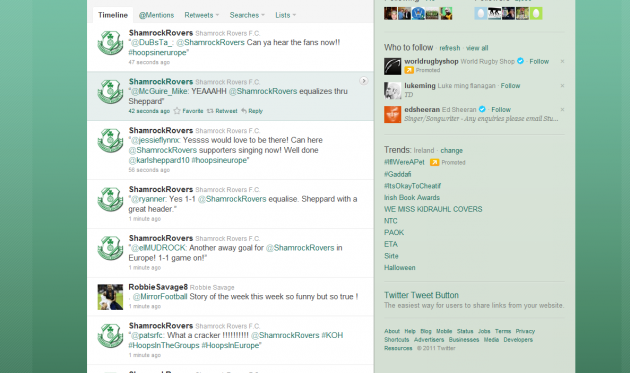 Here's how our Twitter stream looked, the moment after Rovers scored.
Rovers will have to be careful they don't lose their concentration now, as they did after scoring in the last game against Spurs.
PAOK are beginning to attack with a bit more purpose. They realise they're in a game now.
The home fans are getting frustrated, as Rovers play the ball around the park – it's one of the rare occasions in which they have held onto possession for a sustained period.
That man again, Vieirinha, finds himself in a dangerous position, but he blazes his shot well over.
PAOK 2-1 Shamrock Rovers: Vieirinha plays a one-two in midfield and blasts it into the corner from just outside the box. He's been the best player on the park by far this evening.
Rovers, to their credit, don't look out of this yet and are threading the ball around nicely in midfield at the moment.
Sheppard gets one-on-one with the defender but doesn't have the pace to get past him and loses it. The front man looks tired now.
Not sure who the ESPN co-commentator is, but it's just dawned on me that he sounds oddly reminiscent of Super Hands from the Peep Show.
Double change for Rovers (during a corner): Turner off for Kilduff and Paterson is replaced by Finn. Rovers are going for it now, as they look to play two up front.
Great series of passes from PAOK and the ball is eventually played to Sznaucner, who drags his shot wide.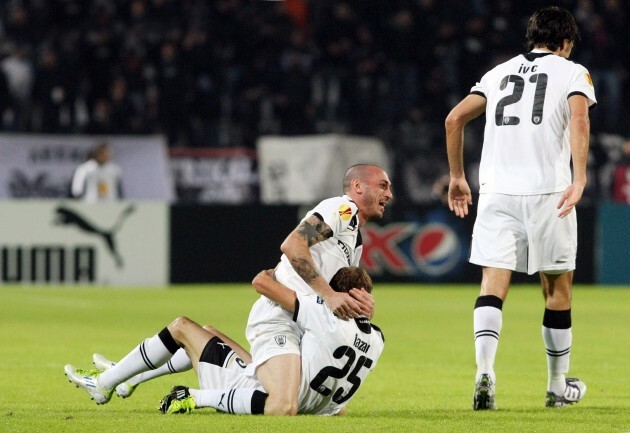 PAOK players celebrate their second goal rather enthusiastically.
Rovers substitution: McCabe replaces Sheppard.
That's disappointing. Rovers get a free-kick in a promising position, but the ball is played straight into the hands of the PAOK keeper. Very wasteful from Rovers.
Even if Rovers lose this game, as it appears they will, they can at least take consolation in the fact that they are the only side to score away to PAOK so far this season.
Horrible clash of heads between Kilduff and Cirillo causes a temporary break in play.
We're in injury time now. Last-chance saloon for Rovers.
The game's being played in the Rovers half at the moment. I can't see them winning this now.
Rovers have a free kick. Everyone dashes into the box.
FULL TIME: PAOK 2-1 SHAMROCK ROVERS: The keeper punches the cross to safety and the referee blows the final whistle seconds later.
Tottenham's 1-0 win has also been confirmed.
PAOK probably deserved their win in the end – they clearly were the technically superior side anyway. Rovers, however, can be proud of what was probably their best performance so far in the Europa League group stages. They even could have nicked a point at the end, had that corner fallen more kindly for them.
Incidentally, here's that Pavyluchenko goal from earlier. And trust me, it's worth a look.

So then, in the words of Jerry Springer: what have we learned today? Well…
Pavyluchenko has a foot like a traction engine.
Birmingham's style is seemingly more suited to the Europa League than the Championship.
Shamrock Rovers are capable of playing competitively at this level for 90 minutes and appear to have the potential to take points off decent teams.
European sides visiting the Britannia Stadium find it just as daunting as Premier League sides.
Fulham remain very much a work in progress under Martin Jol.
Right, I'm off to catch the Luas. Thanks for reading and be sure to check out our next liveblog this weekend, as the Premier League continues in earnest.