Send us your thoughts and comments on this afternoon's game. E-mail adrian@thescore.ie, tweet us @thescore_ie, find us on Facebook, or leave a comment below. Let's do this.
As they say in Moscow: we've been expecting you Mr Bond.
Strap in for a 'crunch Euro 2012 qualifier'™ as Ireland take on big boys Russian in Moscow.
With an afternoon kick-off that evokes early games during the Charlton era with Johnny Giles on a crackly phoneline, we're going minute-by-minute.
The teams will line up as expected. All the Russians play behind the iron curtain – that's still there, right? – apart from Arsenal misfit, Andrei Arshavin.
Here's the full run-down:
Russia: Malafeev; Anyukov, Ignashevich, V Berezutsky, Zhirkov; Zyryanov, Shirokov, Semshov, Arshavin; Pavlyuchenko; Kerzhakov
Ireland: Given, Kelly, Dunne, O'Dea, Ward, Duff, Whelan, Andrews, McGeady, Keane, Doyle.
A few of you have mentioned already how good RTE's Rocky 4-themed intro was. A Belarussian colleague once admitted to me that he was rooting for Drago throughout that film.
The three wise men of Montrose are presently doing their thing before kick-off, which is just over five minutes away.
John Giles has gone over the ball and told Dick Advocaat to mind his house. The Dutchman said this week that he expects nothing new from Ireland.
Dunphy says the Russia manager has a point, regarding our perceived predictability, while Chippy thinks our spirit might see us right despite it.
How are we feeling out there in computer land? Win, lose or draw?
Arshavin and Keane are currently rocking the mic for the UEFA-sanctioned anti-racism speech. I'm sorry, but any team with the Arsenal winger as skipper, is vulnerable.
Am I clutching at straws again?
A thousand Irish football fans exhale loudly and raise an eyebrow as Given, O'Dea and the rest of the Irish defence tikka-takka tha ball out of defence with the Russians at the gate. They get away with it though.
The home side have lined up in a 3-5-2 while Trap decided to go for…. yes, it's 4-4-2 again.
Oh my. The Russians break really quickly and almost open their account. After Kelly tackles an attacker the ball breaks to Arshavin who drilled a shot which Given saved superbly.
The home crowd unveiled this impressive banner before kick-off – it reads, I'm told: 'Onwards to Kiev'. Pic, courtesy of Off The Ball's Ken Early.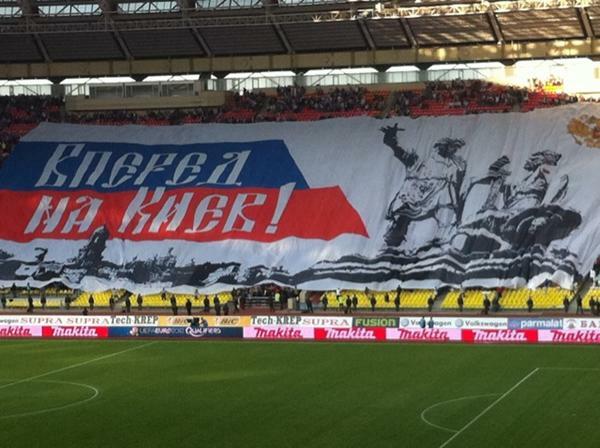 In the meantime, Ireland are looking very stretched, while Ronnie Whelan says Stephen Ward is, again, tucking in too much. Is it too early for Stephen Hunt?
Trap is prowling the box after what has been a hectic opening 18minutes or so. It's Darragh Maloney in the gantry but George Hamilton's catchphrase is more than apt: danger here.
Another great save from Given. It came down Russia's right flank again; the ball was cut back to the No 6 Semshov, whose half-volley had to be padded away by the Villa man.
As I type, Given makes an uncharacteristic mistake, fumbling a daisy-cutting effort from outside the box. It ends up behind the goal rather than in it though and he claims the high, subsequent corner.
This stuff isn't good for one's health though.
We've reached the 30-minute mark. How it's scoreless, I do not know.
Ronnie Whelan reckons they have an extra man out there. As I type, McGeady again saves Ireland with a last-ditch tackle on the marauding Zenit right-back Anyukov.
Tardelli and Trap are engaged in a heated discussion on the line/ fiddling while Rome burns, depending on your perspective.
What the what! Richard Dunne makes an unbelievable block on the line. Zhirkov danced in from the left, cut it back and Semshov shot from five yards out. How'd we get away with that?
Stephen Hunt is warming up by the way.
I'm sorry if I'm repeating myself, but how is this nil-all. Given batted away a corner there at the near post, then found his left foot caught in the nets. He extricated himself as Arshavin blazed another over the bar.
We need Davy Crockett giving the half-time pep talk here, not Il Trap (Alamo reference there, history fans). 42 minutes on the clock.
HALF-TIME 0-0
Another one of the line, this time a header from Alexey Berezutsky – not sure who was on the back post, maybe McGeady?
Things are about to get real in the RTÉ stationary cupboard – there's going to be a few pens thrown here. How are we feeling out there?
As DErmot says in the comments below: "Half time – phew, time to steal a few of the woman's fake fingernails to replace my own".
Liam Brady, paraphrased:
"Richard Dunne's been heroic, our attacking players are doing their best work going backwards. Russia are stronger physically, better technically, they use the width of the pitch. I just hope they've expended too much energy in the first half dominating us."
Giles on Stephen Ward never playing on plastic before: "You know what position you're in whether it's plastic or glass."
He's not wrong.
So how can we fix this? Brady wants McCarthy on for Robbie. Dunphy wants Foley on too. Chippy adds that those calling for Hunt are mistaken – the wingers are doing their job, he argues.
The teams are now back on after a delayed appearance from the Irish – with no changes on either side.
Tardelli is completely losing the head (technical term) with Trap on the sideline. The defence was carved open again and Dunne was compelled to make a list-ditch, saving tackle again.
And there's been a change…. on the Russian side. Roman Pavlyuchenko is on for Kerzhakov, to a very warm reception.
Richard Dunne deserves something out this, even if Ireland certainly don't. He galloped over the half-way line for the fist time, lost it, and then got back to slide in on Arshavin.
Moments later Stephen Kelly denies Russia a goal opportunity, but they get through our midfield easily again.
Simon Cox is coming on for Kevin Doyle. "Yeh, Very interesting," shrugs Ronnie high in the stands. Very interesting is the pre-watershed assessment, you feel.
In the meantime, we're about to hit the hour mark. Remarkably, it's nil-all. Could we… dare we.. begin to dream?
Stephen Ward hits a cross towards Red Square.
Shades of Orlando. We can't get Stephen Hunt on because the fourth official can't work the electronic number board. He should turn it off and back on again.
Hang on.. he's now on for Duff.
Hunt has made an impact already: he won a trademark 50-50 in the middle of the field and just now floated in a dangerous looking free kick. Robbie Keane flicked it over the bar from 15 yards out maybe. Ireland look to have something of a foothold in the tie at least.
What's the verdict on Trap's substitutions? Doyle and Keane won't be happy, being two of Ireland's better performers tonight.
We're crossed the 70-minute threshold. Russia are starting to look a little shapeless, dare I say it, while the crowd are restless.
Richard Dunne is receiving attention from the Irish medical staff after he hopped his head on the running track during a strong sliding tackle on former Chelsea man Zhirkov.
Dunne is patched up and back on his feet in a new jersey. But he'll miss the next game – against Andorra – as he was booked for the tackle.
Dunne is off the pitch as his new jersey has no number on it. If we concede here…
Alan Kelly has drawn a four on Dunne's back. I'm going to do the same as soon as I get home.
Hunt is booked for a tackle on Arshavin. The Arsenal man takes it himself but guess who's on the end of it? The hipster guy who customises his own jersey.
'What a miss' is Ronnie's assessment. And he's quite right – Bilyaletdinov takes his point from the edge of the area after Ireland were carved open handily. There's 82 minutes on the clock.
Russia waste another rake of chances, including the customary side-netting flirtation. There's 86 minutes on the clock.
This is ridiculous. Given saves a diving header from five yards, after Ward was snoozing at the back post again.
Richard Dunne wins man-of-the-match. There's 89 minutes on the clock.
Corner for Russia with the 90 up. Arshavin whips it in but Given was held and the ref awards a free out.
92-and-a-half on the clock.
**** FULL TIME: Russia 0-0 Ireland ****
There's your lot. That game was incredible. Richard Dunne was like McGrath of old, Aiden McGeady worked his socks off, Trap was, again, a lucky general.
Let us know what you think, we'll be back with reaction later this evening.