As always, we'd love to hear your thoughts on the game. E-mail paul@thescore.ie, tweet @thescore_ie, post a message to our Facebook wall, or leave a comment below.
You may need to refresh the page for YouTube videos and other elements to display correctly.
Hello, and welcome to our liveblog on an important night for Martin O'Neill and the Ireland team.
No news on the teams yet, but interestingly, in tonight's other game, it's Georgia 0-0 Poalnd at half-time.
It could be a big boost for Ireland if the Poles fail to emulate their win in Tbilisi, and the hosts have gone close to scoring on a few occasions, though Poland have hit the woodwork as well.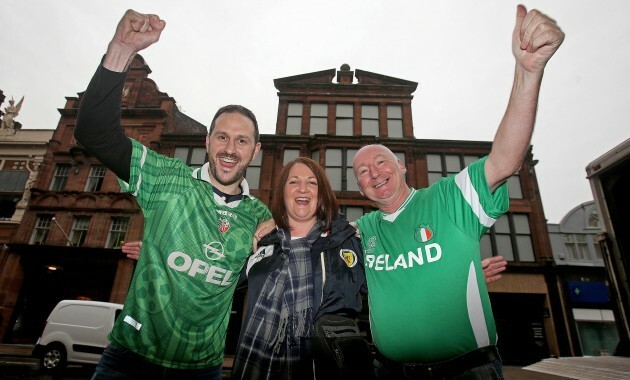 Donall Farmer / INPHO Donall Farmer / INPHO / INPHO
(Ireland and Scotland supporters in Glasgow ahead of tonight's game)
Unfortunately for Ireland, it's now Poland 1-0 Georgia.
Kamil Glik has given the visitors the lead.
Krychowiak puts Poland 2-0 up, before Milik makes it 3-0.
15 minutes remain but it's effectively all over now.
The Scotland team for tonight is as follows:
Marshall, Whittaker, R.Martin, Hanley, Robertson, Maloney, Mulgrew, Brown (c), S.Fletcher, Naismith, Anya.
James Morrison is injured, with Charlie Mulgrew coming into the team.
No Robbie Keane in the Irish team?! Huge call, what do we think of that.
The RTÉ panel agree that it was "the right call" to drop Robbie Keane.
"The players are confident and we're all confident that we can win the game," Martin O'Neill tells RTÉ.
He says Robbie Keane will be "chomping at the bit" to get on, and neglects to reveal what position Aiden McGeady will be starting in.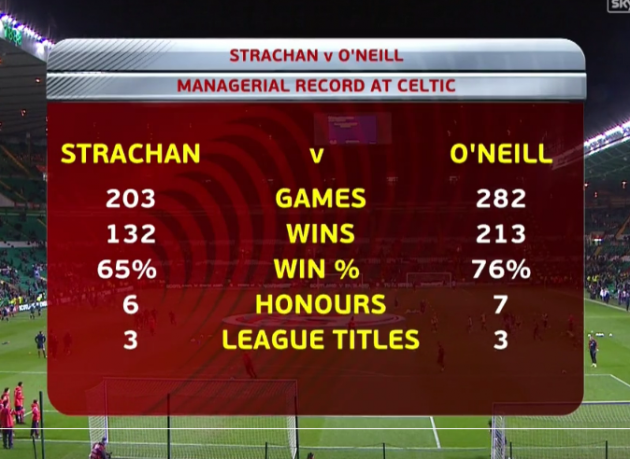 According to Sky, Martin O'Neill has a slightly better managerial record than Gordon Strachan statistically.
Eamon Dunphy on THAT decision: "It's a big call and it's the right call, it's a brave call."
More reaction here.
Nov 14th 2014, 7:49 PM
2mins
Good positive start from Ireland.
Walters has just tested Marshall with a pot shot, while moments before, James McClean blasted a free-kick straight into the wall.
Nov 14th 2014, 7:51 PM
3mins
Now Scotland get a chance, as Steven Fletcher heads over from a well-delivered corner.
It's being played at a very high tempo, as you'd expect.
Nov 14th 2014, 7:55 PM
7mins
Aiden McGeady is getting booed every time he touches it, unsurprisingly.
Meanwhile, Seamus Coleman has started well, showing he has the pace to match Scotland's dangerous winger Ikechi Anya.
Nov 14th 2014, 7:59 PM
9mins
The ball drops on the edge of the box to Gibson, but his shot isn't powerful enough to trouble Marshall.
Shortly thereafter, Hanley is lucky to escape with only a yellow after taking down Long, who was through on goal (though the ball was well ahead of him).
Nov 14th 2014, 8:02 PM
13mins
Long's had a good start to this game.
He's clearly working hard off the ball, and is holding it up well too.
Nov 14th 2014, 8:05 PM
16mins
Twitter is not happy about that rather lenient decision earlier!
Nov 14th 2014, 8:08 PM
20mins
John O'Shea isn't happy with Steven Naismith amid suggestions that he threw an elbow.
Shortly thereafter, he heads the Everton striker's cross away for a corner.
Nov 14th 2014, 8:10 PM
21mins
The Irish fans are impressively vocal, given that they are few and far between if reports are to be believed.
They're currently loudly chanting McGeady's name.
Nov 14th 2014, 8:13 PM
25mins
McClean does well to block a cross, but then frustratingly runs it out of play.
Scotland have had the better possession and territory so far, though Ireland continue to look a threat on the counter-attack.
Nov 14th 2014, 8:16 PM
26mins
Nov 14th 2014, 8:18 PM
28mins
Jeff Hendrick has just been booked for a poor high tackle on Whittaker.
At the moment, a red card looks almost inevitable at some point.
Nov 14th 2014, 8:21 PM
33mins
Good cross by Maloney and Mulgrew heads just wide.
Scotland are well in the ascendancy now.
Nov 14th 2014, 8:23 PM
35mins
Nov 14th 2014, 8:28 PM
40mins
Maloney does well to get a cross in, but the onrushing Fletcher can't connect.
Scotland are getting closer as Ireland continue to toil.
Nov 14th 2014, 8:32 PM
42mins
A long ball comes to Long, but the striker's cross goes straight out of play.
Ireland, it's fair to say, has been fairly mediocre in the final third so far.
HALF-TIME: SCOTLAND 0-0 IRELAND
So 0-0 at half-time, but Scotland's dominance increased as the half wore on.
One or two decent chances went begging for the hosts, while Martin O'Neill's men have offered little in the final third, as hard as Long and Walters have worked.
Ireland have defended well under intense pressure, but they'll certainly be happy to get a point from this game based on how the first half has panned out.
Meanwhile, elsewhere in the group…
Nov 14th 2014, 8:49 PM
45mins
The second half is underway…
Nov 14th 2014, 8:51 PM
46mins
Good, patient build-up play by Ireland at the start of the half.
McGeady looks like he could be operating more centrally now, with Walters on the wing.
Nov 14th 2014, 8:55 PM
49mins
Robertson overhits a pass to Naismith and the ball goes harmlessly out of play, causing more frustration for Scotland.
The Irish side continue to look well organised at the back, while looking quite ineffectual up front.
However, as I type, McGeady plays in a great cross and Walters' header is deflected over.
Nov 14th 2014, 9:00 PM
52mins
Chance for Ireland! Walters heads on from a corner but Long's header is too weak to trouble Marshall.
Meanwhile, Scotland make a change, with Chris Martin (the Derby player, not the Coldplay singer) replacing Fletcher.
Nov 14th 2014, 9:04 PM
58mins
Another chance! The ball is only half cleared and McGeady's volley from just inside the box is parried wide by Marshall.
The subsequent corner by McClean is straight into the goalkeeper's arms. Ireland's set pieces have been very disappointing this evening.
Nov 14th 2014, 9:06 PM
60mins
Ireland well on top now.
Marshall does well to collect a McGeady cross under pressure from the Ireland attackers.
Nov 14th 2014, 9:07 PM
62mins
Nov 14th 2014, 9:10 PM
63mins
Decent spell of possession for Scotland ends when Naismith finds Martin with a cross and the Derby man's cross goes just wide of the post.
With just under half an hour to go, this game really could go either way.
Nov 14th 2014, 9:13 PM
67mins
Anya causes problems for Coleman again before overhitting his cross.
Ireland's first substitutions are made — Long and Gibson are replaced by Quinn and Brady.
Nov 14th 2014, 9:15 PM
69mins
Brady immediately gets in behind the Scottish defence, but it's headed clear for a corner.
Still no sign of Robbie Keane coming on, as Ireland look to be content enough with a point.
The corner is easily cleared away, before Roy Keane argues with the referee on the sideline.
Nov 14th 2014, 9:18 PM
70mins
Here's Keane staring down the ref.
(Pic via Balls)
Nov 14th 2014, 9:18 PM
73mins
Nov 14th 2014, 9:20 PM
74mins
Great goal from a Scotland perspective but poor by Ireland.
Maloney plays a one-two from a corner, before nutmegging Hendrick and curling the ball beautifully into the net.
Nov 14th 2014, 9:22 PM
77mins
Robbie Keane is on for Ireland.
Jeff Hendrick, who hasn't had the best of nights, has gone off.
Nov 14th 2014, 9:24 PM
79mins
Here's a look at that Maloney goal.
https://vine.co/v/O5bJtD75g6L
Nov 14th 2014, 9:27 PM
82mins
Good play from Keogh, who collects a loose ball an wins a free kick in a dangerous area.
Brady's subsequent free kick is headed away for a corner.
Nov 14th 2014, 9:29 PM
83mins
Keogh collides with Marshall as he collects Brady's corner.
The Scottish players are not happy but there wasn't much in that.
Nov 14th 2014, 9:32 PM
85mins
Ireland produce pass after pass but McGeady, in particular, dwells on the ball, and fails to get a shot away.
Eventually the opportunity dissipates and Scotland clear it.
Nov 14th 2014, 9:34 PM
87mins
Coleman is very lucky to get away with a second yellow.
He commits a lunge on his opponent, but the referee plays advantage, and the Everton man gets away with it.
Nov 14th 2014, 9:35 PM
90mins
Quinn commits another bad challenge in this fiery game and gets booked.
There'll be four minutes of stoppage time.
Nov 14th 2014, 9:36 PM
92mins
Ireland have a free in a good area…
Nov 14th 2014, 9:37 PM
93mins
Drama as a Scottish player hits his own crossbar from a dangerous free kick in before it's cleared…
Nov 14th 2014, 9:39 PM
94mins
FULL-TIME IRELAND 0-1 SCOTLAND
So that's that, and it's a fairly disappointing night for Martin O'Neill and Ireland.
Scotland's 1-0 victory was ultimately deserved, as the hosts looked sharper and passed the ball better for the most part.
Ireland came close to scoring at the end, but for the most part, chances were few and far between, as the visitors struggled to create chances and to control the play.
Maloney's moment of genius won it, but it was hardly fitting in a game that was short on quality otherwise.
Right, that's all from me.
Thanks for reading and commenting, and commiserations to all the Irish fans out there.