Get in contact in the usual ways: email paul@thescore.ie, tweet us or find TheScore on Facebook.
South Africa 13-5 Samoa (FT)

Hello, and welcome to our live coverage of today's game.
Here are the teams:
South Africa: Lambie, Pietersen, Fourie, Steyn, Habana, Steyn, Du Preez; Mtawarira, B Du Plessis, J Du Plessis, Rossouw, Matfield (capt), Brussow, Burger, Spies.
Replacements: Smit, Steenkamp, Van der Linde, Alberts, Louw, Hougaard, De Villiers.
Samoa: Williams, Lemi, Mapusua, Fuimaono Sapolu, Alesana Tuilagi, Pisi, Fotuali'i; Johnston, Schwalger (capt), Taulafo, Thompson, Leo, Taiasina, Faasavalu, Stowers.
Replacements: Avei, Perenise, Mulipola, Treviranus, Lavea Levi, Poluleuligaga, Pisi.
This could be a cracker. Wales posed South Africa many problems, and Samoa certainly have the ability to do the same.
The Manu Siva Tau has been performed and we're all set to go here.
Here is the English translation of its lyrics, in case you were wondering:
The Manu Samoa, may you succeed in your mission
The Manu Samoa, here I come
There is no other Manu (team) anywhere
Here I come completely prepared
My strength is at its peak
Make way and move aside
Because this Manu is unique
The Manu Samoa
The Manu Samoa
The Manu Samoa reigns from Samoa
South Africa have started similarly to how they did against Wales, on the attack, with Steyn kicking a drop goal attempt narrowly wide.
Steyn has just hit the post with another drop goal attempt. It won't be his last one today I'm sure.
South Africa have dominated possession in the early stages. If the pattern of the game continues this way, there's only going to be one winner.
SOUTH AFRICA 7-0 SAMOA: That was the simplest of tries. A few simple passes out to Bryan Habana, who uses his acceleration to evade his marker and dive for a try in the corner, scoring just before he gets tackled into touch. Steyn makes a difficult kick look easy for the conversion.
Samoa were seriously threatening themselves there, but South Africa defend well inside their own 22 to win a penalty.
That was a let off for Samoa. Seilala Mapusua makes a mess of his kick, which falls to Bryan Habana, who cannot control the ball. He had a straight run in for a try there, if he could have controlled it.
Samoa now have a line-out just outside the opposition 22. They've recovered well from their shaky start.
PENALTY FOR SOUTH AFRICA.
SOUTH AFRICA 10-0 SAMOA: Wonderful from Steyn. His attempt is accurately described by the commentator as "a monster".
SOUTH AFRICA 13-0 SAMOA: Kane Thompson is lucky to escape a sin-binning, as he strikes one of the South Africans, showing some stupid ill-discipline. Steyn, predictably, scores from the resulting penalty.
Samoa badly need a score at the moment. South Africa are threatening to run away with it.
Frans Steyn attempts a monstrous kick (even by his standards), and hits it wide. It didn't really have the legs either, and it's not often you say that about his kicks.
South Africa threaten again, but a strong tackle causes Fourie Du Preez to knock on.
Very risky! Tuilagi goes for the chip kick inside his own 22, but he pulls it off successfully to be fair.
HALF TIME: SOUTH AFRICA 13-0 SAMOA
An interesting first half. Samoa haven't played badly, but South Africa have just been that bit sharper and more ruthless in attack. They have delivered a strong display and I can't see them losing this game now.
On the basis of that first half performance, you'd probably have to consider South Africa as New Zealand's biggest threat in this tournament.
Steve Ryder has just predicted it'll be a South Africa-Ireland final. Oh dear…
The second half is underway and Habana has taken a bad knock already.
That looked nasty. He landed very awkwardly on his knee when attempting to catch the ball from the restart. Looks like Habana is going to be okay though.
Habana has just been knocked into the advertising board following a tackle by Paul Williams. He really has been in the wars of late.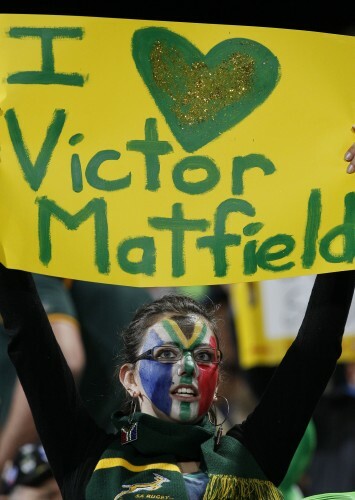 A fan shows her support for the South African star.
There is no question who the neutrals are cheering for. Every time Samoa attack, there is a loud cheer from the crowd. They're enjoying a phenomenon that has become known as the "Ireland effect".
SOUTH AFRICA 13-5 SAMOA: The number 8 George Stowers powers over the line on the back of a lovely Samoan move that featured an exquisite loop pass. Shocking miss for the conversion though.
MISSED PENALTY!!! Steyn hooks it horribly to the right.
Can't be too harsh on Morné Steyn. He's still got 14 of his last 15 kicks.
Samoa have got some momentum on their side now, and are looking dangerous.
Mapusua has to kick it into touch with Steyn bearing down on him. South Africa are on the attack in what is a crucial period in the game.
Possible try for South Africa following a driving maul, but the video replay proves inconclusive, so it's a five-metre scrum instead.
South Africa knock-on and so, Samoa look safe for the moment.

Some controversial thoughts from Ireland cricketer Trent Johnson.
Desperate last-ditch tackling from South Africa prevents what looked a certain Samoan try. This is turning into a great game.
The referee confirms a try will not be awarded, after the Samoan knocks on with the try line at his mercy, and South Africa win the subsequent scrum and clear the ball away to safety.
Jon Smit has equalled Os du Rant's record of 16 World Cup appearances, having just come on.
RED CARD!!! Deary me. Ill-discipline from the Samoans, as Paul Williams "strikes" Heinrich Brüssow in the face. More of a slap, but Nigel Owen adjudges it to be a red card offence committed by Williams.
YELLOW CARD!!! Smit is penalised for a deliberate knock down to intercept a Samoan pass. There's ten minutes left, so it might as well have been a red card. 14 v 14 now.
The game is getting very stretched at the moment. Samoa may not win this one, but they've undoubtedly played the more enterprising rugby of the two sides (in the second half, at least).
Samoa's tendency to off-load at will when they're tackled doesn't always work and has cost them possession on several occasions.
Schalk Burger has been made man of the match – deservedly in my opinion, owing largely to a try-saving tackle earlier.
Wonderful rugby from Samoa as they enter the South African 22. They have been mesmeric to watch at times.
FULL TIME: SOUTH AFRICA 13-5 SAMOA
Well that was a commendable performance from Samoa. South Africa were decidedly less convincing in that second half, failing to register a single point in the entire second half. They were, however, solid as ever in defence and can still be considered as being among the favourites to win the competition.
Victor Matfield has praised the Samoans' heart and admitted it was a tough game.
An emotional-sounding Mahonri Schwalger says he's "proud" of his Samoan teammates and says something in Samoan, which I can't quite fathom unfortunately.
So ultimately, despite the lack of scores, that was one of the games of the tournament so far. Samoa, in particular, played some fine rugby. However, South Africa, you always felt, were capable of taking it to an extra level when necessary.
Okay, that's it from me. Hope you enjoyed it. We'll have many, many more liveblogs for you tomorrow, starting with the Australia-Russia game at 3.30am.