Liveblog
As always, we'd love you to get in contact, so send us your thoughts by emailing paul@thescore.ie, via Twitter@thescore_ie, find us on Facebook, or leave a comment below.
You may need to refresh to see videos and images.
Southampton 2-3 Man United (FT)
Newcastle 1-1 Aston Villa (FT)
Hello, and welcome to our liveblog of this afternoon's David and Goliath-type contest.
The big team news is that De Gea appears to have been dropped by Ferguson.
Southampton: Kelvin Davis, Clyne, Fonte, Hooiveld, Fox, Puncheon, Steven Davis, Schneiderlin, Ward-Prowse, Lallana, Lambert. Subs: Gazzaniga, Rodriguez, Lee, Do Prado, Richardson, Mayuka, Seaborne.

Man Utd: Lindegaard, Da Silva, Ferdinand, Vidic, Evra, Valencia, Cleverley, Carrick, Welbeck, van Persie, Kagawa. Subs: De Gea, Evans, Giggs, Hernandez, Nani, Scholes, Powell.
Sky's Gary Neville jokes that "he's hoping for his best-ever performance at Southampton today".
United have had a notoriously poor record against the Saints over the years.
We'll also be providing you with updates on Newcastle's game with Aston Villa, which has just started as well.
United have begun this match promisingly, exchanging a series of slick passes, topped off by an audacious Van Persie backflick that unfortunately for United just failed to find his teammate, allowing Southampton to clear.
Shortly thereafter, Van Persie is involved again, as a great ball from Michael Carrick allows him to chest it down and shoot narrowly wide.
Bad news for Irish keeper Shay Given, who has been dropped by Aston Villa today.
Kagawa is dispossessed in a dangerous area, and Puncheon's beautiful curling cross finds Ricky Lambert, who jumps well above Rafael and heads powerfully past Lindegaard.
Great start for Southampton!
Vintage goal from Robin van Persie. Valencia plays the ball in and a slip from Clyne leaves Van Persie free, and the striker hammers it into the net to make it 1-1.
Fonte trips an onrushing Welbeck, who earns United a free kick on the edge of the box.
However, Van Persie cannot repeat his previous heroics with the subsequent free kick, curling it well wide.
Great turn from Lallana to outfox Rafael. He then unfortunately overhits his cross.
Don't want to put the commentator's curse on this game, but I'd be very surprised if there weren't a few more goals in it, on account of the highly attacking style that both sides have adopted.
Another excellent cross from Valencia finds Evra (of all people), and the defender's header is parried away by Kelvin Davis.
Down the other end, a swift Southampton break results in Lallana falling to the ground on the edge of the box following a challenge from Carrick, but the ref waves play on much to the player's evident dismay.
HALF-TIME: Southampton 1-1 Man United
Overall it's been a highly entertaining first half, with some great football from both sides.
Southampton have more than held their own against their more illustrious opponents, and more than deserve to be drawing at the break.
United – as has already been apparent in other matches this season – look decent going forward, but at times far from assured at the back.
The second half is underway…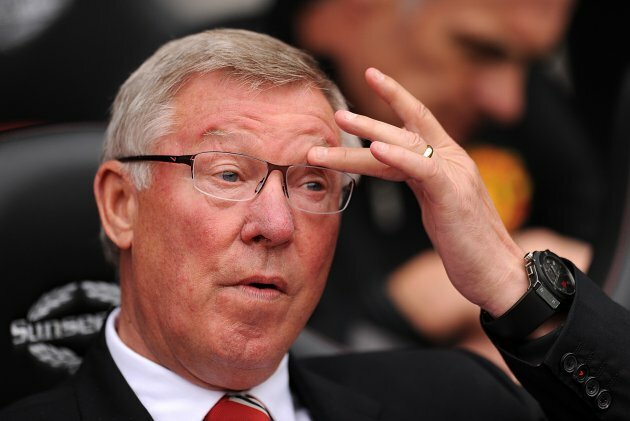 Like Fergie, I think most of us have been left somewhat flustered by the frantic pace of that first half.
I should have mentioned that Ireland's Ciaran Clark was the goalscorer for Villa today. Typically, he's not even in the squad to face Kazakhstan.
Poor attempted pass from Kelvin Davis to his defender allows Valencia to nip in and cross for Van Persie, who finishes disappointingly.
A Patrice Evra slip leaves Schneiderlin free as the ball is lofted into the area, and he makes no mistake with an excellent header to give the Saints the lead once again.
"I don't know what's happened to the full-backs today," says a bemused Gary Neville.
Meanwhile, as I type, Puncheon almost adds to the hosts' advantage, as his strike is parried away for a corner by Lindegaard.
UNITED SUBSTITUTION: NANI AND PAUL SCHOLES REPLACE TOM CLEVERLEY AND SHINJI KAGAWA.
Just under half an hour to go.
Paul Scholes immediately makes his presence felt, as his through ball finds Van Persie, whose shot forces a good save from the goalkeeper.
Shortly thereafter, Evra makes an impressive last-ditch tackle to stop Lallana getting a shot on goal.
Ben Arfa has equalised for Newcastle against Villa.
PENALTY MISSED BY VAN PERSIE!
Kelvin Davies makes a poor clearance that leads to the penalty, but then redeems himself by saving Van Persie's somewhat arrogantly taken clipped effort.
It had been a kamikaze tackle by Hooiveld beforehand, as he got the ball but went through Van Persie in the process and gave away a clear penalty.
"Every time I do co-commentary, I find myself saying 'the drama in this league is incredible,'" says Gary Neville.

"That's because the drama in this league is incredible," replies Martin Tyler.
MORE SUBSTITUTIONS: Lambert and Puncheon go off for Do Prado and Mayuka, while Hernandez replaces Welbeck for United.
FINAL SOUTHAMPTON SUBSTITUTION: Lallana is replaced by Rodriguez.
Southampton are being pushed further and further into their own half.
Looks like it's going to be a backs-to-the-wall job for the remainder of the game as far as they're concerned.
Great statistic has just been referenced by Martin Tyler – the last time United lost their first two away games of the season was 1973, when they ended up being relegated.
Something tells me a similar outcome won't occur this time around.
Ferdinand's header from Rafael's cross hits off the post, but Van Persie is on hand to blast home the rebound.
Hooiveld almost responds immediately for the hosts, but he fails to properly connect with his header from a corner.
Southampton show the type of defensive naivety that they'd normally have gotten away with in the Championship, as Robin van Persie escapes his marker and glances home a header from Nani's corner.
FULL TIME: SOUTHAMPTON 2-3 MAN UNITED
Game of the season so far? United would have felt it wasn't their day when Van Persie's poorly executed penalty was saved, but he showed great character to recover from that setback and proceeded to score another two goals.
And while the Dutchman will receive much of the acclaim, Fergie deserves a great degree of credit as well. Introducing Nani and Paul Scholes – and to a lesser degree Hernandez – helped turn the game in United's favour.
Southampton, meanwhile, will be encouraged to an extent by this performance, but the type of sloppy goals they conceded also does not bode well for the remainder of the season.
The hosts were also quite poor tactically in the last few minutes – taking off their best three attackers, and adopting an overly negative style that ultimately failed to pay dividends.
Van Persie tells Sky that the third goal was his best one technically and he admits he blames himself for his penalty miss.
He pays tribute to Paul Scholes, saying "every single pass [Scholes played] was the right one".

He modestly adds: "For me, he was the Man of the Match today."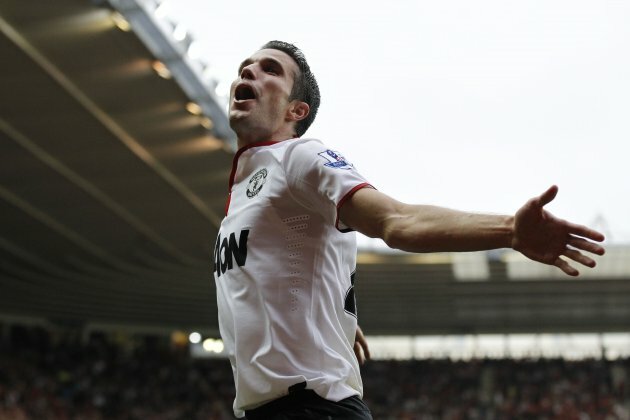 (Van Persie celebrates his hat-trick – Sang Tan/AP/Press Association Images)
Alex Ferguson says that "when Paul Scholes came on the pitch, it changed the game completely".
He adds that "his vision and consistency of passing" helped United gain complete control of the game.
He says all the preparation they did was on defending balls at the back post – yet they still conceded two goals from that area.
Nigel Adkins says he "changed the front three to give us more energy" at the end.
He criticises his side for giving away "two free headers" from the corner.
He claims he is not too discouraged by the fact that Southampton are the only team without a point in the league.
Alright, that's it from me.
Thanks for reading and commenting on what has undoubtedly been one of the best games of the season so far, and enjoy the rest of the weekend.
Contribute to this story: