ALL EYES ARE on the magnificent Donbass Stadium where reigning champions Spain contine their quest to become the first team to win three major tournaments in a row. In their way tonight are Laurent Blanc's unpredictable French side.
We'll have all the action right here so stick around. As always, feel free to email ben@thescore.ie, tweet us or leave a comment below. You may need to refresh in order to see videos etc.
Spain 2-0 France
Good evening all, don't know about you lot but I've been looking forward to this one all day.
There's a half hour to kick-off so I'll get the teams out of the way nice and early:
Spain: Casillas, Arbeloa, Pique, Sergio Ramos, Jordi Alba, Xavi, Busquets, Alonso, Silva, Fabregas, Iniesta. Subs: Valdes, Albiol, Javi Martinez, Juanfran, Pedro, Torres, Negredo, Mata, Llorente, Santi Cazorla, Jesus Navas, Reina.
France: Lloris, Reveillere, Rami, Koscielny, Clichy, M'Vila, Debuchy, Cabaye, Malouda, Ribery, Benzema. Subs: Mandanda, Evra, Valbuena, Giroud, Nasri, Matuidi, Menez, Diarra, Martin, Ben Arfa, Carrasso.
So Vincente Del Bosque opts to start without a recognised striker once again, meaning Fernando Torres has to settle for a place on the bench with Cesc Fabregas and David Silva likely to be the two most advanced Spanish players.
France, meanwhile, go with Vann M'Vila holding with full-back Mathieu Debuchy pushing on to an advanced role on the right Anthony Reveilleire filling in at the back. Arsenal's Laurent Koscielny is also in for the suspended defender Philip Mexes.
Read Miguel Delaney's pre-match thoughts here.

Sounds hard to believe but it's true. Surely Spain can exercise that ghost tonight though?
Quick (fairly) interesting stat: Karim Benzema has had 17 shots so far during France's first three Euro 2012 games without finding the back of the net once. The Real Madrid striker is undoubtedly a class act and he knows this Spanish back four extremely well. Could he explode into form in Donetsk tonight?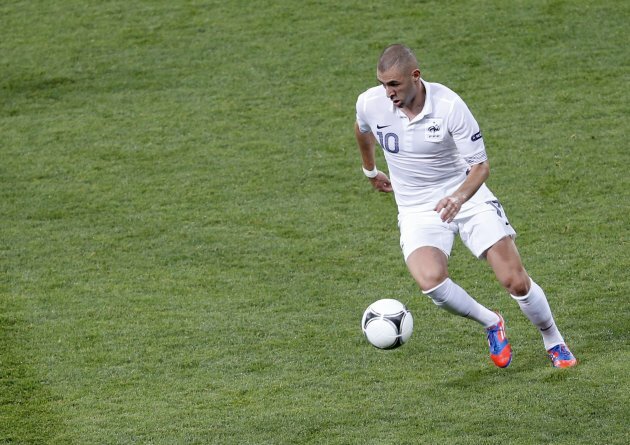 Credit: Darko Vojinovic/AP/Press Association Images
Anthems time. Looking beyond Mr Henry and his handball, you've got to love Le Marseillais. No? Just me then.
Two goalkeepers Iker Casillas and Hugo Lloris shake hands are we're seconds from the start. Personally fancy a 2-1 win to Spain.
Pointless countdown out of the way and here we go…
Fabregas has gone down in the box with Gael Clichy while both watch a through ball floated their way. Does look like the Barcelona man was clipped, albeit unintentionally, by his former Arsenal team-mate but referee Nicola Rizzoli isn't having any of it.
As you would expect, it is the Spaniards who have dominated possession in the opening 12 minutes with Fabregas Silva and Iniesta constantly probing.
During the latest attack, Silva slips a ball out wide to Arbeloa, who gets his angles all wrong and drills it across the box where there are no team-mates in sight.
Here's that penalty claim incident. What do you make of it yourself?

YouTube credit: Rul Rive (h/t: 101greatgoals)
A bit of excitement from the French crowd when Benzema and Franck Ribery linked up just there. The team's two most dangerous players if they can get going.
GOAL! Spain 1-0 France (Xabi Alonso)
It's taken less than 20 minutes and Spain lead. Iniesta plays a ball out to the excellent Jordi Alba on the left and he skips past a challenge before crossing to the back post where Alonso waits to tuck his header past Lloris.
A rare headed goal from the Real Madrid midfielder.
Spain have had another attack since that goal while France responded with some decent play between Benzema, M'Vila and Debuchy but the Lille player's eventual cross was cut out.
So Blanc's original plan of containment hasn't worked. What now?
Benzema tries his luck with a free-kick from distance… but shoots high and over.
A half hour in and Spain looking totally dominant. And, oh dear… the dreaded Mexican wave has already raised its ugly head.
First yellow card of the night goes to Sergio Ramos and from the resulting free-kick, Yohan Cabaye's strike towards the top corner forces Casillas into a save. When the corner comes in Adil Rami attempts to head the ball away from Casillas but the Spain skipper eventually throws himself on the loose ball.
After Malouda and Ribery get their wires crossed, Spain win back possession and a one-two between Fabregas and Iniesta is close to putting the latter through on but is blocked.
You've got to love blind optimism…
Cabaye into the book after catching Sergio Busquets who likes to make a meal of things but, admittedly, is entitled to there.
Wardrobe change for Ribery, meanwhile, who has had his jersey ripped by an opponent, presumably Arbeloa.
Half-time: Spain 1-0 France
14 goals in 100 international appearances for former Real Sociedad and Liverpool player Alonso.

YouTube credit: YM11MY
And we're back. Blanc has decided to stick with his starting XI surprisingly so expect a couple of changes in about 15 minutes if we continue as we left off. Hoping we might see the introduction of Arsenal-bound Olivier Giroud.
Couple of yards of space opens up for Alonso and he decides to take on the strike from a long way out. Catches it cleanly but the accuracy leaves a lot to be desired.
Some resolute defending from Sergio Ramos there when Ribery finds the ball at this feet inside the Spanish box. Puyol would be proud.
Ribery shows a bit of skills to get away from his maker and cross to Debuchy, who connects with a header but can't keep it down. A half-chance but it's something and getting Ribery on the ball is key.
As I write, there's a bit of a scramble 10 yards out from Spain's goal as Cabaye gets beyond the defence.
One more piece of action to report. Fabregas is slipped in and should be on for a shot but Lloris does brilliantly to come off his line early and snuff out the danger.
Substitutions ahoy. Jeremy Menez and Samir Nasri in for France, while David Silva is off and Pedro takes his place.
Seconds later, Fernando Torres makes his introduction for Fabregas.
23 minutes still to play.
Two of Spain's subs are inches away from linking up to score but for the intervention of Koscielny.
Ribery is away down the right and looks to have taken the ball a step too far but somehow succeeds in pulling it back to the front post where Casillas has to bat away from the onrushing Menez.
Yellow card has been brandished at Menez, only on the field, for descent. If France do manage an unlikely comeback here, he will miss the semi-final.
Last throw of the dice for Blanc as Giroud is given 12 minutes to change the game and M'Vila makes way.
Final change for Spain and it's Iniesta off, Santi Carzola on.
With four minutes of regulation time to play, Spain are simply running down the clock now. And there is very little France can do about it.
GOAL! Spain 2-0 France (Xabi Alonso)
Koscielny brings down Pedro in the box and Alonso is handed the chance to double his tally for the night, and makes no mistake from the spot.
Full-time: Spain 2-0 France
That's that then. Second half was something of an anti-climax as Spain were content to hold onto their 2-0 lead and France never committing bodies forward to pull one back. Spain deserved winners, France look ready to go home on that display.
Spain v Portugal and Cristiano Ronaldo it is, next Wednesday back here in Donetsk. On the other side of the draw, Germany will face the winner of Italy v England, which is tomorrow night's fixture.
I'll leave you with that penalty conversion… Good night folks.

YouTube credit: Rul Rive