IT'S BEEN A long, long testing road, but we've made it to Kiev and so have Spain and Italy.
Not content with beating Ireland back to the west, these two have mowed all other teams that have come before them.
Should be a thriller.
Join in the action by leaving a comment below, email Sean@TheScore.ie tweet @TheScore_ie or hit us up on Facebook.
Now, if you'll excuse me, there's a tournament to be decided.
Spain 4 – 0 Italy
Take the phone off the hook… oh, wait. OK, just block incoming calls and keep the signal clear for all the live updates that are about to come your way.
It's Spain v Italy, Iniesta v Pirlo, red v blue, paella v pasta…. You get the point, I'll stop now.
We're 15 minutes from kick off and the pitch is covered with a strange sky blue tarp. It can only mean one thing – a boring pre-match ceremony.
Dancing, prancing, that sort of stuff.
As Trap says: 'If you want entertainment, go to La Scala!'
Here are your teams. Italy have drafted Federico Balzaretti in in place of Ignazio Abate. Spain have chosen Cesc Fabregas to play the Andy Carroll role.
Spain: Casillas, Arbeloa, Pique, Sergio Ramos, Jordi Alba, Xavi, Busquets, Alonso, Silva, Fabregas, Iniesta.

Italy: Buffon, Abate, Barzagli, Bonucci, Chiellini, Pirlo, Marchisio, Montolivo, De Rossi, Balotelli, Cassano.
Titans, every one.
While we're waiting on the actual football teams to emerge, have a read of Miguel Delaney's letter from Kiev along with his big game preview (he's predicted a Spanish win).
Ooh, the Italians are a little out of sync with the anthem blaring out across Kiev. Bad omen, good omen? One thing's for certain, Spain won't have that trouble.
It's close now. Let's have your score predictions. I'm plumping for another 1-1… then another Iniesta game clincher in extra time.
KICK OFF: Hopefully, we've heard the last of that countdown for a wee while. Spain get us underway, but Italy have soon closed them down and delivered the ball quickly to Super duper Mario. He's fouled.
A typically mesmerising move from Spain almost puts Anders Iniesta through on goal, but Marchisio is on hand to tidy up. At the other end, Cassano sent an early cross to Balotelli, but Ramos wins the ball in the air and send the City striker tumbling to the ground.
David Villa and Carles Puyol are in the stands wearing some very stylish t-shirts.
John Terry would not approve.
Spain are in complete control now as we approach the 10 minute mark. The red shirted members of the crowd are greeting the extended phase of possession with Ole.
Italy needing to bring seven or eight shirts to their own box.
Fabregas threads one to Xavi who blazes over from the edge of the box.
Should have hit the target, perhaps passing is more his thing.
GOAL: Spain 1 – 0 Italy (David Silva '14)
Precisely what Italy were dreading. A superb run down the right-hand channel of the box from Fabregas. he managed to hold off Chiellini and cut the ball back towards the penalty spot.
The height was absolutely perfect for Silva to connect with his head and direct into the left corner with Buffon stuck on the other post.
That's the first time in this tournament that Italy have fallen behind. They're trying to redress the balance immediately here.
Pirlo had a free-kick deflected behind and, from two resulting corners, he swung crosses right in on top of Casillas. The skipper stood tall and punched clear.
All manner of confusion in the Italy area. That man Pirlo has to lunge in and steal the ball from Iniesta.
As if being behind was not enough. Italy have now been stripped of Georgio Chiellini. Balzaretti is on in his place.
Here's the goal. Watch it before UEFA finds it.
YouTube credit: Pedro Alvarez
Italy will not be brushed aside easily. Even with Pirlo not quite in his best rhythm he picks a pass to Cassano and the striker fired in a powerful drive.
Casillas got down low to his left and palmed away.
GOAL: Spain 2 -0 Italy (Jordi Alba '40)
Spain go route one, kind of. Casillas' goal kick is taken down on half way by Iniesta. He finds Fabregas in an acre of space in midfield and as he turns for goal, nobody bothers to close him down.
Jordi Alba makes a lung-busting run from left back and, with him at full tilt, Fabregas picked a perfect ball to him. Then he did this….
YouTube credit: Pedro Alvarez
Beautiful finish around Buffon. Decent time to score your first international goal.
HALF TIME: Spain 2 – 0 Italy
Italy have it all to do, and then they have to do it again.
Whatever about Spain providing little entertainment in the lead-up to this final they purposefully gone into this game to attack. They took the game to Italy from the beginning, their passing has been quick and slick.
Two assists for Cesc Fabregas has made the difference on the scoreboard, but there is no comparison between these sides on the pitch.
The second half is underway moments after a bombshell from John Giles that he would 'put money on Spain to score the next goal.'
He nearly lost his hard earned sterling there as Abate finds Di Natale with a cross. The header flashes a foot over the bar.
Spain (and John Giles) are raging at the referee claiming a penalty. Sergio Ramos met Xavi's cross with a diving header which hit Bonucci on the forearm from point-blank range.
Another gilt-edge chance for Di Natale. receiving a through-ball with his back to the left side of the goal he was free enough to spin and shoot. Cue a typically brilliant save from Casillas.
Montolivio has been given the old shepherds crook. Thiago Motta is on. That's Italy's third substitution after Di Natale replaced Cassano at half time..
For Spain: Pedro replaces David Silva. His work is done.
Oh dear… you know how I just said Italy had made all three subs?
Well, Motta is down injured, looks like a hammer, so the Azzuri will have to trudge ahead with only 10.
Might as well hand Spain the trophy now… it might distract them enough to let Italy score.
Scuzi, Mr. Prandelli: we have a solution for you!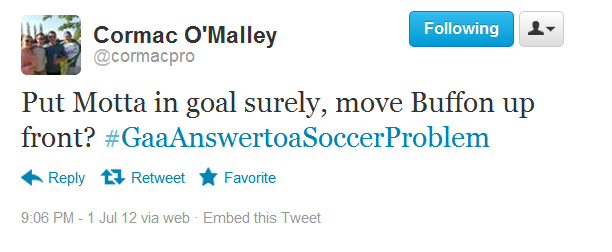 The crowd in Kiev – with the help of some reported empty seats – are gradually sobering up (Spanish) or becoming more depressed (Italian). Negligible amount of noise in the ground now, picking up only when Spain create an opening.
Our man in the Ukraine is Miguel Delaney. As an Osasuna boy made good, he has a question for the doubters of the one true tiki-taka faith:
YouTube credit: allstar21369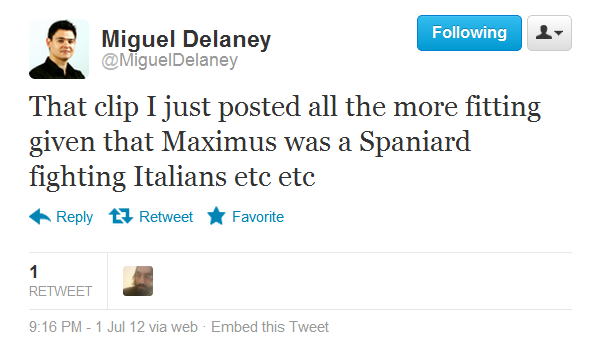 With 15 minutes to go, you could make the argument that… no, frankly, we're not entertained anymore.
The first half incarnation of Spain were majestic. The second half thus far they have been professional, holding a flagging Italy off at arm's length.
And then, as I whine, they almost deliver the knock-out punch. But are foiled by two things:
1. Alba's low cross found Pedro offside.
2. The Barca boy side-footed woefully wide from six yards.
Ten minutes left (you get the feeling Proenca won't play too much injury time) and the Spanish have found their voice again.. 'Campeone, Campeone, ole ole ole….'
They're also singing what sounds like Can't take my eyes off of you.
Presumably with the ultimate join-in point begin 'Ti Amo, Baby!….
GOAL: Spain 3 – 0 Italy (Fernando Torres '83)
There it is, the 'actual' number nine delivers the coup de grace -(or whatever coup de grace is in Spanish) He's slipped in down the left side of the box and looked like the old Torres as he slipped it effortlessly past Buffon.
YouTube credit: Pedro Alvarez
GOAL: Spain 4 – 0 Italy (Juan Mata '88)
It's that left hand channel for Torres again, but he's incredibly unselfish. The golden boot seemed his for the taking, but he cut back to his Chelsea team mate who couldn't miss the open goal.
La historia de ellos es!
FULL TIME Spain have become the first team to win back to back European crowns and they are also the first team to win three consecutive international tournaments.
Does that make them the greatest team ever? Why not.
John Giles says it's "disrespectful" to call Spain the best team of all time, because teams of the past were also great teams. WTF?
The woman oozes class. Even in crushing defeat…
Now that the three wise men have stopped rabbiting on we're back in Kiev as Italy make the lonely walk up to collect their silver medals… sub goalkeepers can never disguise their delight at being on a podium.
Balotelli watch: took his medal without kicking up a fuss. Scowled a bit at Platini, but accepted a hug and went on his merry way. Here come the Spanish.
Arbeloa and Iniesta lead the troops up, no sign of John Terry (yet).
Cesc Fabregas has a t-shirt over his Spanish shirt, it appears to have the names of the four football men Spain have lost, 'Jarque, Manolo…' can't recall the others off the top of my head.
Here's Iker!
The squad goes wild, for a time anyway. Many of these players are well-accustomed to lifting trophies. They show exuberant glee as Casillas held the trophy aloft, but as they come down the steps, they have straight faces again.
A job well done.
And while Eamon Dunphy is suggesting that the decision of Spanish players to not sing the anthem is down to a lack of unity rather than a lack of lyrics, Alan Shearer has other things on his mind….
YouTube credit: gibfootballshow
Filthy Spaniards.
And on that note folks, we'll bid you good night.
All of us here in TheScore.ie war room hope you enjoyed our coverage of the Euros… It's not even over yet as Miguel Delaney's analysis is on the way.
It's been emotional, we're off to sing the Spanish anthem all the way home. Words or no words.
Hasta la vista, baby!