Wheeling and/or dealing, ahoy! Jim White, the Skypad, lovely Nathalie Sawyer…
Warm up those fax machines and get in contact in the usual ways. Email us at sport@thescore.ie, find us on Facebook or tweet @thescore_ie.
A quick summary of the morning's major developments:
After shifting cherubic winger Diniyar Bilyaletdinov last week for somewhere in the region of £4m, Everton appear intent on taking a quantity over quality approach to solving their goal drought. They've had a bid of £6m for Nikica Jelavic accepted by Rangers and are rumoured to be sniffing around both Fiorentina's Alessio Cerci and PSG's Guillaume Horau.
Birmingham hostage Liam Ridgewell is finally free. The ransom, around £2m, was deposited in an undisclosed location this morning by West Brom boss Roy Hodgson.
If you thought Harry Redknapp's *ahem* legal difficulties might have dampened his well-documented enthusiasm for transfer shenanigans, you'd be wrong. Spurs are currently linked to a whole host of deals, which can be summarised thusly:
Pavlyuchenko and Corluka, begone!
Adebayor, Rodallega, Hoilett, Samba, Marin – join the party, you guys.
A strange one, this. Chelski have signed Genk maestro Kevin de Bruyne on a five-and-a-half-year contract, but he won't join the club until June, by which time the Londoners could be playing in the Europa League under a completely different manager.
That could be one awkward first day on the training pitch.
Part-time left-back Wayne Bridge is in Sunderland this morning undergoing a variety of tests involving treadmills and breathing apparatus… Martin O'Neill is undergoing a psychological evaluation in the next room.
Staying on Wearside: Martin O'Neill remains hopeful of dragging lumbering Kevin Davies to the Stadium of Light. The Bolton striker may have other ideas, though. There's talk of a lucrative switch to the MLS.
Blackburn are working themselves into a lather this morning. They've just signed Marcus Olsson, twin of Martin – meaning the Premier League now has its very own Olsson Twins™! – and are poised to complete the signing of QPR's Bradley Orr a little bit later on (right after medical technicians perform a bleep test and cavity search).
What's up with Fulham this morning, you ask?
With a cloud of uncertainty having enveloped both star striker Bobby Zamora and his understudy, the prematurely aged Andy Johnson, Martin Jol's people have begun scouring the continent for walking, talking contingency plans. Top of the list is Borussia Dortmund's Lucas Barrios (though the clubs' valuations are about £2.5m apart), followed closely by Russian international Pavel Pogrebnyak.
Manchester City's Merkel-esque austerity programme gathers apace with news of David Pizarro's imminent arrival at Eastlands. A veteran of Roberto Mancini's title-winning Inter side, the 32 Roma midfielder could join the Premiership leaders on a loan until the end of the season.
Ravel Morrison – a volatile jumble of anti-social behaviour, footballing talent and self-regard – has resolved to leave Manchester United after the club refused to improve the terms of its most recent contract offer. The 18-year-old's most likely destination is West Ham.
If ole Ravel thought Fergie was a bundle of laughs, wait until he meets Big Sam…
Boom! Wolves loanee Andy Keogh is a loanee no more. The striker has joined Millwall on a permanent deal.
The number-crunching nerds over at Deloitte Sports Business have cast their eye over the current transfer window and come up with this little nugget of insight:
By 0945 this morning, spending by Premier League clubs had reached £35m, a full £55m short of last year's equivalent total.
Damn you, fiscal responsibility! Damn you!
Chelsea smoothy Andre Villas-Boas has been speaking about the transfer of Genk's Kevin be Bruyne (trademark "ehmmm"s have been omitted):
"It's a target that's decided by the club, that I knew about for quite some time," he said. "He was under the scrutiny of the club for some time. We've been following this player." (BBC)
Not a panic buy, then. Definitely not a panic buy.
Keith Andrews, the Irish Xavi, could be on his way to the Championship later on this evening. Reports have emerged linking the midfielder, who's currently on the books at Blackburn Rovers, with Ipswich and Reading.
Bolton Wanderers' frantic search for creativity has brought them to Crystal Palace, where they're intent on signing young Wilfried Zaha for a reported £7m.
Wipe that spray of coffee from your monitor, Trotters fans, the figure has been widely disputed and may actually be as low as £5m.
David Pizarro's Wikipedia page has already been updated to list Manchester City as his current club! This will no doubt come as news to Roma's general director Franco Baldini, who has just issued a statement describing negotiations as ongoing.
Rumour of the day: Ronaldinho to Fulham! The Guardian has just posted this, courtesy of the Brazilian-sounding Eddie de Oliveira:
"Absurd as it may sound, a radio station in Rio de Janeiro claims Ronaldinho's representatives have been in talks with Fulham about a possible loan move… Apparently, Little Ronald was impressed by Craven Cottage and wooed by Martin Jol when Brazil played Ghana there last year"
Wigan have had their initial approach for promising Watford defender Adrian Mariappa rebuffed. Poor, hapless Wigan.
Are you a Gunners fan? Resigned yourself to another underwhelming deadline day?
Fret not, I've got big news: Arsenal have completed the transfer of Dortmund's Thomas Eisfeld! A 19-year-old attacking midfielder, he's made a total of one appearance for the Bundesliga leaders. Just what you needed: another rough-hewn prospect for the future. Right!?
Oh, and Ryo Miyaichi is expected to leave the club on loan.
[caption id="attachment_342126" align="alignnone" width="630" caption="Blackburn's Olssen twins, Marcus (L) and Martin."]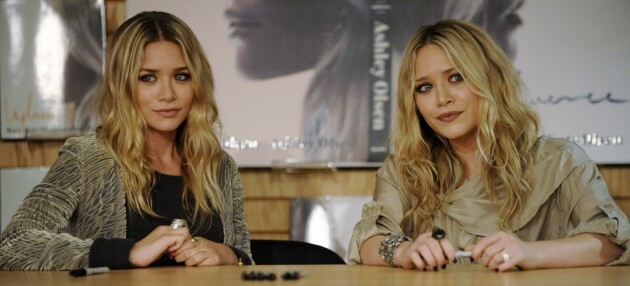 [/caption]
Giovanni Trappatoni's favourite midfielder, Paul Green, could leave Derby County later today. The midfielder is out of contract in the summer, at which point he'd likely become a free agent.
Get your Jim White souvenir DVDs, folks:
Mark Hughes' hunger for signings is insatiable! Already within a handshake of signing Djibril Cissé (yes, that Djibril Cissé, unfortunately), QPR have opened talks with Fulham's Bobby Zamora. The striker is apparently "demanding" a 100% boost in his weekly wage (t0 £90,000).
He crazy.
After spending the last two years looking eastwards and speaking wistfully about his love of Russian football, Arsenal podgemeister Andrei Arshavin may soon be granted his heart's desire. He's currently in talks with Chechen outfit Anzhi Makhachkala (they of Suleyman Kerimov's petro-dollars).
Argh! I began this morning in the hope that I could go the whole day without mentioning Carlos Tevez, BUT…
AC Milan have reopened negotiations with Manchester City! The Italians left City executives alone over the weekend and have returned in the hope that three days spent staring into the financial abyss has softened their position somewhat.
POLL: Ravel Morrison's transfer to West Ham is hurtling towards completion. What say ye, United fans?

Dashing French journo Julien Laurens has just tweeted a bit of Tottenham/Everton news:
Rumours of a "Saha to Tottenham" loan move are perplexing.
Can all this be traced to a misspelt text? Harry's obviously limited in what he can do from the courtroom and, as Friday's proceedings made clear, he's not the most technologically literate guy. Did he mean to write "Zaha"? "Sahin", maybe?
Rumblings from left-field:
Rangers are hopeful of replacing Nikica Jelavic (now of Everton) with Norwich striker Grant Holt.
Fulham are interested in signing underperforming Peter Odemwingie form West Brom.
Make of these what you will; they came from lonely Sky Sports reporters who've spent the morning standing in freezing, windswept carparks.
The Guardian's Dominic Fifield claims Louis Saha's transfer to Tottenham is complete.
What in the blazes?
Shrewd business from David Moyes, though; the injury-prone Frenchman was out of contract in the summer.
Stoke City are currently tabling offers for both Matthew Upson and Danny Higginbotham. The former will only be given the all-clear to leave if Higginbotham's numerous offers (from the Championship) fall through.
We mentioned that Ryo Miyaichi would likely leave Arsenal on a short-term loan, and now he has a destination. The youngster will spend the remainder of the season moonlighting for Owen Coyle's Bolton.
Uh-oh… a promising day for Bolton is beginning to turn a little bit sour. Middlesborough have rejected the club's £6m bid for Rhys Williams and Crystal Palace chairman Steve Parish insists that both Wilfried Zaha and Nathaniel Clyne are "going nowhere".
Boosting the likelihood of Manchester City ridding themselves of Carlos Tevez is news that Milan have also reopened talks with Paris St. Germain over the transfer of Brazilian wunderkind Pato.
City-PSG-Milan: it's like some sort of transcontinental love triangle. Instead of bodily fluids, though, they're exchanging egomaniacal South Americans.

Say, by the sale of a certain Bobby Zamora?
Alan Pardew claims that Newcastle have made their final bid for Watford's Adrian Magrippa. The youngster turned down an offer from Wigan Athletic earlier this morning.
Wayne Bridge's tour of England continues. The left-back has joined Sunderland on loan until the end of the season.
What's this; the two Manchester clubs doing business?
United are understood to be on the verge of signing… *sharp intake of breath*… former Swiss U-17 captain Frederic Veseli from City.
Wigan supremo and frequent holder of dubious views Dave Whelan remains determined to keep Hugo Rodallega at the DW. He told ESPN:
""It might make sense to cash in now. But if he stays with us to the end of the season he can help us stay up, which would be worth far more than a transfer fee."
Update from Aston Villa: *tumbleweed*
Peter Risdale (of Preston North End fame) has confirmed the signing of Graham Cummins from Cork City. Bravo!
The ramifications of this Louis Saha deal are somewhat convoluted:
There are rumours that Stephen Pienaar could head the other direction and make a less-than-triumphant return to Everton. The Frenchman's arrival also clears the way for the departure of Roman Pavlyuchenko, who has slipped down the pecking order at White Hart Lane of late. The deal may prove crucial for Wigan, who remain supremely anxious to end Tottenham's courting of star man Hugo Rodallega.
Remember Sully Muntari, Champions League winner and Portsmouth alumnus? He's exchanged the Nerrazurri for the Rossoneri, a move that, for world-class players, is usually punishable by fan-related mischief, like public shunning and death threats. Luckily for Muntari…
A bolt from the blue, this one.

Tottenham made an £18m bid for France striker Loic Rémy? Really? No word yet on a possible improved bid.
Marseilles might be using the Andy Carroll metric, in which case they could be forgiven for thinking the striker (who has scored nine times this season) worth in excess of £20m.
Rumour has it (l'Equipe and assorted Italian publications) that Thiago Motta is on the verge of joining big spenders PSG.
More Spurs action! This is getting ridiculous…

Determined to better the anticlimactic (if you're a Spurs fan) signing of Louis Saha, Daniel Levy and Co. appear to be working their way through the continental phone book.
I doubt Juve will be willing to part with Krasic mid-season, however, particularly given their tenuous position at the summit of the Serie A.
Apropos of largely nothing, the odds on Jermain Defoe joining Liverpool have begun to plummet.
Sky Sports filler:
Swansea are close to securing the services of Wrexham defender Curtis Obeng.

Sunderland are in the midst of negotiations with super-villain lookalike Sotirios Kyrgiakos.
Boom! Watford have accepted Wigan's £2.5m bid for Adrian Mariappa!
The BBC reports that QPR and Fulham have settled on a £4m fee for England international Bobby Zamora. The medical is still to come, but this is fast approaching the status of done deal…
Wait, there's more! Djibril Cissé has confirmed his transfer from Lazio!
QPR fans everywhere are rejoicing.*
*Unconfirmed at time of publication.
[caption id="attachment_342406" align="alignnone" width="468" caption="This is what Djibril Cissé looks like."]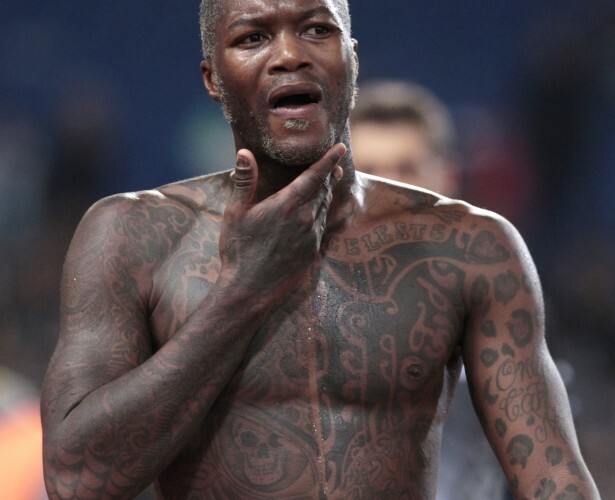 [/caption]
Everton's attempts to tempt exotic Latin Alessio Cerci away from Fiorentina have been scuppered, but according to the BBC's Phil McNulty, "other options of bringing in [sic] are being actively pursued by David Moyes".
Early reports suggest Tottenham signed Saha to an 18-month contract.
He's outta here! Spurs reject Vedran Corluka will spend the rest of the season eating sausage and engaging in similarly sterotypical behaviour at Bayer Leverkusen.
Andrew Johnson, whose status as a Premier League mainstay is largely inexplicable, has turned down a move to Wigan Athletic.
Carlos Tevez may be on the verge of a Premier League exit, but like a bad smell, his wage dispute with Manchester City is set to linger. The Argentinian has appealed most recent fine – of six weeks' wages – to the relevant bodies. It will be considered at the "earliest available opportunity".
"Most boring transfer deadline day in history? Unless you're a QPR fan who likes older men."
So says Ferg Breen, who obviously hasn't heard that Crawley Town have signed Billy Clarke from Blackpool on a two-and-a-half-year deal! Back in your box, lad.
QPR manager Mark Hughes is excited by the arrival of scary Djibril Cissé and his full-body tattoos:
"I've watched him for many years and always been impressed by what he brings to the table. He's a huge threat to opposition's defences. He's got great pace, power and movement and that's something we will hopefully benefit from."
Methinks the word "hopefully" carries a weight of significance in above statement.
PSG have signed Brazilian-turned-Italian international Thiago Motta on a three-and-a-half-year deal worth approximately €10m.
I have nothing to add to this, but do Milan? His impish compatriot Pato could well join him at some point this evening.
The Guardian's David Hyter has floated yet another Spurs rumour! He claims the Premier League challengers are contemplating a move for Werder Bremen's fleet-footed winger Marko Marin.
A panicky Fulham have agreed a fee of £3.5m with Stuttgart for the services of Pavel Pogrebnyak. They now set about the tricky business of securing the Russian international a work permit. Reports suggest that cultural differences may prove a hindrance.
In Russia work permit secures you.
Rangers' bid for Norwich striker Grant Holt has been… RE-JECTED!
Doomed from the outset.
The hysterics and paranoiacs at Sky Sports News would have you believe that major deals are afoot, but the Guardian's Jamie Jackson urges caution:
"Zamora-to-QPR deal still a long way off completion i'm hearing, Mr G."
And what of Arshavin to Anzhi Makhachkala? The club's director, German Chistyakov, claims there has been "no movement".
Sorry, what?
Holy flippoli! In what may well prove a mispurchase of Andy Carroll proportions, PSG are rumoured to have shelled out upwards of €30m for Internazionale youngster Leandro Damiao.
What's he like? Funny you should ask…
Exotic news from the continent:
Angelo Palombo has departed Sampdoria for Inter Milan.
Mohammed Zidan has joined Mainz from Borussia Dortmund, a move that could dissuade the latter from selling Barrios to Fulham…
Time for some frantic back-tracking! Adrian Mariappa won't be heading to Wigan. The Watford defender is holding out for improved offers from his other, more attractive suitors (Newcastle, Arsenal).
Boom! Fulham have completed the signing of goal-scoring beanpole Pavel Pogrebnyak from Stuttgart.
Word on the street is that Bobby Z's driving a hard bargain at Loftus Road. The sometime striker is demanding a weekly wage of around £90,000. Self-regard can be an asset at the top level, but this is ludicrous…
He's gone up the river, á la Colonel Kurtz.
Clark Carlisle, Countdown champ and chairman of the PFA, has booked a move to Northampton Town.
I've taken this liveblog as far as I can. It's time to wind down and pass the baton to a man whose enthusiasm for inconsequential transfer deals knows no bounds, TheScore.ie gaffer Adrian Russell.
Tonight, I dream of Jim White.
Let's do this, boys and girls. I'll be here 'til Jim White is back next to his fireside with a high ball of brandy… no matter how underwhelming the night may be.
So what's going on? Sky Sports are reporting that your friend and mine, Keith Andrews, has smushed a transfer request into Steve Kean's big moon face. West Brom are interested in bringing him to the Hawthorns.
As I type, Bryan Swanson is messing around with his big iPad and saying the 'totaliser' (wtf?) is at £40m-ish. It's going to be a fun few hours.
Carlos Tevez is like Norm's wife in Cheers. We talk about him a lot but he's never on screen.
Sky Sports have just mentioned the exiled Argentine striker again. It looks like he's going nowhere – the Italian window has shut, the Russians aren't coming and there's no one else interested enough to end his Eastlands hell.
Poor Carlito.
……………SKY SPORTS BREAKING NEWS……..Geordie Shore is back…………SKY SPORTS BRE…….
Steve Kean has been talking about his acquisition of the other Olsson twin.
"They've got the same style, which you can imagine being identical twins. He plays higher but on the same side [as Martin] and that will prove difficult for any right-back when he sees one going outside and one driving."
Keith Andrews is going to 'race down the M6′ this evening in an attempt to seal that West Brom move from Blackburn. Good news for Trap and the rest of us on this side of the Irish Sea, right?
Wonder if Roy Hodgson had a chat with his old friend in Italy before making the approach.
Pic: INPHO/Donall Farmer
Just what Arsenal need, a young midfielder who will hopefully deliver on his promise in a few seasons' time. Here's confirmation…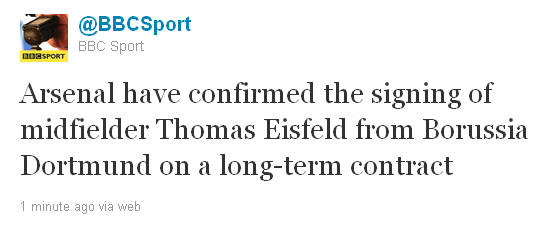 Parish notes: I should also mention that we will, of course, liveblog the actual football tonight too. Kenny Dalglish has just handed us his team-sheet and there's no Stevie G. Andy Carroll partners Craig Bellamy up front.
Sunderland manager have Martin O'Neill has had a relatively busy day in his new office there at the Stadium of Light. Former Liverpool defender Sotirios Kyrgiakos is on his way to the club to complete a loan move from Wolfsburg.
Earlier, John Terry nemesis Wayne Bridge rocked up the Black Cats' training ground. I'm not sure if they shook on the deal.
TRIVIA CHALLENGE! Presumably, Robbie Keane is watching this 'drama' unfold while he's having his tea in his slippers. Usually we're watching him wend his way around Britain's highway system around now.
The on-loan Aston Villa striker is the current Premier League striker with the most international goals.
Who, however dear reader, is the player to have ever played in the Premier League with the most international goals. I heard this in the pub last week – there's a few books in it if you can get it in the comments section below.
It's not transfer news… yet. David De Gea is omitted from the Manchester United side to face Stoke tonight. And Ben Amos is in.
Former Cork City man Graham Cummins has just tweeted confirmation that he is now Preston North End man Graham Cummins.
Want to keep up with the actual football tonight? Ben Blake will keep you across all the Premier League action here. It could be a big night in the race for the title.
Sky Sports New have just offered this glimpse into the pre-live environment in the Soccer Special studio. Poor Merse forgot his phone again, innit.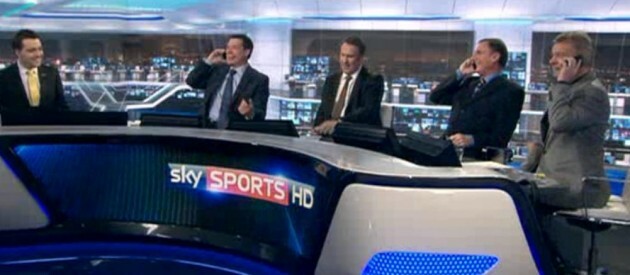 Hull City defender Paul McShane has extended his loan spell at Crystal Palace until the end of the season. The 26-year-old Republic of Ireland Euro 2012 hopeful has made three appearances for the Eagles since his initial one-month switch.
So, in good news for Celtic fans, Nikica Jelavic, has left Goodison Park… but only to 'freshen up' before the Rangers frontman does indeed sign for the Toffees.
Elsewhere, the BBC say a loan bid from Wigan for Spurs' Giovani Dos Santos has fallen through, Bobby Zamora has landed into Loftus ROad again to talk wonga (he wants to double his wages), and the Telegraph say 'Roman Pavlyuchenko is about to agree or has already agreed a deal with Lokomotiv Moscow'.
'Citing.
Despite on handcuff stuff at Goodison, Everton have signed striker Nikica Jelavic on a four-and-a-half year deal for an undisclosed fee from Rangers, the club have confirmed.
Across town here's one for you dyed-in-the-wool Reds; Liverpool have allowed reserve team goalkeeper Martin Hansen to return to his homeland to join Danish side Viborg FF. This hasn't been a classic Deadline Day, has it?
The transfer window takes away with one hand… but gives with the other. West Ham have confirmed that Ravel Morrison has signed from Manchester United. Strange one for the lad.
But, right out of left field, United go and post this on their website: "Manchester United have completed the deadline-day signing of defensive prospect Frederic Veseli from neighbours Manchester City.
The 19-year-old centre-back, who plays for Switzerland Under 20s, will link up with Warren Joyce's Reserves after making his name in City's Academy side.
A versatile, cultured defender who is comfortable on the ball, Veseli arrived at Eastlands in 2008 from Lausanne Sport in his homeland, and has been tipped to eventually develop into a central midfielder.
"I am very happy and it is an honour to sign for Manchester United," the Swiss starlet said. "I can't wait to get started, to work hard and do everything I can to help the team. I am looking forward to showing everybody what I can do on the pitch."
The Press Association are reporting that Spurs striker Roman Pavlyuchenko is in talks with Spartak Moscow. And why not? He probably knows his way around pretty well.
In the meantime, Darron Gibson has scored – arguably- the most important goal of his Manchester United career – and he doesn't play for them any more. He's put them 1-0 up on Man City with half an hour to go at Goodison. Follow the liveblog here.
"I'm told talks are underway regarding Keith Andrews moving from Blackburn to WBA," writes the BBC's Mike Sewell. "Trying to find out if it's permanent or loan."
That's a great move for Ireland and Andrews right?
Here's Ravel Morrison putting, quite literally, pen to paper at Upton Park.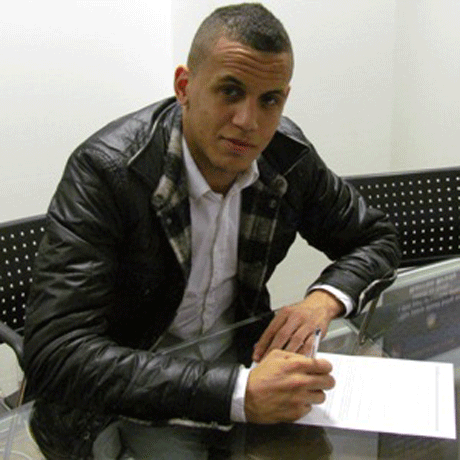 This is a nifty little gimmick for those of us numb with boredom on a Deadline Day overshadowed by actuall football. Type in your name and see it scroll along the yellow ticker under Jim White. Check us out…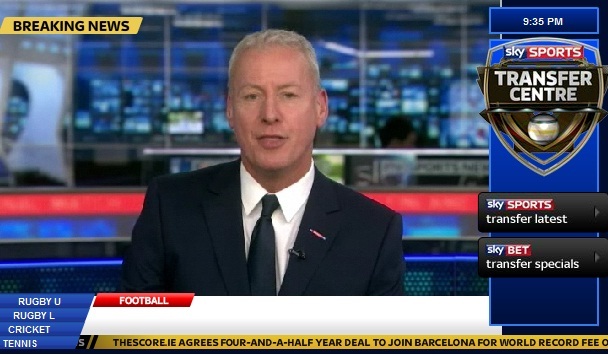 Pat Fenlon has signed former Cork City striker Roy O'Donovan on loan from Coventry City for the rest of the season, according to Off the Ball. That's an interesting one.
City chief executive Tim Fisher
said: "It's an opportunity for Roy to go out and get first team football and we wish him well."
Here's Jelavic on the Goodison Park pitch, when we were all a little more innocent and men didn't handcuff themselves to goalposts.
Ladies and gentlemen, this is your one-hour warning.
With 60 minutes to the end of the transfer window, Ireland's Own Keith Andrews has arrived at the Hawthorns. He needs to get a move on. Elsewhere, Bobby Z is still somewhere in Lofrus Road while Fulham have just announced that "Pavel Pogrebnyak will initially join the Club until the summer. The 28-year-old striker joins from German Bundesliga side VFB Stuttgart having signed for the Club in 2009 from Zenit St Petersburg."
Done and done – Bobby Zamora is a QPR player. The football watching world dies a little inside when Gary Cotterill tells Sky Sports viewers that QPR stands for Quality Players Recruited.
We've missed Harry Redknapp rolling down his car window and telling a gaggle of reporters who's in and who's out today… what with him pre-occupied with this and that.
But he's had a chat after Spurs' routine win over Wigan tonight. The Telegraph writes: "Tottenham are close to taking Louis Saha from Everton on loan, says Harry Redknapp, but a deal to sell Steven Pienaar to QPR has fallen through."
Duncan Castles writes that: "Celtic's attempt to take Leon Best on loan from Newcastle has failed because the striker rejected the move."
Meanwhile, Jim White is surely clutching at straws when he suggests the Carlos Tevez transfer saga will end in the next 60 minutes. Not buying that, James.
Triffic. Harry Redknapp says he wanted Krasic on loan, but the player wanted a permanent deal so it fell through and he might yet get Ryan Nelson in on a short term deal. He just couldn't resist could he.
Boom! Keith Andrews is a West Brom player. He's managed to warm up the Hawthorns fax machine, find the toner and get that signature off to the transfer window fairies.
This man is packing his smalls into a designer suitcase and heading for the glamourous surrounds of Milton Keynes. Freddie Ljunberg has singed for the MK Dons, ladies.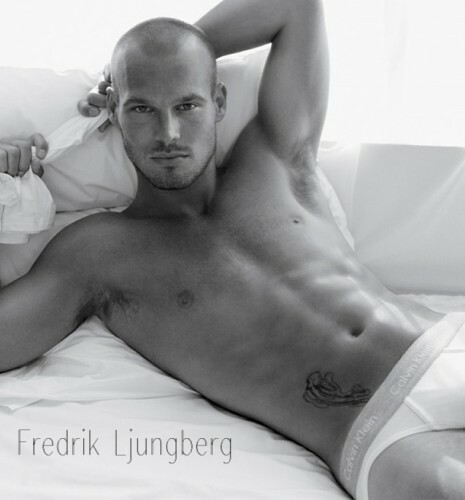 As I type, Jim White is talking to a clock.
Broadcast journalism students will study this Sky Sports News tape in years to come to learn how to wallpaper. There's absolutely nothing going on and Jim White is trying desperately to keep the show on the road.
If the aim of Michel Platini's financial fairplay initiative was to suck the life out of this bi-annual pantomine, then he's certainly succeeded.
THANKS A LOT, MICHEL. Two minutes to Big Ben.
41 deals have gone through among the Premier Leaghue clubs. Bryan Swanson isn't interested in those outside the English top flight.
QPR have been the big spenders.
The Totaliser, eh, totals £55.1million, we're told. Just over one Torres then really isn't it?
"I thoroughly enjoyed working with Mark Hughes at Fulham and liked his style of play. The ambition of the club is massive and they want to go forward and for myself it's the right time to move," says Bobby Zamora in front of a QPR club crest.
Harry Redknapp on his new forward: "It's not a long contract, but I've always liked Louis Saha. His contract's up at the end of the year, so David [Moyes] has let him go.
"I remember talking to Rio Ferdinand about him and he said he was one of the best strikers he's played against."
Sky Sports say that Stephen Pienaar may have re-signed with Everton on a six-month loan deal. But Jim White adds a health warning on that one.
Here's the detail behind the Keith Andrews move to West Brom – including Roy Hodgson's thoughts on the deal.
That's where we leave it tonight. Join us in the morning for more news and reaction as yet more deals trickle through no doubt. Thanks for your company.