IT'S THAT TIME of the year again. The remaining 16 teams in this year's Champions League discover who they will meet in the knockout stages this morning as the draw takes places in Nyon, Switzerland.
Proceedings are due to kick off at 10.30am so when we'll be along with all the news from UEFA headquarters.
As always, we'd love to hear your thoughts on the games. E-mail ben@thescore.ie, tweet @thescore_ie, post a message to our Facebook wall, or leave a comment below.
You may need to refresh the page for score updates and YouTube videos to display correctly.
Galatasaray v Schalke
Celtic v Juventus
Arsenal v Bayern Munich
Shakhtar Donetsk v Borussia Dortmund
AC Milan v Barcelona
Real Madrid v Manchester United
Valencia v Paris Saint-Germain
Porto v Malaga
First legs to be played 12/13 & 19/20 February.  Second legs to be played 5/6 & 12/13 March
Good morning. European football has got one final bit of business before Christmas arrives as we find out the pairings for the Champions League round of 16. Manchester United, Arsenal and SPL champions Celtic are all among the remaining teams, as are regulars such as Barcelona, Real Madrid, Bayern Munich and AC Milan.
We are guaranteed a new champion at Wembley Stadium come May 25 of next year as Chelsea became the first holders to fail to progress from the group stages this month.
The two pots look like this:
Seeded: PSG, Schalke, Malaga, Borussia Dortmund, Juventus, Bayern Munich, Barcelona, Manchester United.
Unseeded: Porto, Arsenal, Milan, Real Madrid, Shakhtar Donetsk, Valencia, Celtic, Galatasaray.
Not that it makes a difference, but the rehearsal draw brought up some tasty pairings yesterday. Can we get the same again, please?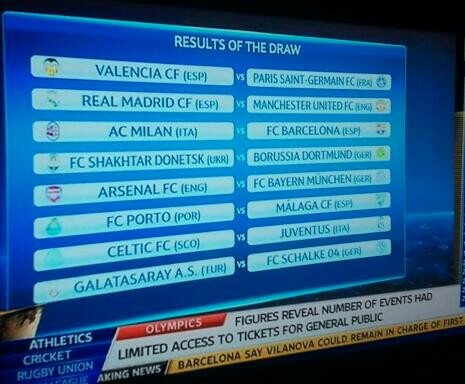 Credit: 101GreatGoals
We've all been here before but for those few who are still wondering how the draw will work, listen up. After what is generally a long and tediously drawn-out introduction from an multilingual presenter such as Pedro Pinto, UEFA general secretary Gianni Infantino has his say before showing various video montages of the teams involved and bringing some legendary former players on stage.
When we eventually get all that out of the way, the team names go into two pots according to whether they finished as group winners (seeded) or runners-up (unseeded). They are then pulled out in pairs to make up the fixtures. However, teams from the same league i.e. Juventus and AC Milan cannot be drawn together, and the same can be said about sides who have already faced each other in this year's group stages.
That make sense?
A tweet from the Hoops boss this morning. Hadn't realised Saint Nick was making an appearance…

The room is filling up nicely so we're just about get underway by the looks of things.
This year's ambassador for the final, Steve McManaman. "He can really teach all of us about the spirit of the competition", according to Infantino.
Video montage numero uno. Short clips from each of the teams left in the competition, including Tony Watt's strike against Barcelona and Jose Mourinho sliding on his knees.
You can watch a stream of the draw on UEFA's site here if you're interested.
And here comes Macca, the first English player to win the competition with a non-English club, we're told. The former Real Madrid and Liverpool winger hasn't quite managed to hold onto his boyish looks but his hair still looks great!
Now we're being told how the draw will go by a fellow whose name I didn't catch. For more, see my comment at 10.08.
Phew, thank God that's out of the way. Let's go…
Galatasary first out of the draw… and they will face *drumroll* Schalke.
That's Galatasaray v Schalke.
Celtic will play… JUVENTUS. Same as the rehearsal. Great draw!
Next up, Arsenal. And they will face… Bayern Munich.
That's Celtic v Juventus and Arsenal v Bayern Munich.
Shakhtar Donetsk are paired with Borussia Dortmund.
AC Milan then get four-times winners Barcelona.
Real Madrid next out. They can get PSG or Manchester United.
And it's United! Fergie v Mourinho, Cristiano Ronaldo back to Old Trafford etc.
Valencia will play new boys Paris Saint-Germain and Porto v Malaga concludes the draw. I enjoyed that.
This is how it looks for real then: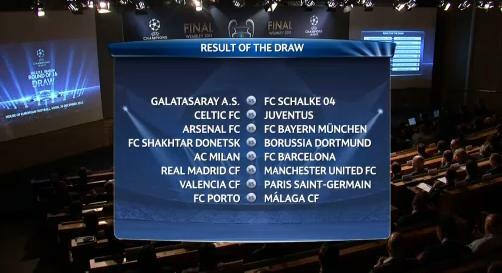 So, although I advised you all to pay little attention to yesterday's rehearsal draw, incredibly, all eight fixtures are identical. Mad.
At a glance down the list, there really are some big ties in there. Manchester United meeting La Liga champions Real Madrid jumps out immediately but many Celtic fans will be relishing their meeting with the Old Lady of Turin too. Arsenal will have to upset the odds to progress past Bayern Munich, who are flying this season, while AC Milan v Barcelona brings back great memories of past meetings such as the 1994 European Cup final.
Right, I'm off. You've got 54 days to take it all in as the first legs will be played on the 12/13 & 19/20 February, while the return legs are scheduled for 5/6 & 12/13 March.
Cheers for the company, until next time.