YES SIREE, THE Heineken Cup is back and where would you rather be tonight than Ravenhill to watch Mark Anscombe encounter French opposition in pool 4.
As always, we'd love to hear from you, so send us your thoughts and comments on all the action.
E-mail us at sean@thescore.ie, tweet us @thescore_ie, post to our Facebook wall or leave a comment below.
Ulster 41 – 17 Castres
A very, very good evening rugby fans. You've joined us in ample time to get settled before the 2012/13 Heineken Cup gets underway.
Now, some big big team news before I go any further and it's not a good one for Ulster.
On top of losing Nick William with a rib injury, his replacement Stephen Ferris has now also pulled out meaning Mike McComish comes into the starting XV at openside flanker. Chris Henry is moved into the vacant number eight shirt.
So, after a little amendment here and there, the teams now look like this:
Ulster: J Payne; T Bowe, D Cave, P Wallace, A Trimble; P Jackson, P Marshall; T Court, R Best, J Afoa, J Muller (c), D Tuohy, I Henderson, M McComish C Henry.

Replacements: R Herring, C Black, A Macklin, L Stevenson, N NcComb, R Pienaar, L Marshall, C Gilroy.

Castres: R Teulet; M Garvey, S Bai, D Kirkpatrick, M Andreu; P Bernard, T LeCrampe; Y Forestier, M Bonello, M Coetzee; M Rolland (c), R Capo Ortega; P Faasalele, Y Caballero, P Wannenberg.

Replacements: M Rallier, G Marmoiton, H Lazar, J Tekori, A Claassen, R Kockott, P Bonnefond, T Sanchou.
You'll notice, Neil McComb is the man called upon to provide back row cover from the bench
Here's King Fez himself with the injury report.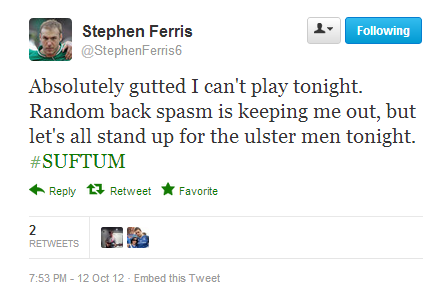 Castres make their way from the dressing room, they don't look overly purposeful. Pedrie Wannenburg has his head bowed in midfield as the crowd sing their familiar song.
The chant is only louder when Johan Muller leads the home side out in a line. Sky cameramen all sprint towards Tommy Bowe….
KICK OFF: Castres get us under way with Bernard sending the ball into Bowe's corner. He takes it well and Ulster win a kciking duel to take them up the their 10 metre line.
A high punt from Marshall is taken and turned to a maul by Castres, but Chris Henry leads his side in and manages to choke them. Ulster scrum, but Tom Court is instantly penalised, referee says he never got his head fully down. Not a good start from the loosehead.
PENALTY: Ulster 0 – 3 Castres (Teulet '5)
Castres have another guy at the maul from the resulting line-out and this time Ulster bring it down rather than keep it up. Teulet, from the left touchline, lofted it over.
PENALTY: Ulster 3 – 3 Castres (Jackson '7)
The home side instantly wakes up Ravenhill again as a Castres forwards slips offside just outside the 22, dead centre of the field.
TRY: Ulster 10 – 3 Castres (Trimble '8)
Glorious. Bernard hoists up a high ball, but his forwards don't react. Paddy Jackson leaps highest and the ball spins back from his grasp into Jared Payne's path. The Kiwi effortlessly found a gap in midfield and exploited it to the full, running 30 metres down the left side before gifting Andrew Trimble with a pass 15 metres from the line.
Jackson converts the difficult kick from the left sideline.
Penalty missed: Ulster's penalty count is already worryingly high. From close to the halfway line on the left, Pierre Bernard took up kicking duty, but cut it wide of the near post.
More champagne rugby from Ulster as Paddy Jackson looks for the gap on halfway, two defenders drag him down but he pops the ball up for Marshall sprinting through. The scrum-half instantly laid the ball off to Afoa who dodged a tackle before Trimble took over and then Tuohy,
The move is slowed down by French hands in the ruck, but the kick is no trouble for Jackson. His confidence is high tonight.
PENALTY: Ulster 13 – 3 Castres (Jackson '17)
This is fantastic stuff in Ravenhill. This time it's straight off the training field: Tuohy sends the line-out ball to Marshall who runs across the line before reversing his pass for Tommy Bowe at full pelt through the gap.
Marc Andreu manages to close down the angle and drag Bowe into touch to prevent the try.
TRY: Ulster 20 – 3 Castres (Marshall '22)
Ravenhill is rocking! The pack turn the ball over just inside the Castres 10 and Marshall has the field sized-up in a split second. The defence was non existent, he chipped on and sprinted to meet the ball under the posts.
And from the restart the home side may well have claimed try number three. Again, Marshall and Jackson are at the heart of the move as they give Tommy Bowe open space to run into from deep.
They had appeared to work an overlap on the left and Iain Henderson's inexperience showed slightly as he slowed the move down by taking the contact himself and failing to get an offload away.
Still, very little wrong with the Ulster attack tonight.
The white defence, is not as clinical. The penalty count is rising. This time Bernard kicked for the corner rather than the posts and Rory Best is very fortunate he was not called for offside as Castres go through 10 phases on the Ulster five metre line.
The white wall could not be breached on this occasion. But the reprieve is only temporary. Scrum v to the visitors and they will look to pile pressure on Court again.
TRY: Ulster 20 – 10 Castres (Andreu '32)
I didn't see a phase-count, but ulster must have defended well over 20 before Bernard opts for a cross-field kick into the bread basket of Marc Andreu.
It looked like Ulster would hold on, even Jackson and Marshall were making front-up tackles on centres and putting them down.
Teulet with another excellent conversion.
PENALTY: Ulster 23 – 10 Castres (Jackson '36)
An instant response from Ulster. They still look confiednt in possession and they win another central chance at goal.
HALF TIME: Ulster 23- 10 Castres
There's the half time whistle. Ulster will be very happy with their 40 minutes of work, but when the French have put their minds (and their forwards) to it, Ulster could do little but fling tackler after tackler at them.
It's also half time in Swansea where the Ospreys are in control against Treviso. 16-3 to the Pro12 champions.
Right, that's the half time tea and oranges polished off. The second half is underway and, from a line-out on the 10, Paddy Wallace creates a maul which opens a subsequent gap for Henderson to gallop through and into the 22.
As the ball is spun right though, Rory best of all people took too much out of the ball when Bowe was outside him. The hooker got a second chance two phases later, but again his pass did not go to hand.
TMO: Marshall looks like he's scored another.
TRY: Ulster 28 – 10 Castres (Marshall '45)
Ulster are just one touch down away from the bonus point now. Another successful line-out set the base for this score, Henderson picking it out.
As the pack rumbled at the line, Marshall whipped the ball away from them and wheeled right. He dummied - once to Tuohy, then to Bowe - before stepping through the gap and planting the ball on the line.
PENALTY: Ulster 31 – 10 Castres (Jackson '46)
An excellent 45 metre score from the fly-half, but his director of rugby isn't pleased with the decision to go for goal.
Muller, it seems, assuring his club of the win first and foremost.
Here come the subs: Castres are first, calling on Lazar, Tekori and Sanchou.
TRY: Ulster 31 – 17 Castres (Garvey '51)
From being on the cusp of a bonus point, Ravenhill is hushed back into silence as the visiting pack stick it back up the jumper and come up with another score. Marcel Garvey wasn't waiting for a cross-field kick, he stood at first receiver and just got over the line despite the effort of Jackson.
Teulet converts.
Paddy Wallace has had a steady, if quiet, night. But he has brilliantly demonstrated how valuable he is, just taking the pressure of Jackson and kicking his side 40 metres up field with a perfect end over end kick.
Ulster look like they will turn the style off now and force Castres to take the ball out of their own 22.
YELLOW CARD: Tom Court '57
Now we can see exactly why David Humphreys was so visibly upset at taking three points over twisting the knife.
Castres attempt to maul their way out, but the prop pulls it down. Referee hold up the card while telling Muller "It's his fourth of the night."
Can't argue with that. hopefully it will force the hosts to fling it wide again. That is their strength.
The partisan crowd are calling for a card to even the teams up as Ulster are awarded a penalty 30 metres from goal. Again, though, Muller points to the posts. And Jackson does the necessary.
PENALTY: Ulster 34 – 17 Castres
Are we watching another game where Ulster dominate, but fail to get a fourth try? 20 minutes to decide.
Here comes Ulster's first replacement, and what a talent to bring on. It's only Ruan Pienaar. Paul Marshall makes way for the straight swap.
Lewis Stevenson is also off the bench and he instantly makes his presence felt, wrestling the ball out of a Castres maul and the result take play back up into the red zone.
Tommy Bowe is off, Craig Gilroy is on. A lot of questions to be asked of Anscombe if his side don't come up with another try.
11, 541 people are standing for the Ulstermen as Court returns from the bin in time for an attacking scrum on the 22.
Oh dear, all the momentum has been sucked away. The French side turn the ball over after two phases and that scrum.
10 minutes to go.
This time the scrum penalty goes Ulster's way in the attacking half and this time P-Jack launches it at the corner flag.
This is a big line-out in Ulster's season.
This hasn't been one of Rory Best's better nights. Though Muller's calls as captain have left plenty to be desired. The Springbok called the throw on himself at the front of the line-out, but Capo Ortega rose in front of him and stole the ball.
The rhythm has deserted the home side. Payne found another gap and successfully offloaded, but Best's went to the wrong-colour shirt.
I wouldn't fault the hooker on that one, the play had to be forced and the support just wasn't there for him.
A lifeline though, Castres down to 14, I'll bring you the player as soon as I can. ulster attacking from a close-range line out.
77 mins. The move is botched again as Ulster are penalised for sealing off in a ruck five metres out.
This looks like the end of the game, Luke Marshall tries to spin the ball wide but it's too far ahead of Cave who can only knock it on.
Castres scrum, but with the clock red they are not kicking it out. Still a chance.
Ulster have turned it over!
TRY: Ulster 41- 17 Castres (Pienaar '82)
FULL TIME: Ulster 41- 17 Castres
A quite incredible finish. At one end, the visitors looked set to narrow the gap to 10 points after going through the phases. Bai broke clear into the Ulster 22, but once tackled, Jared Payne turned the ball over and spun it right to Luke Marshall.
The young centre cut wisely cut inside, progressed unchecked over the gain-line and found that man Ruan Pienaar.
Minutes before, the Springbok had still looked jet-lagged, but as he crossed the halfway line with the ball in two hands he was well and truly back in familiar territory.
Darren Cave was in support with 40 metres to go, but Pienaar used him only as a decoy before gliding through the gap left by weary defenders.
Magic.
Well there you have it. Ulster had pretty much put four points in the bag by the 20 minute mark, but took over an hour to take another two tries to secure the all-important bonus point.
The final 25 minutes was very frustrating to watch for Ulster fans, but hey, could have been worse: we could have been in the Aviva.
If the rest of this weekend's fixtures than match this one for emotion, quality, style and drama; we're in for a hell of a ride.
Join us bright and early tomorrow afternoon when we'll be following Munster's progress in Paris. Immediately after that I'll be in the RDS to watch the defending champions against débutantes, the Exeter Chiefs.
G'Night.