We had minute-by-minute coverage of Wigan v Liverpool from the DW Stadium as well as live updates from the rest of the evening's Premier League games.
As always, we'd love to hear your thoughts and comments on the evening's action. E-mail niall@thescore.ie, tweet us @thescore_ie, post a message on our Facebook wall or leave a comment below.
You may need to refresh the page for some elements (YouTube videos etc) to embed correctly.
Results
Wigan 0-0 Liverpool
Aston Villa 1-2 Arsenal
Man City 3-0 Stoke
Newcastle 2-3 West Brom
Everton 1-0 Swansea
QPR 2-3 Sunderland
Fulham 0-5 Man United
Well, well, well — what a 24 hours it has been in the world of football.
Luis Suarez and John Terry have both found themselves in the headlines for all of the wrong reasons, but only one of them is in the spotlight tonight. We'll have live minute-by-minute updates from the DW Stadium as Luis Suarez and Liverpool take on Wigan.
As well as that, we'll have all the latest scores from this evening's six other games. Stay with us — it should be a night to remember, one way or another.
First things first, let's get the team news out of the way. Here's how they'll line out for the evening's three 19:45 fixtures.
Newcastle: Krul, Simpson, Perch, Coloccini, Santon, Obertan, Vuckic, Tiote, Gutierrez, Best, Ba.

West Brom: Foster, Reid, McAuley, Olsson, Shorey, Thomas, Mulumbu, Scharner, Brunt, Odemwingie, Long.
Aston Villa: Guzan, Hutton, Dunne, Cuellar, Warnock, Albrighton, Ireland, Clark, Petrov, N'Zogbia, Agbonlahor.

Arsenal: Szczesny, Coquelin, Mertesacker, Koscielny, Vermaelen, Walcott, Ramsey, Frimpong, Arteta, Gervinho, van Persie.
Man City: Hart, Richards, Kompany, Lescott, Clichy, Barry, Toure Yaya, Johnson, Silva, Nasri, Aguero.

Stoke: Sorensen, Huth, Woodgate, Upson, Wilson, Walters, Palacios, Whitehead, Shotton, Jones, Jerome.
And here's the team news from the rest of the grounds.
Fulham: Stockdale, Baird, Senderos, Hangeland, John Arne Riise, Ruiz, Murphy, Etuhu, Dempsey, Dembele, Johnson.

Man Utd: Lindegaard, Smalling, Jones, Evans, Evra, Valencia, Carrick, Giggs, Nani, Rooney, Welbeck.
QPR: Kenny, Young, Gabbidon, Connolly, Traore, Barton, Faurlin, Derry, Wright-Phillips, Mackie, Helguson.

Sunderland: Westwood, O'Shea, Bramble, Brown, Bardsley, Larsson, Cattermole, Vaughan, Richardson, Sessegnon, Bendtner.
Everton: Howard, Hibbert, Jagielka, Heitinga, Baines, Coleman, Fellaini, Neville, Drenthe, Osman, Saha.

Swansea: Vorm, Richards, Williams, Caulker, Taylor, Routledge, Gower, Britton, Allen, Sinclair, Graham.
The big news from the DW Stadium is that Luis Suarez starts for Liverpool less than 24 hours after he was hit with an eight-game ban and a £40,000 fine by the FA for making racist comments towards Manchester United's Patrice Evra.
Liverpool make two changes from the team which beat Aston Villa on Sunday. Maxi Rodriguez and Dirk Kuyt are in with Criag Bellamy and Jonjo Shelvey dropping to the bench.
Wigan: Al Habsi, Caldwell, Alcaraz, Figueroa, Stam, Jones, Diame, McCarthy, Moses, Gomez, Sammon.

Liverpool: Reina, Johnson, Skrtel, Agger, Jose Enrique, Henderson, Adam, Downing, Kuyt, Maxi, Suarez.
If you missed it earlier, Liverpool's first-team squad issued a joint statement in support of Luis Suarez earlier this evening.
It begins: "Luis Suarez is our teammate and our friend and as a group of players we are shocked and angered that he has been found guilty by the FA. We totally support Luis and we want the world to know that. We know he is not racist."
As a further display of their solidarity with the Uruguayan, the entire squad — and manager Kenny Dalglish — wore white t-shirts with Suarez's name and number during this evening's pre-match warm-up.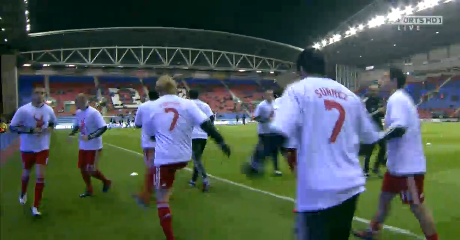 Of course, leaving Suarez aside for a moment, there is another rather interesting storyline at play tonight. With 19,989 goals scored in the Premier League since its inception in 1992, it's almost certain that the league's 20,000th goal will be scored this evening. Who will it be?
My money's on Vincent Kompany for what it's worth.
There's just under 15 minutes gone in the evening's early kick-offs but we're yet to see a goal.
Villa boss Alex McLeish has gone for a rather interesting experiment in midfield against Arsenal, pairing Ciaran Clark with Stephen Ireland. You watching, Trap?
We're underway at the DW in our feature game.
GOAL! Aston Villa 0-1 Arsenal (van Persie pen, 17′) Ciaran Clark is penalised for a tug on Theo Walcott in the box and Robin van Persie — who else? — smashes the resulting penalty into the roof of the net.
GOAL! Fulham 0-1 Manchester United (Welbeck, 5′)
GOAL! Newcastle 0-1 West Brom (Odemwingie, 20′)
Eight minutes in and Liverpool are dictating all of the early play here. Suarez, Maxi and Downing combine to work an opening for Jordan Henderson but his shot from 12 yards out fails to really trouble al-Habsi and the danger is cleared.
Oooh, that's a half-chance for Wigan. Under pressure from Connor Sammon, Glen Johnson gets himself all in a muddle and doesn't properly clear the ball as it drops into the box. There's a bit of a scramble but Jordi Gomez is penalised for hoofing Martin Skrtel as he tried to play the ball.
GOAL! Manchester City 1-0 Stoke City (Aguero, 29′)
A big penalty shout goes out around the DW as Victor Moses goes down in the box with Martin Skrtel in close attention. Our referee Michael Oliver was ideally placed though and ruled that there was no contact. The replays suggest that Moses can count himself slightly fortunate to escape without a booking there.
Wigan are looking like they could cause Liverpool a spot of bother on the break but Sammon is cutting a lonely figure up front on his own in this opening quarter.
GOAL! Newcastle 1-1 West Brom (Ba, 34′)
GOAL! QPR 0-1 Sunderland (Bendtner, 19′)
GOAL! Manchester City 2-0 Stoke City (Johnson, 36′)
Johnson's goal is number 19,996 by my count; just four more to go and then we can start concentrating on important things, like the actual football.
Wigan have started to come into this game in the last few minutes, finding a little bit of joy in the space between Liverpool's back four and midfield — the area in which the injured Lucas Leiva traditionally operates.
A quickly-taken free invites Diame to have a pop from all of 25 yards out but it ends up in the side-netting.
Liverpool respond with a pair of their own half-chances as Dirk Kuyt draws a save from al-Habsi from six yards out. From the resulting corner, Daniel Agger rifles a volley over the top of the bar.
It really should be 1-0 Liverpool. The visitors break at pace and Maxi Rodriguez threads a nice little ball through to Glen Johnson on the overlap, leaving him one-on-one with al-Habsi. His shot is straight at the keeper though and al-Habsi gets a foot on it to turn it away.
GOAL! Fulham 0-2 Manchester United (Nani, 28′)
GOAL! Newcastle 1-2 West Brom (McAuley, 44′)
Pepe Reina has to look lively as Diame forces him to get down sharply to make a save. Skrtel manages to shepherd the ball out for a corner before Sammon can pounce on the rebound.
HALF-TIME: Aston Villa 0-1 Arsenal; Manchester City 2-0 Stoke City; Newcastle United 1-2 West Brom.
So it's half time in our 19:45 kick-offs. That Robin van Persie penalty separates Arsenal and Aston Villa; Aguero and Johnson have put City 2-0 up at home to Stoke; and Newcastle trail 2-1 at home to West Brom.
Victor Moses has offered most of Wigan's attacking threat in this first half and he goes close to giving Wigan the lead. Picking the ball up in midfield, he runs straight at the Liverpool defence, drifting past Johnson and Agger before firing a shot at Reina. The shot moves slightly in the air so the Liverpool keeper opts to punch clear rather than hold the ball.
A spot of breaking news for you.

After a period of early dominance, Liverpool have gone very quiet and now it's Wigan who look the more likely to score. Alcaraz tries a cheeky little flick from a corner but Gary Caldwell is about a yard short of getting the decisive touch to turn it home.
GOAL! Fulham 0-3 Manchester United (Giggs, 43′)
That's goal number 19,999. The time for someone to make a little bit of irrelevant, Sky-driven history is now.
A moment of concern for Republic of Ireland fans as James McCarthy jars his knee and spends a minute or two on the ground getting medical attention — at least, it would be a moment of concern if he ever played. It doesn't really matter though, he's back on his feet and trotting it off.
More on this as we get it…
HALF-TIME: Wigan 0-0 Liverpool; Fulham 0-3 Manchester United; Everton 0-0 Swansea; QPR 0-1 Sunderland.
That's half-time at the DW Stadium and in the rest of our 20:00 kick-offs. We're just getting back underway at Villa Park, St James' and the Etihad — this is relentless.
A few points to note from those first halves:
Our next goal will be the 20,000th in the Premier League.
Ryan Giggs' goal for Manchester United — the 19,999th — means that he has now scored in all 20 Premier League seasons.
GOAL! Aston Villa 1-1 Arsenal (Albrighton, 54′) Marc Albrighton gets the landmark goal and, more importantly, gets Villa back into the game.
GOAL! Manchester City 3-0 Stoke (Aguero, 54′) Tough luck, Sergio. A minute too late..
We're back underway at the DW and in the rest of our 20:00 kick-offs. Can Wigan continue the dominance from the closing minutes of the first half?
Suarez goes close to making headlines for the right reasons, forcing al-Habsi to react and tip his swirling free-kick over the bar.
PENALTY TO LIVERPOOL! Suarez tries an acrobatic bicycle-kick and his shot cannons off Gary Caldwell's arm. It'll be Charlie Adam to take it…
SAVED! Brilliant save by Ali al-Habsi. The penalty was struck to the left but the keeper got across to palm it behind for a corner. "Too central" says spotter expert Matt Le Tissier up in the Sky commentary box.
GOAL! QPR 0-2 Sunderland (Sessegnon, 53′)
GOAL! QPR 1-2 Sunderland (Helguson, 63′)
GOAL! Everton 1-0 Swansea (Osman, 60′)
Conor Sammon's night has come to an end. He's been replaced by Franco di Santo for the final half-hour. A positive substitution from Martinez who obviously still believes that Wigan can nick a goal and possibly all three points.
That'll go down for another half-chance for Liverpool and Martin Skrtel. The big defender isn't under any pressure but still heads Jose Enrique's cross over the bar from six yards out.
GOAL! Newcastle 2-2 West Brom (Ba, 81′)
GOAL! QPR 2-2 Sunderland (Mackie, 67′)
Another chance for Liverpool. Dirk Kuyt's quick thinking earns him a couple of yards of space in the box but when he tries a David Platt-esque volley to connect with Charlie Adam's quick free, he skews it badly over the bar.
GOAL! Aston Villa 1-2 Arsenal (Benayoun, 87′) Some late drama at Villa Park; Yossi Benayoun looks to have wrapped up all three points for the Gunners with a header three minutes from time.
GOAL! Newcastle 2-3 West Brom (Scharner, 85′)
Just under 20 minutes left at the DW Stadium as Kenny Dalglish makes a double substitution to try and get that elusive goal — Maxi and Kuyt depart for Bellamy and Shelvey.
Here's that Charlie Adam penalty miss for those of you who are interested — via the wonderful 101greatgoals.
FULL TIME: Aston Villa 1-2 Arsenal; Newcastle 2-3 West Brom; Manchester City 3-0 Stoke City
We're all done in our 19:45 kick-offs. Manchester City extend their advantage at the top of the Premier League, but only temporarily — United are still 3-0 up and cruising at Craven Cottage.
One spot of worrying news for Manchester United on an otherwise pleasant evening in London. Initial reports are suggesting that Phil Jones could be out of action for up to six weeks with a fractured cheekbone which he picked up in a collision with Clint Dempsey's flying elbow. More on that as we get it.
Six minutes to go at the DW and Liverpool are still pressing forward in search of that goal. The visitors have had more than enough chances here this evening but, as seems to have been the case for much of this season, they're struggling to find the net.
Oooooh, Wigan very nearly had their winner there. A perfectly flighted cross from Di Santo finds Rodallega at the back stick but his header comes off Johnson as he tries to direct it back across Reina into the far corner.
And then they've another half-chance from the resulting corner — Victor Moses flicks an outstretched leg at the ball as it bobbles in the box but it's just wide.
GOAL! Fulham 0-4 Manchester United (Rooney, 88′)
GOAL! QPR 2-3 Sunderland (Brown, 89′)
There'll be no goal for Luis Suarez tonight; he's replaced by Andy Carroll for the final three minutes at the DW.
GOAL! Fulham 0-5 Manchester United (Berbatov, 90′)
We're into the first of four minutes added time at the DW. Will there be some late drama?
Liverpool are camped in the Wigan half as the home side drop deeper and deeper. Free in for Liverpool, 20ish yards out. Charlie Adam will fancy this to redeem himself…
… but it's Bellamy who takes it instead and clips the top of the wall. Danger cleared.
FULL TIME: Liverpool 0-0 Wigan; Fulham 0-5 Manchester United; Everton 1-0 Swansea; QPR 2-3 Sunderland
It's all over at the DW and I think it's fairly safe to characterise that one as another two points dropped for Liverpool rather than a point gained. Charlie Adam's missed penalty in the second half didn't help matters but Kenny Dalglish will know that this was another game in which his side were found wanting in front of goal.
So that's all we have time for this evening. No change at the top as Manchester United hit five against Fulham at the Cottage to keep the pressure on City who had a comfortable 3-0 win at home to Stoke; a late Yossi Benayoun header keeps Arsenal in the hunt for a top four finish; Everton get back to winning ways; and Sunderland and West Brom nick all three points with late winners.
We'll be back tomorrow evening with Spurs v Chelsea. See you then.