Event: Cycling (Road Race)
Who is he? Birmingham-born Dan Martin is one of three riders to be picked for the road race team along with Nicolas Roche and David McCann (Sam Bennett is on standby). He will race in his first Olympics in London.
The 25-year-old has got cycling in his blood. He is the son of British Olympian Neil Martin, nephew to Stephen Roche and cousin to team-mate Nicolas.
Martin turned professional in 2008, the same year he won the Route du Sud and the Irish National Road Race.
In 2011, he won his first Grand Tour stage during the Vuelta a Espana and also won the Tour of Poland. The Garmin Sharp ride is currently racing in his first Tour de France and is 65th overall after 15 stages.
Road to London: The three-man team was selected by a panel made of up An Post Ras organiser Dermot Dignam, UCI international commissaire Paul Watson and lecturer in Sport & Exercise Physiology at DCU, Dr Giles Warrington and Cycling Ireland CEO Geoff Liffey.
What he says about himself: "I'm taking it day-by-day at the moment. Obviously I'm incredibly excited to represent Ireland at the Olympics but I have to survive this race (the Tour de France) first. The number of crashes and broken bones in this race has played on my mind. To miss the opportunity to go to the Olympics would be really painful.
To win a stage here would really set me up for a good performance at the Games. Whatever happens here, I think my form will be really good." (

RTE Radio – Sport at 7

)
Medal chances: Martin gets going in the road race on July 28, when 145 participants will cycle 250km around central and southwest London. Jimmy says two.

If you meet him at a bar, ask him… how good a read this is…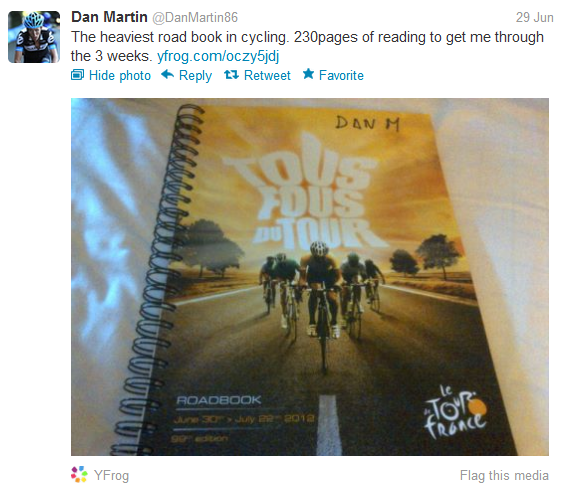 On the Twitter: Follow him on his TdF and Olmpic adventure @DanMartin86.
If he were a YouTube video he would be? 80s dance hit 'Ride On Time'. A little less obvious than Queen's 'Bicycle Race' and 'Ride On' by Christy Moore!
YouTube credit: krystek2007