Event: Cycling (road race).
Who is he? The son of Tour de France winner, Stephen Roche, Nicolas is half French (though he'll tell you he's 100% green, white and gold). He was born and now lives in the country which hosts the world's greatest road race.
©INPHO/Lorraine O'Sullivan
Road to London: The selection of  riders to compete for Ireland was based upon their official UCI ranking points in May of this year. Roche is joined in London by, his cousin, Dan Martin and David McCann.
What he says about himself: Before he was made the lead rider for his team, Roche already had made his aspirations clear to Eurosport: "I love to ride for (general classification) GC, it's where I find my balance even though I know I'm missing out on some good stage wins by riding that way. But I really want to finish in the top 10 at the Tour de France."
Medal chances: He has made steady improvement year-on-year, quietly moving up the rankings of Le Tour. However, that top 10 place continues to elude him and you suspect that the same guys who keep him locked out in France are likely to stunt his progress in London. He won't be far behind, though.
Three Jimmies for Nico.

On the Twitter: His Twitter handle bears an extra h. @NicholasRoche explains it way through two factors: An age-old problem involving a typo on his passport… and also @NicolasRoche was taken.
Still, never let it be said that the support goes unnoticed.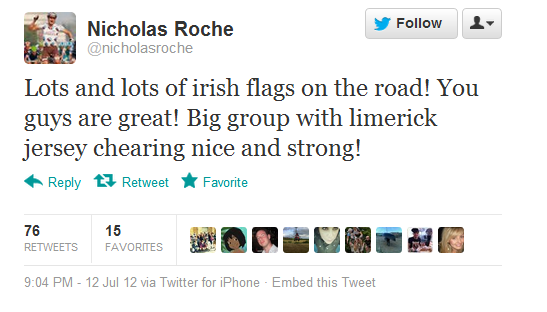 If you meet him at a bar, ask him… about his spat with a team-mate, living up to the Roche family name, the brutally tough Tour or his rugby days with Blackrock. What is there not to talk about?
If he was a YouTube video, he would be... incredible. Pump those thighs, Norman.

YouTube credit: courteous1