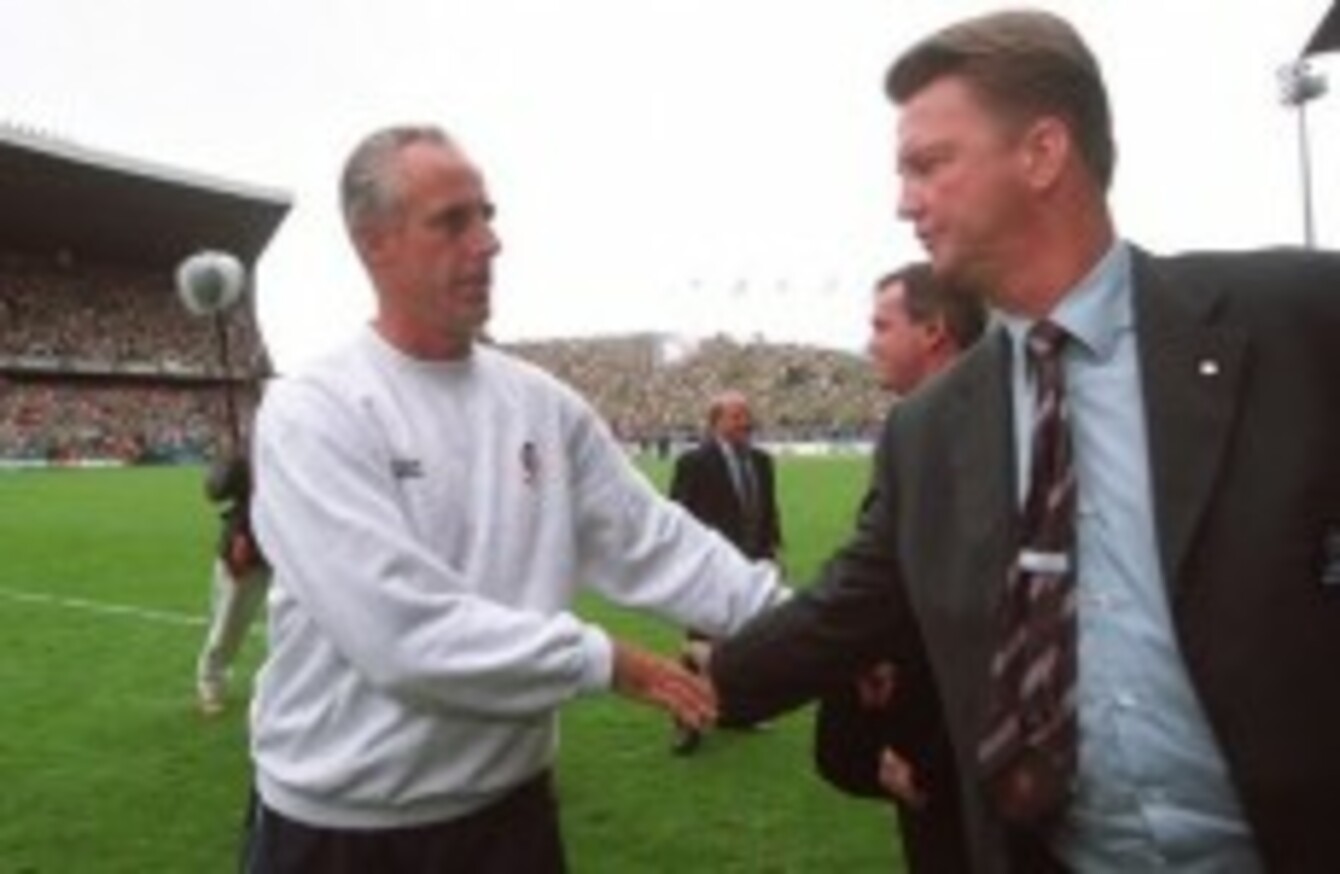 A dejected van Gaal shakes hands with Mick McCarthy after Ireland's famous 1-0 win. ©INPHO/Lorraine O'Sullivan
A dejected van Gaal shakes hands with Mick McCarthy after Ireland's famous 1-0 win. ©INPHO/Lorraine O'Sullivan
Amid all the hysteria on that balmy September evening in 2001, the impact of Jason McAteer's glorious volley was felt across Europe.
For Ireland, with the prodigious Damien Duff and Robbie Keane, it promised a bright future under the leadership of Roy Keane; for Louis van Gaal, it marked a nadir.
The commanding 50-year-old, then in his 10th season of management, had previously won 15 trophies with Ajax and Barcelona. Failure had never been experienced.
Yet, for the first time since 1986, the Netherlands were not going to a World Cup despite, ironically, amassing a respectable 20 points. Van Gaal, in short, appeared mortal.
"It had nothing to do with the quality of the team", Kevin Hofland told TheScore.ie. "I was only 21 and did my best, but we had too many egos. We gave more freedom to the experienced players. We had players playing for Barcelona and the like, and he gave them too much freedom.
"That game in Dublin is a bad memory. For me, it was the one chance to play in a World Cup. Every time the World Cup comes around, I think about it because I didn't play well. I have the game on tape and I still watch it back. I have two children, aged 11 and 9, who are also footballers. They often ask me, 'Did you play in the World Cup?' And I say, 'No, almost, but almost didn't count!' We played the perfect game in the first ten minutes, but we didn't score. We had a lot of possession, but you have to score.
While Hofland was scarred by the events of Lansdowne Road, and was never awarded the chance to play for Oranje at a major international tournament, the defeat inspired others.
Among them was Mario Melchiot, who also made his international debut under van Gaal, as a 23-year-old against Portugal in 2000.
"Van Gaal needed more time, especially given that it was the national team", Melchiot told TheScore.ie.
"The players are the ones who spend time in and out of the set-up and he wanted the team to gel. But, the results weren't great and when you want to turn things around, everything goes against you. Ireland parked the bus and scored late in the second-half. It was a bad memory, because I wanted to go to the World Cup and was really disappointed. But, in a good way, it fired me up to make sure I went on to make it to Euro 2004. Sometimes, you just need that push."
The father figure
Given the way van Gaal's reign as the Netherlands' manager petered out – with the beleaguered Dutchman resigning just five months after the Ireland defeat -it's easy to forget the respect van Gaal once commanded of his squad.
After all, star players like Edwin van der Sar, Frank de Boer, Edgar Davids, Clarence Seedorf, and Patrick Kluivert all previously enjoyed landmark success with van Gaal at Ajax.
Even Mario Melchiot, who was a teenager during van Gaal's six-year reign at Ajax, had felt the full effect of the commanding Dutchman.
"Louis was a great manager, who made it all about the team", said Melchiot. "He taught me a lot and gave me my debut for Ajax and Holland, so I'm a big fan of his style of football. He doesn't care about a player's age; for him it's about who is ready and who can deliver.
"I was in Ajax's second team around the time of the Champions League final in 1996. I was injured and Louis saw me at the training ground. He said, 'One of my most important players, Frank de Boer, is injured. Is your season done?' I said, 'Yeah.' 'Are you sure? My centre-half is injured and one of my best players in the second team is you. You're going to the final.' I had so much pain in the ankle: I couldn't even walk. But, luckily, the physio was able to treat it everyday. I ended up training with a lot of pain, but I didn't want Louis to know that.
"He was very close to the players and knew all the players' wives and girlfriends by name. He believed that if your personal life was good, your performances on the field will be even better. After Champions League games, I wouldn't get home until 1am or 2am. I would call one of my friends to pick me up, but van Gaal would tell me I didn't need to – he'd bring me home in the middle of the night.
"He felt like I was his responsibility, because he had taken me out of school for a couple of days and wanted me back so I was able to make school the next day. I don't know many coaches that would do that. I have a lot of respect for him and, when he found out recently that I wanted his book, Louis sent me two signed copies: one for my Mum and one for me."
But, in contrast to those who previously played for Ajax, the rest of Oranje's squad had a pre-conceived fear of van Gaal – which had been driven home by Dutch media.
Towering, irritable, and draconian: hardly the most nerve-settling presence for a player joining an illustrious international squad for the first time.
"He already had a huge reputation in Dutch football", said Hofland. "That first day, I was a little bit scared because I knew he liked discipline in training and was very strict. Louis was very short on you over the smallest mistakes and I made a lot of them. But, I was a professional and I liked that he was strict. If you play for your national team, you have to give 110% in everything you did. That's how you should be in football: you have to give your best. If you didn't do that, you had a problem with him and he didn't accept anything less. That's a good trait to have in a coach.
What are they
really like?
Rare insights on sport's biggest names from the writers who know them best. Listen to Behind the Lines podcast.
Become a Member
"As a person, he was amazing. In Holland, and in the press, I think everyone has the wrong picture of him. The press, of course, have to be critical – it's their job – but if you're polite and straight with him, you'll have a good relationship with Louis. I was afraid of him initially, but after a couple of training sessions with him, he gave you confidence. He was very emotional and very sociable, and I still have contact with him."
The coach
With van Gaal's blueprint of revolutionary attacking football having been a success for nine years at club level, few doubted that he could succeed with a gifted Netherlands side.
Indeed, while there eventually proved to be issues mentally with this Netherlands' squad, van Gaal's coaching methods and playing style proved popular.
"He challenged you but if you could handle it, he would stand by you", said Melchiot. "He liked people who took responsibility and were willing to deliver. It was all about winning and outsmarting your opponent through skill and intelligence: train as you would play. He always challenged you, but he would even celebrate when you did something great in training.
"He demanded a certain level of competition and quality in training – to mirror a match – to help you deliver in a game. One of his favourite games was defence against attack. If you have a great attack, with a lot of talented players, and they're playing against your defence, you're both going to benefit. He'd have us, plus the goalkeeper, against seven attackers. You'd have to make sure not to concede, so I'd be up against Marc Overmars. It eventually helped me when I played against Arsenal for Chelsea, because I had a lot of confidence."
Even though Dutch football has a long tradition of attractive football, van Gaal had particular patience with those who had not come through the Ajax system.
Far from constantly barking insults, van Gaal valued those who gave their utmost commitment.
"His style of football was one we were already used to in Holland. But, it was a little bit difficult to adjust in the beginning because I was a quiet young player playing with such huge stars. For me, it was all about speaking with my feet. Louis gave me a lot of confidence and told me, 'If you ever make a mistake, no problem. Just give 110%.' Some players, the experienced ones, he could be short on mistakes and didn't accept it; others, he was polite to.
"There were a lot of passing and positional games under him. He was very strict: you had to pass the ball in a tight triangle to a right-footed player with your weaker left-foot. If you made a mistake the first time, it was OK but if you did it a second time, it was not acceptable. I realised, years later, that I never again had a coach like that and he taught me a lot."