THE GENERAL CONSENSUS ahead of Sunday's derby is that Manchester United are full of confidence after a 1-1 draw against Chelsea while Manchester City are in a rut, plodding from one setback to the next.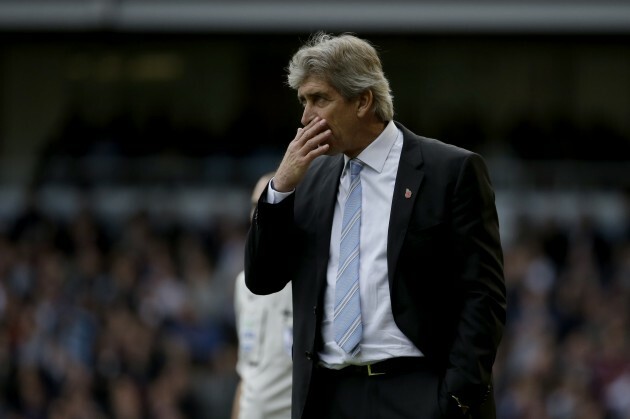 Matt Dunham / AP/Press Association Images Matt Dunham / AP/Press Association Images / AP/Press Association Images
It's a little more complex than that. On the surface, City are winless in three games. But, taking a step back, an early Capital One Cup exit (even as the reigning champions) isn't quite earth-shattering (especially considering the opposition are a top-flight side fighting for their lives and motivated to claim a scalp) while many would consider a 2-2 Champions League draw in Moscow to be generally acceptable. That leaves a poor result and performance against West Ham where they still managed 21 shots on goal and smacked the woodwork twice.
Attitude and awareness
But, the biggest issue for City in all of those games has been attitude and awareness. Against Newcastle in mid-week, they were behind after six minutes because of a cavalier approach. As the guests were anticipating in the early exchanges, City were slow and ponderous – like they'd finally stirred after a deep slumber.
Rolando Aarons' opener came after Fernando dawdled in possession, was challenged from behind and the ball diverted towards his own goal. Aarons was already on his way to intercept before Eliaquim Mangala even registered what had happened. The centre-back didn't have the pace or the strength to deal with the situation and Aarons finished impressively to the far corner.
Football TV / YouTube
When Newcastle scored a second through Sissoko, City's defence was in complete collapse. Despite there still being 15 minutes to go, Pellegrini's side had little interest in fighting for a way back into the game. Instead, they dropped their heads and lost all semblance of cohesion and organisation. Sissoko was allowed to walk into acres of space after a ball was played to the left wing. It drew Dimichelis out of position and Fernandinho dropped in to cover his centre back. But Dimichelis never reacted and remained on the right of the area, covering nothing and shadowing his right-back, Sagna. As Fernandinho raced out to try and cover the shot, Riviere was perfectly placed to race onto a through-ball or, to give him more time to get on-side, Sissoko could play a neat triangle using Obertan, as shown below.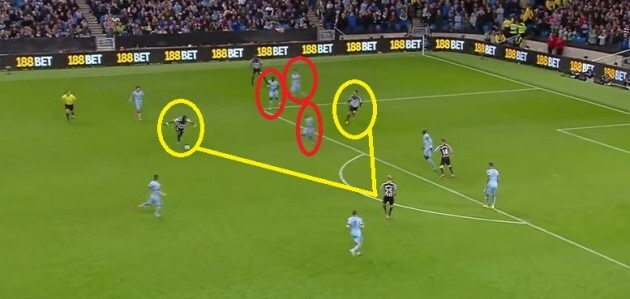 JR_HOCKS JR_HOCKS
In fact, there was a third option – go it alone. He checked back and drove past Fernandinho into the space, Sagna proving little help in covering. He burst through and delicately clipped the ball past the on-rushing Willy Caballero and it was game over.
JR_HOCKS / YouTube
Other defensive issues
Four days previously against West Ham, there were similar moments of defensive uncertainty. With Sam Allardyce's side having won three straight beforehand, it seemed imperative for City go out and impose themselves in the opening fifteen minutes and not allow the hosts feel they had a chance. Instead, they found themselves on the back-foot and behind after 21 minutes.
After the game, Allardyce revealed how Mangala was identified as a weak link in the City defence and that without proper cover, notably from his left back, he was susceptible to error. And he more than played his role to perfection when Morgan Amalfitano opened the scoring.
But, he wasn't the only culprit. When Alex Song picks up the ball in midfield, his proposed pass to Enner Valencia is pretty telegraphed. But Gael Clichy doesn't spot it. Again, like the Newcastle first goal, reactions are incredibly slow. The full-back needed to be aware of the space left in behind and the starting distance between him and Valencia.
Inside him though, Mangala has spotted another problem. He's pointing at the unmarked figure of Diafra Sakho who's somehow found himself in open country.
FoxSports Italia FoxSports Italia
As soon as the pass is played, Mangala needs to read the situation and forget about Sakho – that's someone else's problem. But the second or so it takes him to make up his mind is enough for Valencia to get an edge. He takes a vital touch in the area and Mangala is taken out of the game. But, as much as Amalfitano is the eventual goal-scorer after the ball is played across the six-yard area, there could just as easily been a cut-back for Sakho too.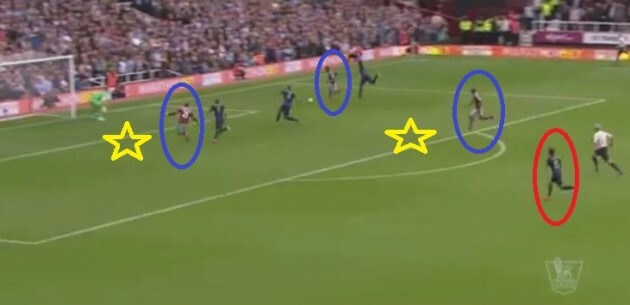 FoxSports Italia FoxSports Italia
Just before the break, West Ham could've had a second when City completely switched off at a free-kick. Given set-pieces are such an integral part of any Allardyce side, the reactions and attitudes outlined below is inexplicable. Again, there's a lack of anticipation with far too much space between sets of players. In the end, Amalfitano's low cross flashed across the six-yard area and James Collins was an inch away from sliding it to the net.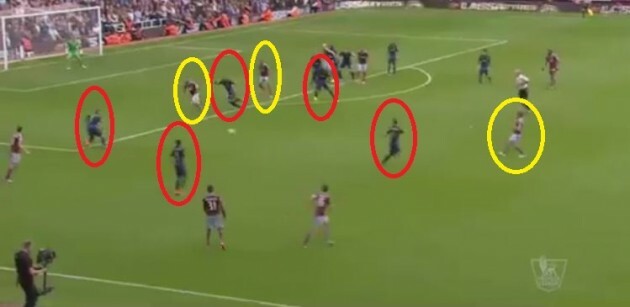 FoxSports Italia FoxSports Italia
United are buoyed but defence remains an issue
So, plenty for Manchester United to exploit on Sunday then. With Louis van Gaal having experimented with so many varieties of formation already this season, it will be interesting to see what he comes up with for this.
Martin Rickett / PA Wire/Press Association Images Marouane Fellaini can expect to start against Manchester City after impressing against Chelsea. Martin Rickett / PA Wire/Press Association Images / PA Wire/Press Association Images
With Wayne Rooney available after serving his three-game suspension, he should play alongside the seemingly rejuvenated Robin Van Persie. But, will it be a straight four across midfield to match City or something different? Against Chelsea, United deployed a three-man midfield with Blind and Fellaini doing the majority of defensive work with Juan Mata dropping deep to assist and pushing high when in possession.
Fellaini will play on Sunday. His physicality is critical and Van Gaal will have spotted how City were so easily ruffled by the pressure placed on them in midfield by both West Ham and Newcastle. Against Chelsea, the Belgian was strong, dominant and relentless. He seemed to relish his role, certainly appreciative of how he's been brought in from the cold and thrust into high-profile games. At set-pieces (where City have looked increasingly weak in recent games), he will pose an offensive threat and provide defensive cover too, certainly required against a team that boasts the likes of Vincent Kompany and Edin Dezko.
zLukeCR7i / YouTube
It's expected that Rooney will slot in to replace the Spaniard though that may mean Adnan Januzaj could keep his place after an eye-catching display last weekend and a burgeoning relationship with Luke Shaw.
But the biggest threat for City is Angel di Maria. Quiet against Chelsea, he still provided United with pace and purpose and constantly puts defenders on the back-foot. Given Mangala's struggles and how impressive West Ham were in identifying City's left channel as an area they could exploit, expect Di Maria to see plenty of the ball on United's right side.
In transition, the Argentine is an immensely impressive weapon. By breaking into space at pace, it opens up defences, stretching them and inevitably exploiting holes. As the first few minutes of this video proves, even when he's relatively well-shackled, he provides a crucial added dimension to this United team. And though certainly not up to scratch last weekend, his deliveries (check out the cross for Van Persie's looping header below) are normally impeccable.
YoutubeSport / YouTube
Offensively, United can offer plenty but with just two clean-sheets from nine games, there's a distinct lack of calm at the back. Though there weren't many individual errors against Chelsea, Marcos Rojo was still guilty of cheaply surrendering possession twice in dangerous areas while a misdirected defensive header led to Didier Drogba's low shot being saved by David De Gea in the opening period.
Prior to Drogba's goal, Eden Hazard neatly carved the United centre-halves to shreds with Chris Smalling lunging despairingly at the attacker as he raced through on goal. It seemed a neat metaphor for United's problems at the back – chaotic, last-ditch and wild.
Should the same partnership take to the field against City, it's not so much the size of Dzeko but the speed of Sergio Aguero that has the potential to do the damage. One interesting sub-plot is that Rojo knows the diminutive striker so well and that could play to his advantage. But again, the lack of faith in United's defence ensures a nervousness and anxiety ahead of the game. That will only be eradicated after a dominant display against a top side. No better opportunity than Sunday.