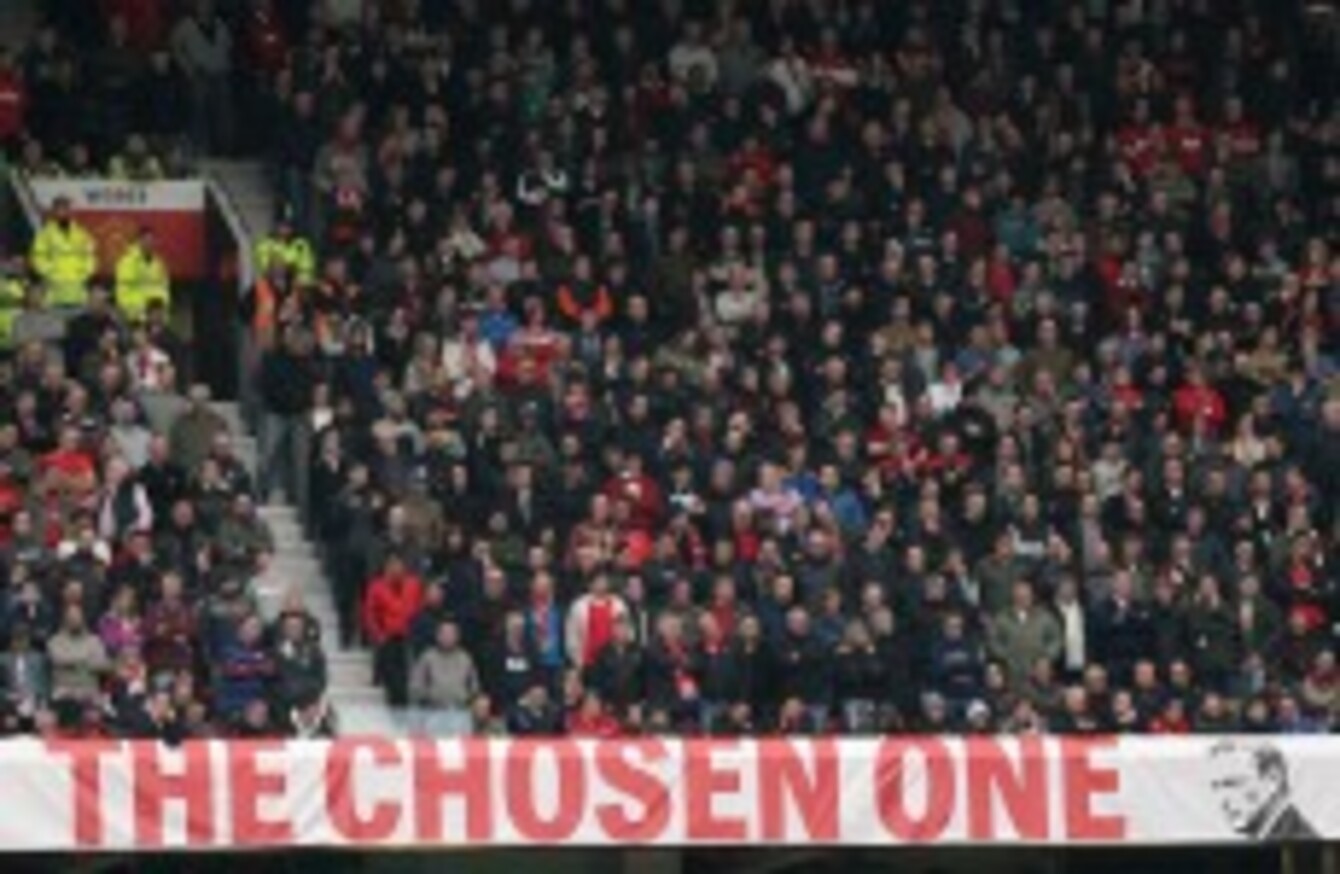 The banner which has been hung by the Old Trafford faithful.
Image: eter Byrne/PA Archive/Press Association Images
The banner which has been hung by the Old Trafford faithful.
Image: eter Byrne/PA Archive/Press Association Images
IN NOVEMBER 2011 Manchester United renamed the north stand of Old Trafford much to the surprise of then manager Alex Ferguson.
The stand, he helped build more than anyone at the famous ground due to decades of success, was to be named in his honour.
Nobody could deny it was a worthy gesture, but those who commented at the time that the stand would cast a long shadow over his eventual successor have proved to be correct.
Manchester United – post Fergie – have failed dramatically to maintain Old Trafford as the ultimate fortress in the English game.
United's home form has been dire this season. The expectation at the Theatre of Dreams is so massive, that the squad of players Fergie left David Moyes seem to have frozen in front of the home fans.
But what may shock a lot of football observers is that away from home, there is no better team in the Premier League.
Contrastingly, on home form alone, there are eleven better sides in the division.
Here are some stats that may surprise you:
Man United are the best team in the Premier League away from home.
Man United are the 12th best team in the Premier League at home.
United are the second highest goalscorers in the Premier League on the road.
United have scored the same amount of goals at home as bottom two Fulham and Cardiff City.
On the road, United don't suffer from the same pressures, tensions lift, shadows of past glories don't loom so large and the team plays with a freedom that would ensure they would be title contenders if it wasn't for their dodgy home form.
They have collected more points away from home than any other team – five points more than current league leaders Chelsea, albeit having played one game more.
At home, United have collected one point more than Crystal Palace and one less than Hull City. In fact, only high-scoring Liverpool have bagged more goals on the road than United.
All observers of the English game are scratching their heads trying to work out why champions United have nose-dived to seventh in the league.
A lot point to the players not being good enough. The same players who romped to the title with ease last May. But how are they the best side in England away from home, but not at Old Trafford?
Others point to Moyes not being tactically good enough. But how can he be tactically more impressive than any other manager on the road but not in home games?
The truth is, there is a lot of nonsense spouted about United's demise and the reasons for it. Quite simply put, United's problem is mental. The expectation around Old Trafford is so massive that this has effected the players' heads.
They have played with so much tension and trepidation in front of their home fans that they have lost five of their 14 games there, winning only six. Very similar home form to relegation-threatened Palace.
The 'Sir Alex Ferguson' stand is casting a massive shadow over the hallowed turf of Old Trafford.
When the pressure is off, United can perform. We know this due to their away form and their form in the Champions League this season.
The elite European competition doesn't bring as much expectation, and United have flourished in it.
Source: Martin Rickett/PA Archive/Press Association Images
They've qualified for the quarter-finals, having impressed in the group stage (with one of the highest points totals and the joint best defensive record) and fighting to a dramatic comeback against Olympiacos in the first knock-out round.
It would have been an interesting scenario had United not been so far behind heading in to the second leg against the Greek champions. Would expectation have been higher? Would the tension have effected the players once more in front of their home fans? It's likely.
What will be most disappointing to United fans is the fact that experienced players such as Patrice Evra, Nemanja Vidic, Rio Ferdinand and Michael Carrick have been most effected by this looming shadow.
They have been a huge disappointment this season. When United needed their senior players to step up to the mark post-Ferguson by settling the nerves and dealing with the expectation, they failed the fans. These players weren't meant to freeze, but they froze more than anyone.
The club were dumped out of both domestic cup competitions in Old Trafford too, the ground really has lost it's fear factor.
Derby day
Ahead of a showdown against their most fiercest of rivals Manchester City, the tension will be palpable. United really are suffering under the weight of expectation, expectation set down by a riches of glory brought to them by the previous manager.
Some say Moyes has a mammoth task ahead of him, he must spend hundreds of millions, he must become a better coach, he must become tactically better.
But the truth is, it's a simpler fix than that; what he needs to do most of all is rid his players of the tensions they play with in front of 75,000 spoilt fans every second week.
If he can get his players' heads right at the Theatre of Dreams, then United will rise again. Their away from proves that they are among the best teams in the division, when they play without trepidation.
But as things stand, the Theatre of Nightmares is a more apt nickname for the grand old ground at the top of Matt Busby Way.