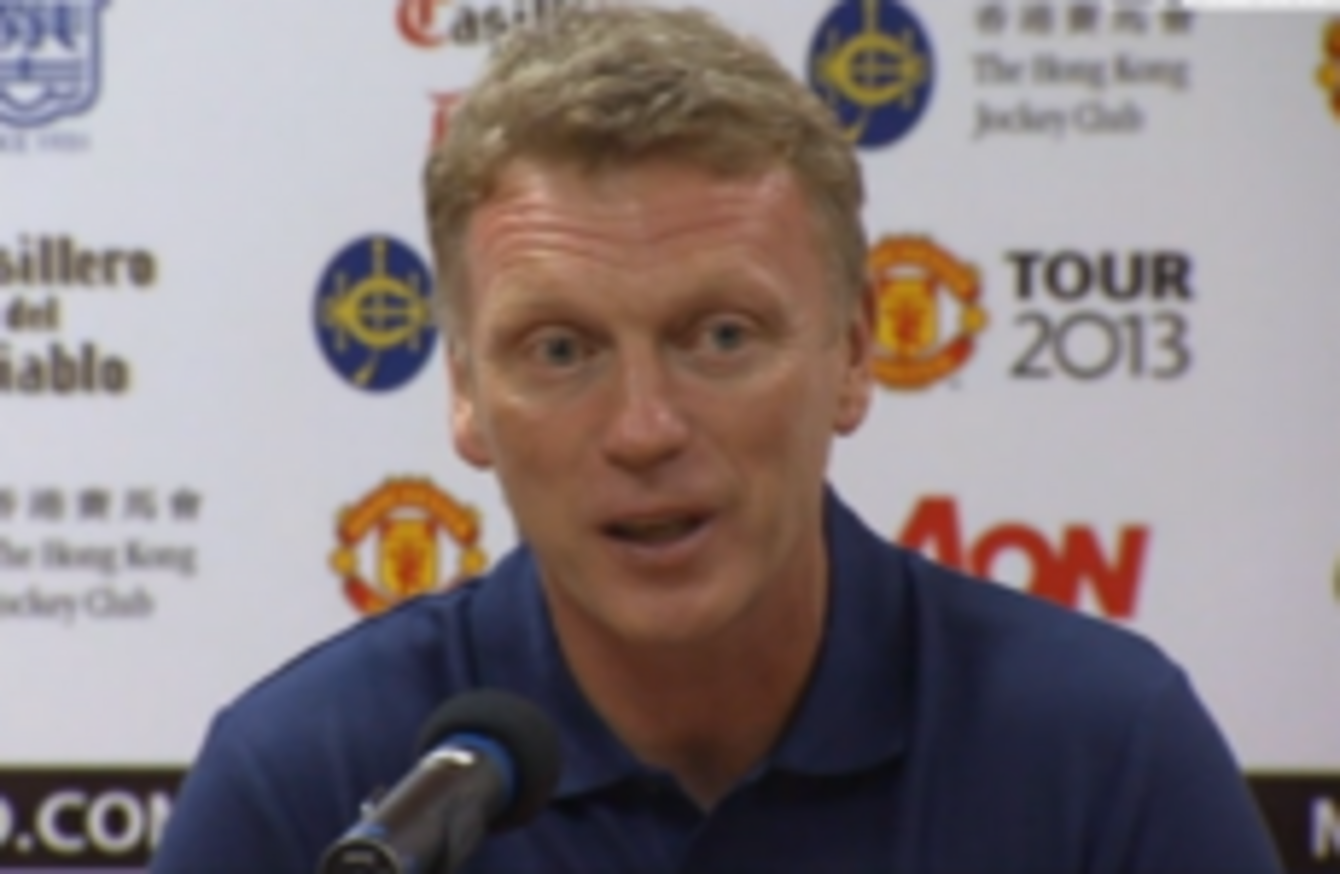 David Moyes has some cash burning a hole in his pocket.
Image: Sky Sports screengrab
David Moyes has some cash burning a hole in his pocket.
Image: Sky Sports screengrab
MANCHESTER UNITED MANAGER David Moyes is confident of getting new players in before the end of the transfer window and is mulling a third bid for Cesc Fabregas.
Barcelona have turned down two bids — the latest reportedly of more than £30 million — from United for the Spanish midfielder, 26, and new Barca boss Gerardo Martino on Friday insisted he was not for sale.
"I couldn't tell you at the moment and can't tell you if there will be another bid. Obviously we will take stock of it and consider what we are going to do next," Moyes said in Hong Kong, ahead of his side's friendly on Monday against local side Kitchee.
"What we've got here is a really good squad of players already, so you mustn't forget about the quality that is already here at Manchester United. Undoubtedly we are hoping to add to it (the squad) and I am confident we will do, certainly before the (transfer) window shuts." On the so-far failed Fabregas bid, Moyes added:
I never at any time said I knew we would get (Fabregas), just that we had made offers that had been rejected. We'll take stock of the situation and see where we go from there."
The United boss, who has only been in the Old Trafford hot seat for four weeks, was tight-lipped about the future of striker Wayne Rooney, who has asked to leave the club and is currently injured.
Rooney is on schedule to return for a friendly in Stockholm on 6 August, said Moyes, who was at pains to stress he was happy with the squad he inherited from Alex Ferguson.
"That's the squad that finished 15 points clear at the top of the Premier League. I'm confident with that squad, from what I've seen. They've got a great squad of players," he said.
Pitch imperfect
United cancelled an open training session at the 40,000 -seat Hong Kong Stadium that had been scheduled for Sunday because of the poor state of the pitch, where Spurs defender Jan Vertonghen was hurt on Wednesday.
Moyes played down fears one of his players might also fall victim to the surface, following several days of heavy rain in Hong Kong.
"We are used to playing on good surfaces and good pitches, but it was the weather that didn't help. There was nothing the people here in Hong Kong could do to make it any better," he told a packed press conference. The Scot expects to pick a strong side for Monday's game, which comes after matches in Thailand, Australia and Japan.
United have lost twice, drawn once and won only once so far on tour, but England defender Phil Jones was unconcerned and said Moyes had been stamping his mark on the squad.
"We have been together four or five weeks now and we've had some really good training sessions and he's implemented what he wants to do in training and games," said Jones.
"You can see things coming off in games and come the start of the season I'm sure we'll be ready to go and firing again."