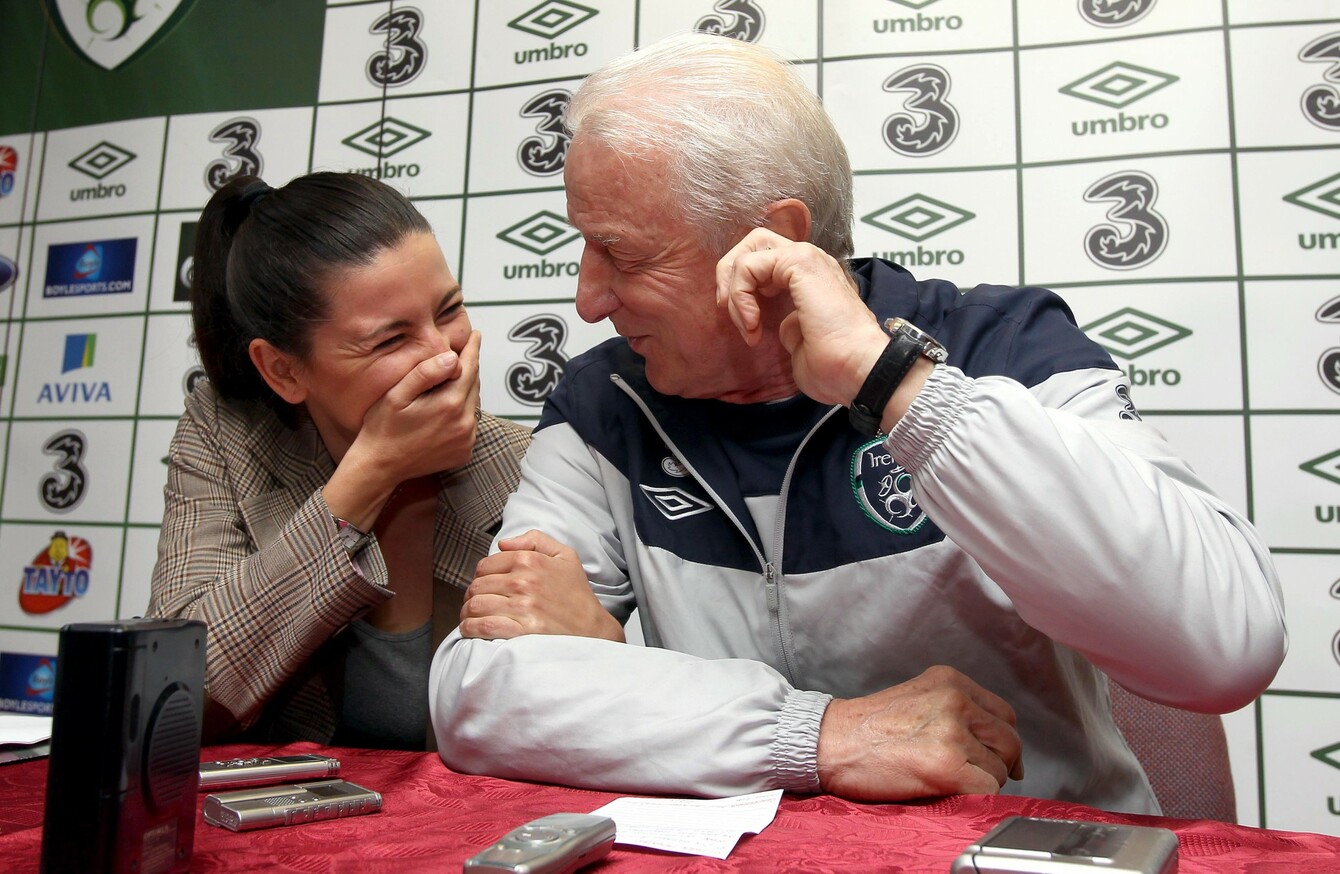 Manuela and Trap: the pair worked together during a five-year stint at Ireland.
Image: Dan Sheridan/INPHO
Manuela and Trap: the pair worked together during a five-year stint at Ireland.
Image: Dan Sheridan/INPHO
SHE STOLE THE hearts of the nation as Giovanni Trapattoni's right-hand woman. Her happy demeanour lit up the lives of Irish soccer fans worldwide, and many were more upset to see her leave than Trap himself.
As Ireland prepare for their final group E clash with Italy, Manuela Spinelli is caught between a rock and a hard place when it comes to who she's supporting.
"My strategy is to stay neutral — I'll opt for a draw. I'm not going to deny that I'd like Italy to do well, but then again I've been here longer than I've been in Italy," Spinelli told The42 before the tournament kicked off.
"Unfortunately, we always seem to be drawn in the same group. I'm always stuck between the two sides – it's honestly like being born Italian-Irish.
"Watching the Sweden game, my heart was pumping. I was so agitated. The fact that I know [the Irish players], I felt like a mother. I really wanted them to do well and come out of that stadium with a win.
Spinelli first came to Ireland in 1993, and soon after finishing college, she began working in interpretation and translation. When asked about how her job working alongside Trapattoni came about, her answer was simple: "I just chanced it."
"I obviously really like football and I was already working in sport. I read that there was an opportunity so I sent off a CV.
"I was contacted for interviews and got through those. Originally, I was only hired for two days but it quickly became a continuous collaboration.
"I miss it so much. When you start working with a setup like that, it kind of becomes like a travelling family. I felt part of the team.
I miss being part of the fold and travelling around the world doing something I love. It was an amazing opportunity to do my job and combine it with my passion of sport. But then again, it's not something you can do for life.
Spinelli and Trapattoni still stay in touch despite their collaboration coming to an end when the Italian manager left his post in September 2013.
"We were texting each other during the Sweden match. I was also in touch with Marco [Tardelli]. They were both happy to see that a lot of the players they would have worked with are still in the fold."
The good-humoured Italian speaks fondly of her memories of Euro 2012.
"It was unbelievable, the fans were amazing. I have never seen such a sense of camaraderie and support.
We Italians are pretty passionate about football, but wow, nothing beats the Irish.
"The campsites in Poznan were incredible, it's something I'll never forget. What surprised me the most was how much people wanted to talk to me and have their picture taken with me and I never really comprehended why. It was really lovely.
Be part
of the team
Access exclusive podcasts, interviews and analysis with a monthly or annual membership.
Become a Member
"I felt important, it was difficult to fathom. I was just a normal person doing my job. But to see support on that scale, it was crazy."
Since her time with the FAI came to an end, Spinelli has continued to work as a freelance interpreter, along with other stints of work in marketing and PR.
"It took a while to readjust but I continued interpreting for other clients and have since started consulting in PR, events and social media, mainly in the food sector.
"Rugby is something I also work in quite a bit. I worked at the World Cup in England with the Italian team and media."
The fluent English and Italian speaker, who also has French and German, was also asked to be a guest on RTÉ's 2014 World Cup coverage.
"I really enjoyed it, it was something fun. I wouldn't say that I shared any major words of wisdom but I had banter.
I'm not the next Eamon Dunphy, that's for sure!" she laughs.
And what's next for the insanely-busy jolly Italian?
"Well, I love my job so I'm going to continue interpreting. My life is divided between sport and food and that's what I'll continue, working in PR, marketing and events.
"Short-term, I'm actually going to Singapore in the morning, but I will be watching the matches.
"I thought it would be too difficult to be here and not go to France so I decided to go on holidays instead. If both Ireland and Italy go through, I'll definitely be on the first flight over though!"
The42 is on Snapchat! Tap the button below on your phone to add!