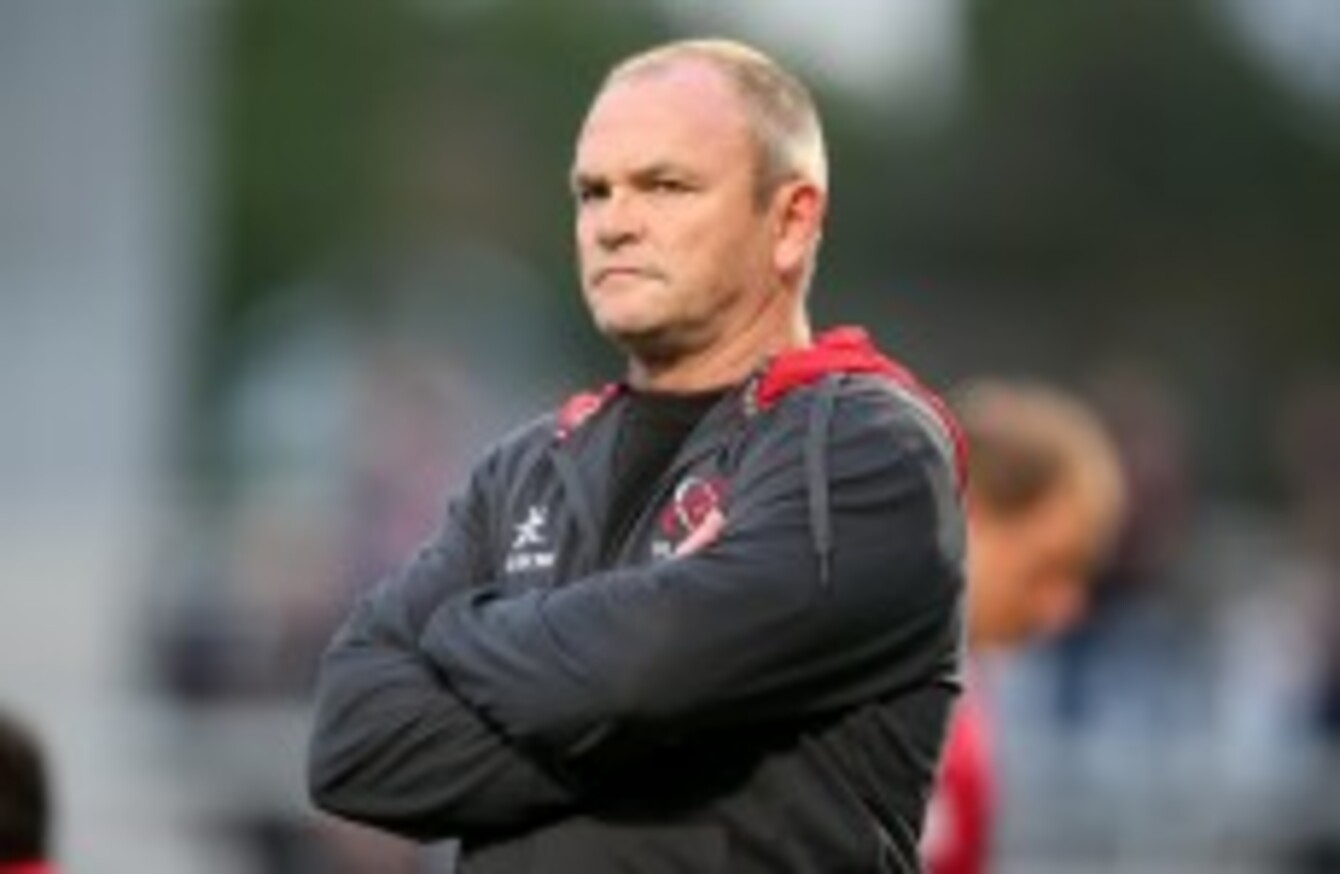 Anscombe is in his second season with Ulster.
Image: ©INPHO/Dan Sheridan
Anscombe is in his second season with Ulster.
Image: ©INPHO/Dan Sheridan
HEINEKEN CUP WEEKS are different; supporters know it, players know it, and coaches do too.
There is invariably an increase in motivation, interest and standard when European club rugby's premier tournament rolls back into town. Fans and players have no trouble getting themselves mentally right for the biggest days of the season, but how do coaches approach these essential fixtures?
Ulster host Treviso on Saturday evening (6pm) in a Pool 5 clash at Ravenhill. For head coach Mark Anscombe, the challenge is complicated by injuries [the latest of which will keep Tommy Bowe out for up to six weeks] and the need to re-integrate international players.
"You've got to get your detail right and really be clear on what you need to do in the game. You've got to make sure that you bring the right attitude and you've got clarity in what everyone's role is, what we need to do as a team. Getting that gelling together of a team that supports each other so we get our combinations working [is important].
One thing that the Heineken Cup does is give you all your best players, if they're fit. What it also sometimes does, the way it comes after internationals, is that you don't get the quality of time for weeks and weeks of combinations."
However, as Anscombe goes on to explain, there is a fine line between enabling your players to perform well by focusing on that 'detail', and overburdening them with too technical a focus. Allowing his squad the space to mentally ready themselves for a physical encounter is also vital.
As we perhaps saw with Ireland in their performance against Australia, it can be tempting to load players with information, but Anscombe points out that there is a perfect balance there somewhere.
"The detail is in understanding the patterns of play. With detail, you can bring that down to the facts of every aspect of the game, of techniques. That's where you can be mind-boggling. When I talk detail, it's about your role in any set call or pattern, that's the important thing because that gives you accuracy.
"If you get the detail of that wrong, then you get the turnovers, you get the ineffectiveness. So it's important that you get the detail right, as far as what your role is in the plays you're doing. That's the key rather than focusing on the detail of all the technical aspects; catch and pass, tackling, cleaning out, line-outs."
Be part
of the team
Access exclusive podcasts, interviews and analysis with a monthly or annual membership.
Become a Member
Anscombe looks focused at Ravenhill this afternoon. ©INPHO/Presseye/Matt Mackey.
The New Zealander speaks with the assertion and conviction of a man who is confident in his own abilities as a rugby coach. Typical Kiwi, you might say, but Anscombe also agrees that he remains on a learning curve with Ulster.
His CV is not littered with success quite yet, although a Junior World Championship with his native country in 2011 stands out. The one-time Auckland provincial coach explains that he is a firm believer in striving for constant improvements.
"I think as humans, we are what we do and whatever job we're doing. If we're not growing, learning and picking things up, there's something in life you're missing out on. I think you've got to be open-minded and embrace cultures, changes and places. We can always learn, no matter what we do.
We can always learn from something else and it's those little things that keeps a bit of spice in life, it's exciting and challenging. I've really enjoyed my time here and I think I've learned things and grown from being here."
Anscombe's relative inexperience at the top level of coaching when he first arrived at Ulster in 2012 meant the influence of local heroes Neil Doak and Jonny Bell was, and continues to be, "crucial". That duo are young, ambitious coaches too and Anscombe believes the dynamic between the coaching staff is working well.
"We get on well and challenge each other. It's a good environment and you've got to have that to get the best out of each other. It's just like we want the players to challenge us and we want the players to challenge themselves.
"Same with the coaches; you want people to come with an open mind and also bring their ideas. Then if we all bring that, we can challenge each other and we'll come to a good conclusion."
Anscombe believes the "beauty" of the Heineken Cup lies in these December double-headers and he will be expecting that Ulster's fine details will bring the month to a successful conclusion as the learning continues.
Like rugby? Follow TheScore.ie's dedicated Twitter account @rugby_ie >