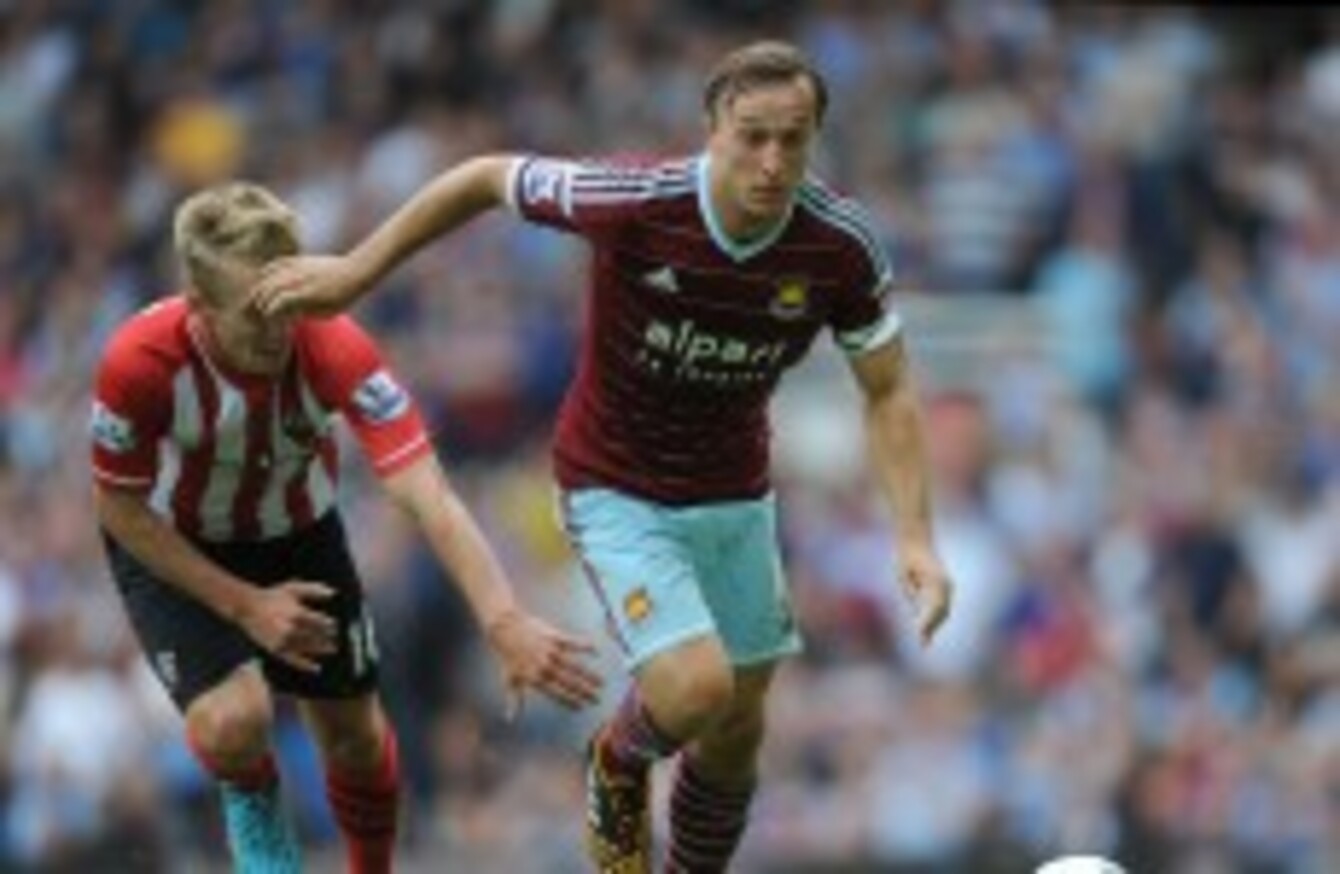 Noble during West Ham's 3-1 defeat to Southampton this weekend.
Image: Daniel Hambury
Noble during West Ham's 3-1 defeat to Southampton this weekend.
Image: Daniel Hambury
FOLLOWING RECENT REPORTS that Mark Noble would declare his international allegiance to Ireland, the West Ham midfielder says he will make a decision in the coming weeks.
The 27-year-old was omitted from Roy Hodgson's England squad for their upcoming fixtures against Norway and Switzerland, with younger players like Jack Colback and Fabian Delph preferred.
Noble is a former England U21 captain and was born in London, but his grandparents are from Cork. As a result, the West Ham man is eligible to line out for Ireland and he has now admitted that it is an option he is pondering.
Speaking on Sky Sports' 'Goals on Sunday' this morning, Noble revealed his agent has been in contact with Ireland manager Martin O'Neill. Having played for England from U16 level all the way up to U21, Noble admits it would be odd to run out in an Ireland jersey.
I would find it a little strange to pull on the green jersey, only because I've captained the England U21s," said Noble. "But you never know – football is a strange game and I will make a decision over the next couple of weeks."
Noble pointed out that with the retirement of Steven Gerrard and Frank Lampard, he had been hopeful of getting the call from England manager Hodgson, feeling he was perhaps next in line.
That contact has not come, however, leaving Noble disappointed and considering a switch of allegiance to Ireland. The midfielder says he has not given the prospect in-depth thought, instead focusing on West Ham's clash with Southampton yesterday.
"My gran and grandad are full Irish. I've captained the England U21s but I'm still young. I'm just going to think about it, but to be honest I haven't thought about it [a lot].
"I tried to concentrate on the game yesterday and I was a bit disappointed not to be called up [by England]. It's the pinnacle of every English boy's career to play for England."