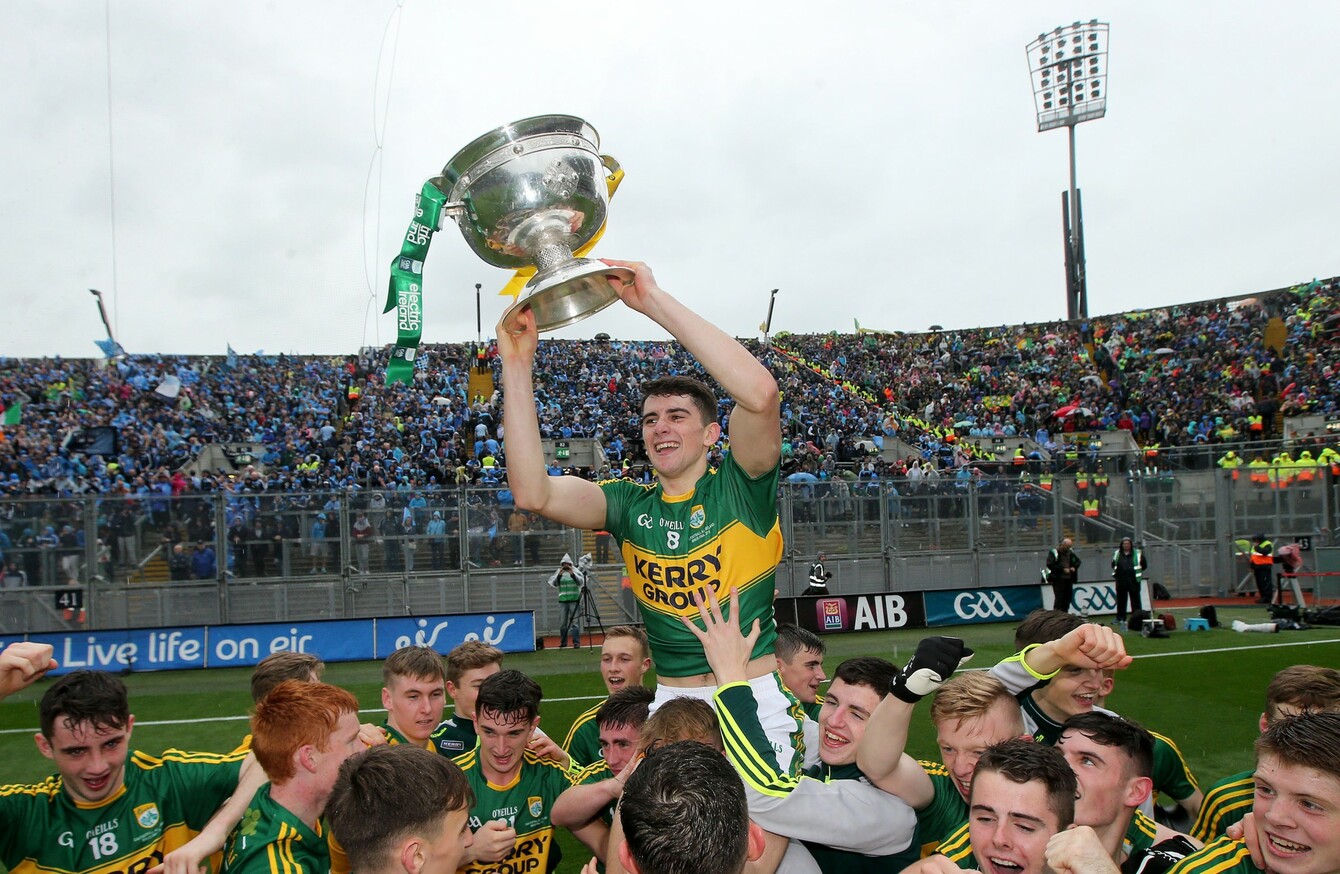 Mark O'Connor lifts the Tom Markham Cup after the 2015 All-Ireland minor final.
Image: Ryan Byrne/INPHO
Mark O'Connor lifts the Tom Markham Cup after the 2015 All-Ireland minor final.
Image: Ryan Byrne/INPHO
AS KERRY AND Dublin's thrilling battle unfolded last August, Mark O'Connor watched on in Croke Park and felt this was the path his playing career would take.
He had been drafted in to the senior training squad that summer by Éamonn Fitzmaurice. The Kerry boss was well aware of the rich potential of the 2015 All-Ireland minor-winning captain.
O'Connor had already produced a personal All-Ireland highlights reel from his exploits with the Kerry minors and Hogan Cup-winning teams with PS Chorca Dhuibhne, the west Kerry school where Fitzmaurice teaches.
Amongst Kingdom football observers, he was nailed down as one to watch. A future senior midfielder.
Yet less than two months later, he had swerved on to a different sporting course. A contract with Aussie Rules side Geelong was rubber-stamped and O'Connor was flying to the other side of the world.
It's why this Easter weekend his playing focus is on the start of the Victorian Football League rather than Kerry's attempts to reach an All-Ireland U21 final.
"It was a massive decision and it wasn't one I thought I was going to take really. I remember sitting in the stands at that Kerry-Dublin semi-final last year and thinking there's no way I'd stay away from it.
"I'd been approached during the summer and they said there was a place on the plane over to Australia in October if I wanted to have some trials. I came over for two weeks. I felt I'd nothing to lose and a lot of experience to gain."
Being exposed to the professional world of Australian Rules opened his eyes. He looked at the sporting lifestyle and level of facilities that were on offer at the club's base in Geelong, the city that is an hour south of Melbourne.
The temptation to try it out was obvious but he still had plenty to mull over when returning home.
"It wasn't a decision I just jumped at. A lot of people say it's an unbelievable opportunity and you have to go. But they're not thinking of the things you're leaving behind, the club and the county.
"I took all the time I had to make the decision but I'm glad I made it."
In mid-November O'Connor made the permanent move to a whole new environment. There was a guiding influence from home during his early days in Australia.
He didn't know Padraig Lucey but they'd marked each other when Dingle and Legion crossed paths on the Kerry club stage. Lucey had spent two years with Geelong, after first emerging on the Aussie Rules TV show 'The Recruit', and is now kicking ball with Newtown & Chilwell in the Geelong Football League.
"He took me in for two weeks," says O'Connor.
"It was two weeks before pre-season. I hadn't a clue what I was getting myself in for and must have asked him a couple of hundred questions in a week.
"Padraig eased the nerves a fair bit."
After that, Geelong set O'Connor up with a host family and he rapidly bedded in to his new life.
"I settled in pretty quickly. Everyone in Geelong made it as easy as it possibly could be. The people here are just unbelievable with their time.
"There's a saying in Geelong about recruiting character first and talent second, I'd definitely noticed that straight away."
The arrival of another Irish man into the Geelong dressing-room was another boost – Zach Tuohy, one of the most established GAA players in the AFL.
"When I signed, I heard he was in talks with Geelong. I just had my fingers crossed that he would make the trip down and luckily enough he did.
"Zach has been a massive help for me ever since I came over. He went through the same thing at Carlton and he's a very good player who'd be very well regarded."
Before O'Connor left, he was in his second year studying Commerce in UCC. He's had troubles with his knees in the past and faced the typical juggling act of a young GAA player with studies and the requirement to hop in the car from Cork to Kerry a few times a week.
Now he has ample recovery time after training sessions and access to full-time physios at Geelong. That all helps.
"It's not that I wasn't being looked after at home but just cutting down on the travelling and having so much time to rest and prepare is great.
"You need it. The pre-season was very demanding, especially getting used to training in 30 degrees. That was a change, being tired and hungry a lot.
"The games can be difficult, you'd be fairly spent after them. But I think it just takes time, hard and smart work, and hopefully after a while I'll start racking up the kilometres like the other fellas."
Adjusting to playing the game is an ongoing process. He freely admits that his Aussie Rules knowledge was scant before making the move. There was an awareness of the feats of Jim Stynes and Tadhg Kennelly.
Occasionally he came across games on TV when flicking through channels at home. But largely he was a blank canvas, willing to learn.
"The tackling, I'm still only getting used to it. It's very full-on. I remember the first few weeks, I had my hands up in the air when I got tackled not knowing what's going on.
"I was still accustomed to GAA rules, screaming for the ref but I was in the wrong! With the ball then, it's just trying to do as much work with it in the hand as often as you can.
"In fairness the coaches have been very good to me. They're always open to doing extra skill work."
The ties with home have not been cut. It wasn't easy to leave GAA behind. He cherishes the memories of the school days with the all-conquering PS Chorca Dhuibhne teams and points to the seismic influence Fitzmaurice had in shaping him as a player.
O'Connor ended a golden run as a Kerry minor in September 2015 as man-of-the-match and lifted the Tom Markham Cup after they routed Tipperary.
Last April he thumped home a brilliant goal in the EirGrid Munster U21 final against Cork in Tralee but Kerry fell short by a point at the final whistle.
Tomorrow Kerry are on the All-Ireland U21 trail with a semi-final tie against Galway in Ennis. His minor team-mates have progressed, there are six Dingle club mates on the panel and he lifted the Hogan Cup with An Ghaeltacht's Brian Ó Beaglaoich back in 2015.
"There's no mixed emotions really, I'd want nothing but the best for them," says O'Connor.
"I'd be in touch with them and I'd be very thankful to all those boys, we'd some great years put down. I'd love to see them winning.
"I just thought this was a new chapter. If it doesn't work out, I can still go back to what I had before. I can still go back to play with Dingle and go to college in Cork."
The O'Connor family have made the long trek over to see how their youngest child is getting on.
Mark is taking his parents and two older brothers — John and David — to the Melbourne Cricket Ground on Monday to witness an AFL game as Geelong put their unbeaten start to the season on the line against Hawthorn.
Before that he has his own battle to brace himself for, selected in the half-backs for his debut for Geelong's reserve side on Sunday in the Victorian Football League against Werribee.
"It's great to have the family over here at the moment. Geelong brought them out here which is brilliant.
"For them to even see what I'm going through rather than imagining it when we're talking on the phone. It's great they can experience what I'm up to every day and see what my lifestyle is.
"It's exciting times. I'd love to play an AFL game this year but I know that's very ambitious. Obviously I want to learn as much as possible.
"Ultimately you're out here to play with the best. That's always going to be the goal. It's something I really want to be part of."
The42 is on Instagram! Tap the button below on your phone to follow us!