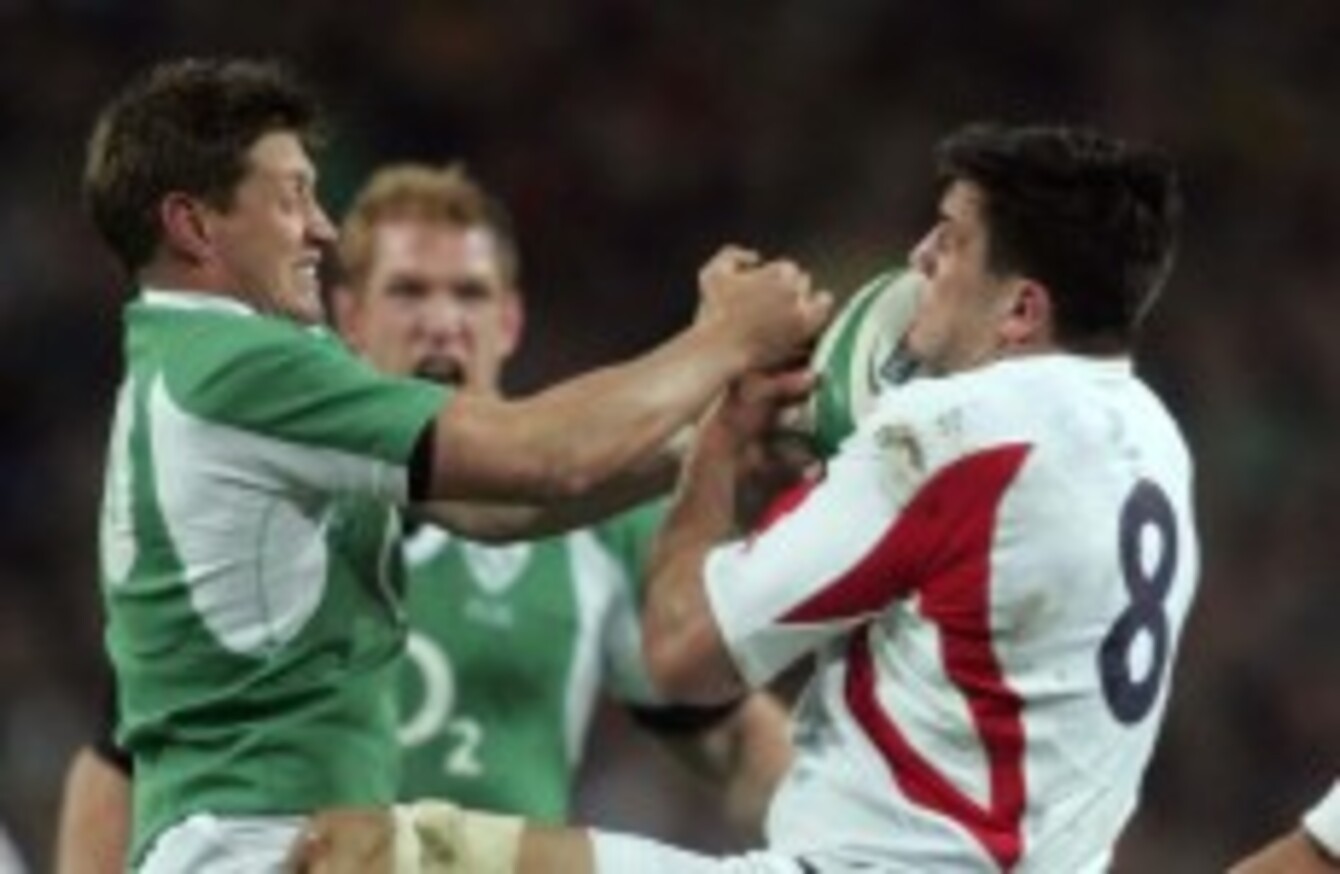 Corry knows all about going to battle with Ireland.
Image: ©INPHO/Morgan Treacy
Corry knows all about going to battle with Ireland.
Image: ©INPHO/Morgan Treacy
AT SOME STAGE, Stuart Lancaster's renewal of England is going to have to be viewed as complete.
Discussion of this English squad so often revolves around the 2015 World Cup and the Cumbrian's efforts to create a culture that will result in his men taking to the pitch with higher motivation levels than anyone other side.
Lancaster has been vocal about developing a more ambitious style of play too, with handling skills and creativity playing major roles. These are laudable intentions, but where does it stop being a process and start looking like an end product?
Martin Corry is a man who knows about delivering the latter. The former Leicester Tiger was part of England's 2003 World Cup success, before captaining his country to another final in 2007. Seven Lions caps,  five Premiership titles, and two Heineken Cups make the 40-year-old well placed to judge where England are right now.
For a developing side, what Stuart's done is laid the foundations. He's been able to do that because when he took over he had a very young squad, he was able to mould that. He had to breed that leadership culture and I think he's done that exceptionally well.
"17 months out of the World Cup, 'developing' a side is almost the easy thing to do. There's got to come a time where it's about now. You say 'Right, laying the foundations, getting the culture right, this has got to stop now. We must show ourselves to be the developed side.' And that's all about results."
England's defeat to France in round one was worrying for Corry, particularly in how Lancaster's side conceded a losing position late in the game. It was painted as another stepping stone for England in some corners, but Corry doesn't see it that way.
What it truly means is that the clash with Ireland tomorrow takes on an even greater significance than ever.
"It's so important for this England side, because they're playing at home and against an Ireland team that has shown against Wales how tough they really are. England can say we're a developing side that can play attractive rugby, but it's all about the winning now.
"Just do whatever you have to do to get that result because that's all that matters. This should be viewed as a quarter-final of a World Cup, that's the magnitude. It's a must-win and the players have got to go out and find a way to win. The coaches aren't on the field."
The story of England's 2003 World Cup success now includes almost mandatory mentions of the lessons they learned when losing vital games in the preceding years. However, Corry doesn't buy into that narrative.
The 40-year-old believes that it's easier to give those failures such a positive meaning when looking back. He feels England can't afford to do the same as they move forward now; learning in victory is more important than learning in defeat.
"I find that 'reporting in hindsight', to say that it helped us along the way. When we bombed three Grand Slams, we went absolutely everything into winning those games and when we lost we were absolutely devastated.
"So it's all very well saying 'in hindsight,' but when you're actually living it, it was the worst thing in the world. Did that help us? You can't change it. Would we not have been even better had we won those games and had the confidence to kick on? Reporting in hindsight, I think, is a load of bullshit."
Corry does believe in the current England coaching staff, led by Lancaster but driven on the training ground by Andy Farrell, Graham Rowntree and Mike Catt. These are "proper blokes," men who the former Leicester Tiger would want by his side in battle.
For Corry, having coaches with those mental qualities, that "hard edge," is vital in the international arena. Their attitude will "filter down" into the players and that quartet of coaches fills Corry with hope for England.
He sees England's aggressive defence as the area where the mentality of the coaching staff has really found a natural home amongst the players.
As an observer, there's few things where you can really see intensity in the players. Line speed, if you're given the license to get off the line quickly and get in their faces, that's a statement of intent.
"That's great to see and certainly the France game is one of disappointment, but you look at the line speed and it was a major plus. That's when you can see a few leaders too, like Courtney Lawes, who gets off the line and wants to chop players down."
Among the aspects of that defeat in Paris that hurt the most in England was the manner in which England conceded the lead. Losing a game in the dying minutes is never easy to accept, but there was a clear dip in English focus and energy in the lead-up to Gaël Fickou's winning try.
While Corry underlines that there is no guaranteed way to see out a game once a team finds themselves ahead late on, England may already have provided themselves with an example of what works for them earlier in Lancaster's reign.
"I loved that when we beat New Zealand at Twickenham in 2012. We were ahead in the second half and in my mind, I thought 'Get Owen Farrell to drop in the pocket and start pinning them back, taking a little bit of the sting out of the All Blacks attack.'
"Lancaster made a substitution, but he brought Freddie Burns on. The first thing Burns did was throw a 20 metre pass over the defence to Tuilagi which ultimately resulted in another try. There's no 'This is how you do it.'
It's the intensity in what you do. Once you're ahead you step that intensity up. One of my big things was that you never sit on a lead. It's always about applying more pressure."
Having selected George Ford on the bench for tomorrow's clash at Twickenham, is Lancaster planning to spring a positive change late in the game, a creative presence to close out the game on the attack?
It remains to be seen, but Corry is certain about one thing.
"It's going to be a hell of a Test. England's forward pack probably leads the way over their backline, then you look at how Ireland dismantled Wales up front. It's almost impossible to call."
Martin Corry is an ambassador for the Guinness Plus App, which is giving fans the chance to fly three mates from anywhere in the world for 'An Epic Reunion' at Stade de France! You can download the app for iPhone and Android Smartphones from the iTunes App Store and Google Play Store now.