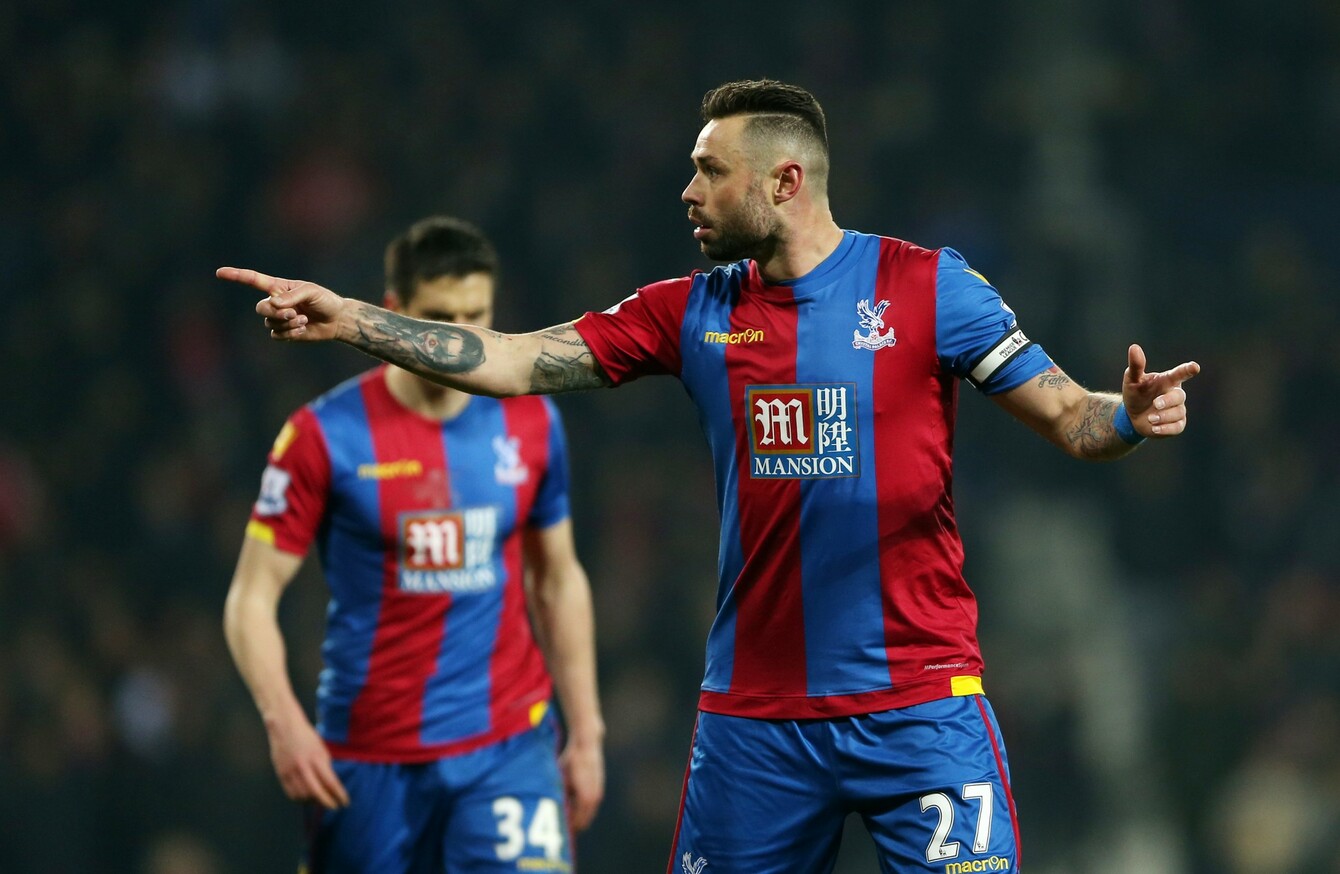 Damien Delaney has made 23 Premier League appearances for Crystal Palace in the Premier League this season.
Damien Delaney has made 23 Premier League appearances for Crystal Palace in the Premier League this season.
THERE WAS ONE conspicuous absentee from yesterday's 40-man Ireland squad.
Although he is still officially retired, some people expressed faint hope that Damien Delaney would make a return to the side.
Recent comments from Crystal Palace boss Alan Pardew strongly hinted Delaney was willing to end his international exile for the Euros, but at yesterday's press conference, Martin O'Neill appeared to firmly slam shut any hope of a return for the Corkonian to the international set-up.
"I've got six centre-halves," the Ireland manager said. "There are people here who have done brilliantly for me who helped qualify and a number of younger lads like Shane Duffy who I feel has international football ahead of him.
"I don't know how much more you want me to say. Damien is 35 and Shane isn't."
Yet O'Neill's excuses for not picking Delaney were unconvincing. Firstly, he got his age wrong (he's actually 34). And secondly, if age were such an issue, why has the Ireland manager been so keen to persist with 34-year-old John O'Shea, 35-year-old Robbie Keane and 39-year-old Shay Given among others since taking over as manager?
Moreover, of the six centre-halves he has picked, it's hard to argue that all or even any are in a stronger position than Delaney domestically.
Of the former Cork defender's 28 appearances this season, 23 have been in the Premier League. By contrast, Alex Pearce, who was selected in the squad, has started just once in the Championship since the beginning of the campaign. And as good as Ciaran Clark was in the games against Bosnia, he has struggled to get into an Aston Villa side that is patently one of the worst Premier League teams ever, making just 11 starts all season for the relegation dead-certs. Indeed, of the six centre-backs picked, John O'Shea is the only one who, like Delaney, is a Premier League regular, and he hasn't enjoyed the best of times either with struggling Sunderland.
And notwithstanding questions over competition for places, was O'Neill really so reluctant to name a seventh centre-back if necessary? After all, he's the same manager who picked no fewer than five goalkeepers in his last squad.
So on form and status, there is simply no case for not having Delaney in the squad.
The more likely reason for the player's exclusion is that Martin O'Neill doesn't want to show weakness in any way or see his authority undermined.
After all, in announcing his international retirement on Instagram last year, Delaney effectively criticised O'Neill publicly. The Palace defender expressed reservations about O'Neill's style of football and the direction he was taking Ireland in. How would it look if O'Neill were to welcome back with open arms a player who has, on the record, disagreed with his playing style?
But of course, by openly admitting that Delaney's absence is simply down to a clash of personalities, O'Neill would give the media an invitation to highlight a juicy Saipan-style controversy, even if it's nowhere near the same level as Roy's infamous outburst.
Then again, perhaps O'Neill is leaving Delaney out because he genuinely believes there are better alternatives. It is not the only instance in the squad in recent history where loyalty has been favoured over form.
Speaking at Alan McLoughlin's autobiography launch back in 2014, Niall Quinn recalled the Charlton era: "Years later, it was very easy to knock what we did, but it was something special and magical," the former Man City and Sunderland striker recalled. "It was like a club and like many clubs, when you got in the Irish team, as Cascarino famously said, it was even harder to get out of it. He played until he was about 38."
There is a similar feeling under O'Neill. While one Trapattoni squad favourite — Conor Sammon — appears to have been definitively cast aside, others continue to be recognised. Despite hardly setting the world alight at club level in recent times, Paul Green, Simon Cox and David Forde among others continue to be named in squads.
Forde, for instance, has made just seven League One starts all season. What must Stephen Henderson, who has played 22 games in the Championship for Charlton, be thinking?
The defence of O'Neill's decision-making is that he is being loyal to the players who got him to the Euros. Yet by adopting this policy, the Irish manager is leaving himself open for criticism.
People were willing to tolerate players such as Seamus Coleman and Wes Hoolahan being left out of the Euro 2012 squad, that is, until the team lost. Suddenly, the players that 'we should stick by' were being deemed 'not good enough' by many spectators, and calls for the introduction of younger players began to grow louder.
Moreover, squad morale is a commonly cited reason for sticking with the same group of players throughout a campaign and ignoring superior alternatives. However, sometimes, this policy can have the opposite effect. Take Darron Gibson at Euro 2012, for instance. The midfielder was so annoyed with Trapattoni's decision to bring Paul Green off the bench ahead of him that he refused future call-ups from the Italian.
But whatever O'Neill's reasons for leaving out Delaney, he will be hoping the decision doesn't backfire come June. Otherwise, this contentious call will add considerable fuel to his critics' fire and another Trap-like fallout could ensue.