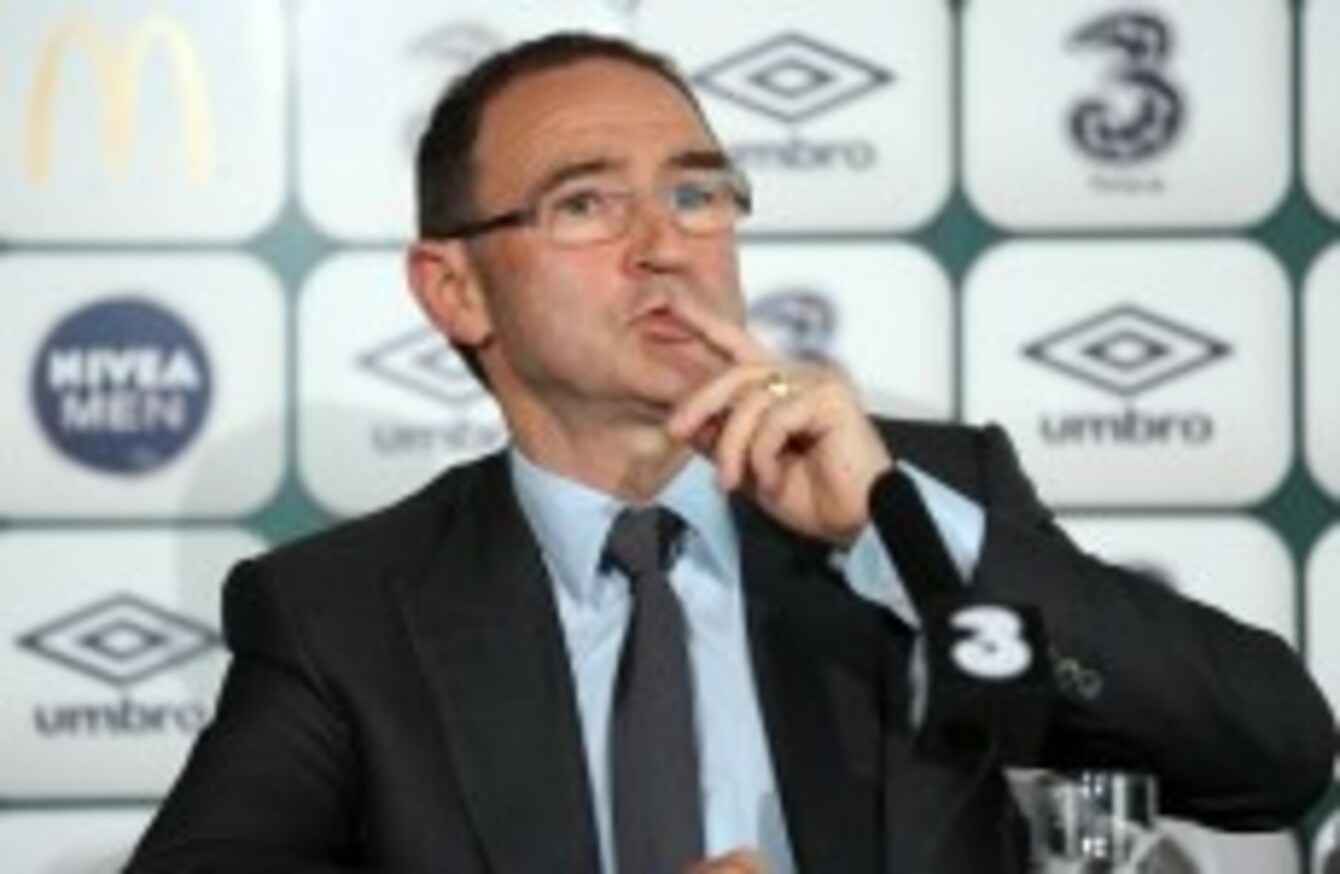 O'Neill: "I'm fully committed here."
Image: INPHO/Donall Farmer
O'Neill: "I'm fully committed here."
Image: INPHO/Donall Farmer
1. Contract matters
Before signing his Ireland deal, O'Neill was openly linked to many Premier League jobs but he was quick to clarify his position today when asked if he has a contract release clause which would allow him to walk away if another big suitor comes knocking.
"There's absolutely no clauses in this, he said. "I'm fully committed here and absolutely committed."
O'Neill's contract runs for the duration of the Euro 2016 campaign, however long that lasts. John Delaney revealed that they have already discussed an extension if Ireland qualify for France.
2. Where's Keano?
O'Neill and Delaney were alone at the top table this afternoon with Roy Maurice Keane nowhere to be seen.
The new assistant is at Villa Park for Aston Villa against Cardiff City where he'll be keeping tabs on Ciaran Clark.
"We obviously want to get to as many matches as possible," O'Neill said. "I don't think that is a problem with Roy, he goes to the games anyway."
3. Clough's view
One of the game's great managers, Brian Clough, worked with both O'Neill and Keane during their time at Nottingham Forest. How would he view football's latest odd couple?
"He would have had some palpitations I'm quite sure," O'Neill laughed. "I think he would have worried for both of us."
4. Domestic affairs
While acknowledging that Giovanni Trapattoni's infamous comments about Ireland having "no league" were probably lost in translation, O'Neill indicated that he would like to take a much more hands-on approach to scouting the domestic game.
"Obviously I want to try and see what is in this island," he stressed.
"I will have the time and the opportunity to come over and view the situation for myself."
5. Call it a comeback?
Asked about the possibility of some former internationals making a return to the fold — the retired Damien Duff and the exiled Stephen Ireland were the two mentioned by name — O'Neill left the door open.
"In general I don't have a problem with that whatsoever. I would like to get these two games out of the way, start to assess it and have a look at it.
"If anybody is going to be of value to the Republic of Ireland set-up here and I think that's worthy of it, I would certainly have a very, very open mind. A genuinely open mind."
6. An all-Ireland XI
Following on from Taoiseach Enda Kenny's suggestion of an all-Ireland XI to play a charity friendly against England, O'Neill was open to the idea but said time would be the biggest stumbling block.
"I think it might be hard to fit into the calendar but it's certainly worth considering."