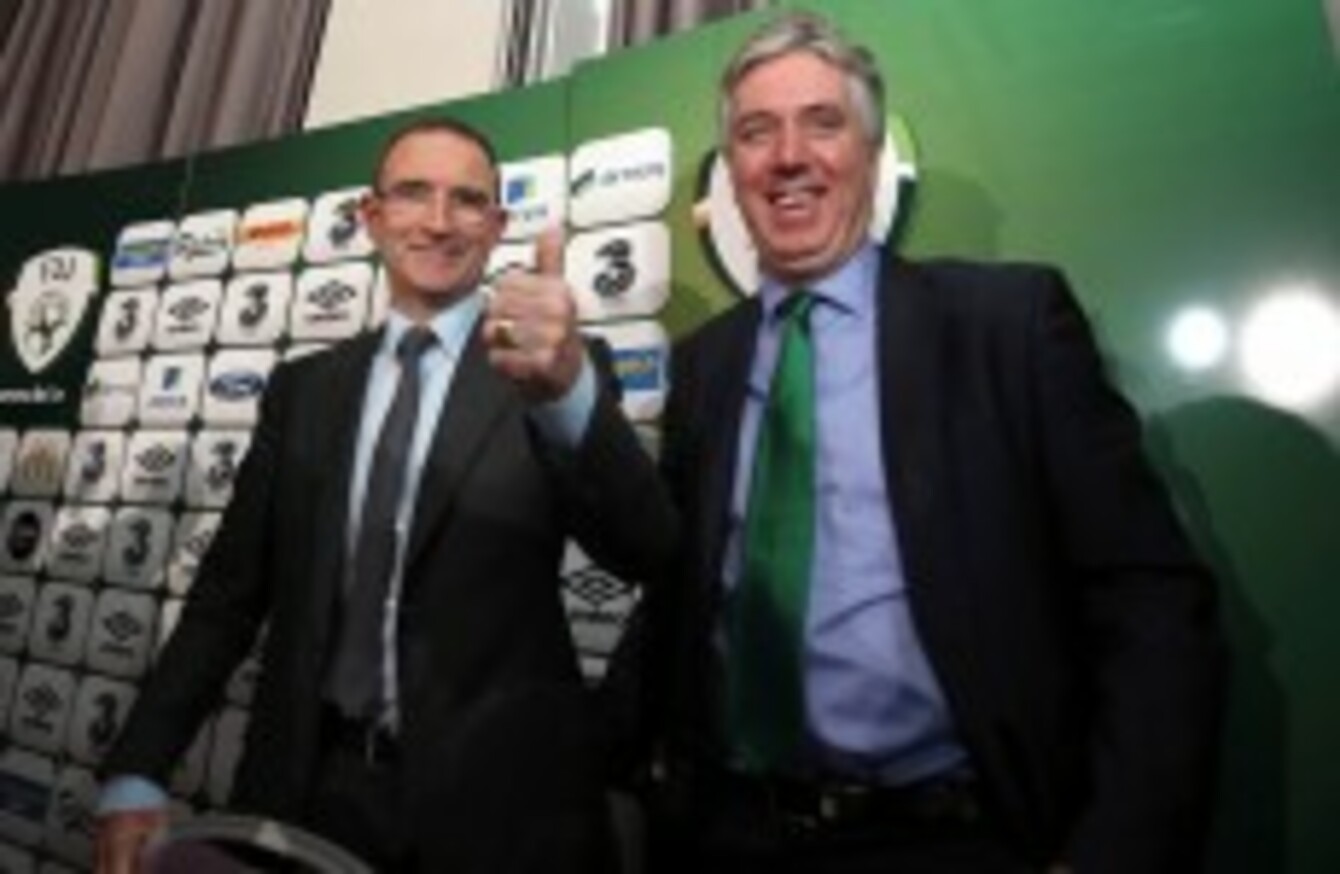 Thumbs up from Marty at today's press conference.
Image: INPHO/Donall Farmer
Thumbs up from Marty at today's press conference.
Image: INPHO/Donall Farmer
ROY KEANE WASN'T in the room but it didn't take long for him to come up in conversation.
Ireland's new assistant manager was a couple of hundred miles away but back in Dublin's Gibson Hotel, every mention of his name held a packed room's attention.
"Someone asked me the other day 'why Roy?'" Martin O'Neill said as he met the media for his first press conference. "I've asked myself that question a number of times."
O'Neill could have done with a floor manager to let a slightly confused audience know that it was okay to laugh. Not for the last time over the course of the 25 minutes, he had to spell out the joke.
"I'm absolutely delighted he is on board. He is an iconic figure, a great, great player — one of the best players to play in the Premier League since its inception."
"He went into management and I see Sir Alex Ferguson's points that he might have gone into management too soon. I don't really know that.
"All I know is that from working with him over the last few years, doing some television work in the Champions League games, I have found him very very engaging.
I've found his thirst for knowledge amazing. I see him at football matches when there's no need for him to be at games. He loves football.

I think like all of us in the game he has points to prove.
On his first day at the office, Keane was at Aston Villa to run the rule over Ciaran Clark ahead of next week's friendly double-header against Latvia and Poland.
Given the frustration with Giovanni Trapattoni's DVD collection, Keane's scouting mission was an early plus for Ireland's odd management couple. A sign that this hair-brained scheme might just be crazy enough to work.
"I did mention to him that possibility of working with me here and it took him about four and a half seconds [to say yes]," O'Neill said of his initial approach. "He was absolutely delighted with it.
I said to him the roles that we would have and he told me that he would reverse those in about 10 minutes.
Again, O'Neill's dry wit had to come with a humour warning.
His long-time lieutenant John Robertson was mentioned as a blueprint for how a successful double act should work.
But inevitably the questions turned to Keane's unpredictable character and the chance — some would say the likelihood — that this will all end in tears.
"I'm not there to change Roy Keane, not at all. I want Roy Keane essentially the way he is. That's what I want.
I will obviously, as I said earlier half-jokingly, try to make a few adjustments and we'll work accordingly
"I think he's very, very keen. He's very excited by it and he wants to do well. That's good enough for me."