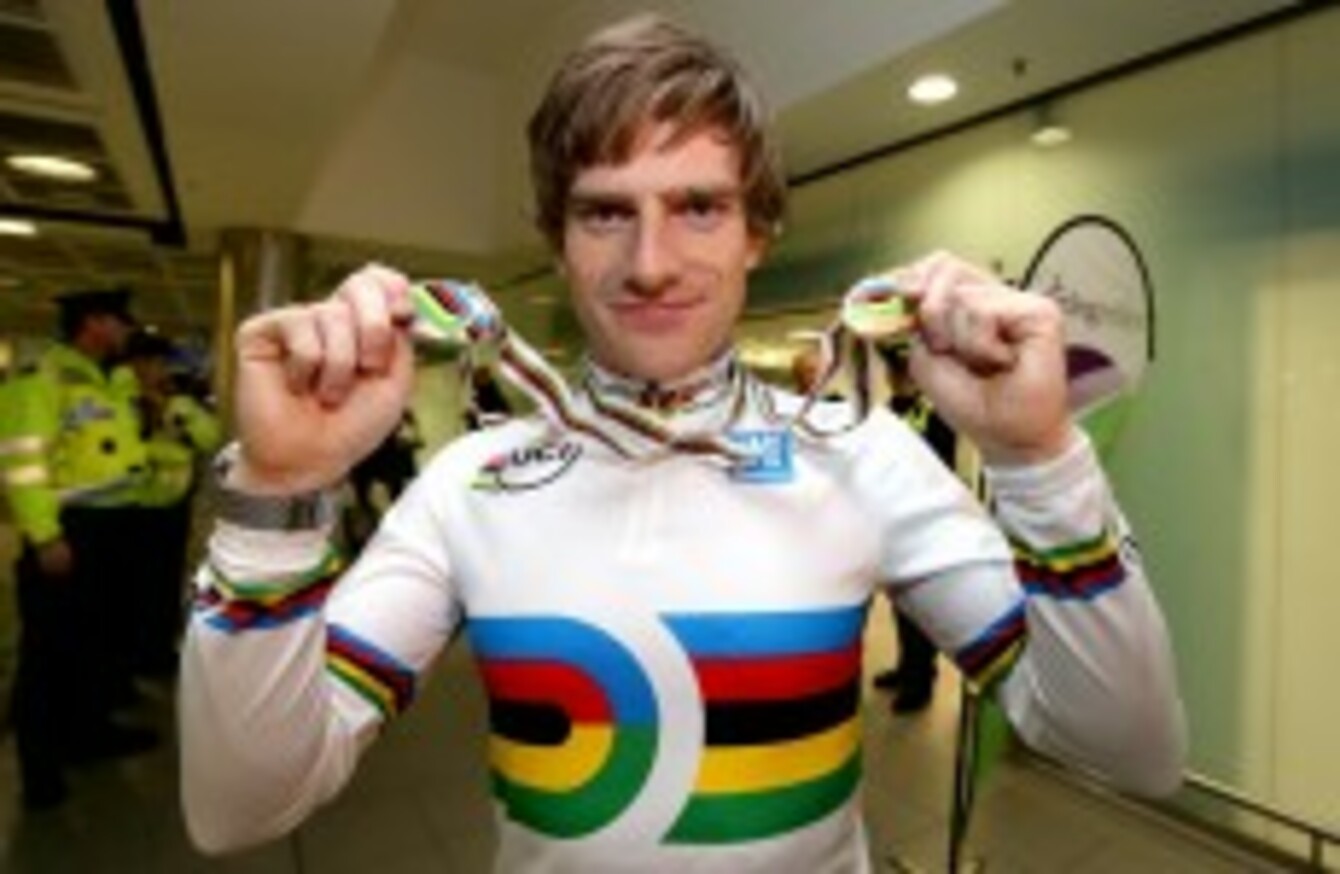 Irvine with his gold and silver medals won at the UCI Track Cycling World Championships
Image: INPHO/Ryan Byrne
Irvine with his gold and silver medals won at the UCI Track Cycling World Championships
Image: INPHO/Ryan Byrne
IN AN IRISH sporting year that witnessed Rob Heffernan claim a 50km gold medal and AP McCoy ride his 4,000th winner, Martyn Irvine's outstanding achievements on the track didn't quite get the recognition it deserved.
The Down cyclist has branded the past 12 months a "rollercoaster" — a description which is hard to argue with when you glance back at what he has been through.
Low points saw doubt cast over his career after a fractured femur as well as a crash at last month's Ghent Six Day.
Thankfully, they were outweighed by the highs which began with a gold and silver double at the Track World Championships in February and ended with him finishing in top spot at the UCI Track Cycling World Cup in Manchester in November.
In between, there was also a remarkably swift recovery from injury to earn bronze at the European Track Championships in the Netherlands.
"I supposed I could have never dreamed of it (the success)," he told TheScore.ie recently. "When it came along I almost took it for granted but looking back it has been an awesome year.
"Obviously breaking my leg threw a spanner in the works, or at least I thought, for the rest of 2013. Coming back and winning the World Cup in Manchester just capped it off.
"Even if I hadn't broke my leg I would have been awesome. It's definitely one I won't forget.
"The pursuit medal was my main training goal (at the World Championships) as I had trained all winter to get on the podium was the target.
I'm always on the negative side thinking I might squeeze a bronze so getting the silver was me content. I was able to do what I planned to do. Then to back it up by winning the gold medal within half an hour was actually flabbergasting at the time.
"I carried on without soaking it up too much. The reaction at home was awesome to be in the papers so much. That initial week was brilliant.
"I don't want to be all 'poor me, poor me' but I've had a pretty awesome year when you peg it up against the fact that there has not been too many world champions in Ireland this year," he adds when asked about how much media coverage cycling gets in Ireland.
"And I think I'm pretty unknown as that goes. Obviously that kind of sucks every now and then.
Be part
of the team
Access exclusive podcasts, interviews and analysis with a monthly or annual membership.
Become a Member
"I just want to keep doing what I'm doing and rack up a few more and some people might take notice."
Irvine on his way to winning gold. Credit: Martin Rickett/PA Wire/Press Association Images
He may have earned gold in the Scratch Race at the Worlds, but Irvine's most satisfying victory came in the European Championships as he even surprised himself by regaining full fitness in a matter of months.
"At the time of breaking my leg, it was a bad one and you could not be cycling again sort of thing or at least two years go get back to fitness. So it was pretty gloomy at the start of the year. I just wanted to get back fit and doing every right and how I was told set me up to come back fit.
"It was just as bit of luck as surgery and rehab went well so I'm lucky. It paid off and I got back on the bike faster than anyone would have though.
"The Worlds is always the one but coming back and getting that bronze in the omnium is satisfying. I had come back to full fitness and knowing I can compete with the best was really satisfying.
"Up until it was guess work in relation to the fitness of my leg so that was definitely a big sigh of relief when I did that one."
Currently working his way back to full training after a latest leg injury, the United Healthcare team member is already looking forward to competing in 2014. He travels to Denver in the new year to prepare for competitions in Mexico and Colombia before the Track Worlds, Giro d'Italia and the Commonwealth Games later in the year.
He is keen to add to his medals tally but admits he will have to choose his battles carefully.
"It's crammed next year and I could do too much," he says. "I have to use my head. There is just constant circle of cycling to be doing. I'm going to have to pick and choose a lot more this year.
I'm luck that I'm in the position to be there and do what I want because in years gone by I was crying out to race so know I've an abundance and need to use my head. I've to keep the team happy too United Healthcare are giving me a free reign to ride the track.
"I have to focus on the track. I haven't nailed down any targets at the minute because there is a lot of racing to do. Another good performance at the World Championships where I'll be targeting the podium is what I'll be after.
"Further down the year I'll be looking at the Commonwealth Games and a good Giro performance in May if I get the start."