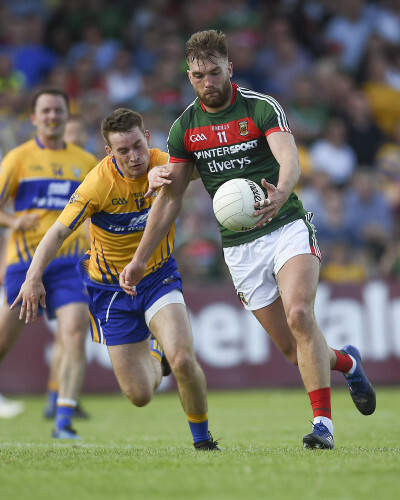 Tommy Grealy / INPHO Mayo's Aidan O'Shea and Clare's Eoghan Colllins. Tommy Grealy / INPHO / INPHO

ARE MAYO STARTING to motor again?
The42′s Gaelic football analyst Rob Carroll takes a closer look at their qualifier win over Clare on Saturday.
************************************************
Stephen Rochford has tried to find that missing ingredient over the last season and a half with Mayo and that has led to a bit of experimentation.
They've used Kevin McLaughlin as sweeper, Aidan O'Shea at full-forward, Lee Keegan as a man marker, Keith Higgins as a half-forward and even starting sides without Colm Boyle in them.
When Mayo played Galway earlier this year most of their attacks looked slow and laborious.
Galway set up with a bank of players across midfield and Mayo found it almost impossible to break through as nobody attacked with any sort of pace. Galway did well that day but Mayo made it easy for them at times.
On Saturday the pace seemed back. They got off to a very slow start against Clare and were trailing 0-6 to 0-1 after 20 minutes.
You feared the worst but the calibre and character of this Mayo team is never found wanting and they ground out the result.
Marty McMahon
Clare have made serious progress over the last number of years and can count themselves firmly in the second tier of teams.
Over the last two championship seasons they've only been beaten by Kerry and Mayo. Although Mayo started putting the squeeze on after the break ultimately it was an individual mistake from Clare's most influential player that turned the game.
McMahon's role feels like that of an NFL running back. Although he sits deep is job is very much to link the play from back to front and he enjoyed a lot of possession throughout the game.
There was a great example just before half-time of the type of role he fulfilled all day. As Mayo attack he is inside the cover, but he's not content to just sit in front of his full back line.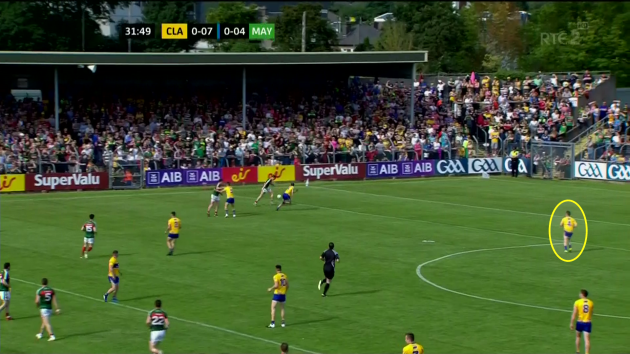 He pushes out when he smells a turnover is on.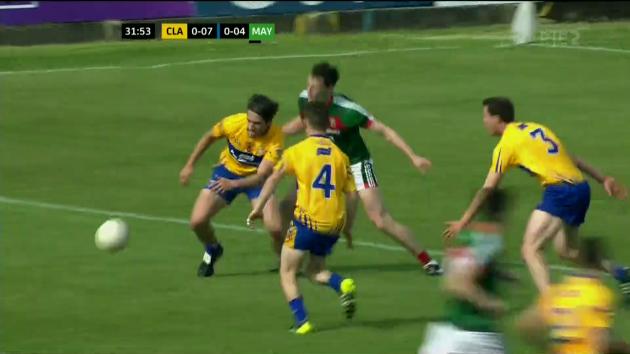 Although he's not needed in this case he's right at the pitch of the play when the ball is turned over.
Clare launch an attack from the turnover but get fouled in midfield so the play slows a little.
McMahon hasn't burst forward. He's not adding unnecessarily to the Clare counter.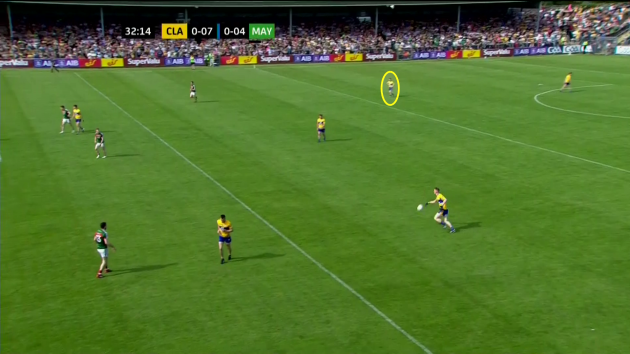 Clare go through the hands a few times and Mayo look well set defensively with effectively their three midfielders minding the D.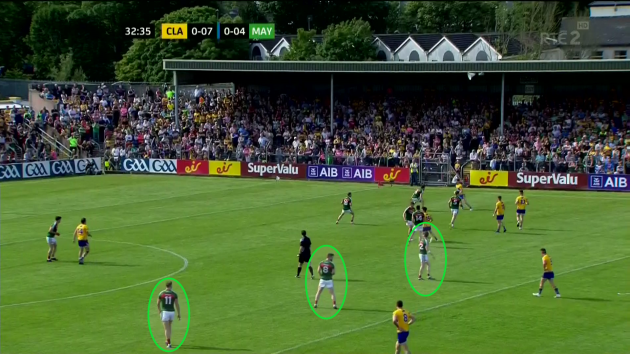 Cathal O'Connor makes a nice run that takes Seamus O'Shea out of the middle and then it's Marty McMahon who joins the attack at speed and from deep.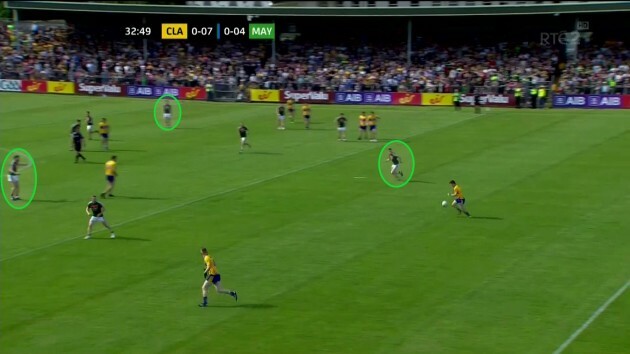 Just for reference you can see where the three Mayo midfielders now are. Aidan O'Shea is the only one still in position at the top of the D.
The Clare patience has paid off and now McMahon can use his speed to attack straight down the middle.
He easily side-steps Aidan O'Shea and although the final ball doesn't go to end Clare get a nice score from it.
The whole move shows McMahon's work at both ends of the field and he did this for the full 70 minutes.
Just a few minutes later he nearly puts Clare through on goal. He picks the ball up right on half-way following some great tackling.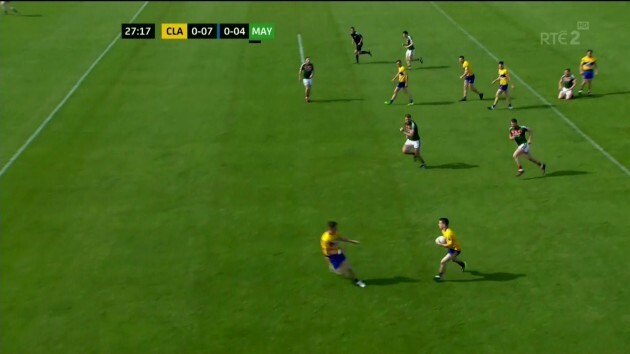 Chris Barrett does Keith Higgins absolutely no favours here but McMahon spots the gap and has the pace to exploit the mistake.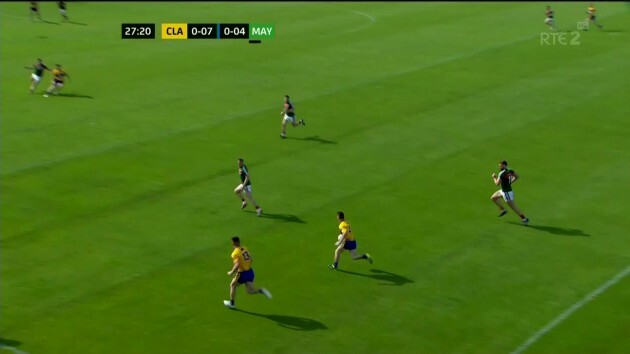 It should be a simple two v two with Aidan O'Shea coming in to cover.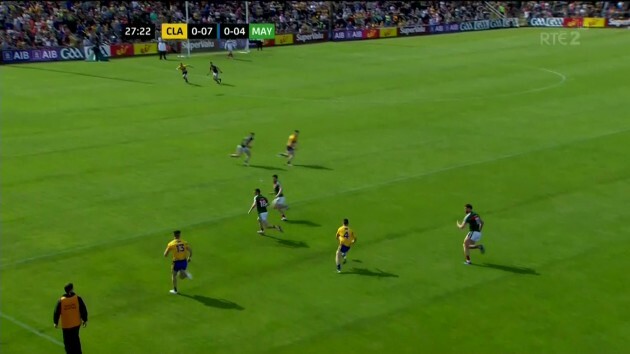 Instead of taking the inside man Barrett runs to the outside, along with Higgins and the space opens up inside.
Again the final ball just isn't on the money and despite having a two v one Clare can't really fashion a goal chance.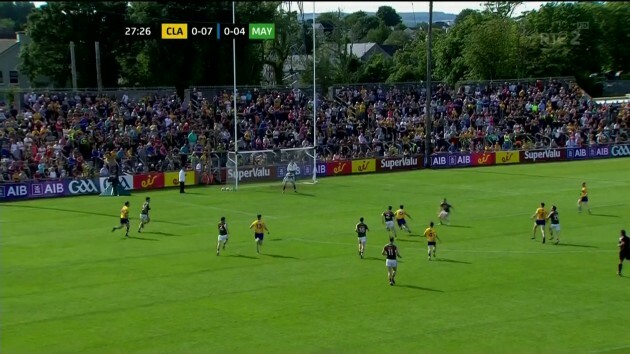 When you take those chances with the Donal Vaughan foul inside the first two minutes, Clare did create some good goal chances.
Similarly to Kerry last week, Mayo look a bit more attacking and are committing men forward, as we will look at now.
This leaves gaps in defence and will mean they cough up some chances. Clare just couldn't get that final ball on Saturday, but I wouldn't be surprised if better teams find a way.
McMahon was excellent throughout the game and really linked the Clare defence and attack. He took the brunt of some heavy tackles but never looked to shirk his responsibility.
Mayo Attacking
At times during this match Mayo's willingness to attack from everywhere was in full evidence.
Seeing the Mayo half-back line bomb forward and drive at defences is what you come to expect but has been missing at time over the last season and a half. Against Galway there was no sign of it at all.
On Saturday the half-backs of Keegan, Boyle and Higgins looked back to their attacking selves.
There were signs this kicked in before half-time but it really came to life after the break.
Andy Moran's two points before half-time were key in keeping Mayo in touch but for both you can see Boyle and Keegan making huge runs to be involved in the play and it showed a real sign of intent from Mayo.
The first was from a short kickout and Boyle is highlighted inside his own 45.
Exclusive Six
Nations Analysis
Get Murray Kinsella's exclusive analysis of Ireland's Six Nations campaign this spring
Become a Member
As the ball makes its way forward Keegan hand passes the ball forward and you can see Boyle in an advanced position.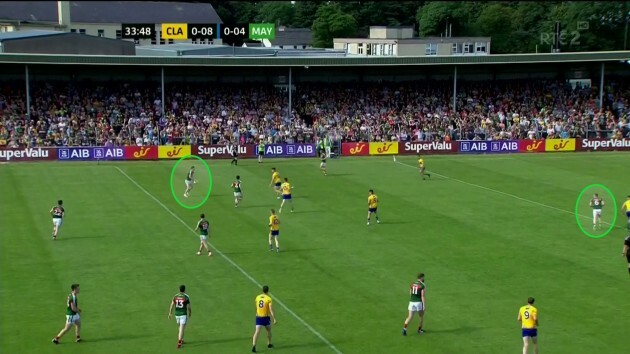 Keegan gives a one-two and Clare's Kevin Hartnett, like most players, can't stop Keegan at full pace.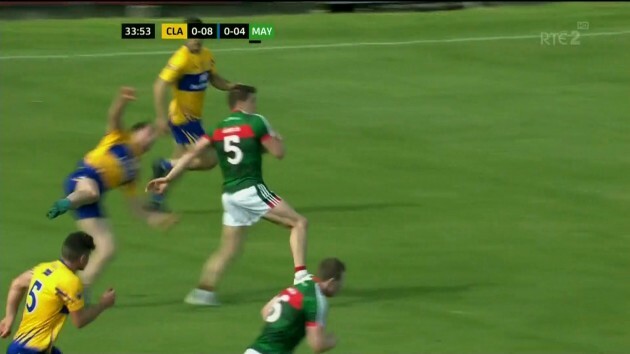 Keegan deliveries a wonderful pass and it's Colm Boyle who is on Andy Moran's shoulder when he kicks it over.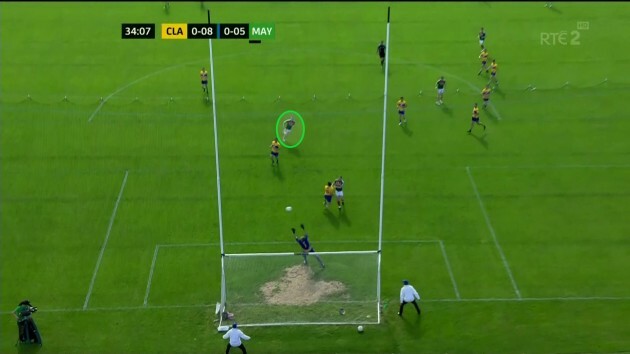 For Moran's next score. Gary Brennan kicks the ball away.
Boyle is the man highlighted. As Mayo attack Boyle and Keegan have only one intention and that is to burst forward and join the attack.
The ball is played forward and it's Keegan who is on hand.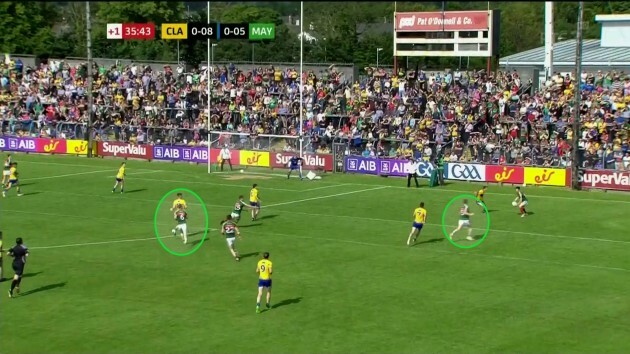 Andy Moran kicks a really nice score but the commitment of the Mayo backs was great to see.
Mayo came out in the second half and really upped the pressure on Clare but these two points seemed like a turning point in mindset and they continued it throughout the second half. Long may it continue.
Aidan O'Shea
Aidan O'Shea really seems to have found his form in the last couple of games. Stephen Rochford said after the Derry game that it was probably Aidan's best performance in his tenure.
He put in a similar shift on Saturday and his physical presence at times is simply phenomenal.
He is playing more as a third midfielder and his role feels much more simplified. Instead of trying to be everywhere and a part of everything, there were numerous times in Ennis when he won a ball laid it off and just held his position.
He wasn't trying to be all things to all men, instead fulfilling one job to his best. A player's ability to play multiply positions can sometimes be a hindrance.
O'Shea's own score and the free he won are examples of why people want to see him closer to the square, but his role as a more holding midfielder allows the speed and power of those around him to flourish.
Mayo weren't perfect but they won by seven points and part of their game look to be clicking.
For the record their shooting percent was close 60%. Last week's anomaly is hopefully behind them.
The42 is on Instagram! Tap the button below on your phone to follow us!