So after a massive summer of Gaelic football, who would prevail in the final?
It was Dublin against Mayo in the battle to claim the Sam Maguire Cup.
As always, we'd love to hear your comments. Send them to fintan@thescore.ie, tweet them @TheScoreGAA, find us on Facebook, or leave a comment below.
Result: Dublin 2-12 Mayo 1-14
Welcome to Croke Park on All-Ireland senior football final day for 2013.
It's Dublin against Mayo in the battle to land the Sam Maguire Cup for this year.
We've already had the minor match today where Mayo experienced glory as they clinched their first All-Ireland title at that grade since 1985 with victory over Tyrone.
The atmosphere is electric here in Croke Park. The crowds are starting to stream in to the three stands while Hill 16 is the best sight of all with a huge number of Mayo fans packed into a terrace that is traditionally the domain of Dublin supporters.
And the weather is great as well with Croke Park bathed in sunshine. It's very warm here and conditions are going to test both sets of players. We're just over half an hour away from throw-in with neither side yet to emerge for their warm-up.
Here's the Mayo team that is named to start today:
MAYO: Robert Hennelly (Breaffy); Tom Cunniffe (Castlebar Mitchels), Ger Cafferkey (Ballina Stephenites), Chris Barrett (Belmullet); Lee Keegan (Westport), Donal Vaughan (Ballinrobe), Colm Boyle (Davitts); Aidan O'Shea (Breaffy), Seamus O'Shea (Breaffy); Kevin McLoughlin (Knockmore), Keith Higgins (Ballyhaunis), Alan Dillon (Ballintubber); Cillian O'Connor (Ballintubber), Alan Freeman (Aghamore), Andy Moran (Ballaghaderreen).
And here's the Dublin team that is named to start:
DUBLIN: Stephen Cluxton (Parnells); Philly McMahon (Ballymun Kickhams), Rory O'Carroll (Kilmacud Crokes), Jonny Cooper (Na Fianna); James McCarthy (Ballymun Kickhams), Ger Brennan (St Vincents), Jack McCaffrey (Clontarf); Michael D MacAuley (Ballyboden St Enda's), Cian O'Sullivan (Kilmacud Crokes); Paul Flynn (Fingallians), Ciaran Kilkenny (Castleknock), Diarmuid Connolly (St Vincents); Paul Mannion (Kilmacud Crokes), Paddy Andrews (St Brigid's), Bernard Brogan (St Oliver Plunkett's Eoghan Ruadh).
As always we'll let you know of any late pre-match changes. The fitness of Cillian O'Connor the obvious talking point in the Mayo setup while there's one change on the Dublin team from the semi-final win over Kerry, with Philly McMahon coming in for Kevin O'Brien in defence.
The football to be used in today's game has just arrived in the stadium via parachute.
Will Cillian O'Connor start today?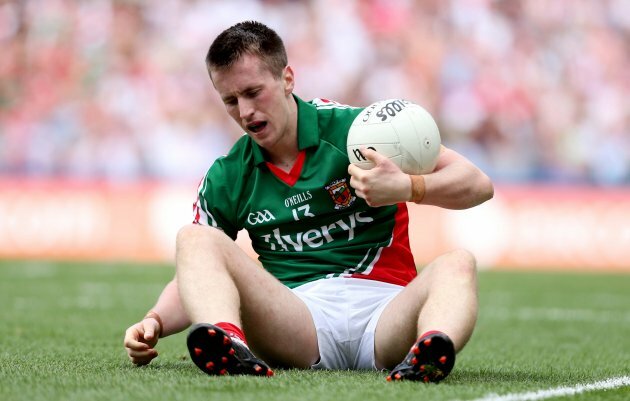 Here's some pre-match reading to get you in the mood today:
The man in the middle this afternoon is Cavan's Joe McQuillan. The standby referee is Cormac Reilly of Meath with Padraig O'Sullivan of Kerry the other linesman. Sligo's Michael Duffy is the sideline official.
Both teams are now out on the pitch and undergoing their warm-up's.
The pre match parade is underway and we're moments away from throw-in here in Croke Park. It promises to be a superb occasion.
Dublin break first from the parade, Mayo stay put.
So pre-match predictions. Tell who do you think will triumph today?
We're set for the throw in.
And Hawkeye is called into action early after Keith Higgins shoots for Mayo.
But it's ruled to have gone wide.
Scoring chance for Mayo as Donal Vaughan is fouled, Cillian O'Connor will kick the free.
But it's another wide for Mayo as his shot goes astray.
Mayo 0-1 Dublin 0-0: 4 mins – Finally we have the first score of the game and it comes from Andy Moran.
The ball was spilled by both teams before Moran eventually seized it and tapped over a point.
Mayo 0-1 Dublin 0-1: 5 mins – Dublin draw level through Diarmuid Connolly. Bad mistake by Mayo though as they kick away a free in defence straight to the St Vincent's man who punishes them.
Dublin boss Jim Gavin.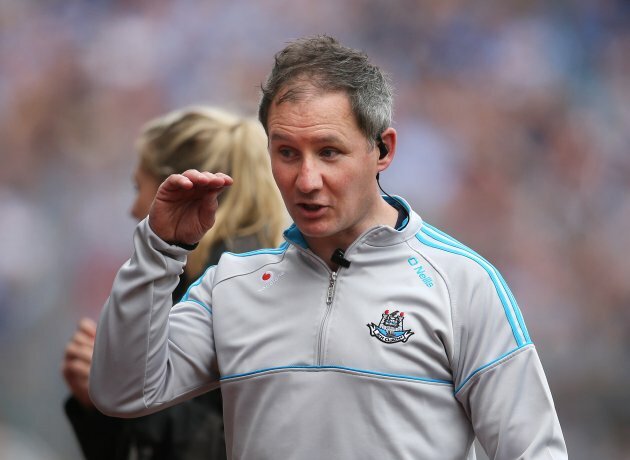 Strong run by Seamus O'Shea for Mayo before he is grounded by Michael Darragh MacAuley.
Another free chance for Cillian O'Connor but he kicks it poorly again and the ball goes wide.
Mayo 0-2 Dublin 0-1: 8 mins – O'Connor atones by setting up Lee Keegan for a neat point.
Andy Moran wins a free off Johnny Cooper. It's within scoreable range for Mayo.
Mayo 0-3 Dublin 0-1: 9 mins – They take it quickly and spray the ball across where Keith Higgins gathers before pointing.
Dublin struggling to settle in attack as Paul Mannion shoots wildly off his right and the ball goes high and wide.
No question that Mayo have started brightest here.
Mayo break through Andy Moran and Cillian O'Connor. Half a goal chance created but eventually they win a free after Philly McMahon touches the ball on the ground.
Mayo 0-4 Dublin 0-1: 13 mins – And at the third time of asking, Cillian O'Connor is on target with a free to extend Mayo's advantage.
Dublin chance from a free but Diarmuid Connolly is off target. Paul Mannion looks to be limping in the Dublin attack as well.
Robert Hennelly is coming upfield to hit a free for Mayo after Lee Keegan was fouled.
And Hennelly shoots wide as Dublin bring on Eoghan O'Gara for the injured Mannion.
Mayo 0-4 Dublin 1-1: 16 mins – The stadium erupts as Bernard Brogan finds the net. He got a fist to a high ball ahead of Ger Cafferkey and Robert Hennelly.
Mayo 0-5 Dublin 1-1: 17 mins - Mayo respond impressively through Seamus O'Shea as he points to put them back in front. Ciaran Kilkenny then misses a good chance to tie the teams.
Paul Flynn delivered in that pass for Brogan's goal. Mayo will be unhappy with their defending but it's a big boost for Dublin.
Another scoring chance for Mayo but Kevin McLoughlin's effort goes wide. Mistakes on both sides so far, the standard has not been extremely high to date.
Mayo 0-6 Dublin 1-1: 20 mins – Mayo cause problems for the Dublin defence through Alan Freeman as he gathers Tom Cunniffe's pass before being fouled. Simple task for Cillian O'Connor to tap over the 20-yard free.
Mayo 0-7 Dublin 1-1: 22 mins – More good attacking play from Mayo as Seamus O'Shea feeds Lee Keegan and he kicks over a point confidently.
Yellow card for Mayo's Lee Keegan.
Mayo really should be further ahead with Kevin McLoughlin wasting their latest chance.
Mayo 0-7 Dublin 1-2: 24 mins – Dublin living off scraps but they grab a point through Bernard Brogan. Earlier Ciaran Kilkenny saw his goal bound effort stopped by Robert Hennelly.
Mayo 0-8 Dublin 1-2: 26 mins – Fine score by Andy Moran from Mayo after a patient and well-worked move. Ciaran Kilkenny had under hit his shot at the other end moments previously with Hennelly catching the ball under the crossbar and instigating a counter-attack.
Michael Conroy is into the Mayo attack for Alan Freeman.
Mayo 0-8 Dublin 1-3: 28 mins – Stephen Cluxton rifles over a '45 for Dublin after MacAuley's goalbound strike was deflected away by Hennelly.
Chances missed on both sides from Dublin's Paddy Andrews and Mayo's Cillian O'Connor.
Ger Brennan the latest to try to score for Dublin as he charges upfield but shoots wide from a difficult angle.
Ger Cafferkey is playing very well at the back for Mayo in keeping tabs on Bernard Brogan.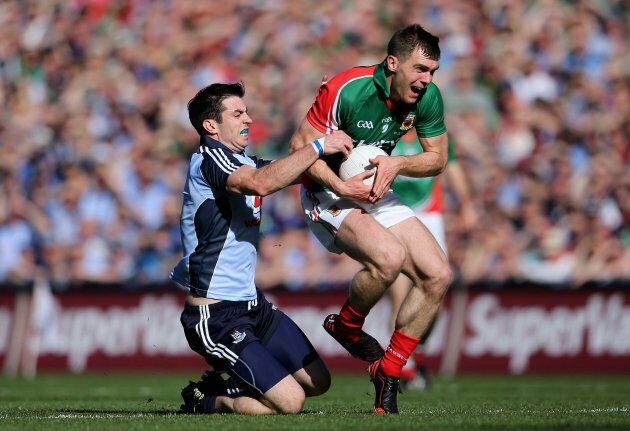 Stephen Cluxton shoots wide for Dublin from a free.
Mayo 0-8 Dublin 1-4: 35 mins – Eoghan O'Gara provides some scoring inspiration for Dublin as he fists over from close range.
Half-Time: Mayo 0-8 Dublin 1-4: And that's how it stands at the break with Mayo narrowly in front.
Not the greatest game of football so far. It's tight, tense and interesting though. Mayo will feel they should be further ahead, they have squandered several chances in front of goal. Dublin staying in touch thanks to Bernard Brogan's goal.
The teams are back out here for the second-half in Croke Park.
Substitutions at half-time with Darren Daly on for Jack McCaffrey on the Dublin team while Cathal Carolan replaces Tom Cunniffe for Mayo. That sees Keith Higgins go back to the defence for Mayo.
Mayo 0-8 Dublin 1-5: 37 mins – Cian O'Sullivan ties the match with a point for Dublin.
Dublin 1-6 Mayo 0-8: 38 mins – Dublin hit the front through an Eoghan O'Gara point but the result could have been greater, only for Robert Hennelly to brilliantly tip the ball over the bar.
Free in to Mayo after Andy Moran is fouled near Hill 16.
Ciaran Kilkenny coming off for Dublin with Dean Rock introduced instead.
Mayo 0-9 Dublin 1-6: 42 mins – Cillian O'Connor taps over the free for Mayo.
Dublin 1-7 Mayo 0-9: 44 mins – Great poise and balance shown by Paddy Andrews before he points neatly off his right foot for Dublin.
Both teams continuing to make simple mistakes with the ball in hand as Dublin continue to narrowly lead.
Dublin 1-8 Mayo 0-9: 45 mins – Now Dublin have stretched that lead with Paul Flynn clipping over a lovely point.
Dublin 1-9 Mayo 0-9: 48 mins – Dublin are working scores that bit better. Dean Rock and Bernard Brogan combine for Brogan to shoot over a stylish score.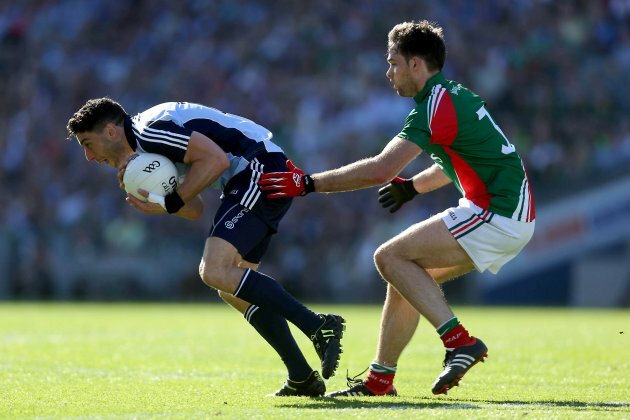 Mayo finding it harder to punch holes in the Dublin rearguard this half. Kevin McManamon is on for Paddy Andrews in the Dublin team.
Goal for Mayo from Andy Moran!
Mayo 1-9 Dublin 1-9: 50 mins – What a boost for Mayo. Colm Boyle pumps in a high ball that Moran broke down for Michael Conroy, he was fed the ball back and Moran sidestepped the advance Stephen Cluxton to roll the ball into the net.
Johnny Cooper is coming off injured in the Dublin team. Looks like Denis Bastick will replace him.
Cian O'Sullivan is gone back to mark Andy Moran, who is sparking for Mayo.
Goal for Dublin from Bernard Brogan!
Dublin 2-9 Mayo 1-9: 54 mins – Dublin hit the front as they create an overlap through Michael Darragh MacAuley, Denis Bastick and finally it is Brogan who palms the ball to the net.
Mayo respond and attack through Kevin McLoughlin who plays in Andy Moran before the Mayo captain is fouled. Free in.
Dublin 2-9 Mayo 1-10: 55 mins – Cillian O'Connor floats over the free.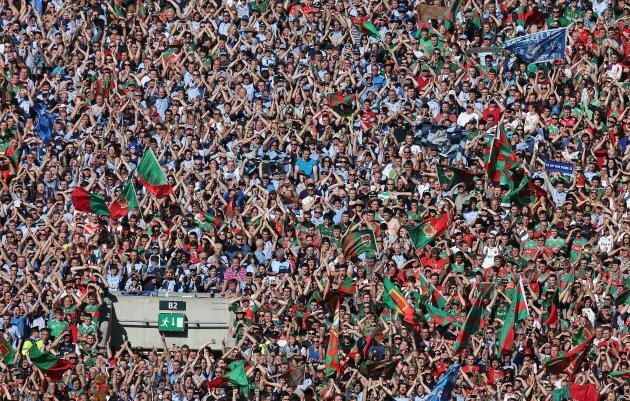 Dublin 2-10 Mayo 1-10: 57 mins – Dublin raise a white flag at the other end through a Bernard Brogan free.
Enda Varley is on for Mayo instead of Alan Dillon.
Barry Moran replaces Seamus O'Shea on the Mayo midfield.
Yellow card for Dublin's Rory O'Carroll for a foul on Enda Varley.
Dublin 2-10 Mayo 1-11: 61 mins – Cillian O'Connor converts the resultant free.
Lee Keegan with a point chance for Mayo but his shot drops short and Stephen Cluxton collects the ball.
Now Michael Conroy shoots wide for Mayo.
Six minutes of normal time left.
Dublin 2-11 Mayo 1-11: 64 mins – Ger Brennan kicks over a great point for Dublin off his right.
Aidan O'Shea is fouled for Mayo and dissent by Bernard Brogan sees the ball brought forward to within scoreable range.
Dublin 2-11 Mayo 1-12: 65 mins – And Cillian O'Connor points the free.
Kevin McManamon is fouled and Dublin will have a chance to point the free through Stephen Cluxton.
Jason Doherty replaces Andy Moran in the Mayo side.
Dublin 2-12 Mayo 1-12: 68 mins – Cluxton pops over the free from the right wing.
Yellow card for Dublin's Kevin McManamon.
Four minutes injury time to be played.
Yellow card for Dublin's Ger Brennan.
Dublin 2-12 Mayo 1-13: 72 mins – Cillian O'Connor points a free for Mayo.
Dublin 2-12 Mayo 1-14: 73 mins – Cillian O'Connor points another free for Mayo.
All over and Dublin are champions!
Full-Time: Dublin 2-12 Mayo 1-14: Dublin hold on for a narrow one point win.
For the second time in three years, Sam Maguire has been won by the team from the capital by a one-point margin.
But it's heartbreak again for Mayo for the second successive year on All-Ireland final day.
It wasn't a classic encounter but it was incredibly exciting in the second-half as the teams battled to claim victory.
That's all from us as Dublin fans celebrate in Croke Park. Thanks for joining us today and for all your comments.