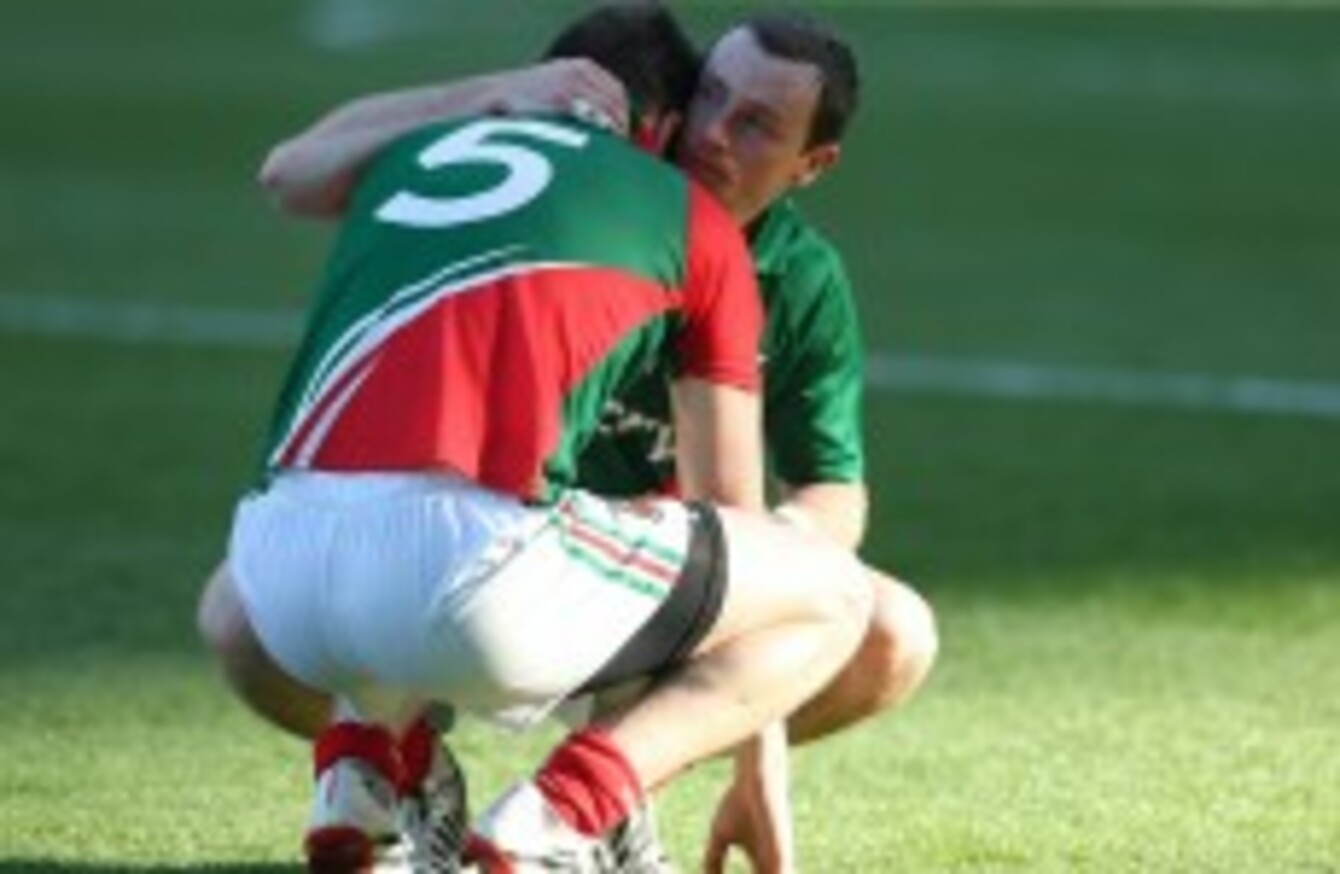 Mayo's Lee Keegan is consoled by Keith Higgins after the game.
Image: INPHO/Lorraine O'Sullivan
Mayo's Lee Keegan is consoled by Keith Higgins after the game.
Image: INPHO/Lorraine O'Sullivan
MAYO'S KEITH HIGGINS struggled to contain his disappointment as the side lost a second successive All-Ireland final yesterday.
The player was left to ponder what might have been, after Dublin recorded a single-point victory over their opponents.
"I don't know what to say to be honest with you," he said. "It's different to last year alright. It's a game we could have won, we had the chances… [We] didn't take enough in the first half, but look, that's something to look at another day."
Mayo enjoyed a great start to the game, but struggled to maintain that level of excellence thereafter.
"It was difficult," he admitted. "I wouldn't say that's what ran us into difficulty. We were playing well in the first half, we just weren't converting all them chances we had into scores. We probably felt we could have been more ahead at half-time.

"[In the] second half they probably got the start that we were looking for. Once we did get it back level the second goal was a bit of a killer. We got it back to a two-point game with seven or eight minutes left, it just wasn't to be. I suppose it is small margins that change games."
The side had a last-gasp free in which they opted for a point when going for goal would have been wiser, but Higgins was reluctant to place too much emphasis on this moment.
"I don't know now, I wasn't talking to any of the boys, I didn't ask. I suppose I saw four minutes additional time up on the clock, whether there was a small bit more he could have played?
"I'm not going to use that as an excuse today. It was just one of those things. It was a game that could have gone either way, in the end it didn't."
Higgins also dismissed claims that the Minors' win or the heat put additional pressure on the side.
"If a wing-back went forward there was some Dublin lad going back down the other end in the next play, it was just over and back there for a while. In that heat it was going to be difficult, but I don't think that's any kind of excuse. Physically we were in great shape so I wouldn't go using the heat or anything like that as an excuse to be honest with you."
(Mayo player's including Jason Gibbons, goalkeeper Robert Hennelly and Aidan O'Shea stand dejected at the final whistle - INPHO/Donall Farmer)
The foul count was 32-12, with Dublin being the primary culprits, but Higgins also played down this factor.
"They were trying to slow up the game, a lot of teams would be doing the same thing to be honest, trying to kill the game off. They're going to get penalised for it but that's the way it goes and that's the way the game has gone and I suppose if things were the other way around, we might have done the same ourselves."
Be part
of the team
Access exclusive podcasts, interviews and analysis with a monthly or annual membership.
Become a Member
With two teams known for playing attractive, attacking football, neutral spectators would have been hoping for a classic in a similar manner to the Dublin-Kerry semi-final, but Higgins was not surprised that the game did not pan out this way.
"It was always going to be a dogfight. People were expecting 20, 22 points after the semi-final between Dublin and Kerry, but finals are a different kettle of fish. It was back and over at times, but I don't think it was ever going to be that kind of final."
In addition to a series of bad misses from Mayo, Higgins believes the teams' respective starts to the second half were pivotal in deciding the outcome of the game.
"I'd say at the start of the second half they probably got the start that we were looking for. If we'd got a couple of points at the start of the second half we could have pushed two or three ahead, it would have been a different game but they're the ones that got it so… We'd targeted a big start to the second half, we just didn't get it."
Higgins also moved to defence at half-time in an attempt to curtail Dublin's attacking threat, however this also failed to pay dividends.
"Ideally, you would have [spent all the game in the forwards] but, look it, that's the way things go. Tom probably had been struggling for a while, but he gave all he could in the first half and, again, it is just one of those things. It would have been nice to spend the full game up there but…
"I think a lot of the time we got the ball in the half-forward line or full-forward line, we looked to cause problems but, like I said, we just didn't get the return we probably should have. But any time we attacked, we felt we could cause them bother."
Much had been made of Cillian O'Connor's shoulder injury before the game, and their decision to persevere with the star, nevertheless Higgins insists Mayo weren't fazed by this saga in the build-up to the game.
"The Cillian risk? There was no talk about it. Cillian was the same way he was for the Donegal and Tyrone games. He could have gotten through the whole game or it could have popped after two minutes. It was nothing that we talked about, nothing that we planned. We were confident he'd last and that's the way it turned out."
And despite now having lost two All-Ireland finals in a row, Higgins is adamant that his side will come back as strong as ever next year.
"We've no choice! We're not going to pack it in. We'll go back playing club football next week probably and take it from there. Come November, December we'll have a meeting, think about it and there's FBD again in January."