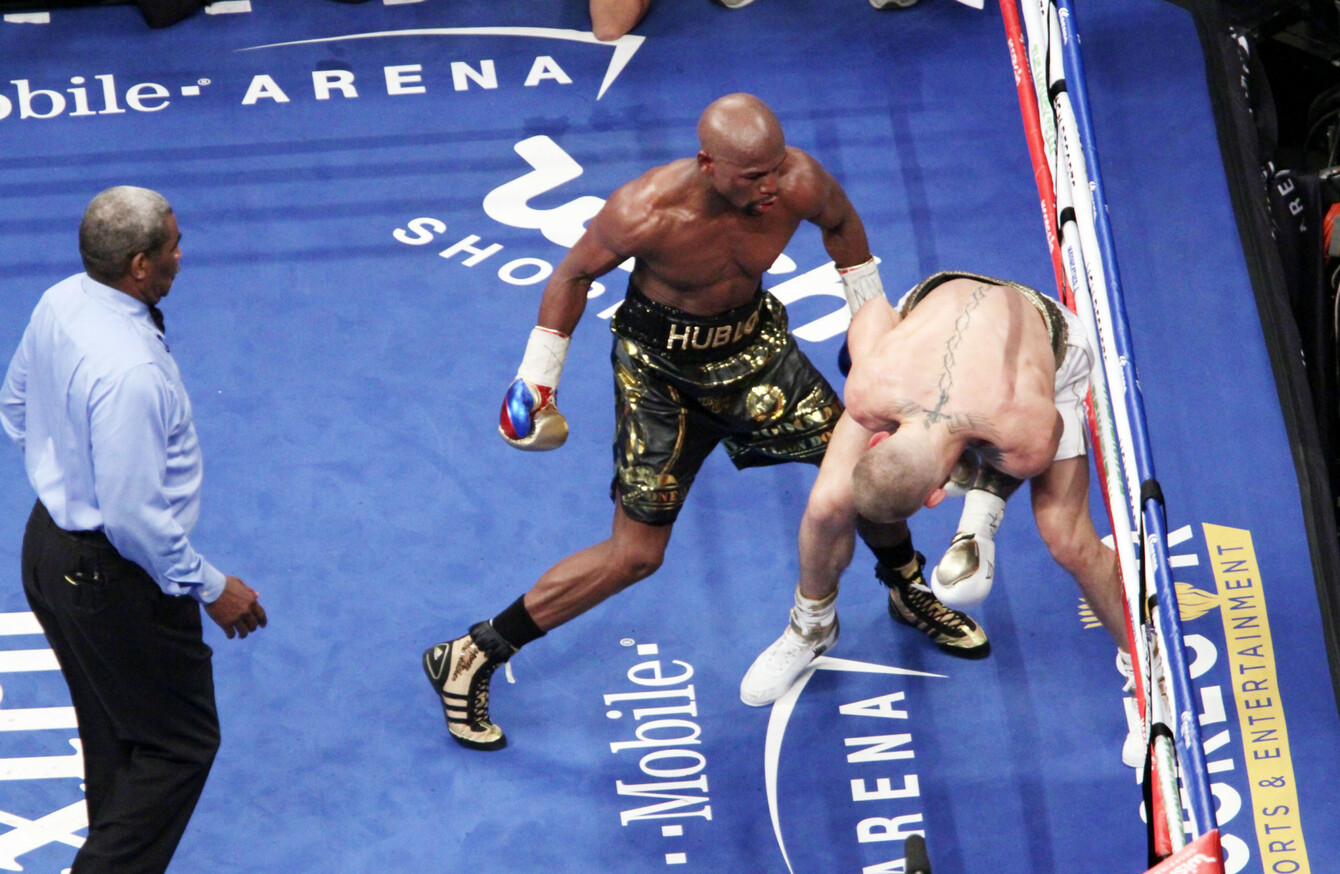 Image: Marcel Thomas
Image: Marcel Thomas
HAVING RE-RETIRED SPORTING a 50-fight undefeated record, Floyd Mayweather admits age contributed to his bout with Conor McGregor reaching its 10th round.
Mayweather, whose frequent claims during the lead-up to Saturday night that he was 'not the same fighter' were attributed to a veiled attempt to make the fight seem more competitive to prospective buyers, finally looked his age versus the UFC lightweight champion; his timing in the earlier rounds was frankly terrible, his reflexes at 40 cumbersome and reluctant following two years spent in retirement.
As it so transpired, Mayweather was – for once – not pulling the wool over our eyes in declaring himself a weathered fighter. With this in mind, he told ESPN's Bernardo Osuna that he hoped to see Conor McGregor return to the octagon rather than watch him take a worse beating in the ring at the hands of a fresher, hungrier boxer.
"Conor McGregor is a hell of a fighter and I want to see him continue to stay in the UFC and do what he do best," Mayweather said.
"Because you must realise, I'm 40 years old and I've been off almost 800 days. And he's active. He's actively fighting, actively training… In a boxing gym and in the UFC gym. He's active, he's training, he's competing.
These other fighters, these young lions, they are throwing a lot more combinations than I'm throwing. I was just in the pocket, shooting one shot here and there, and breaking him down slowly. Whereas you got these young active guys who are throwing a lot of combinations and would get him out of there a lot earlier.
Mayweather's was a sentiment echoed by HBO and ESPN boxing analyst Max Kellerman, who while paying McGregor his dues on ESPN's First Take, explained that the time had come for Mayweather to finally leave boxing in his rear-view.
'Money', he maintained, would himself have been spent by some of the young up-and-comers at both light-welterweight and welterweight based on his Saturday night showing at the T-Mobile Arena.
Kellerman said: "What we saw was Conor McGregor's exceptional quality as a fighter on the one hand and Floyd Mayweather's age secondarily. I don't want to take anything away from Conor – but also Floyd at the age of 40 has to stop fighting.
There are a lot of young fighters, several at least, who would have knocked Floyd out on Saturday night. I know he wouldn't have fought them the exact same way but that Floyd doesn't go the distance with Terence Crawford, maybe not with Errol Spence. There are a bunch of young guys who would have beaten him up that night. That's enough, he's retiring at the perfect time.
Kellerman alludes to the one argument against his own point; were Mayweather to fight the aforementioned Spence or Crawford, or their fellow American champ Keith Thurman as another example, he likely would not have stood in the pocket for prolonged spells, where he knew McGregor's power had all but faded after three rounds.
His preparation, too, might have differed from spending his evenings (and indeed early mornings) in his own gentleman's club -
at least as he so claimed – but as Steve Bunce noted in his post-fight column for the Independent, "Mayweather had looked older, slower and more desperate at times than at any point in his 21 years as a boxer."
Perhaps, then, Mayweather and McGregor were a match made in heaven all along, and not merely on the safer side of the ropes.