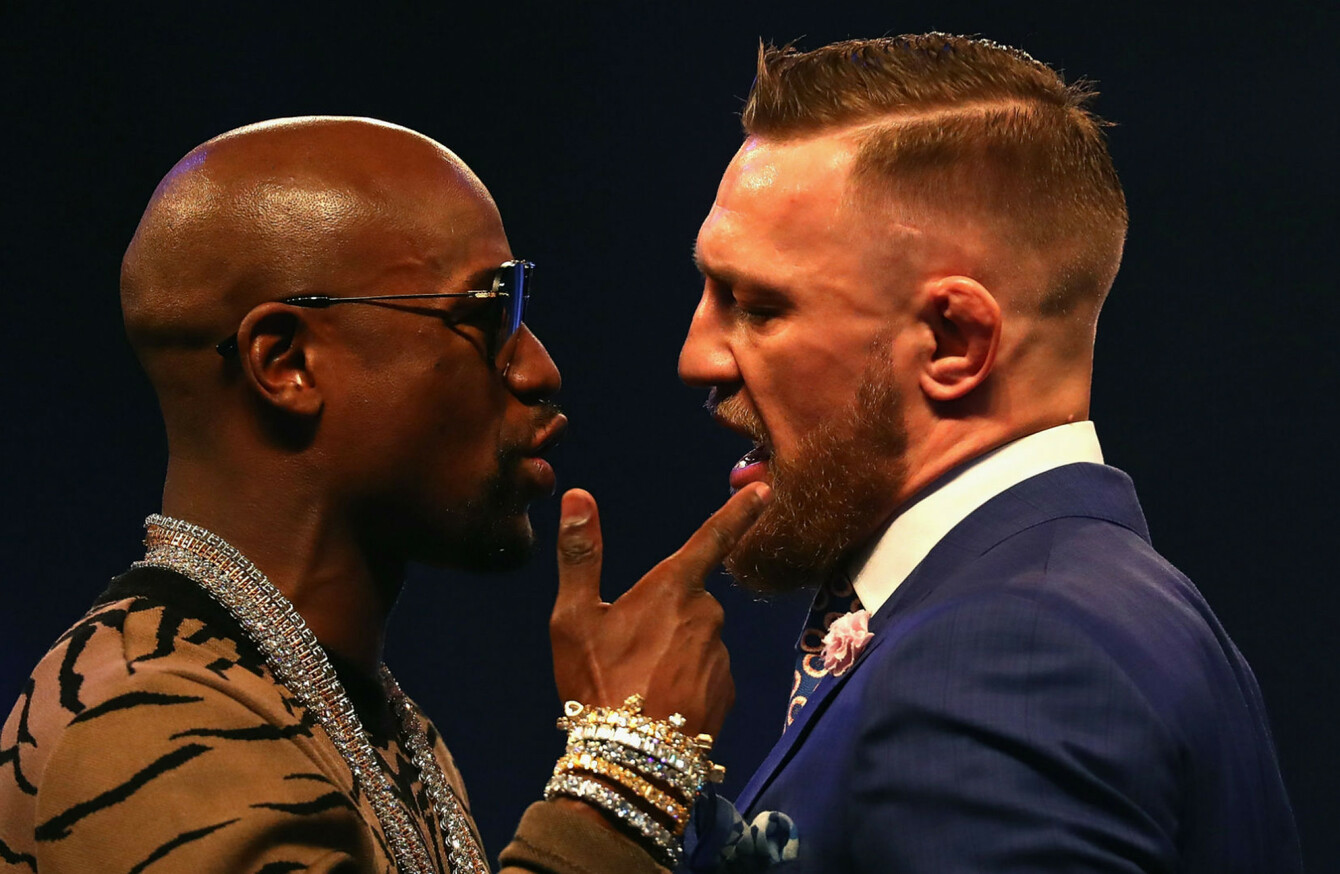 Countdown: Floyd Mayweather faces off with Conor McGregor.
Countdown: Floyd Mayweather faces off with Conor McGregor.
FLOYD MAYWEATHER JR  may be the best defensive fighter boxing has ever seen, but he is going on the offensive against Conor McGregor in their blockbuster bout.
Mayweather will put his flawless 49-0 record on the line against UFC champion McGregor in Las Vegas on 26 August.
The 40-year-old American is a defensive fighter but he is ready to take the fight to McGregor.
"Like I said on numerous occasions building up to this fight, I'm coming straight ahead," Mayweather said in Thursday's conference call. So he don't have nothing to worry about."
Mayweather did concede: "I truly believe I'm taking the bigger risk, I mean, but it's a big reward for both, but I'm taking the bigger risk.
"I have the 49-0 record and, you know, when a fighter has lost before if he loses again people say, 'Oh, it's nothing he's lost before,' but when a fighter has been dominating 20-some years, never lost, everything is on the line."
While Mayweather said he will come after McGregor later this month, he will still be on his guard as he always is.
Mayweather is one win away from overtaking former heavyweight champion Rocky Marciano as the winningest undefeated fighter in boxing history, and he will remind everyone of that when he steps in the ring with the MMA champion.
"I appreciate the legendary fighters, even though this is No. 50, this is my 50th fight, that's not really my focus, my focus is that I want to go out there and give the fans an exciting fight," he said.
Mayweather did confirm his fight with McGregor will be the final one of his career.
"This is my last one ladies and gentleman," the veteran said. "I gave my word to Al Haymon, I gave my word to my children, and the one thing I don't want to do is break that."
On the Paulie Malignaggi sparring video with McGregor, Mayweather added: "I think it was real interesting, but a lot of rabid punching, illegal rabid punching behind the head, a lot of shots was illegal, a lot of grappling, a lot of wrestling, a lot of illegal shots, I mean, that's just my honest opinion."