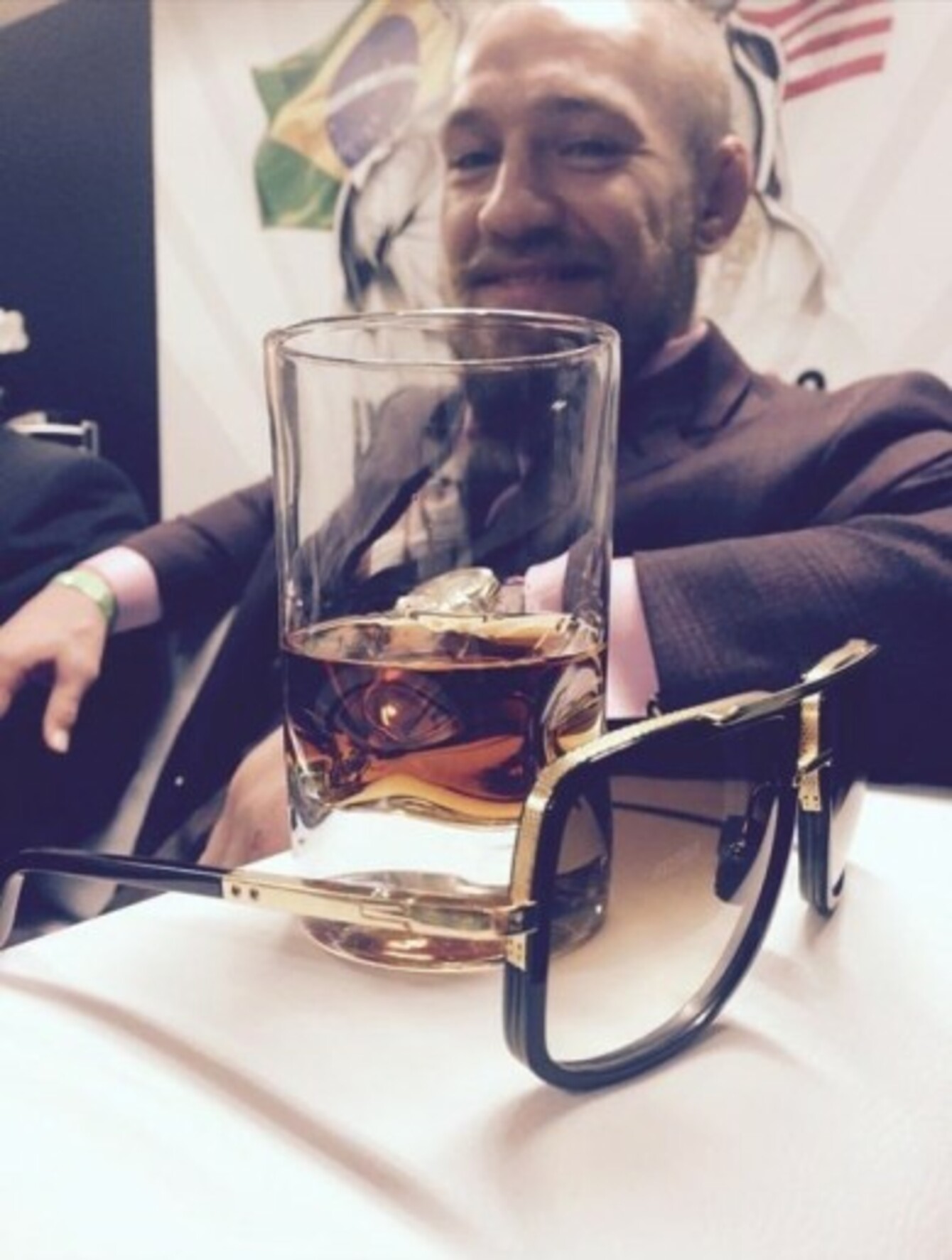 McGregor: "Toasting whiskey to a phenomenal contest" last night.
Image: @TheNotoriousMMA
McGregor: "Toasting whiskey to a phenomenal contest" last night.
Image: @TheNotoriousMMA
CONOR MCGREGOR WATCHED Jose Aldo and Chad Mendes serve up one of the fights of the year and then declared: "Now it's my go."
Brazilian king Aldo defended his featherweight title last night with a unanimous decision but was pushed to the final bell by number one contender Mendes.
"It was a phenomenal contest," McGregor said on the UFC 179 post-fight show.
"I show my respect to both competitors. They put it all out on the line, they slugged it out.
"That Thai style — you hit me, I hit you, we stand and we trade — it was beautiful to watch. The fans loved it.
"I commend both guys. Now it's my go."
Immediately after their five-round war, both Aldo and Mendes took a shot at the Dubliner who is widely tipped as the next title contender despite the fact that he is only ranked fifth in the division.
The victorious Aldo dubbed himself "the king," Mendes "the prince," and McGregor "the joker" in the UFC's featherweight court.
Mendes — who had a testy verbal spat with 'The Notorious' this week — said: "The one person that's lucky that decision didn't go my way is Conor McGregor.
"I'm still looking forward to whupping your ass one day buddy."
Source: MMA Mad/YouTube
McGregor returns to the Octagon on 18 January when he faces the veteran Denis Siver in a five-round headline bout in Boston's TD Garden.
A win could pave the way to a shot at Aldo and there has already been speculation about a showdown in either the Aviva Stadium or the much bigger Croke Park in the summer of 2015.
McGregor believes he has the punching power to KO the champion.
"It was a great back and forth contest but you cannot stand there. One or two clean shots from me and it is all over.
"I don't need to hit you clean, it just needs to be anywhere.
I definitely saw holes in the game of course. My confidence is sky high looking at the contest.
"But again, ultimate respect to both competitors. A phenomenal contest."