WHEN REFLECTING ON the two defeats Conor McGregor suffered early in his professional career, Straight Blast Gym head coach John Kavanagh points out that they were both significant but for different reasons.
One was the makings of McGregor as a man. The other was the catalyst for his transition from amateur boxer to professional fighter — a journey which, nearly six years later, is still far from complete.
Until last night, McGregor knew nothing other than emphatic victory since the second of those losses — a submission at the hands of Joseph Duffy — in November 2010.
In the main event of this weekend's UFC 196 bill in Las Vegas, his unblemished run was brought to a shuddering halt by an ill-prepared veteran who the Irish fighter promised to "slap the head off".
If ever there was a bout that appropriately summed up Nate Diaz, this was it. A bloody firefight on the feet, ended by the smooth execution of Brazilian jiu-jitsu basics.
Diaz, an accomplished boxer and BJJ black belt, gradually gained the upper hand in the striking exchanges, which caused McGregor to uncharacteristically shoot for a takedown as he desperately sought to survive until the end of the second round, which was 74 seconds away.
Diaz's submission offence was always going to be his most likely avenue for success, but getting the action to the ground would be the challenge. In the end, he managed to prompt McGregor to do it for him.
As McGregor came to terms with the unfamiliar taste of failure on the biggest stage his sport has to offer, he was gracious in defeat as he articulated his feelings to UFC commentator Joe Rogan during his post-fight interview in the octagon.
Some observers were surprised that McGregor appeared — in his own words — "humble in victory or defeat", as the reigning featherweight champion congratulated the first man to get the better of him in the UFC.
However, given the divisive approach he has adopted in order to rise to the summit of mixed martial arts, the 27-year-old had little choice but to react in any other manner.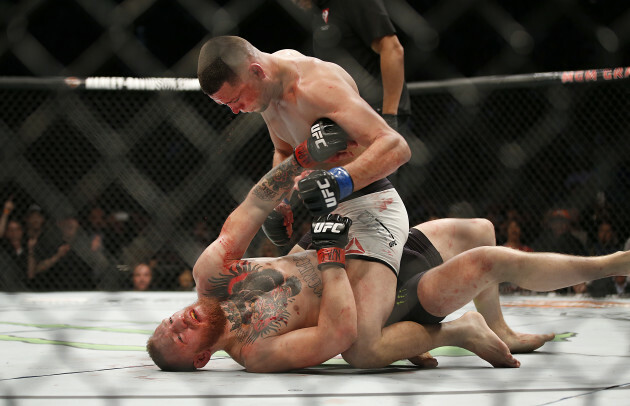 AP / Press Association Images Nate Diaz closing in on a stoppage of Conor McGregor. AP / Press Association Images / Press Association Images
McGregor has spoken down to his rivals in the UFC ever since he graduated to the organisation from the European circuit as a relatively unknown debutant three years ago. When he elected to follow that route to success, the SBG product knew it was a potentially perilous policy.
Sure, it would accelerate his progress, but should he ever slip up along the way, the subsequent fall would be seismic. Live by the sword, die by the sword.
McGregor constructed a persona which convinced his rapidly-expanding audience that not only would he never experience defeat, but he didn't even contemplate the possibility of it. His handling of last night's aftermath hinted otherwise.
Showing little emotion, McGregor was calm and composed as he reflected on the unexpected setback. It wasn't part of the plan, but McGregor's demeanour suggested that this was a situation he had prepared for and rehearsed — just in case — even though the sentiment certainly seemed authentic.
It was as if that reaction has been ready and waiting beneath the surface from the outset, in the unlikely event that this worst-case scenario ever played out. A fire extinguisher. You never want to find yourself in a position to require its use, but it's there nevertheless if needed. Break in case of emergency.
Today, social media has been a battleground for McGregor's most fervent followers to butt heads with the many critics of the Crumlin fighter, who have been waiting patiently for a day like this.
Conor McGregor enjoys his pompous social media proclamations but the internet won't be a pleasant platform for him over the coming days, weeks and months. For every message of support, there's likely to be at least two rancorous reminders of Nate Diaz's rear-naked choke.
AP / Press Association Images Nate Diaz being announced as the winner of the UFC 196 headliner. AP / Press Association Images / Press Association Images
But that is the world McGregor has created for himself, as he acknowledged last night, and now he must endure it while waiting for the opportunity to make amends: "I'll learn, I'll grow. It is what it is. I'll face it like a man, like a champion. I'll come back and do it again."
Right up until his December knockout of Jose Aldo, questions had been posed before each of McGregor's bouts about his claim to be a world champion fighter. It's ironic that after that last question had finally been answered, the biggest one he'll ever face has now surfaced.
Those previous defeats may have moulded him as a man and a fighter, but a different Conor McGregor will have to emerge from the rubble of this setback too — of that there can be little doubt.
Exclusive Six
Nations Analysis
Get Murray Kinsella's exclusive analysis of Ireland's Six Nations campaign this spring
Become a Member
Whether he'll return as a moderated version of the cocky and charismatic prize-fighter we've become familiar with remains to be seen, but it will certainly be interesting to discover if McGregor makes a conscious decision to tweak that aspect of his method.
The "super-heavyweight pay-cheques" are important to him and his personality has been instrumental in delivering them. It would be a tricky task for McGregor to row back on that without detrimentally impacting his income. 'Modest Mac' doesn't quite have the same ring to it as its 'Mystic' predecessor.
But if his bank account were to suffer, perhaps McGregor's legacy would ultimately be the beneficiary. Those who don't find some element of humour and entertainment in his shtick are in the minority, but he's often condemned for a failure to recognise when he has crossed the line that separates mischief from malice.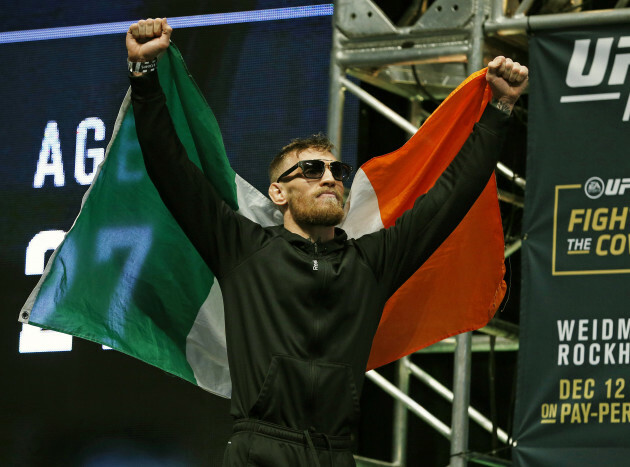 AP / Press Association Images Conor McGregor is expected to return to featherweight to defend his title at UFC 200 in July. AP / Press Association Images / Press Association Images
Redressing that balance could also serve to ensure that his next fall, should there be one, isn't so long and hard. Until he enters the octagon again, McGregor will be persistently quizzed about how he's dealing with being defeated.
The post-mortem of such a high-profile loss will continue unabated, as Ronda Rousey is still discovering, and it's likely to become tedious before long. McGregor has often boasted of being psychologically bulletproof, but even the strongest of minds can't expect to withstand the level of scrutiny that now awaits him too often.
If minor adjustments to his media interactions are required, the same applies to his skills inside the octagon. Contrary to some of today's hyperbolic assessments, McGregor hasn't been exposed as an over-rated one-trick pony who needs to go back to the drawing board. There are certainly holes to be filled, however, particularly when analysing how comfortably Nate Diaz was able to transition from sprawl to mount en route to securing the finish.
Today's optimistic forecast for Conor McGregor's future is that last night's defeat will be the best thing for him in the long run. That may well be the case, but only McGregor himself can control that. Doing so will require an acknowledgement that he's not yet, in spite of his previous assertions, a complete martial artist.
At SBG on the Naas Road — the gym and team McGregor represents — they're loyal to a mantra which classes every contest as a lesson: You either win, or you learn. According to their approach, regardless of your level of accomplishment, the journey of education and learning never ends.
Even world champions are dealt the hardest lessons.