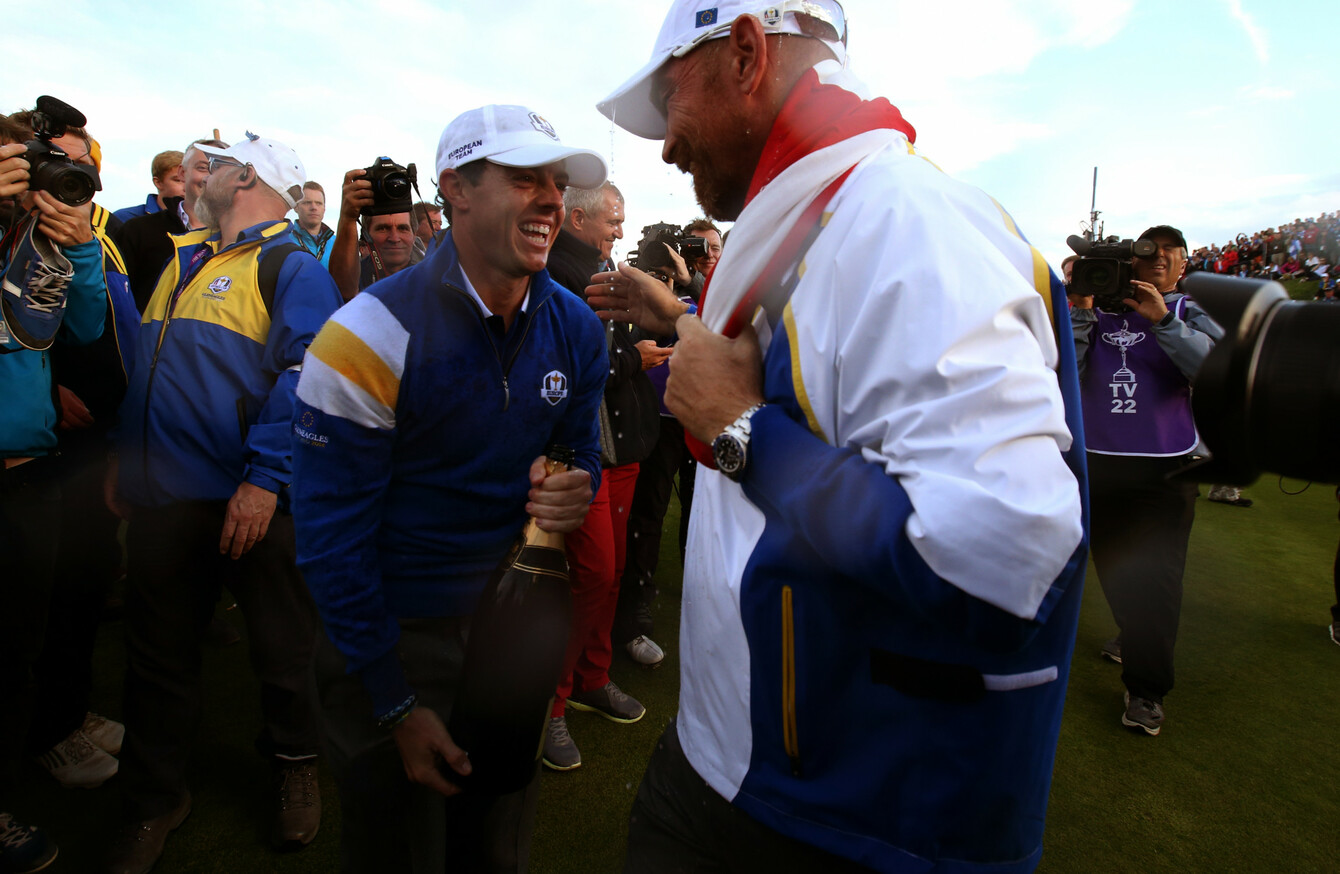 Image: PA
Image: PA
THOMAS BJORN JOKINGLY warned Rory McIlroy that he may find himself sidelined until Sunday at the Ryder Cup following his prominent role in a prank on Europe's captain.
McIlroy teamed up with team-mates Ian Poulter, Henrik Stenson and Tommy Fleetwood to play a light-hearted joke on their skipper.
Calling Bjorn on the phone, the four-time major champion suggested he should purchase "cryotherapy chambers" at the eye-watering sum of £20,000 each.
The main purpose, according to McIlroy's gag, would be to aid player recovery, although Poulter joked they can also benefit weight loss in an apparent gibe at Bjorn's waistline.
McIlroy later let the cat out of the bag, and Bjorn warned the Northern Irishman to be on his guard over the next fortnight.
"It was an interesting phone call, that's for sure!" he said in quotes reported by Sky Sports.
"I was like, 'I don't know what he's talking about!'. I was making up all sorts in my head, and you hear about all sorts of therapies and ice baths and you think 'athletes and modern-thinking players… maybe this is something'.
"But then all of a sudden I got a video through saying, 'here's a video, sorry'.
Calling the captain. 😉 Here is what happens when @RyderCupEurope players share a BMW... #BMWCHAMPS #DRIVENBYPASSION pic.twitter.com/2cRnln6rxU

— Rory McIlroy (@McIlroyRory) September 9, 2018
"He's in big trouble! He might not play until Sunday now! That's okay, they looked like they had fun.
"It's never fun when you get done on the prank but have to take it in the spirit it is, it was a good moment.
"If you know me well enough you have to think that at some stage during the next weeks they'll find themselves in a situation that's a little uncomfortable!"
The42 is on Instagram! Tap the button below on your phone to follow us!