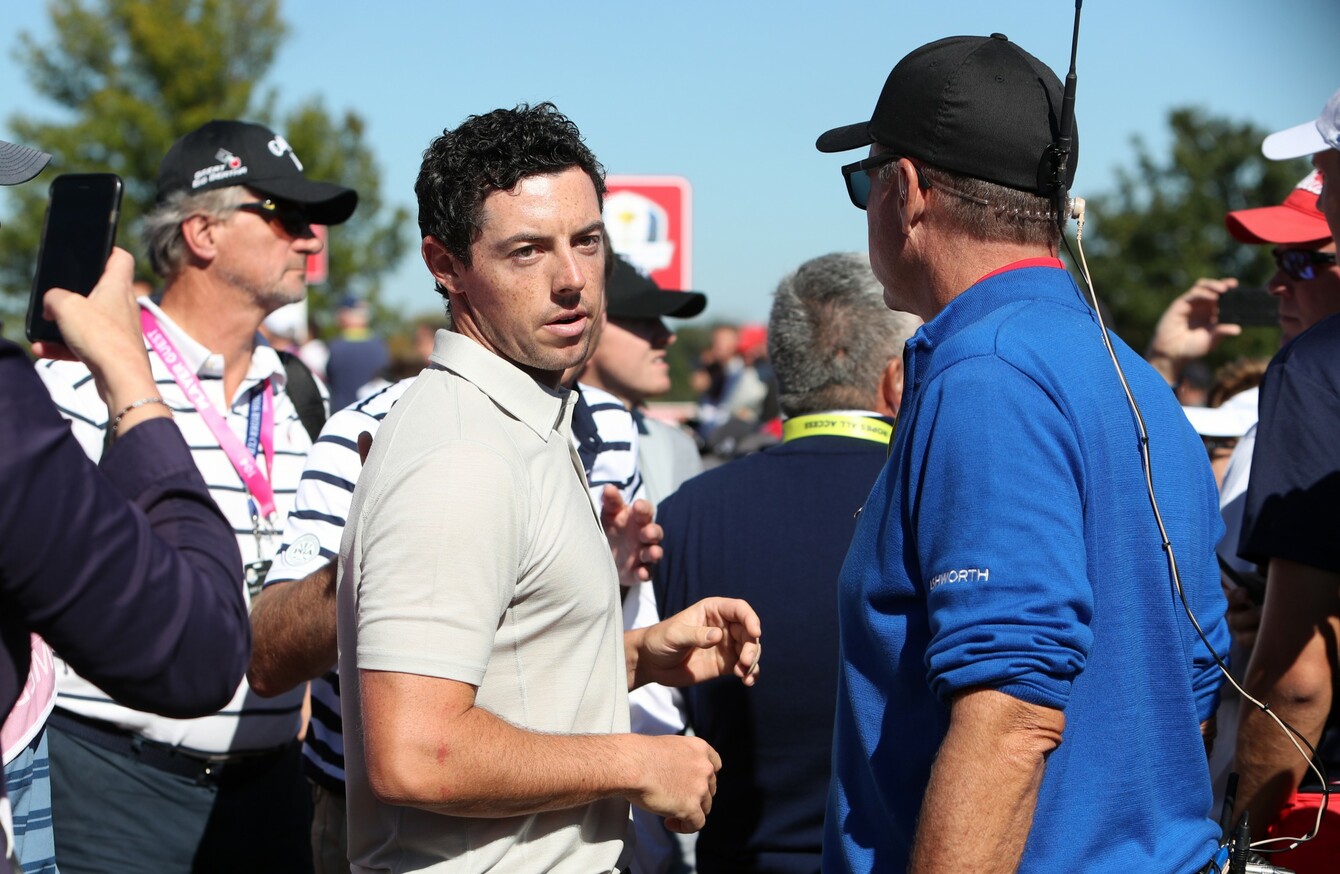 Rory McIlroy faces down a spectator yesterday.
Image: David Davies
Rory McIlroy faces down a spectator yesterday.
Image: David Davies
RORY MCILROY SAYS he is getting a sore head from the hostile fans at the Ryder Cup, but he hopes they keep it up on Sunday because it is all the motivation he needs.
"Hopefully I can get a good night's sleep, take a couple Advil for this headache I have after listening to the loudness over the last few days and get ready for tomorrow," said McIlroy, who got into a stare down with one foul-mouthed fan and had him ejected by security.
"It fuelled me a lot. The more they shouted the better we played. I hope they shout at us all day tomorrow."
McIlroy and Thomas Pieters beat Dustin Johnson and Brooks Koepka 3 and 1 on Saturday afternoon to improve to 3-0-0 after the first two days of the 41st Ryder Cup at Hazeltine National.
They are the first European duo to go three for three in a Ryder Cup since Bernhard Langer and Sandy Lyle in 1987 at Muirfield in Dublin, Ohio.
As a pairing, world number three McIlroy and Ryder Cup rookie Pieters have never trailed during the first two days at Hazeltine National.
But it was a crude remark from an American fan that was on McIlroy's mind after they finished their afternoon four ball session.
"Someone just said a few derogatory things I thought was out of line," McIlroy explained.
"Look, these things happen. It's golf at the end of the day. You try to keep the utmost respect for who you're playing and for who you're supporting.
"That particular guy just took it a bit too far."
The incident began after McIlroy made a birdie on the seventh hole followed by an enthusiastic celebration on the green, ESPN.com reported.
As the Northern Irishman walked to the eighth tee a fan behind the ropes leaded forward from the gallery and screamed at McIlroy "Suck a d___, Rory!"
McIlroy stopped in his tracks, pointed out the fan to security and had him ejected from the tournament.
- Tough crowd -
"I think there's been some boundaries stepped over. Not on my side, anyway, I don't think," McIlroy said. "It's been a tough crowd. You just need to concentrate. I let it get to me a couple of times out there which I probably shouldn't have.
"Every now and again, you're going to let it get to you, especially when emotions are running so high."
The 27-year-old McIlroy is making his fourth Ryder Cup start after helping Europe to wins in 2010, 2012 and 2014.
Saturday was another indication that McIlroy has showed up at Hazeltine National in form as his game has carried over from last weekend's US PGA Tour Championship in Georgia.
The world number three is coming off a victory at the Tour Championship that also earned him a $10 million playoff bonus.
He's looking forward Sunday when all 12 players from both teams go head to head in singles matches.
"I can't wait to get out there in singles. I'm very proud of my singles record in Ryder Cup and I want to continue that," McIlroy said.