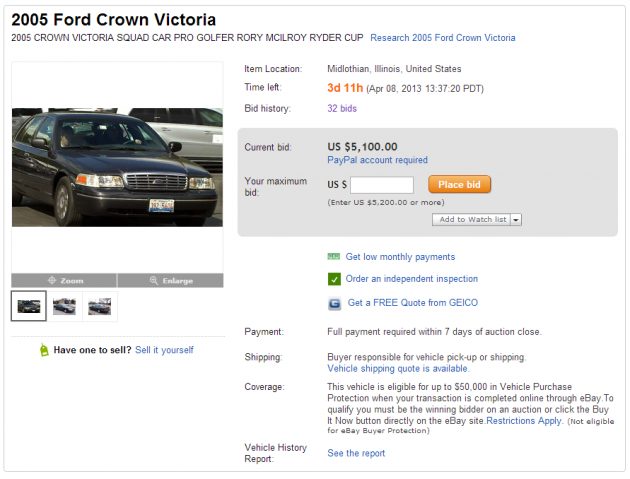 Image: eBay screengrab
IT'S NOT OFTEN a car plays a pivotal role in the Ryder Cup but the one above did.
Back in September, Rory McIlroy slept trough his alarm clock and almost missed his tee-time for the Sunday singles.
However, local Deputy Police Chief Pat Rollins used his Ford Crown Vic to rush McIlroy the 13 miles from the European team hotel to the Medinah course.
Had he travelled in one of the courtesy cars provided by the Ryder Cup organisers, he would have been caught in traffic and would not have been able to secure a crucial point against Keegan Bradley that helped Europe to a 14.5 to 13.5 victory.
Now the car Rollins and McIlroy used is up for sale on eBay for less than €4000.
However, with an opening bid of less than €200, the price is increasing hourly and there are still three days left on the auction.
Any funds raised from the auction will be returned to the village of Lombard, who own the car.
Here it is in action:
YouTube Credit: GirlofGoodtimes