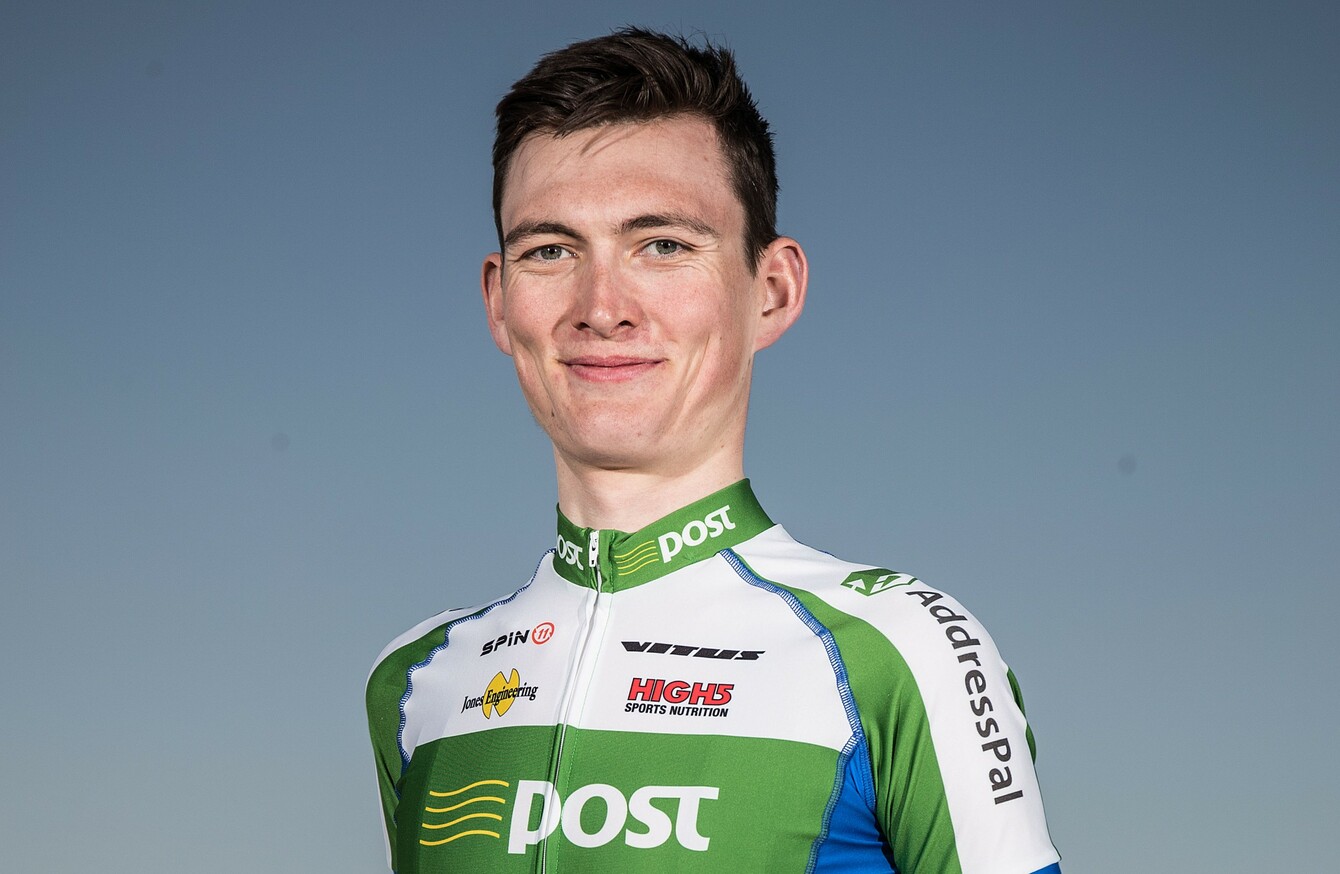 DESPITE NUMEROUS FAMILY members competing in the Rás and his uncle Ciaran now acting as president of Cycling Ireland, 21-year-old Sean McKenna says he was not always on the road to participation in the sport.
"They never really pushed me into it at all," he says, speaking to The42 this week. "Starting at 12 is quite late for a person who comes from a cycling family. There were lads who had been seriously racing since they were 12 and I only got a bike when I was that age."
The young cyclist is preparing to take part in his third Rás this weekend. Ireland's biggest annual cycling event kicks off at Dublin Castle on Sunday, ending 1,200km later back in Skerries.
This has been McKenna's first year cycling full-time, having completed his degree in food science in UCD.
He describes his 46th place finish last year as a "disaster", but reconciles that, being an amateur, one gets caught up in the thrill of simply taking part. Now he has other goals in mind as An Post Chain Reaction aim for higher honours.
"College got me to where I am now. It was a case of when I was sick of cycling I studied and when I was sick of studying, I cycled – it was always a sort of balance. This year I have had to take cycling a lot more seriously," he says.
"Being in college it was a distraction, in some ways good and in some ways bad. I couldn't train the ideal way I wanted to. This year I've spent the whole week thinking about the Rás whereas last year it was the last thing on my mind leading into it, because I was worried about exams. It went both ways."
Source: The42.ie/YouTube
McKenna bears his name proudly and comes from a distinguished cycling background. His father took part in the Rás in the 1980s, as did his uncle Ciaran McKenna, who was elected president of Cycling Ireland in 2015.
He says that he was a typically sport-mad child, but admits that the appeal of cycling only forged in his early teens when he bought his first road bike with the encouragement of his family.
"I couldn't even clip in the pedals back then. I can still remember the day I said to my family that I was going to spend my confirmation money on a road bike and they said 'yeah, go for it.'"
"Before that I had played football and gaelic and hurling. I was one of those kids that played every sport. I had always watched the Tour de France as a kid but never really took it seriously and just rode around with my friends."
He describes his introduction to the sport as modest with his formative years coming much later during his years studying in UCD, claiming that he was still "absolutely rubbish" until the age of 18.
"I never thought I could, but one day I asked my dad if I could get a road bike and I did and he used to take me on spins around Howth and, when I got a bit stronger, down to Wexford. Which was a big achievement when I was 13 or 14.
"I started racing when I was 16 or 17, but my family never really pushed me hard and encouraged me to do it only if I wanted to.
"Dad was always happy to go training with me and bring me to races. There was never really any pressure or anything like that, my family were brilliant and it's still like that today – do whatever makes you happy.
"I only started racing when I was around 16 and was absolutely rubbish until I was about 18 or 19. It was when I went to college that I joined the cycling club in UCD where a lot of people helped me and taught me how to train."
Having competed in his first Rás in 2015, McKenna is slowly realising the potential the Sean Kelly led An Post Chain Reaction team have heading into this year's competition. A stage win is the personal goal, but higher objectives will take priority if the opportunity arises, he says.
"The other two Rás I did while I was in college so I didn't really have a big build-up to it. Taking part in the Rás is a childhood dream, I grew up watching it and my dad took part in the Rás himself. This year we have sort of a dream team so I can't wait for it", he says.
His is one part of the five-man An Post team which includes Paralympic bronze medalist Damien Shaw and promising 23-year-old Polish rider Przemyslaw Kasperkiewicz: a multiple medalist in the Polish National Championships.
"This year's team just seems like a group of mates, we all get on really well. Damien and Kasper have been outstanding this year and I can really see them achieving something this year.
"They've each won stages in some really big races this year and I know they are really strong. With the team we have this year I'm hoping we can get a few results and there's no reason why we can't. I'll do everything I can to help those lads and if I get a chance myself, I'll go for it.
What are they
really like?
Rare insights on sport's biggest names from the writers who know them best. Listen to Behind the Lines podcast.
Become a Member
"The goal would be to be on a Rás winning team. I think the lads are more than capable of doing it and I'd do anything to see them winning. Anyone on the team could win it but Damien and Kasper at the minute are both really, really strong.
"Winning it would be the dream but to see one of the lads do it would be just the same for me. To get a stage would be a goal I would have, but I think the lads are capable of winning the Rás, even if that means me giving up a stage.
"To be riding at the front wearing that yellow jersey in Skerries would be the dream and to be riding with An Post is like kids wanting to play for Manchester United when they are younger."
The 2017 route of over 1,200km and 21 categorised climbs sees the Rás return to Donegal following a five year absence.
It will avoid the Phoenix Park and include several stages of tough climbing, including two of Ireland's most difficult ascents in Mamore Gap and Glengesh Pass.
It begins at Dublin Castle on Sunday with a 146km journey to Longford before extending to Newport, Bundoranm, Buncrana, Dungloe, Donegal and Ardee, with the final stage leading back to Skerries where the winner will be crowned.
The42 is on Instagram! Tap the button below on your phone to follow us!