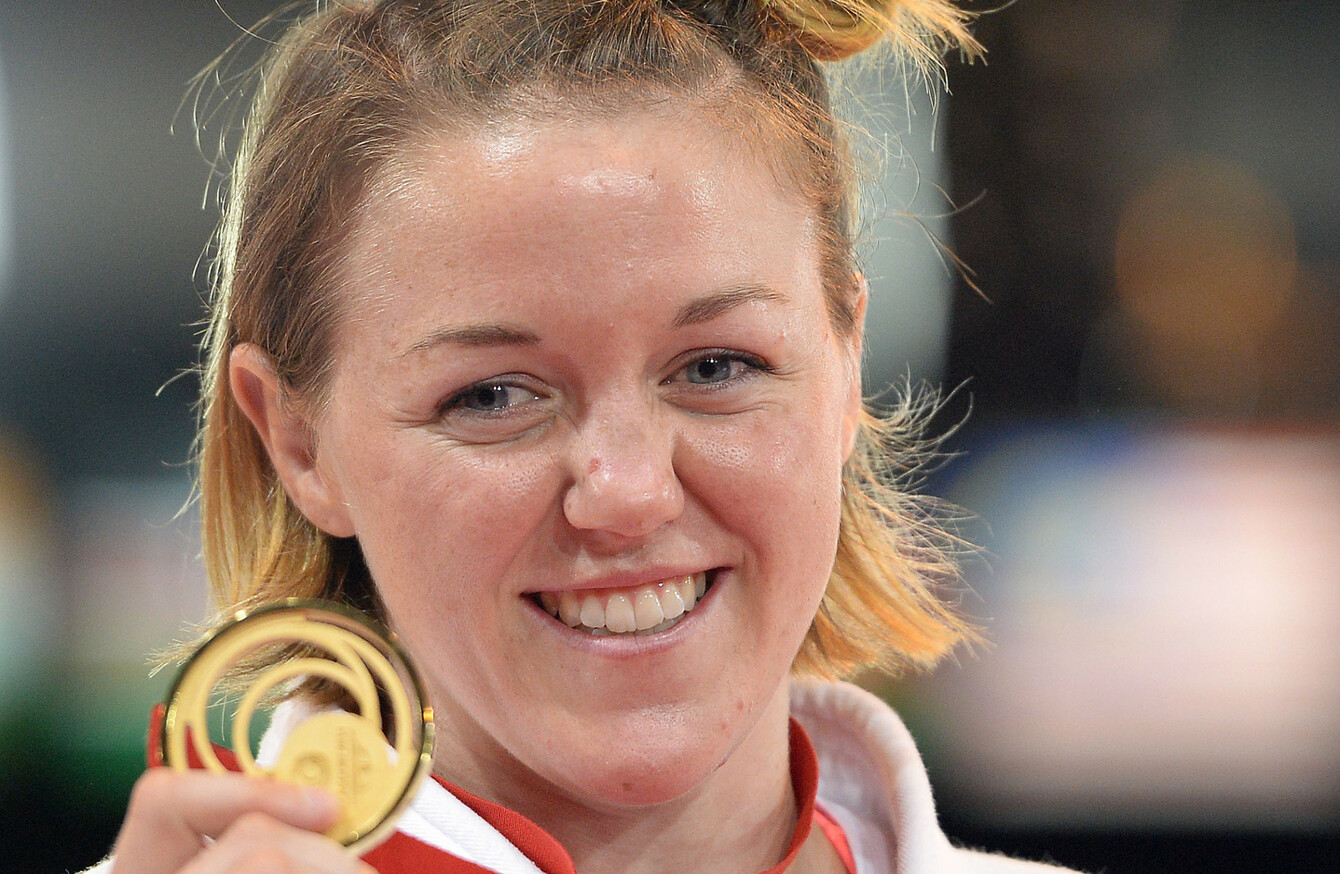 Image: Martin Rickett
Image: Martin Rickett
MEGAN FLETCHER WAS one of the biggest names in British judo, until very recently.
After battling an injury that almost ended her career in 2016, the 28-year-old is now finding the form that brought her gold in the past just in time for the 2020 Olympic Games, but this time around it's different.
Fletcher has enjoyed tremendous success over a number of years in the blue, white and red of Great Britain. But just over two years removed from the Tokyo Games, she approaches the home stretch of qualifying for the games in new, greener colours.
Her career and personal life were thrown into doubt when she was effectively forced to decide between relocating to retain her funding or leaving Team GB in 2016. Based in Bath in the south-west of England since she was a teenager, her mother's Limerick roots would ultimately prove decisive.
"It was after the Rio Olympics, they (Team GB) were moving everybody to one place in the UK and if you didn't move, you would have to fend for yourself," she tells The42.
"My mum and dad said to me: 'I really think that it could be an option (to represent Ireland)'.
"Judo is a sport with a lot of Irish coaches, we got on with them really well.
"I was the number two in Britain at the time. (I was told that) If you don't move, you won't get the chance to even try (to compete at the Olympics)."
Her mother left the small scenic village of Bruff in Limerick and moved to the UK before she was born, making her eligible to declare for Ireland. A sporting family, Fletcher was almost destined to practice the sport at the highest level from a very young age.
"I started when I was really young, I was 5. I've got three older half-brothers who do it so I was kind of the next in line to start. My younger brother is in judo as well. We're a big judo family, I've been doing it for a very long time now.
"I started training full-time when I was 17, but before that I won my first national competition when I was 12-years-old and then after that (I competed in) more major tournaments. I won a European medal when I was 15.
"At the age of 17 is when I began full-time training. I moved to university (in Bath) and there was a training base there.
"I moved here for university and for the training, primarily. The degree was kind of like a bonus. I'm settled and going through my last Olympic cycle, I didn't want to move anywhere else."
Before the move to Ireland, Fletcher was involved with Team GB and represented England at the 2014 Commonwealth Games in the 70 kg weight category. Going into the tournament, she was one of the favourites, but was not tipped to take home the gold medal.
"I was doing quite well internationally at the time, I was the clear number one (in England) to be going (to the Games).
"It was a brilliant experience.
"The feeling that I would use to describe it is 'unbelievable'. Going in to the event, I wasn't the favourite.
"I was around number three or four. I met the British number one at the semi-final stage and I had never beaten her before."
Fletcher faced Sally Conway of Scotland in the semi-final, an opponent she had failed to defeat on seven prior occasions. Conway was also one of the sport's biggest names and would go on to claim a bronze medal at the 2016 Olympic Games.
"It was one of those where I was the underdog going in. There wasn't really any pressure on me, but I was putting pressure on myself because I wanted to do well.
"Once I got past that semi-final, there was no way that I was going to come home without gold.
"It was incredible, my family had all come to watch me and because I wasn't expected to win either. It made it even that more special."
Fletcher defeated Conway and then New Zealand's Moira de Villiers in the final to win the gold medal.
Getting to the 2016 Olympics was then the 24-year-old's priority.
Her preparations were going well, but with just months until the Games, her plans were derailed by a potentially career ending medical condition. She would depend greatly on her team and coaches to help her in a long recovery.
"I got diagnosed with Spinal Arthritis around March, with qualification for the Olympics finishing in May.
"The doctors said to me: 'Normally we would suggest that you would not do contact sport because basically your spine is fused together'. It was a massive blow for me.
"I didn't think that I had caught (up with) the number one, but I had definitely closed down the gap and they basically said: 'We're not going to say that you can't try but in theory, you shouldn't be doing contact sport'.
"I had so much confidence in them to get me through that, because I could barely walk – it was so bad.
"For a while we couldn't figure out what it was. They thought that it was a stress fracture, I had to go for a few scans to try to figure out exactly what it was," she explains.
We are making progress everyday. Just 2 weeks till I'm back on the mat #AllCoredOut #SpicingItUp #TeamBath pic.twitter.com/I2b30UUKJf

— Megan Fletcher (@Megan_Fletcher1) June 20, 2016
The injury kept her out for over half a year and meant that she would miss the Olympics, coinciding with her decision to remain in Bath over relocating with Team GB. In December 2016, Fletcher officially switched to Team Ireland.
"Once I had got myself back, I was faced with the situation where I wasn't really going to get the chance to try any more if I didn't move and I would have to leave the team that got me back fit if I did (move from Team GB).
"I didn't want to leave those people who had got me back from an injury that I didn't think that I was going to recover from.
"I spoke to Ciaran Ward, one of the Irish coaches. I made contact with him and just asked the question basically to see would it be a possibility. He said that they would love to have me.
"I wanted to do it the proper way. I didn't want to go behind anyone's back in Britain.
"There wasn't any hard feelings from me. That was what I wanted to do.
"It was a very amiable leave really, I asked and they released me. The Irish said that they wanted me and that was that," she says.
She feels that she made the right decision and has received significant support for making the call. Spending a lot of time in Ireland, she's also got know the country and her Limerick roots over the past 18 months.
"Every single person that I have spoken to completely understood and actually supported what I did. They were saying that it was the best thing that I could have done.
"Even from the Performance Director and the coaches in Team GB, they were all absolutely (supportive). They knew that it was a decision I made and that it wasn't in a vicious way or to be disrespectful.
"This is the path I wanted to take and I'm so happy that I did it.
"I think that it's really important for me to be over there (in Ireland), it's a part of my family's heritage. I'm feeling it more and more, it is really important for me to be over there. I think it would be wrong for me not to."
In March 2017, Fletcher made her debut for Ireland in a European Cup in Croatia.
She won the gold medal.
After spending an extended period recovering from her spinal injury, it's only been in the past year that she has rediscovered her past form and has set her sights once again on competing at the Olympic Games.
I am so happy to have won my first gold medal for Ireland yesterday in the Dubrovnik European Cup 🍀🇮🇪 Onto Turkey GP next weekend 🇹🇷 pic.twitter.com/SQA8IL5CTy

— Megan Fletcher (@Megan_Fletcher1) April 3, 2017
Fletcher received a scholarship from the Olympic Council of Ireland last October to help with her qualification bid. Qualifying has already began and she is aware of what it takes to fulfil her Olympic dream with Ireland.
"We have two years to qualify for the Olympic Games. That started in May this year and my first competition for qualification is in July.
"It's a big conditioning block. I've just got back from the United States after three weeks there and I go to Japan this weekend for three weeks in preparation for the World Championships, which are in September.
"It's fantastic, we can plan our whole year out. I know exactly what we are doing, everything is great at the moment and exciting for me."
"In the European Championships and the last two Grand Prix's that I competed in, I feel my back is a little bit better than it was before Rio. It took time for me to get back to that level.
"I've had a really good six or seven months where I've been back and had no problems. It's a really nice place to be, especially at the start of qualification."
The42 is on Instagram! Tap the button below on your phone to follow us!