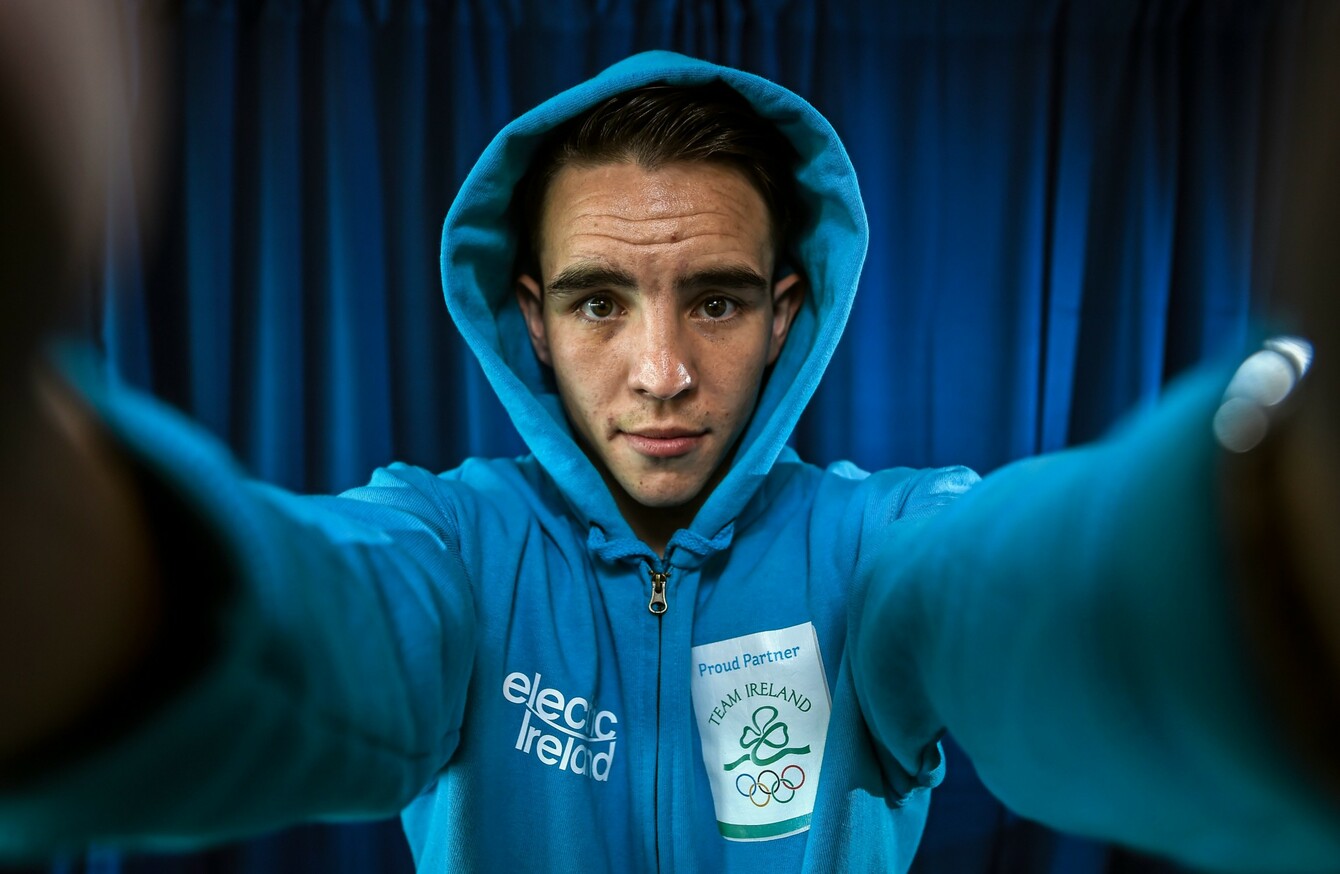 Conlan is ready for Rio and to achieve his dream.
Image: Ramsey Cardy/SPORTSFILE
Conlan is ready for Rio and to achieve his dream.
Image: Ramsey Cardy/SPORTSFILE
IT'S NOT COCKINESS, it's confidence. It's not arrogance, it's self belief. It's not if, it's when. Michael Conlan knows he will win gold in Rio – and now the time has come for him to deliver.
As the reigning World, European and Commonwealth champion, there's no reason for Conlan think otherwise. He begins his Olympic campaign later as favourite and one of Ireland's leading medal hopes. He relishes the pressure and thrives off the expectation.
Twelve years ago he sat alongside his parents and brothers in their west Belfast home. He watched Britain's Amir Khan win silver in Athens and decided it was what he wanted to do – but go one better.
"It would mean the world to me," he says of winning gold in Rio. "It's my dream, my lifelong dream. Since I watched the Olympics in 2004 I knew I would be in London and now I'm in Rio and I believe in it so much. I feel like I'm going to do it."
He came close to emulating his boyhood hero in London but fell short and instead came home with bronze. That was then and this is now.
"Everything has changed," Conlan continues. "In London I was only a boy, people had zero expectations for me but I expected to win gold. That expectation hasn't really changed, the only thing that has changed for me is that I've even more belief than I had then.
"I'm a lot more capable than I was back then, I've a lot more experience, maturity. I had problems making weight back then but now I've moved up a division and I'm very comfortable, strong and have vast experience and everything is just in my favour leading into these Games."
Call it what you like, you've got to admire his conviction. There's a steely determination there to achieve what he set out to do. That hunger and desire has only been heightened by a stellar 2015.
It would have been easy to stick to what served him so well last year. The 24-year-old became the first ever Irishman to win a World Championship title, in addition to the European crown he secured in August.
But the birth of his daughter, Luisne, has given him a fresh perspective and renewed his focus. He's now putting in more hours to ensure it's a mere formality.
"It was quite tough [to refocus again]. 2015 was a massive year for me. It was probably the best year of my life so far, as I've said on many occasions before.
"When 2016 came I knew I just needed to clean the slate and to focus on that Olympic gold medal which is my dream. It's what I see everyday I wake up and what I feel in my hands.
"I could have said 'look at me I'm World champion, I'm better than everybody else' but I can't think like that. If I stay in 2015, people are just going to get better. I had to think about my future and what I wanted and that was the gold medal in Rio.
"When you think about your family and you think about your daughter it makes me want to achieve even more. I have to do it for her and that's getting to the very top and that's the gold in Rio first.
"I've got to think about my daughter and she helped me refocus. She's taken over my life. She has given me a new drive. Before I always thought of myself and I was very selfish person when it came to my sporting career. Now I think completely different. Now I'm doing it for her. I want to be the best for her so I can give her the best life I possibly can so she has changed my sporting career and life dramatically."
It appears to have been a turning point in his life, and career. Conlan's fiancé, Shauna, and baby Luisne are in Brazil to lend their support to his bid for gold in the bantamweight division.
When he takes to the ring to fight Aram Avagyan this afternoon, it will be the first time his daughter has seen Conlan fight live. Regardless of what follows, it will be a poignant moment for the family.
"I would like her to see me throughout my career," he continues. "She's going to be there at the start of the big one and she'll be there for the rest of them and every single fight after that. I want her to enjoy my career as much as I can.
"It will be special. When I win the gold medal I can see myself going over and my family being in the crowd and picking my daughter up off Shauna and just hugging her. I can picture that right now, I can see it happening.
"That's what I want to do, it's the feeling I want to feel. The whole world will see me embracing my daughter after winning the gold medal, it's something which will be very, very special for me."
It has the potential to be one of the great Irish sporting moments. Conlan pictures it and players it over in his head time and time again. He doesn't hope it will happen, he expects it to happen.
"I think I need to be this way to be the best," the Olympic bronze medalist says.
"Any sporting athlete who is at the pinnacle of their game will always have self-belief. I believe it's one of the key ingredients to be the best. I don't see it as being cocky or over-confident, I know it's going to happen.
"It's not like I don't put the work in. I put endless amounts of hours in and I know how much I want this and I believe I deserve the Olympic gold medal.
"I like people knowing that I'm going to win gold and it's great to be going out there with that expectation.
"I'm really, really excited. When that moment comes I don't know whether I'll cry or I'll laugh but I really, really can't wait. I just believe it's going to happen."
It's hard not to believe him.
- A version of this interview was originally published on 7 July
The42 is on Snapchat! Tap the button below on your phone to add!