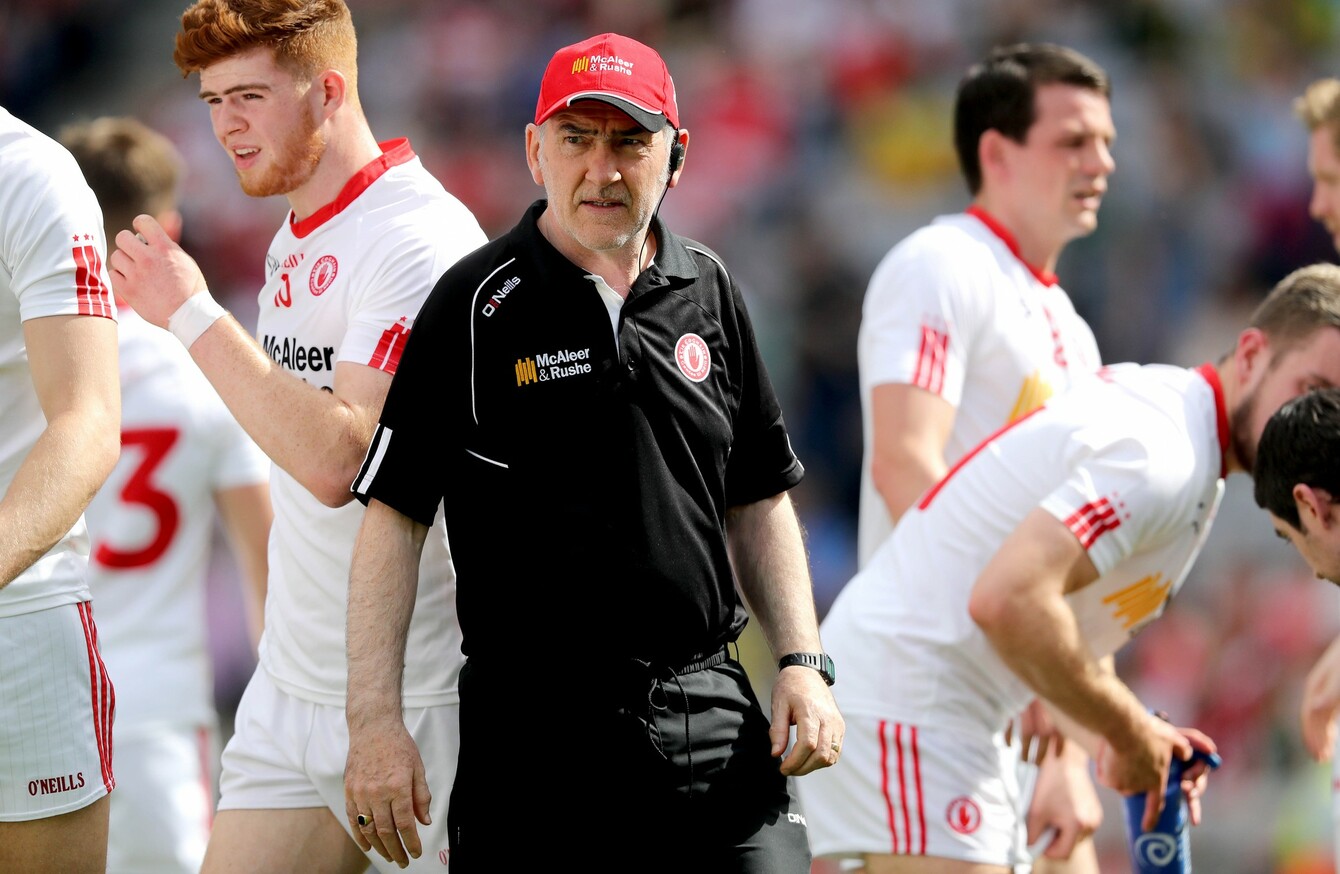 Tyrone football manager Mickey Harte.
Image: Ryan Byrne/INPHO
Tyrone football manager Mickey Harte.
Image: Ryan Byrne/INPHO
MICKEY HARTE HAS dismissed suggestions that the Tyrone county board turned down his request for an extra year in charge due to sponsors unrest over his lack of interviews with RTÉ.
In September it emerged that Harte had not been granted his wish for his current manager agreement – which still has a year remaining – to be extended until the end of the 2018 campaign.
But the Red Hands manager has rejected any claims that the decision was linked to his dispute with the TV station. Harte has not given an interview to RTÉ since 2011.
"That's a myth altogether. The sponsors have never spoken directly about this being an issue at all.
"That's just stuff that gets into the grapevine, people repeat it and it becomes the truth.
In fact it's not the truth at all.
"It's nothing to do with the sponsors or any particular stance that may or may not be taken. But that seems to be thrown into the mix. It sounds like a reason but it is really not at all."
Harte is the longest-serving manager in Gaelic football, having guided Tyrone to three All-Irelands and five Ulster titles since taking charge in 2002.
After a year where he again guided Tyrone back to the summit in Ulster, he is content facing into 2017, despite only having a year left on his term.
"I am fine because I believe I do the best I can every year I have ever had a Tyrone team at any level. I put my heart and soul into it. I will always do that.
"Over the years, when I started with the minors I have said this many times, you leave it up to the county board. You leave it up to the people who decides who manages and who doesn't.
"I am eternally grateful to the county board that operated from 1991 and 1998 because I had the Tyrone minors at that stage. If it had have been a results-based analysis, I wouldn't have been there in 1997 or '98, or long before it.
"But the fact they knew it was a work in progress, that there was a quality programme put in place to establish young players with the right attitude to becoming the best they could be, then I think that's why I survived as a manager then.
"I don't think I am worried about 'is it results going to keep me here, or is it a quality of what is being carried on?'
"So I am happy in what I am doing. If it turns out that somebody believes it is not good enough, well, that's their choice. I wouldn't be shouting from the rooftops about it.
"Obviously you would be annoyed if you felt you were doing your best and somebody else didn't think it was good enough, that's fair enough.
"But, I think that there is a great group of players here at the minute, they have good confidence in each other and I think that we will work together for some time."
The42 is on Instagram! Tap the button below on your phone to follow us!