Parting Shot So, here we are, but how did we get here?
It really was a fantastic game of football. Had they not been so profligate, Barcelona would have been out of sight long before Arsenal's spirited second-half fightback began. The Catalans didn't take their chances though, and no matter how good you are and how long you can keep possession for, goals win games.
Arsenal played like a different side in the second half, pressing high and hard, generally not letting Barca settle on the ball. They could've gotten themselves back into it long before the 78th minute, but that really won't bother them too much this evening.
Man of the match has to be Jack Wilshere, and I reckon you'll be hard pressed to find anyone who disagrees. At no stage did the 19-year-old look out of his depth and he was at the heart of most of the good moves which Arsenal produced in the second half.
It's by no means the end of the affair, however. There's still another 90 minutes to be played (or 135 if you listen to Cesc Fabregas' post-match interview), and Barca will probably still be slight favourites thanks to their away goal. It's set up nicely for a cracker on 8 March.
That's all from me for tonight. Thanks for all of the tweets and e-mails. The liveblog will be back next Tuesday night for Chelski's trip to Copenhagen. See you then.
21:52 And here's the Arsenal winner. The lads at RTE are calling it Barcelona-esque.
Wilshere. Fabregas. Nasri. Arshavin. Goal.
21:42 Full time at the DW Stadium. It's finished Wigan 0-1 Bolton and Owen Coyle's men are into the Fifth Round.
21:40 Here's the Arsenal equaliser. It's even worse than I thought. What was Valdes playing at?
Full Time: Roma 2-3 Shakhtar Donetsk.
Full Time: Arsenal 2-1 Barcelona Still playing in sunny Rome and less-than-sunny Wigan. We'll keep you posted.
Still 91 min: Arshavin nearly plays Alves in with a header, but Szczesny dives at his feet, forces him wide and the chance goes a begging.
91 min: Smashed out of defence by Arsenal. Nobody shouts "hoof".
90 min: Two minutes added.
89 min: George Hamilton has just informed me that this is only the third time this season that Barca have conceded more than one goal. Not a good time to start …
88 min: Barca go close. Szczesny has to get down sharply to save at Messi's feet.
86 min: Betfair are reporting that Arsenal were matched at 399/1 to win earlier this evening. That wasn't us, sadly.
85 min: It's all Arsenal now. Bendtner disposseses Maxwell before cutting inside the box and striking a low drive at Valdes' near post, but the keeper is able to get down and palm it away.
83 min: GOAL! Arsenal 2-1 Barcelona (Arshavin 83′) Nasri breaks down the left, squares to Arshavin and the sub buries it. This tie just got turned on its head, kids.
80 min: Sean O'Cheafarcaigh's bet from 20:45 isn't looking too shabby right about now.
78 min: GOAL! Arsenal 1-1 Barcelona (Van Persie 78′) Not sure what Valdes was up to there. The angle should have been far too narrow for Van Persie, but the Barca keeper left a huge gap at his near post and somehow RVP was able to squeeze it past the keeper's left leg. Disaster.
77 min: Brilliant from Wilshere. Beats two players and nutmegs Pique on the edge of the box before shooting wide.
76 min: Theo's number is up, Bendtner on to replace him.
73 min: To be fair, Arsenal are really giving it a go in this second half. Pressing hard and making Barca work for the ball. A goal would be lovely, but Van Persie left his shooting boots at home it would seem.
71 min: Martin Tyler has just said that Wilshere wouldn't look out of place in the Barca midfield. In other news, Klasnic makes it Wigan 0-1 Bolton in the FA Cup Fourth Round replay.
69 min: Miguel Delaney is leading the race for Tweet of the Night so far. I'm definitely better looking than Piquenbauer.

68 min: A sub apiece. Villa off, Keita on. Song off, Arshavin on. Theo survives for now.
67 min: Messi played in by Iniesta, though there is a hint of offside when the ball is played. Doesn't really matter as Szczesny narrows the angle well and the Argentine can only hit the side-netting.
65 mins: The Arsenal subs are warming up, changes are imminent. Walcott perchance?
64 min: Van Persie hits the target from 20 yards out, but it's not enough to trouble Valdes.
62 min: Menez has made it Roma 2-3 Shakhtar. All the goals seem to be in the game I'm not watching. Sorry Arsenal fans …
61 min: Nasri tries to slip one in to RVP at the near post, but it's knocked behind for a corner by Piquenbauer. Starting to get a bit noisy at the Emirates.
59 min: Pique picks up a booking and he's out of the second leg.
56 min: Pedro takes a tumble in the Arsenal box with Koscielny in close attention, but it's never a peno. A free-out for handball maybe, but never a peno.
55 min: Walcott twists and turns down the left. When the ball finally breaks to RVP, he takes two touches and skies it from the edge of the box. Eboue was in acres of space inside the box, but he was never going to pass it to him.
54 min: Gav has been checking the odds. It's 8/1 for RVP to score next and 14/1 for Cesc. What do you reckon, worth a euro or two?
53 min: Ok, now that we've all had our Stadio Olimpico-related fun, all my attention is on the Emirates. I do feel I should mention that Wigan vs. Bolton is 0-0 though.
52 min: Nothing much to report from the Emirates. To keep you entertained, here's that Riise mistake. Oh dear.
48 min: Shakhtar goals one and two here. Still waiting on the John Arne Riise show to surface. Patience.

47 min: Better from Arsenal. Wilshere plays a nice little one-two with Fabregas, but he can only direct the return pass straight into Valdes' arms. He was under a bit of pressure to be fair. Nice to see him still getting forward though.
46 min: We're back underway.
20:45 Teams are back on the pitch at the Emirates. Sean O'Cheafarcaigh reckons RVP and Wilshere are gonna turn this one-goal deficit into a 2-1 Arsenal win. Maybe. Wilshere's been one of the better Arsenal players tonight.
20:44 Before we get back underway, here's another shout-out for company. Please send me an email or tweet me @thescore_ie. Please.
20:42 Here's the Roma goal from the Stadio Olimpico. Pretty representative of the standard of defending so far. Although wait till you see Riise in the run-up to Shakhtar's third …
20:38 I'm pretty sure I just heard somebody in the Sky studio describe Barca as "suspect". Sounded like Souness. I obviously need a break.
20:36 And here's the Messi miss from the 15th minute. To be fair, Szczesny does well to make himself big. But still …
20:35 For those of you who may have missed it, here's Villa's goal. See what I mean about Arsenal's offside trap?
45 min: Half-time Arsenal 0-1 Barcelona. No added time at the Emirates. Time for Arsenal to regroup and figure out a new plan of attack. Half-time in Rome as well, still Roma 1-3 Shakhtar. Back in a minute.
42 min: Another goal in  Rome. Luis Adriano makes it Roma 1-3 Shakhtar. Good comeback, but the quality of defending hasn't been up to much from either side.
37 min: Barca have the ball in the Arsenal net, but it's offside. Szczesny gets down smartly to block from Pedro, but when the ball breaks to Messi, he's in an offside position before he heads into the empty net. Arsenal live on.
35 min: And now Roma 1-2 Shakhtar. Good and all as the game at the Emirates is, I get the feeling that I'm watching the wrong match. Douglas Costa with a very nicely taken goal for the visitors.
34 min: No. Wait. It's Roma 1-1 Shakhtar. Jadson levels it up almost immediately.
33 min: It's Roma 1-0 Shakhtar in the night's other game. Perotta opening the scoring in the Stadio Olimpico.
31 mins: This is bizarre. The Emirates crowd appear to be booing Barca for knocking the ball about without a care in the world. Emmm, do they watch Arsenal in any other game?
28 mins: Arsenal have a great chance to level after Wilshere breaks from midfield and feeds Van Persie inside the box. The Dutchman can't hit the target though and it's still 1-0. Seconds before that, Pedro had a great chance to put Barca 2-0. He tried to pull off a lovely little backheel from the edge of the six yard box but Szczesny was equal to it.
25 min: GOAL! Arsenal 0-1 Barcelona (Villa 25′) Breakthrough. Villa looked offside when the through ball was played but the replays have shown that the lino got it right. This one is all about Messi's perfectly-weighted pass though. And my earlier comments about Arsenal's need to be careful when playing the offside trap.
24 min: Cracking break from Arsenal. Walcott slides a delicious pass through to Fabregas, but Abidal gets to his chipped pass and deflects it away from Van Persie.
23 min: Burdisso has missed a sitter in the Stadio Olimpico. Still 0-0 there.
20 min: Wilshere breaks up another potential Barca attack in the middle of the park. Playing against exalted company is clearly not fazing him.
19 min: Arsenal are living a tiny bit dangerously with the offside line their back four is playing. Surely they know what Xavi and Iniesta can do to teams – don't they watch Revista de la Liga?
18 min: Szczesny has to react smartly to smother a through ball. They've just shown a replay of the Messi miss and Guardiola's reaction. Looks like he was already celebrating before it went in.
17 min: Arsenal are not having this one all their own way anymore. Villa's touch lets him down in the box as he tries to trap a cross and the ball bobbles harmlessly away.
15 min: Twitter seems to be at breaking point with the shock at Messi's miss. To be fair, it doesn't happen that often.
14 min: Wow. That was close. Cracking through ball by Villa set Messi free with only Szczesny to beat. He dinks it over the onrushing keeper and ……… wide. Deep breaths, Arsenal fans.
13 min: Gone a little bit quiet though now. Still Roma 0-0 Shakhtar and Wigan 0-0 Bolton. If you care …
8 min: This is shaping up to be quite the entertaining 90 minutes. Arsenal well on top at the moment. Looking dangerous.
6 min: Something strange appears to be happening here. When Barca pass the ball, it's not always going to one of their own men. Unusual.
5 min: Ooh. Walcott jinks and jives before laying it off to Fabregas on the edge of the box. He scoops it behind the defence to RVP, but Valdes is able to get a block on the Dutchman's shot. That should have been 1-0.
4 min: That'll be encouraging for the Gunners. Walcott picks it up deep and runs at the Barca defence, though he just slightly overhits it as he tried to play Van Persie in.
3 min: Nasri floats a free in from the left which goes safely through to Valdes. Song wasn't a million miles away from getting a touch though. A  quarter chance.
2 min: Barca are just casually knocking the ball about. Don't look so surprised.
O min: And we're off!
19:45 Apparently there's nobody at the Stadio Olimpico. Probably 'cos they're at home watching Arselona like the rest of us.
19:44 The teams are out on the pitch, and for once the Emirates doesn't sound like a library. They have distributed tonnes of those awful plastic flags though. For shame.
19:41 The "stars" aren't afraid to embarass themselves with predictions – here's Rory Delap's …

Paul Ring begs to differ – he's gone for 2-1 Barca. Wise man.
19:35 I've just been alerted (via @killianyoung) to the fact that Messi has never scored in England before. Is tonight the night he rights that wrong? The bookies reckon so, he's odds on at 10/11. Madness.
19:31 Right, fifteen minutes left to go, it's nail your colours to the mast time. I'll go for
Arsenal 0-0 Barcelona (yes, seriously)
Roma 2-0 Shakhtar
Email us your predictions or tweet them to @thescore_ie. Go on, I promise not to laugh.
19:20 And here are the teams for Wigan vs. Bolton, a game which we will be paying no attention to
Wigan: Pollitt, Stam, Gary Caldwell, Steven Caldwell, Lopez, Gomez, Diame, Thomas, McArthur, McManaman, Di Santo. Subs: Kirkland, McCarthy, Watson, Moses, Roman Golobart, Roman Golobart, Mustoe, Redmond.
Bolton: Bogdan, Ricketts, Wheater, Cahill, Robinson, Lee, Mark Davies, Muamba, Petrov, Klasnic, Elmander. Subs: Lainton, Taylor, Kevin Davies, Moreno, Blake, Cohen, Alonso.
19:17 Here are the teams for Roma vs. Shakhtar, a game which we will be paying a token amount of attention to.
Roma: Doni, Cassetti, Nicolas Burdisso, Mexes, Riise, Taddei, De Rossi, Perrotta, Totti, Menez, Vucinic. Subs: Lobont, Castellini, Juan, Borriello, Greco, Simplicio, Brighi.
Shakhtar Donetsk: Pyatov, Srna, Chygrynskiy, Rakitskiy, Rat, Mkhitaryan, Hubschman, Douglas Costa, Jadson, Willian, Luiz Adriano. Subs: Khudzamov, Eduardo, Stepanenko, Alex Teixeira, Ischenko, Chyzhov, Vitsenets.
19:13 And sure while we're at it, the lads over at Balls.ie brought this to our attention yesterday.
19:12 Anyone in the mood for some idle speculation …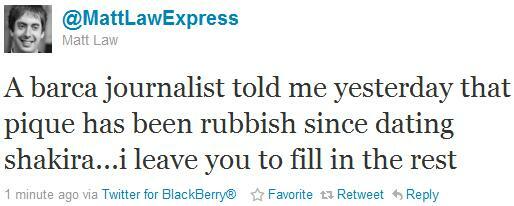 19:01 Of course, the more eagle-eyed among you will have noticed that Samir Nasri has been picked in Arsenal starting XI. Yeah, I thought he was injured too. That wily old Arsene, you never know how he'll outfox you.
18:59 If you're actually the kind of saddo who wants to communicate your correct answer to me, you can send me an email or tweet us @thescore_ie. Or leave a comment below.
18:56 If you're the kind of guy who insists on calling your pub quiz team Quiz Quiztofferson, then this one is probably for you. If Lil' Leo finishes as top scorer in this year's competition, he will be the second player to do so in three successive seasons – who is the other?
18:54 How about a few stats while we're waiting on Arsene to figure out who to field tonight?  Apparently there's some guy called Messi playing tonight – if he scores, he'll become Barca's outright top scorer in European competitions (via @infostradalive)
Arsenal: Szczesny, Eboue, Koscielny, Djourou, Clichy, Song, Wilshere, Fabregas, Nasri, Walcott, Van Persie Subs: Almunia, Rosicky, Denilson, Squillaci, Arshavin, Gibbs, Bendtner.
FC Barcelona: Valdes; Alves, Pique, Abidal, Maxwell; Busquets; Xavi, Iniesta; Pedro, Villa, Messi Subs: Pinto, Bojan, Mascherano, Keita, Milito, Affelay, Adriano.
Opening Salvo It's the plum tie of the round. In fact, it would probably be the plum tie of any round. In any season. Ever.
Ladies, gentlemen, and all worshippers of sexy football, I give you the first leg of this evening's clash between FC Barcelona and I Can't Believe It's Not FC Barcelona, the two teams vying for supremacy in the Let's-See-Who-Can-Take-The-Highest-Amount-Of-Unnecessary-Touches-Before-Walking-The-Ball-Into-The-Net Cup. And also a place in the last eight of the Champions League.
I'll have the team news for you shortly. I'll keep an eye on the other Champions League tie as well, whoever is playing in that. I don't actually know because nobody actually cares.
Back soon.
In the meantime, I presume you've all seen this video of the Rock's triumphant return to the WWE.
What do you mean it's not a sport? Just watch it.