Liveblog
TODAY'S FIRST LIVE game came from Clones where Monaghan and Tyrone met in the Ulster Senior Football Championship quarter-final. 
As always, we'd love to hear your thoughts on the action. Email steven@thescore.ie, tweet @TheScoreGAA, post a message to our Facebook wall or leave a comment below.
You may need to manually refresh for embedded content to display correctly.
Full-time: Monaghan 1-12 Tyrone 0-14
Hello and welcome to our coverage of today's Ulster quarter-final clash between Monaghan and Tyrone.
Anyone care for a reminder of what happened the last time these two sides clashed in the championship?
Source: Kevin Bolger/YouTube
Which, of course, sparked this infamous reaction from Joe Brolly:
Source: RTÉ - Ireland's National Television and Radio Broadcaster/YouTube
The big news from Clones is that Conor McManus starts for Monaghan and is one of three changes to the team named by Malachy O'Rourke earlier in the week while Tyrone will line-out as selected.
MONAGHAN
1. Rory Beggan – Scotstown
2. Colin Walshe – Doohamlet
3. Drew Wylie – Ballybay
4. Fintan Kelly – Clones
5. Dessie Mone – Clontibret
6. Vinny Corey – Clontibret
7. Kieran Duffy – Latton
8. Dick Clerkin – Currin
9. Darren Hughes – Scotstown
18. Ryan Wylie - Ballybay
25. Chris McGuinness – Ballybay
12. Paudie McKenna – Truagh Gaels
13. Dermot Malone – Castleblayney
14. Kieran Hughes – Scotstown
26. Conor McManus – Clontibret
TYRONE
1. Niall Morgan – Edendork
2. Aidan McCrory – Errigal Ciarán
3. Justin McMahon – Omagh
4. Ronan McNamee – Aghayarn
5. Ronan McNabb – Dromore
6. Mattie Donnelly – Trillick
7. Peter Harte - Errigal Ciarán
8. Colm Cavanagh – Moy
9. Conan Grugan – Omagh
10. Martin Penrose – Carrickmore
11. Sean Cavanagh – Moy
12. Ciaran McGinley – Errigal Ciarán
13. Darren McCurry – Edendork
14. Stephen O'Neill – Clann na nGael
15. Ronan O'Neill – Omagh
As always, we'd love to hear your thoughts on today's game. Let us know your predictions in the comments below.
The good news ahead of the game is that the parade seems to have passed off without any incident.
Throw-in: Referee Eddie Kinsella gets the action under way in Clones. The Laois man has handed out five black cards this season.
Tyrone 0-0 Monaghan 0-0 1mins: Niall Morgan comes up from his goal to strike his first free of the game but his shot goes left and wide.
Tyrone 0-1 Monaghan 0-0 4mins: Very patient build-up from Tyrone and Darren McCurry gets the game's first score after some deliberation between the umpires.
Down the other end, Niall Morgan gets very lucky after fisting the ball straight to Kieran Hughes but the Monaghan full-forward misses the empty net. Should have been a goal to Monaghan.
Kieran Hughes with another bad wide for Monaghan when it looked easier to score.
Tyrone 0-2 Monaghan 0-1 8mins: It's third time lucky for Hughes as he finally gets Monaghan on the scoreboard.
However, Tyrone score with their next attack, Ciaran McGinley with a well taken point.
Nine minutes into the game and Conor McManus' first touch of the football is poor as he solos the ball away from himself and gifts possession to Tyrone.
Tyrone 0-2 Monaghan 0-2 12mins: Tyrone being gifted acres of room in midfield but not taking advantage.
Monaghan punish them through Fintan Kelly who levels the scores.
Tyrone 0-3 Monaghan 0-2 12mins: And like they did the last time Monaghan drew level, Tyrone go straight down the field and score themselves, this time Sean Cavanagh with his first point of the game.
The Conor McManus gamble is not paying off for Malachy O'Rourke and the All-Star is really struggling in the early stages.
Tyrone 0-3 Monaghan 0-3 15mins: McManus points a free to draw the sides level again. However, he's still clearly struggling.
Tyrone 0-4 Monaghan 0-4 16mins: Again, Monaghan equalise and Tyrone come right back down and take a one point lead. Mattie Donnelly is the scorer this time.
However, a foul from Sean Cavanagh  gives McManus his second pointed free of the game.
Tyrone 0-5 Monaghan 0-4 18mins: Nearly 20 minutes in and neither side has scored back-to-back points yet. McCurry adds his second score of the game for Tyrone from a free.
Tyrone 0-5 Monaghan 0-5 20mins: Monaghan goalkeeper Rory Beggan points a long range free, that's advantage to the Scotstown man in the battle of the free-taking 'keepers.
PENALTY 24mins: A high ball put into the square and Ronan McNabb pulled down Dessie Mone and Eddie Kinsella awards Monaghan the penalty.
McNabb picks up the yellow for the foul.
PENALTY MISSED 25MINS: Kieran Hughes' effort hits the left upright and Tyrone clear their lines. A real let off.
Monaghan 0-6 Tyrone 0-5 26mins: Monaghan take their first lead of the game, McManus with his third free and it's the first time either side has managed two scores in succession.

A brilliant move from Monaghan sees them miss their third goal chance. Chris McGuinness, whose effort went wide right, was treated briefly after the shot but he's back on his feet.
Monaghan 0-6 Tyrone 0-6 31mins: Mattie Donnelly fists Tyrone level with three minutes to go before the break.
Monaghan 0-7 Tyrone 0-6 33mins: Kieran Hughes has injured himself kicking his second point of the game. He landed awkwardly after the shot.
He's back on his feet now.
Monaghan 0-8 Tyrone 0-6 35mins: Another McManus free and he has four points despite playing at about 70%
Monaghan 0-8 Tyrone 0-7 35mins: An important score for Tyrone as McCurry points a free after Kieran Duffy was adjudged to have fouled Martin Penrose but it looked a soft decision.
Half-time -
That's the last action of the first half. Not vintage stuff so far to be fair but it's still a fascinating encounter.
Half-time -
That's the last action of the first half. Not vintage stuff so far to be fair but it's still a fascinating encounter.
Scorers for Monaghan: Conor McManus 0-4 (0-4f), Kieran Hughes 0-2, Rory Beggan 0-1 (0-1f), Fintan Kelly 0-1.
Scorers for Tyrone: Darren McCurry 0-3 (0-2f), Mattie Donnelly 0-2, Ciaran McGinley and Sean Cavanagh 0-1 each.
The RTÉ panel engaging in a heated discussion at half-time.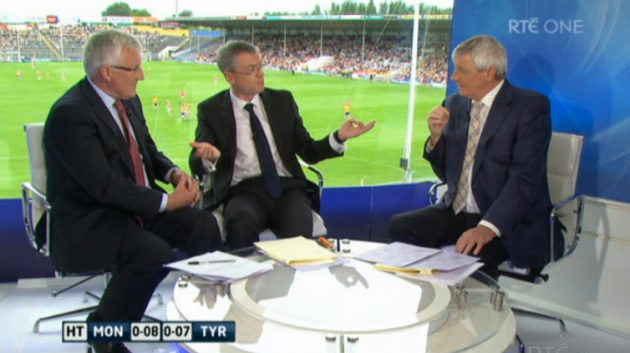 The Kerryman thinks this a very weak Tyrone side, Brolly keeps telling Michael Lyster to 'hold on'.
The second half begins with Tyrone's sixth wide, Darren McCurry the culprit this time.
Subs: Padraig Donaghy replaces Paudie McKenna and Conor Boyle replaces Kieran Duffy for Monaghan.
Meanwhile Conor Gormley replaces Ronan McNabb for Tyrone.
Monaghan 0-9 Tyrone 0-7 40mins: Ronan McNamee denies Padraig Donaghy a goal with a great block. Rory Beggan makes no mistake with the 45 though.
Monaghan 1-9 Tyrone 0-7 42mins: Monaghan finally get their goal. Dermot Malone finds the back of the net after a great team move. Dick Clerkin was very influential in that score.

A bad miss from a Sean Cavanagh free makes it seven wides for Tyrone.
Subs: Kyle Coney is on for Conan Grugan and Conor McAliskey is on for Ronan O'Neill in a double substitution made by Micky Harte just before the Monaghan goal.
Monaghan 1-9 Tyrone 0-8  46mins: Cavanagh makes amends for that earlier miss with a nice point off his right foot but it has taken Tyrone 11 minutes to get on the scoreboard in the second half.
Yellow: Stephen O'Neill picks up a yellow card for a needless challenge on Dick Clerkin in the middle of the field.
Monaghan 1-10 Tyrone 0-9  49mins: Fintan Kelly and Mattie Donnelly exchange points as the tempo noticeably increases in Clones.
Monaghan 1-10 Tyrone 0-10  51mins: The gap is now just three points and Niall Morgan makes no mistake from the 45 after his opposite number accidentaly stepped over the end line.
Monaghan 1-11 Tyrone 0-11 54mins: Conor McManus restores Monaghan's three point lead with a beautifully judged free that curls just inside the right-hand upright.
Sub: Stephen Gollogly is in for Chris McGuinness for Monaghan.
Monaghan 1-12 Tyrone 0-11 57mins: McManus is six from six with place balls and Monaghan's lead is back to four.
Conor Boyle had a chance to seal the game for Monaghan but he's swallowed up by the Tyrone defence and gives away the free out.
BLACK CARD 60mins: The very influential Darren McCurry is off for Tyrone. It looked harsh.
BLACK CARD 61mins: And a black card for Monaghan as the goal-scorer is off for a cynical foul.
YELLOW CARD 62mins: Eddie Kinsella has gone card happy in the last few minutes, Dessie Mone picking up the yellow this time.
Monaghan 1-12 Tyrone 0-12 63mins: Morgan makes no mistake from the long range free and there's three between the sides again.
BLACK CARD 66mins: Darren Hughes drags down Sean Cavanagh.
Monaghan 1-12 Tyrone 0-13 67mins: We have a two point game as Conor McAliskey scores from the resulting free.
Monaghan 1-12 Tyrone 0-14 69mins: Two points in a row from McAliskey – this time from play – and it's game on.
Niall Morgan misses a free – his second of the game – when he had a chance to bring the sides level.
YELLOW CARD 70+2mins: Sean Cavanagh gets a yellow and it's greeted by a chorus of boos in Clones. Can't think why.
Full time -
All over and, for the first time in 26 years, Monaghan have beaten Tyrone.
Angry scenes at the end as Micky Harte and his selectors approach the officials while the irony of the 'give respect, get respect' logo on the linesman's jersey is lost on nobody.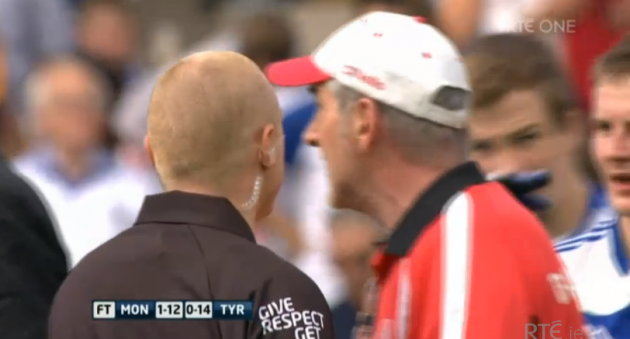 Well that's it from us. Hard to know what to make of that one.
Monaghan should have won easily after leading by five points in the second half but there's no doubt the black cards had an impact on both teams and Niall Morgan will have nightmares about that missed free at the end.
Thanks as always for joining us and feel free to keep the discussion going in the comment section.
Contribute to this story: