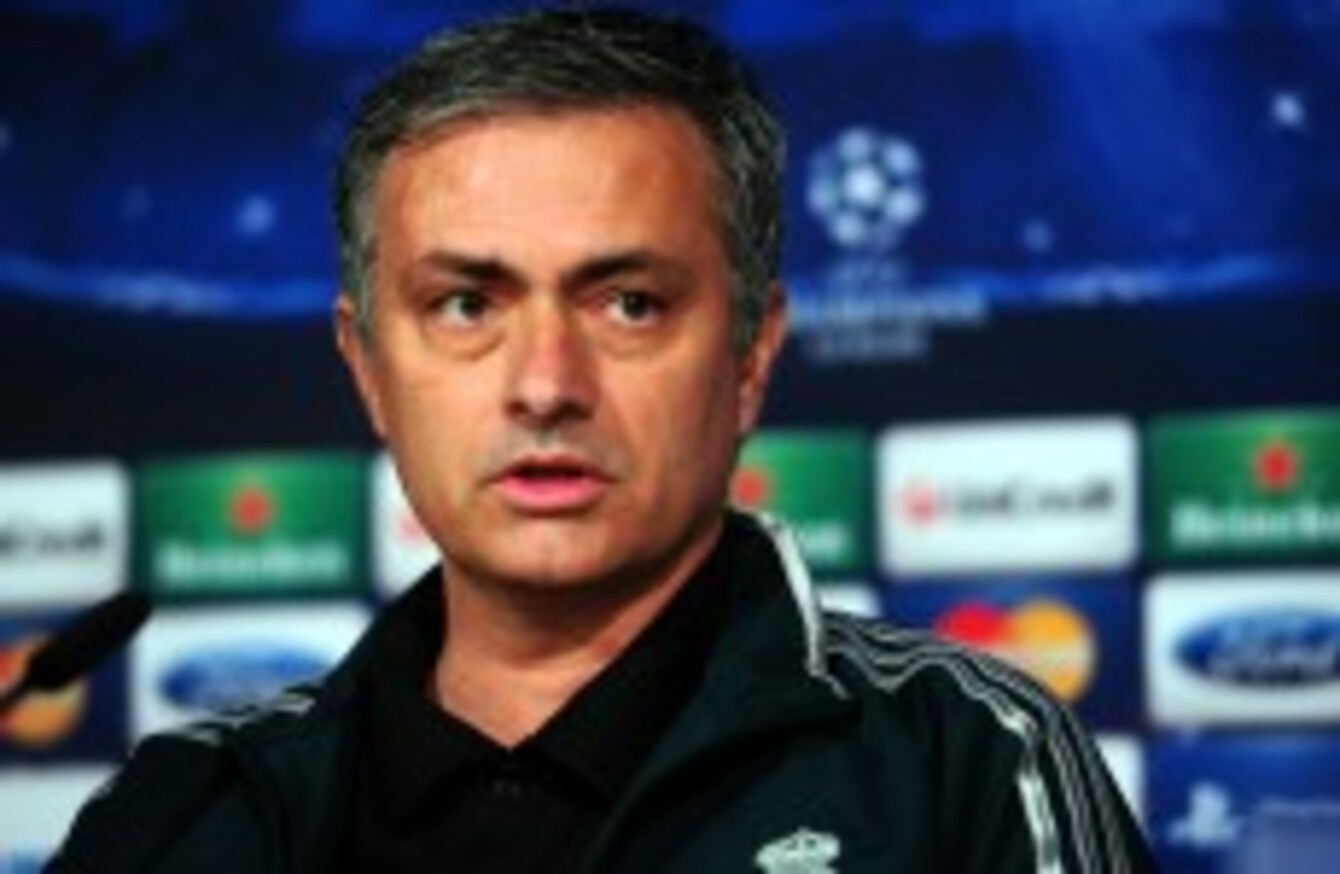 Real Madrid's coach Jose Mourinho during the press conference at Santiago Bernabeu.
Real Madrid's coach Jose Mourinho during the press conference at Santiago Bernabeu.
A TYPICALLY SELF-ASSURED Jose Mourinho is confident that he will lead a third club to glory in the Champions League, but the Real Madrid coach is wary of the threat presented by Manchester United.
The Spanish champions know that progress in Europe will define their season, as they prepare to come up against United in the first leg of their last-16 tie at the Santiago Bernabeu on Wednesday.
Mourinho believes he will add to his triumphs with Porto in 2004 and Inter Milan in 2010, although he is not promising to do it this year.
"Real Madrid want to win a tenth European Cup and I want to win my third," said the Portuguese coach.
"I don't know if it will happen this year but I will keep fighting until I do it. I have confidence in my work.
"It wouldn't be a failure if we didn't win it this year. There are great clubs and great players out there that have never won it."
While Madrid are struggling domestically and currently sit 16 points behind La Liga leaders Barcelona, United are flying high in the Premier League, where they are 12 points clear of Manchester City at the top.
It promises to be a tough tie for the hosts, but one that brings back happy memories for Mourinho, who led Porto to victory against United en route to lifting the trophy in 2004.

"Its always a privilege to play Manchester United," he said.
"I remember every detail of my first game against them nine years ago, and I hope the expectation for this game has a relation with the quality of the match," he said.
Asked to give details of his starting line-up on Wednesday and how his team will play Mourinho was very guarded.
Mourinho, who saw his team thump Sevilla 4-1 in La Liga on Saturday night with an outstanding Cristiano Ronaldo scoring a hat-trick, was not giving anything away when asked what his line-up for the game might be.
"They (United) want to know how we will play the same as you," he added.

"I'm not going to give away how we will play, our opponents are strong and very experienced in these situations and I don't want to help them."
The former Chelsea manager gave no indication as to whether injury doubt Xabi Alonso will play, but he did admit that Pepe is in line to feature.
"I won't name my team. Pepe is in the squad and available, he has worked hard to get back from injury and he may play," he said, before moving to play down suggestions that he will replace Alex Ferguson as United manager when the Scot finally leaves the Old Trafford hotseat.
"Normally, to coach again in England would be my next step, but I don't think I can substitute Sir Alex at Manchester because we will finish our career at the same time, him at 90 and me at 70," he added to much laughter.