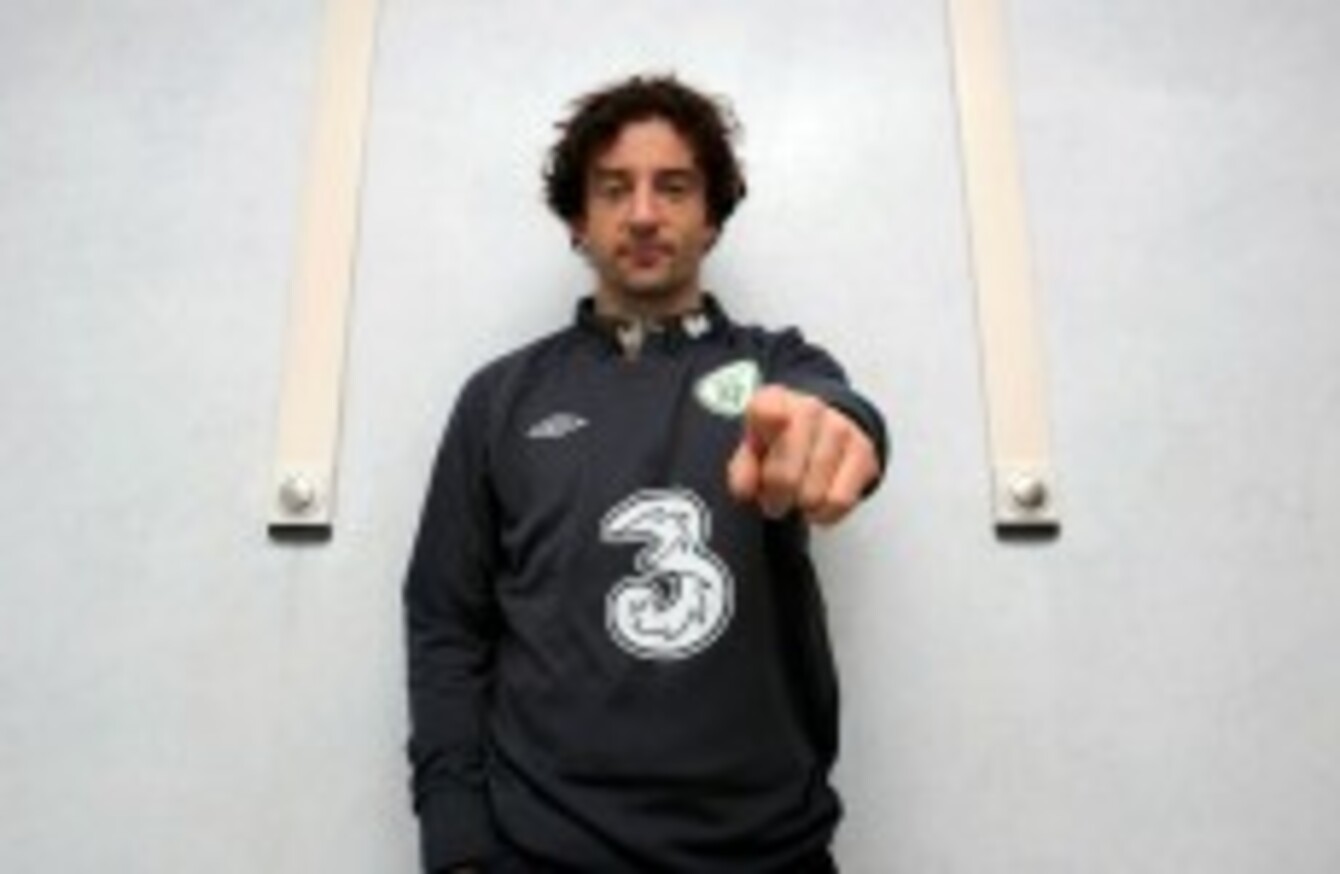 Don't change that dial! Stephen Hunt will be Soccer Saturday's guest analyst
Image: INPHO/Donall Farmer
Don't change that dial! Stephen Hunt will be Soccer Saturday's guest analyst
Image: INPHO/Donall Farmer
IRELAND'S FAVOURITE MOP-HAIRED winger, Stephen Hunt will turn his make his bow in the punditry world tomorrow as he appears as guest analyst on RTÉ's Soccer Saturday.
Republic of Ireland International and Wolves star will join Darragh Maloney and Kenny Cunningham as a guest analyst for the Premier League review programme at 9.30pm on RTÉ Two.
With matches Norwich vs. Manchester City, West Brom vs. QPR, Sunderland vs. Wolves and Swansea vs. Blackburn littering the line-up, Hunt will surely be called upon to bring some levity and feshness to proceedings.
We run down the seven things that Hunt could do to spike the viewing figures.
Wear a flat-cap
The Waterford native stole many an Irish heart, and no end of chuckles, when he appeared a post-match interview with the BBC in a traditional tweed flat cap.
One can only imagine how the RTÉ make-up department would react if Hunt showed up in similar regalia but it would certainly add a jaunty touch to proceedings.
Skinny knotted ties are for wimps – Hunt wows the BBC. (Credit – soccer24-7.com)
Re-ignite the Stephen Ireland debate
Hunt has never been one to back away from a controversial issue and was one of the first players to come out and berate Stephen Ireland for his no-show with the international team.
It has been alleged that the real reason for Ireland's departure from the Irish squad, under the stewardship of Steve Staunton, was that Hunt and a cadre of international teammates had mercilessly mocked the Aston Villa player, then with Manchester City, for wearing a wig.
Ireland and Hunt – Hoping to avoid Euro 2012 arguments over aisle or window seats. (©INPHO/Donall Farmer)
Hunt has denied any such knowledge but told Sunday Independent journalist Dion Fanning in 2007 that Ireland should 'be a man'.
Hair issues aside, Hunt is eager for the Euro 2012 squad to be named as soon as possible and hopes to be on the plane to Poland this summer. If Darragh Moloney were to ask him if he wants Stephen Ireland sitting beside him on the flight, he is sure to get a headline generating comment or two.
Tell the public what he really thinks of Thierry Henry
It stuck in the nation's craw for at least a year but has since been repressed by Ireland's qualification for Euro 2012 and the greatest healer of all – time.
However, for Hunt, a player that was present on that treacherous night in Paris, the memory still lingers.
He will not wish to dwell on Henry's handball that set up the crucial William Gallas goal but some gentle prodding should spark a typical, witty Hunt barrage.
Give some insight into the bizarre world of Phil Brown
Hunt's former manager at Hull City was a blessing to hacks, journalists and supporters alike as he went from touting himself as the next England manager one day to holding half-time sit-downs on Manchester City's Eastlands pitch the next.
He even claimed to have saved a suicidal woman from jumping off the Humber Bridge with some 'sweet talk'.
Be part
of the team
Access exclusive podcasts, interviews and analysis with a monthly or annual membership.
Become a Member
Hunt experienced two seasons of Brown magic at Hull before moving on to Wolves. Brown was famous for talking himself into trouble but we are sure that Hunt could reveal a few gems of his own.
At the very least, he can explain the reaction in the dressing room on the last day of the season when Brown serenaded the Hull faithful.
What was going on in his head as he bore down on Peter Cech
Chelsea goalkeeper Peter Cech sustained his head injury almost six years ago after colliding with Hunt. The winger, playing for Reading at the time, was chasing down a stray pass in his own never-say-die style when his knee connected sickeningly with Cech's skull.
Hunt was adjudged to be innocent of any wrongdoing by the Football Association but bore the scrutiny of the press, and Chelsea fans, for many years.
The pair have spoken many times since Cech returned to first team football and were last seen chatting on the Lansdowne Road pitch after Ireland played the Czech Republic.
The goalkeeper has proved his longevity since the injury so Hunt may finally be willing to disclose what was racing through his head before, during and after that fateful 2006 afternoon.
Hunt and Cech exchange pleasantries after an international encounter. (©INPHO/Donall Farmer)
End the comedy career of Karl Spain
For too long the funnyman, who once dragged a series out of trying to find a date, bantered with the Republic of Ireland squad for the Eircom 'Soccer Republic' site.
Regular items include asking players like Kevin Doyle and Stephen Ward to name towns in Irish counties, 'Yes, No' games and a scarcely original crossbar challenge (with Leon Best holding the crown at one stage).
Hunt has produced more comedy in a five-second quip than the hard-working but hopeless Spain has managed in his career. The Irish comedy circuit surely awaits once Hunt hangs up his boots.
YouTube credit: windmilllanepost
Dressing room dressing downs
Hunt has played under a range of managers over the years – from the reserved Steve Coppell and the obstinate Steve Staunton, to the 'mentality' talking Giovanni Trapattoni and the bellowing thunder of Mick McCarthy.
The country would edge forward on their armchairs if he was to lift the lid on the glorious meltdowns of coaches past and present.
Double gunning it Gio? Fine by me. (©INPHO/Morgan Treacy)
How did Giovanni react when Henry juggled that French free-kick? Who copped an earful from Staunton after Ireland blundered to a narrow 2-1 win over San Marino? How red did McCarthy's face go when Wolves lost 5-1 at home to West Brom?
Hunt has the answers. Let us hope that he is asked the right questions.