MICHAEL RYAN WAS beginning to resemble the little Dutch boy, trying to plug a leaking hole in the dike with his finger.
After missing the opening three defeats of the campaign, John Mullane had made him wait, but the hole is all patched up. For now.
No doubt the De La Salle hitman would have preferred to come back into a winning team, rather than one that had endured what he called "a turbulent couple of weeks".
Nicky Cashin and Br Philly Ryan have left, while Ken McGrath and Sean Cullinane have stepped up to the plate. Albeit one that looked a little cracked before Mullane and Eoin Kelly returned to training before a make-or-break clash in Galway.
Mullane was arguably man-of-the-match as he scored 0-2, set up as much with frees, and took a little timber when setting up Shane Walsh for the game's only goal.
"We came back in on Tuesday (last week), myself and Eoin Kelly," said Mullane. "In hindsight you know, it was kind of a bit awkward to be coming back in Tuesday and then being told straight away that you're going to be playing.
"For any player that's been in there the previous couple of weeks, the likes of myself starting and Eoin coming on, you would be scratching your head.
"Under the circumstances, Michael felt he had to put out his strongest team, the performances weren't good enough the previous weeks.
"You know, I was delighted to come back in, back in amongst the lads. It was all about the performance last week, the result was irrelevant. For me, the previous three games, as I said to the lads, the performances weren't good enough. You know it was all about getting the performance last week and if we could get the result, fair enough."
Of course, the more you listen to the four-time All Star, the more relevant that win against the Tribe feels. It keeps Na Deise in with chance of avoiding a relegation play-off if they can beat Dublin and Galway lose in Kilkenny.
"I don't think Division 1B is something that – well there are goods teams but I think they should go back to the old system," Mullane explains. "Throw in the 12 teams: two groups of six and whoever tops each group gets a home semi-final.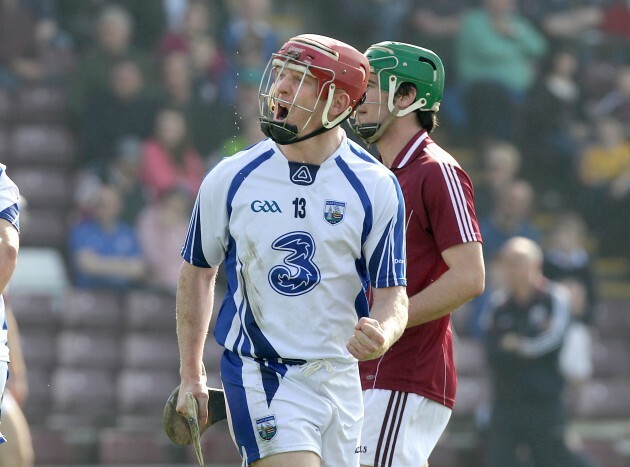 Waterford's John Mullane celebrates scoring a point in the win over Galway. Credit: ©INPHO/Morgan Treacy
"I think they have a situation here where Dublin won the league last year and are probably the most up-and-coming team in the country, and now we have a situation where they're in a relegation play-off, after probably being the highlight of the league.
'It's only March'
"They probably should have beaten Cork, scored six goals against Kilkenny and drew with Tipperary – and they find themselves in a relegation play-off. It's ridiculous in that sense, you know."
Even if the Déise are demoted to Division 1B, Mullane feels it is too early in the year to make snap judgements. "We have to be a small bit realistic," he said. "You listen to Damien (Hayes) and Sean Óg (Ó hAilpín in the press conference), it's only March.
"But other counties have hit the ground running, and maybe they went back training earlier than the likes of ourselves. We have been struggling with an awful lot of injuries and you have the likes of myself and Eoin out too, so if we can get everyone back fully fit we'll be going in the right direction for championship."
That begins with a Munster clash against Clare who are under ex-Waterford boss Davy Fitzgerald, and the Bannermen are not the only coming team according to Mullane."Limerick won the Under-21 last year and they'll have a good pick there.
"Clare don't surprise me. You know, Davy being Davy. He's a very good manager and very organised; he'll have players well organised for the championship."
As Waterford must, too. The De La Salle man pointed to the great respect that McGrath and Cullinane has in the Deise dressing-room, while noting that Kelly's return to the panel was a must.
"I'm good friends with Eoin and I don't think Waterford can be turning away players like Eoin Kelly. He's after winning All-Stars, winning Munster championships and National Leagues. We don't have the players to replace him really.
"You have to remember in Eoin's case, he's after hurling the last 10 or 12 years at a consistenly high level. He's well entitled when he's off to enjoy himself too, as anyone else is. I think it's a bit unjust to single him out."
After taking a prolonged off-season break, Mullane's future will likely be the subject of debate again at the end of the season. But is he contemplating following the likes of Dan Shanahan, Paul Flynn and McGrath into retirement? "Look, you know, that's for another day. When that time comes, I'll let you all know." Michael Ryan will hope that's put on the long finger.
John Mullane was speaking at the launch of Centra's 'Brighten Up Your Day' Community Event.