THE DECISIVE FACTOR in Munster's 34-23 win over Leinster in the Guinness Pro12 on Saturday was the visitors' destructive and disruptive work around the breakdown, particularly in defence.
Both coaches have had their say on the refereeing of this area of the clash, but whatever about that mini-war of words, Munster were the dominant team on the deck post-tackle.
Anthony Foley's men savagely cleared out rucks to create their own tries and fought for every single inch at the breakdown in defence.
As we will see, there were several other intelligent elements to Munster' approach to this game, but the battle over the ball was all-important.
Setting out their stall
When Munster knocked-on from the first kick-off of the game, their fans could have been forgiven for having early worries, but immediately following that error we got an idea of exactly how disruptive Munster intended to be at the breakdown.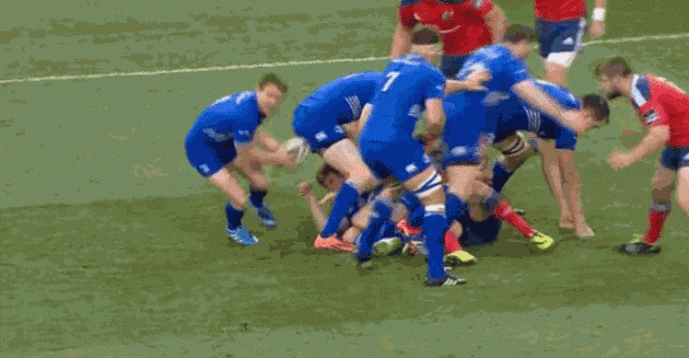 The above is Munster's opening defensive act of the game and sets a tone that rarely let up until the final quarter. The southern province get good linespeed close to the ruck, before Paul O'Connell [low leg focus] and Stephen Archer [upper body wrap] combine to tackle Michael Bent and win the gainline for Munster.
O'Connell, who was close to his very best in this encounter, is straight back on his feet with the intention of causing havoc, which he does by kicking the ball through from the back of the ruck.
Munster defence coach Ian Costello has had a strong focus on turning up the linespeed in his side's defence this season, and we got many illustrations of that against Leinster.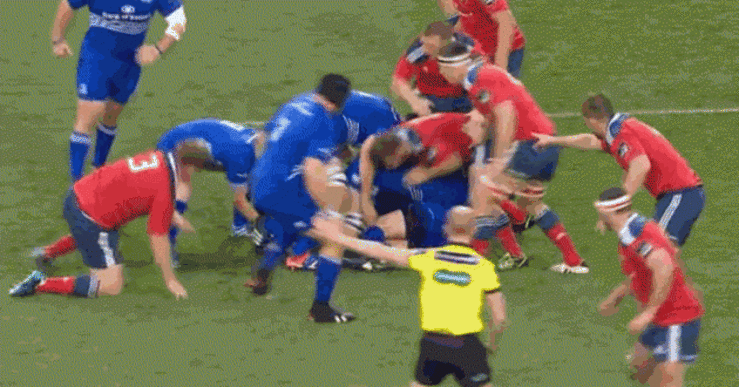 O'Connell is again the man leading the line up in the GIF above, surging up to put Jimmy Gopperth under decision-making pressure. While play is called back for a Leinster advantage after Simon Zebo intercepts, it's a strong marker from Munster early on; 'We're going to be in your face at the breakdown and with our linespeed.'
We get another example below, as Munster get decent speed in their front-line D and make the hit on Mike Ross. Archer has an attempt at pilfering the ball, but gets driven away by Devin Toner and Bent.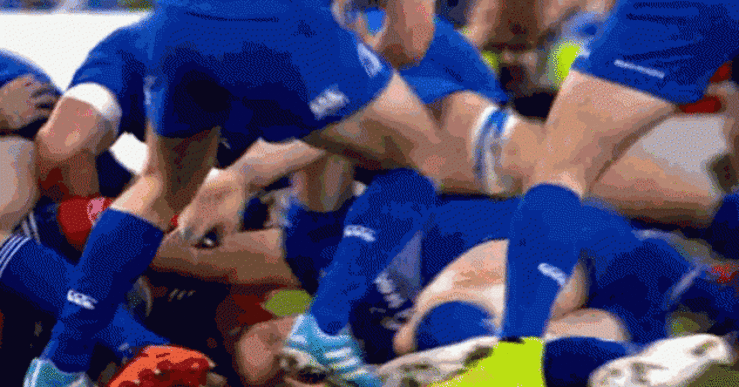 Many teams would simply leave the ruck alone at that stage, after their first poaching attempt had failed, and fan out in defence. However, Munster's mindset of scrapping at every ruck is evident as O'Connell again steps in to compete for and win the ball.
Fight, fight, fight
Leinster were more than aware that Munster would look to spoil their possession in this manner, but they simply never got to grips with the competition and failed to put enough bodies into the rucks to clear Munster away.
Fighting for the ball on the ground and generating imposing linespeed always go hand in hand, and it was no different for Munster on Saturday. By competing post-tackle, they allowed themselves additional time to reset their defensive shape and then come up off the line.
The video above highlights the scenario better than any words can, as Munster put in a sublime 1 minute 20 second passage of aggressive defence. Leinster initially attack well off the kick receipt, but then Foley's men take over with their stifling defence.
Within this passage, we see several moments like the one below, where James Cronin jackals over the ball after Simon Zebo tackles Rhys Ruddock.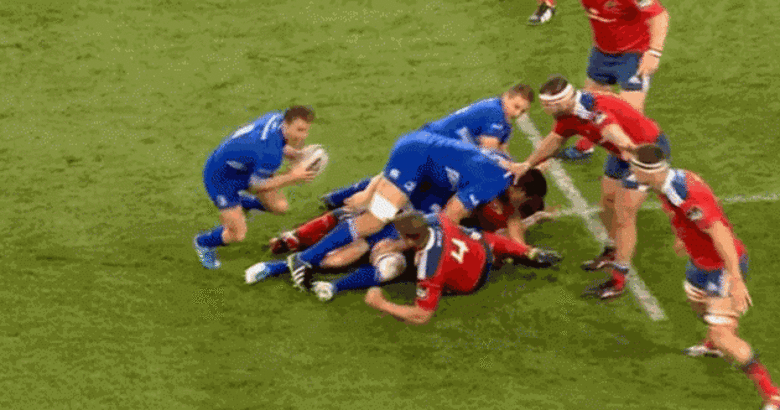 As we can see, Cronin doesn't actually win the ball – a failed effort in that case? Not so, as it has taken three Leinster players to clear him out, and thus denied the attacking side crucial bodies out in the line.
It also means a slower ruck speed for Leinster and allows the Munster D to get their shape and spacing on the money. On the very next phase, it's Dave Foley who has an attempt to steal the ball, while O'Connell very cleverly gets in Eoin Reddan's way while showing body language that suggests he is doing his best not to.
Two phases later, there's that Munster linespeed again, allowing them to win the gainline battle as Jamie Heaslip is chopped down [above]. Tommy O'Donnell, who had a wonderful game, makes the contact, bounds back to his feet and fights to disrupt.
The openside flanker did this particularly well throughout the game, not always threatening a direct steal, but showing extreme determination to stay on his feet and draw in additional rucking players. Like the example of Cronin above, Leinster have to commit three players to remove him.
Munster's best defensive work in this game came before half time, but they battled hard after the break too, as in the example below where replacement hooker Damien Varley wins a turnover penalty.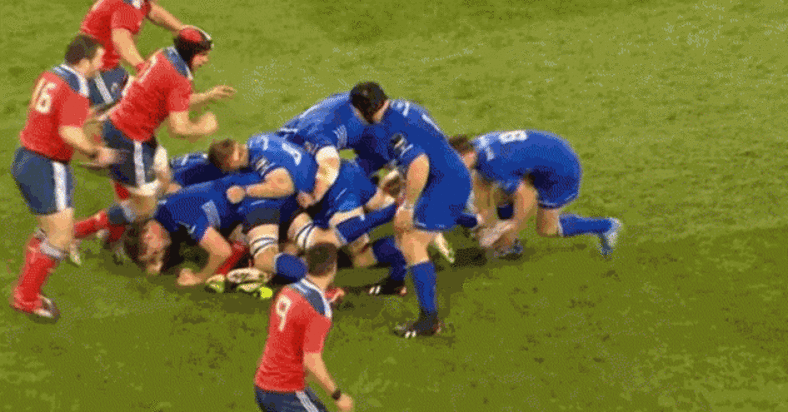 It's a great poach from a player who excels at the breakdown, and Conor Murray is on hand to aid the steal here, but it's once again noticeable that Leinster are slow to arrive. It's something that Matt O'Connor is certain to focus on in the coming weeks, the real key to Leinster hitting their best form.
Every side thrives on quick ruck ball, but Leinster depend on it even more than most. Munster recognised that and committed themselves totally to snuffing out the possibility of the eastern province having quick rucks.
Leinster lacking bite
Dealing with Munster's competitiveness around the ruck area was understandably frustrating for Leinster, but they just weren't able to solve the problem themselves out on the pitch.
Matt O'Connor has been critical of the refereeing of the breakdown, but whatever about those claims, it's up to his players to deal with the match official as best they can during the 80 minutes.
Within moments of the kick-off, we had a clear idea of what Ian Davies was going to allow in terms of competition at the breakdown, and the clearly prepared Munster managed that far more intelligently.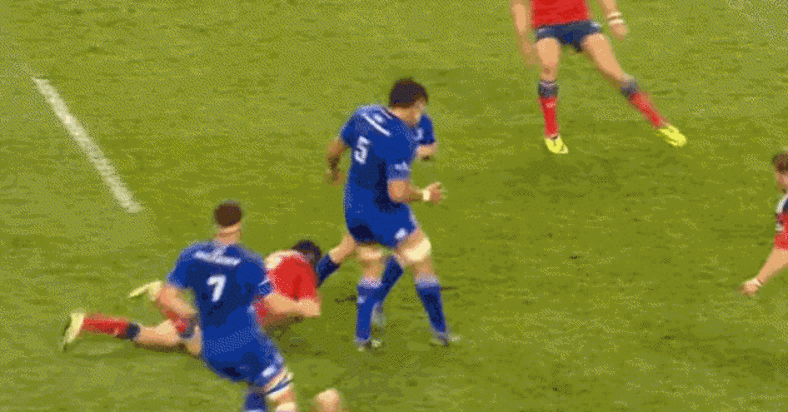 Above, we see Gordon D'Arcy drop a right shoulder into O'Connell just to the right side of the ruck. It has no major effect on the speed of the ball coming back, but it does serve to give O'Connell a little warning not to be getting on the wrong side of the ball.
While it ultimately did nothing to deter O'Connell for the rest of the game, the point is that Leinster needed more of this edge in their rucking, a response to Munster's challenge there; 'That's our f*cking ball and you are not going to slow it up.'
Above, it's Jack Conan who gets the shot in on O'Connell after the Munster lock illegally takes the space over the ball. Davies does award the penalty advantage, but it's still up to Conan to hammer O'Connell as a reminder.
Kane Douglas was sent onto the pitch in the 49th minute for Leinster, but his rucking aggression could certainly have been called upon earlier as O'Connor's men were clearly losing the battle at the breakdown.
The GIF below shows Douglas arriving in to smash O'Connell, with a swinging right arm. This is obviously an example of the Leinster frustration tipping over, but there was a real edge missing from them around their rucking involvements, certainly compared to Munster.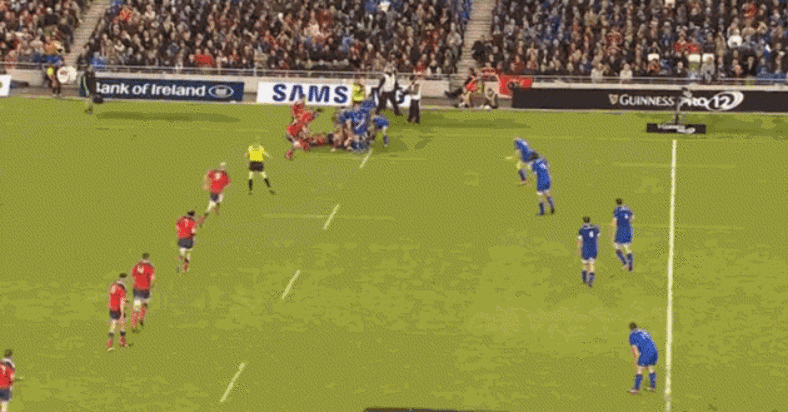 O'Connell was understandably unhappy with Douglas' actions here, and appeals to the referee and his assistant.
Play the game in the 'right' areas
One of Munster head coach Foley's biggest focuses early this season has been on his side playing the game in the 'right' areas of the field. In this case, he means attacking from inside the opposition half, rather than attempting to run the ball out from deep.
Munster clearly heeded his words, and their exit strategy was superb against Leinster. It's difficult to find more than one instance in which the southern province attempted to, or even thought about, running the ball out of their own half at the Aviva.
Instead, they calmly and accurately went about exiting through the kicking games of halfbacks Murray and Ian Keatley.
We get an example in the video above, which comes after Andrew Conway receives a Leinster kick and spins out of one tackle. From there, Munster know their roles and understand exactly how they're going to exit.
As O'Donnell carries in midfield, we see tighthead prop Archer actually latching onto the ball itself, ensuring that this carry is an especially low-risk one. While Munster obviously want front-foot ball from every carry, the real focus here is on setting a platform.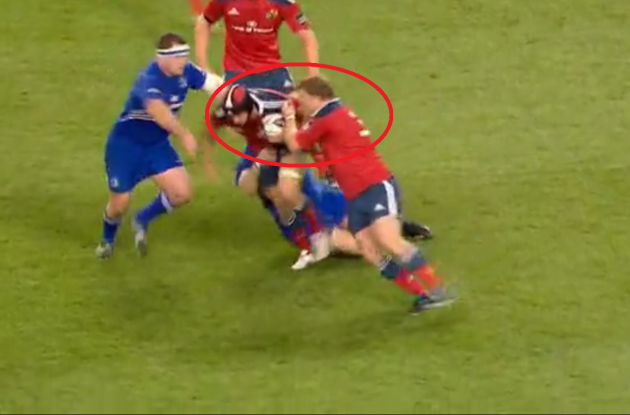 As Murray fires the ball back to the deep-lying Keatley, we see lock Foley running a smart blocking line across Mike McCarthy, buying his out-half that little more space to make good contact with the ball.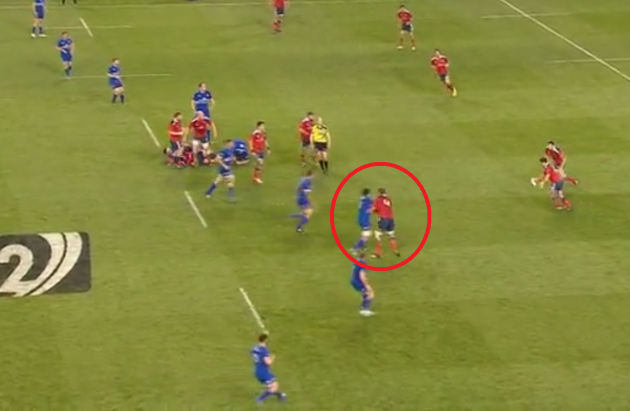 Even better than these kicks in the middle of the pitch were Murray's box kicks down the touchlines, which Munster chased superbly. Costello is the man in charge of the province's exit play, and he again had his players well drilled in this regard.
There weren't many examples of aimless kicking from Munster at the Aviva, in contrast to Leinster who kicked poorly at times. Murray's box kicks were very often highly contestable, and his teammates understood the plan.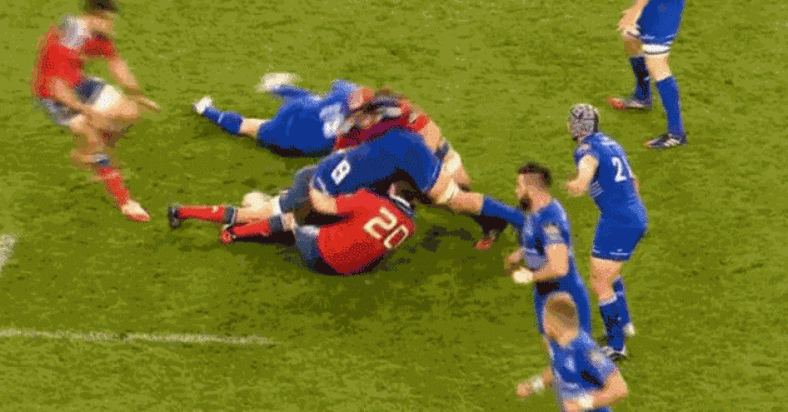 Above, we see that Munster kick through Murray in order to get out of their own half, but crucially they are also intent on pinning Leinster into theirs. Gerhard van den Heever chases well and makes the hit on Rob Kearney as he lands.
That then acts as a platform for that Munster fight over the ball that we have already looked at. There's no turnover, but it does mean scrappier possession for Leinster and puts them under greater mental stress.
The GIF above demonstrates the point again, as Conway [who chased superbly throughout] arrives just as Ian Madigan comes to ground with the ball after Murray's box kick.
O'Donnell is straight into the breakdown, showing that ability to keep his feet and fight that we mentioned earlier. The openside drives up and through Brendan Macken and opens up the back of the ruck for his teammates to flood into.
Duncan Casey grabs the pill to complete the turnover. It's also interesting to briefly note Dave Foley's clear-out of Reddan afterwards; 'That's our f*cking ball and you're going nowhere near it.'
Conway's excellent chasing down the right actually led to Munster's first try of the game through loosehead prop Cronin.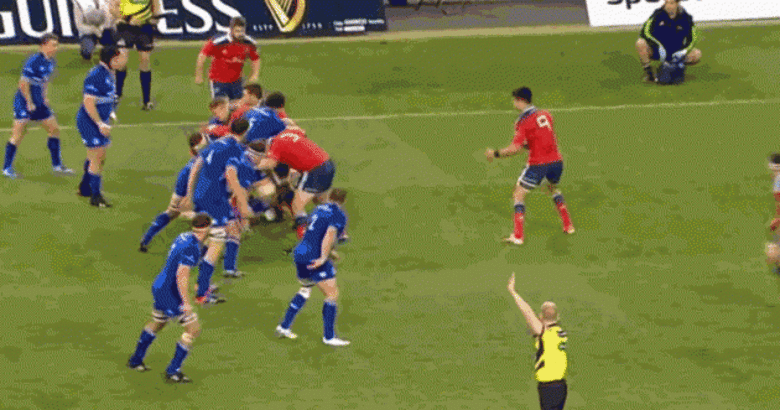 We see the crucial chase in the GIF above, with Cronin winning the ball against Mick McGrath after another inch-perfect Murray box kick. Munster aren't just kicking the ball out of their half for the sake of it, they want to pressurise Leinster and even re-gain possession when possible.
Murray spins the ball away wide to the left after the example above, Leinster are instantly stretched and four phases later, Cronin stretches out his left arm to dot down [we'll return to that]. A smart kicking game plan pays dividends.
The example below, with van den Heever and Denis Hurley combining to win the penalty, allowed Munster to go 31-16 up in the 67th minute, another crucial score.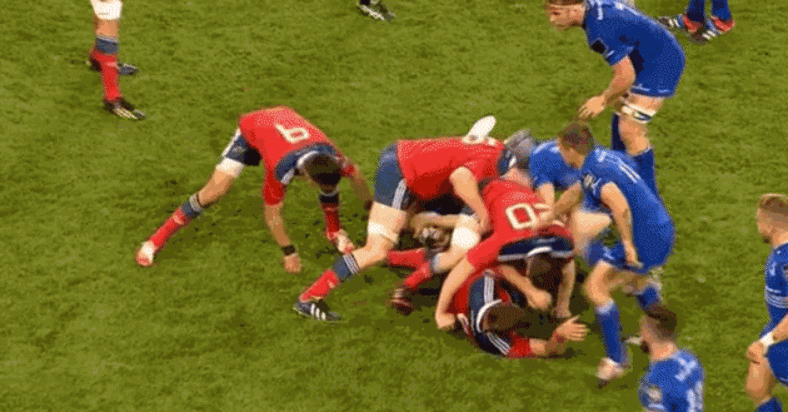 Identifying space
It would be unfair not to mention Munster's three tries, which made the difference in terms of the scoreline. The defensive and kicking platforms set the foundations for their victory, but Munster's attack also made positive progress in this game.
Attack coach Brian Walsh and Foley have both spoken about adding more directness to Munster's game plan this season, something that certainly had been evident in their opening Pro12 games.
Hurley and his fellow centres have been used repeatedly on hard, direct lines to set targets on the early phases of Munster's attack this season, and that was again on show at the Aviva.
The fact that Munster have straightened up in attack, and are looking to make more gainline wins close in to rucks, made them ideally set up for this game. Leinster have made big strides with their defence in the last year, but Munster exposed a couple of chinks.
The GIF above gives us an idea of the area of Leinster's defence that Munster focused many of their attacking thrusts on, that '10, 20, 30′ zone [those name tags identify the first, second and third defenders to the side of the ruck, although different teams use different tags].
On the occasion above, there is no bust from Munster as Zebo takes Keatley's inside pass, but the result is far better in the example below, which comes in the build-up to Cronin's try.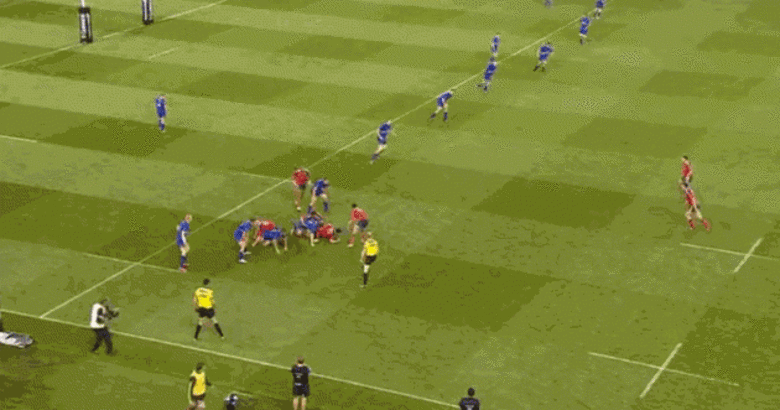 Again, Munster use the inside pass from Keatley, with Hurley surging through and offloading to Foley. This comes two phases after Conway has won the ball against McGrath in the air as highlighted earlier, and Munster have shifted the ball wide to the left to stretch Leinster.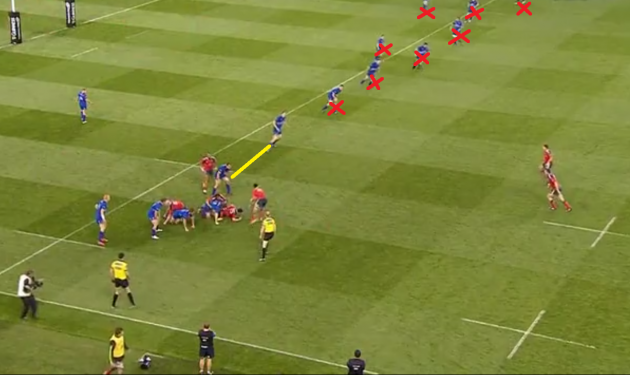 Part of Leinster's focus on adding linespeed in the last year has been to create additional width in their defensive line, meaning players can rush up to make tackles from a more dominant position.
You can see that width from Leinster in the screenshot above, with the multiple players marked with red Xs indicating a nice mass of bodies and a good position from which to charge up.
However, less stacked is the area around the fringe of the ruck, exactly there Munster will look to attack.
It's the same case in the GIF below, as Cronin runs into a gap to score his try.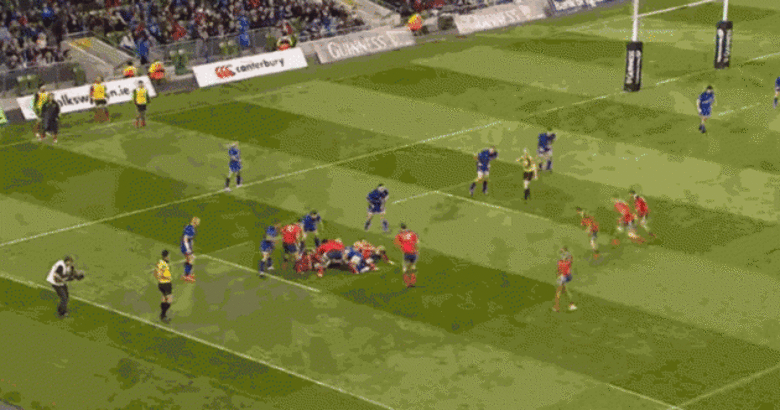 Again, there are bodies in place a little wider out, but that same softness around the fringes is evident in the screenshot below.
It's worth stressing at this point that Munster's rucking speed means Leinster have very little time to set their defence in a more organised fashion. Go back to the GIF of Cronin scoring, and examine the rucking of Archer and Casey at the ruck preceding the try.
The front rows are quick to the scene and remove defensive players swiftly, providing the quick ball that condemns Leinster's defence to disorganisation.
That said, we have seen Gregor Townsend's Glasgow Warriors, in particular, target the Leinster defence in this area around the fringes in recent times, meaning it's likely to be a key work-on for the province.
Munster's attack was generally quite narrow and direct in this game, something that was facilitated by that superb clearing out of Leinster defenders.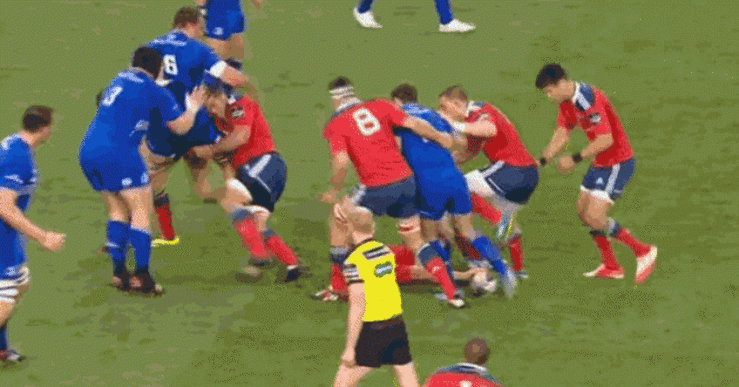 The passage above highlights Munster's effectiveness at the breakdown in attack, concurrently showing exactly what Leinster were missing. From the first carry by Murray, Felix Jones and Conway blast the ruck.
On the next phase, Copeland carries to the left and it's O'Donnell and Jones who arrive to remove the threat rapidly. Munster have built up excellent momentum at this stage, allowing Stander to win the next collision and offload to Murray well over the gainline.
It's all down to the speed and technique of the players arriving to clear out defenders at the breakdown. Munster were certainly focused and accurate in that regard.
Finally, a quick word on Keatley's try at the end of the first half.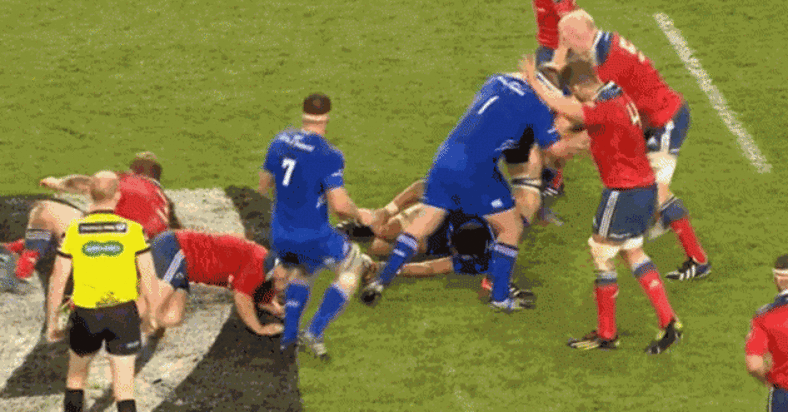 Above, Leinster attempt to run the same inside pass play as we saw from Munster earlier, but Keatley is in position to pick off Jimmy Gopperth's pass. This is a play we have seen Leinster use repeatedly this season, and Keatley has clearly done his analysis.
He recognises the cues as Gopperth comes to the line with players inside and outside, then steps in at the crucial time. Homework done, seven points in an instant.
Execution
Munster executed their game plan almost perfectly during minutes 12-40 on Saturday evening, meaning the game was over barring a disastrous collapse. Foley's decision to hold back a relatively strong bench proved to be intelligent and the replacements, including captain Peter O'Mahony, had an impact.
That everything Munster did in this game was underpinned with real aggression made their tactics even more effective. After disappointing performances against Edinburgh and the Ospreys in the opening month of the season, the hope for Munster is that this signals a permanent step forward.
This is, after all, the type of performance that we might have expected from an Anthony Foley team; one that dipped into the well of Munster aggression, but was also intelligent and composed in equal measures.