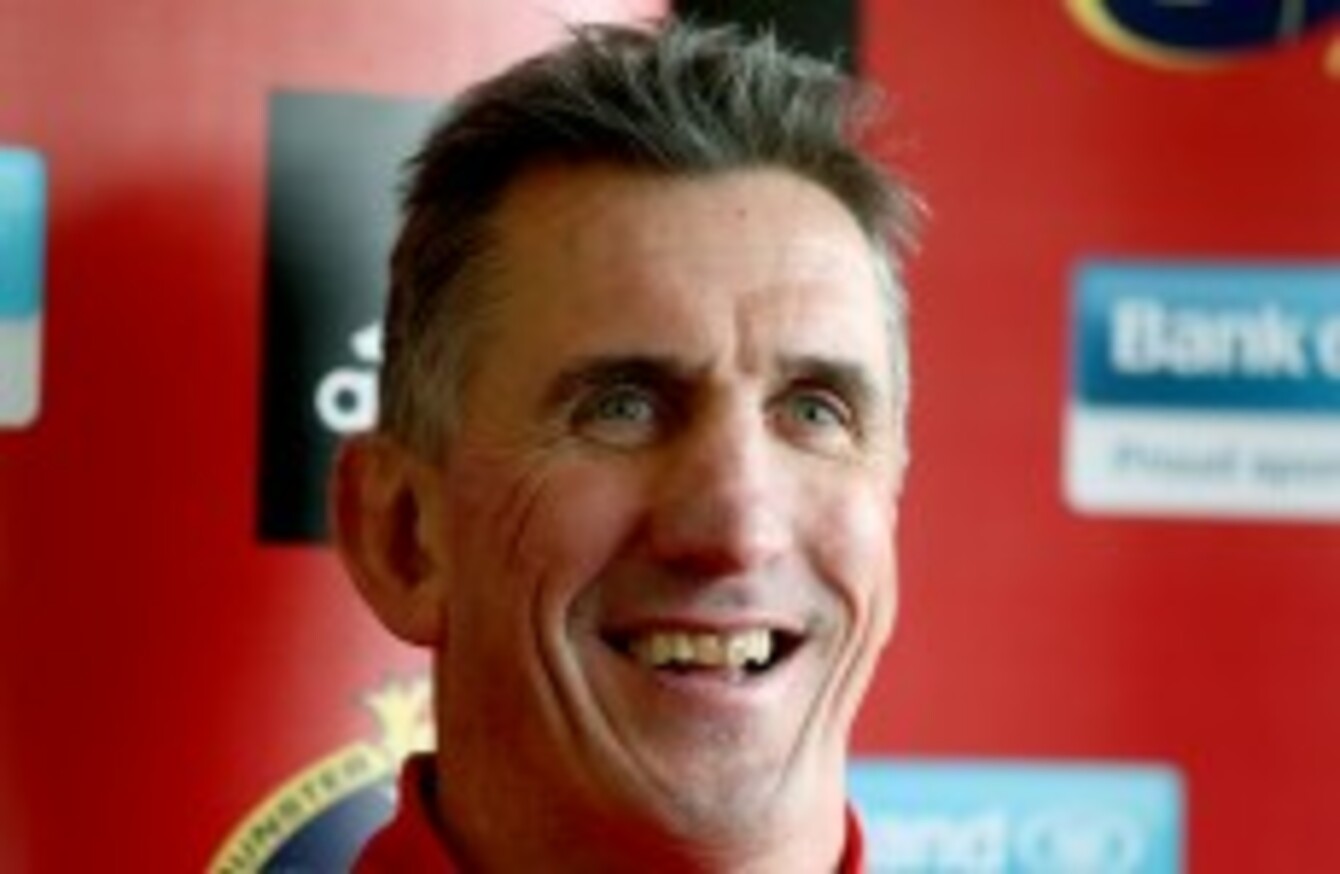 Penney will leave Munster at the end of the season.
Image: ©INPHO/Dan Sheridan
Penney will leave Munster at the end of the season.
Image: ©INPHO/Dan Sheridan
ROB PENNEY WILL walk away from Munster at the end of the season with the feeling that his project at the province hasn't been completed, but hoping that the work he has begun is continued.
The New Zealander is destined for Japan with the feeling that Munster are only a third of the way through the process he has kick-started over the last two seasons. Asked whether he will experience frustration when he watches Munster play next season, Penney was to the point as he nodded his confirmation:
"Sure, it's not pleasant but these things happen."
The Cantabrian's first season saw much backlash and confusion at the style of play introduced to the province, but this campaign has seen approval and understanding becoming more widespread. Penney's own faith has never been shaken.
"I always wanted to bring another dimension to Munster," he told TheScore.ie. I wasn't coming here to try to build on what was traditionally Munster's strength, because the players that had that strength were moved on, the profile had changed.
I'm just so proud of what the guys have brought to it and we're seeing evidence consistently now of really nice patterns of play and ball being distributed into space, guys seeing the opportunity and taking advantage of it. We're a third of the way there with this group; there's so much growth left in them.
Penney highlights that Munster's players are excited about "the path they're on," while admitting that he will be part of the 'Red Army' from afar in the future. Despite his rocky first season in the south of Ireland, he stresses that "there'll still be a little bit of my heart locked in here, no doubt about it."
With his departure for Japan on a three-year contract confirmed [now suspected to be with the NTT Shining Arcs], much of the discussion concerning Penney's reign at Munster will be centred around the younger players who have progressed vastly under his tuition. The former New Zealand U20 coach agrees that such development has been hugely satisfying.
However, he also points out that the improvement of the older players in the squad – men like Paul O'Connell, Donncha O'Callaghan, Donnacha Ryan and James Coughlan – will be something he reflects on positively.
"I think it's irrelevant of age. You gotta bring all your players on, whatever the environment that you come into. I'd like to think ROG learned some things when he was here in his last year, Dougie Howlett at 36, you know? It's not just about the young boys.
Be part
of the team
Access exclusive podcasts, interviews and analysis with a monthly or annual membership.
Become a Member
Penney's attacking beliefs have been unshakable at Munster. ©INPHO/Dan Sheridan.
"I'd like to think that Paulie's learned one or two things, the great man. Although the young players have been very pleasing, it's also the growth that the two Donnachas have had and James, the more senior members of the group."
Penney believes those experienced players have added "another layer added to their rugby talents" and hopes that they will get "a great deal of satisfaction" from that process. Having only coached in the Southern Hemisphere before assuming Munster's head coaching position, Penney admits that he too has learned much.
"You learn everything from your experience; I've certainly learned a lot. I think there's different ways of doing things, and that's part of it. What I have also learned is that rugby players up here can play ball. There was a lot of doubters at times.
The players believed, I had faith in them, Simon Mannix had faith in them, Cossie [Ian Costello] had faith in them, Axel [Anthony Foley] had faith in them. On the back of that, they've persevered and now we're seeing the benefits of that."
There exists, in some parts, a perception that Northern Hemisphere rugby is a little more narrow-minded to fresh ideas than its southern sister, but Penney has not experienced that with Munster's players. His charges have been as receptive and open as any New Zealanders.
"Absolutely, they just want to experience and learn. As I said right at the start, if I didn't believe in what I was doing, there was no reason to be here. I think there's a bit of justice done in terms of the guys' performances. You look at them and there's cool things happening there.
"I hope that that can be harnessed and built upon and retained going forward. That ability to play a multi-faceted style was always the aim. We've got our maul going really well, we've got the robust parts of our game going really well."
"But at any point in time, watch out on the edge, because we're going to move the ball and challenge you down there as well."